Found March 07, 2013 on Pirates Prospects:
Phil Irwin had a 2.83 ERA in 130.1 innings last year, with an 8.1 K/9 and a 1.7 BB/9. When the Pittsburgh Pirates drafted Phil Irwin, he was known as the other pitcher from Mississippi in the 2009 draft. The Pirates also selected Nate Baker in the 5th round that year. Baker and Irwin were the number two and three starters in the Ole Miss rotation in 2009, with the ace of the staff being 2010 first rounder Drew Pomeranz. Irwin was taken in the 21st round. A college pitcher taken in the 21st round usually doesn't turn into a prospect. So far, Irwin has been a different story. The development started in 2010. Irwin did a lot of work that year in West Virginia with pitching coach Jeff Johnson. The right-hander made an adjustment, and took his four-seam fastball from the 87-88 MPH range to the 92-93 MPH range that year. He ended up with a 3.35 ERA in 113 innings, along with an 8.8 K/9 and a 1.6 BB/9 ratio. In 2011, Irwin jumped to high-A at the start of the year. After a 2.02 ERA in 53.1 innings, he was promoted to Altoona. The right-hander learned a sinker while he was in Bradenton that year. He leaned more on the sinker once he jumped to Double-A, using it to get ahead of hitters and get quick ground ball outs. He ended up with a 3.81 ERA in 87.1 innings, with a 7.1 K/9 and a 1.0 BB/9 ratio. Last year Irwin was injured at the start of the year, and made one rehab start in Bradenton. He moved back to Altoona, where he improved his numbers, putting up a 2.93 ERA in 104.1 innings, along with a 7.2 K/9, and a 1.5 BB/9. At the end of the season he made the jump to Indianapolis. In four starts he had a 2.57 ERA in 21 innings, with a 28:7 K/BB ratio. Irwin just missed our top 50 list in 2011, mostly because he was a college pitcher and hadn't had success in the upper levels yet. In 2012 he jumped up to become the number 39 prospect in the system, following his success in Double-A. This year he cracked the top 30, coming in at number 23. He also has gotten the attention of the Pirates, being added to the 40-man roster over the off-season to be protected from the Rule 5 draft. He still has the velocity on the four-seam fastball, and that velocity takes a jump out of the bullpen. That's where Irwin has been pitching so far in big league camp, and his focus has been more on the four-seamer so far. "Right now I'm pumping four seamers in there. The sinker has been a situational pitch, because I'm just trying to challenge hitters, fill up the zone," Irwin said. During the season, Irwin usually goes half and half with those pitches, using the sinker a bit more often. He's got a big breaking curveball, which is his strikeout pitch, and has led to a career 8.0 K/9 in 413.2 innings in the minors. What sets up that curve is his ability to pound the strike zone. That's what led to his impressive 28 strikeouts in 21 innings in Triple-A last year. "What really led to that is that the hitters get more patient, so if you're able to strike one them to death…they allowed me to get to that pitch," Irwin said of his strikeouts in Indianapolis. "They had never seen me before. That was the big thing, I was getting ahead of hitters, and I put them away when I had the chance." Irwin might have a tougher time the next time around, now that Triple-A hitters know what to expect. So far he hasn't had any issues with hitters adjusting to him, although the jump from Double-A to Triple-A can be the hardest for pitchers to make. "Eventually it's going to be a leveling game," Irwin said of the adjustment game between pitchers and hitters. "He knows I'm going to throw this, but I'm going to throw it because it's the best thing I've got." The Pirates have a lot of starting options in the majors this year, so Irwin might not get a shot in the major league rotation this year. He could be useful to the Pirates in the short-term out of the bullpen. His four-seam fastball — with added velocity in shorter outings — would pair nicely with his curveball as a relief pitcher. "It's not my usual style," Irwin said of relieving. "Coming out and blowing doors for an inning, it feels good. It's actually pretty fun." That adjustment could be difficult to make. All throughout his career, Irwin has been a starter. He's been on a schedule of pitching every five days for the last three and a half years, and would need to get used to the different workload that relievers face. "Relieving is a completely different animal," Irwin said. "The thing that I think would get to everybody would be getting up for multiple games in a row, whether you go in or not. I think Tony Watson may have gotten up for 20 out of 30 games, and he may have pitched in 10 of them. It's different. You throw a lot more. Talking to guys, from what I understand, you get used to it. Your body adapts." The right-hander has been under the radar his whole career. He was the number three pitcher at Ole Miss, behind Pomeranz and Baker. He was a 21st round draft pick in 2009. He put up great numbers in 2012, but didn't get as much recognition because a few higher ranked prospects put up slightly better numbers. One of those prospects was top prospect Gerrit Cole, who put up almost identical numbers to Irwin in 2012. The 2013 season could be when people start to take notice. Irwin is now on the 40-man roster. He's still got something to prove in Triple-A, but could be a candidate to arrive in the majors by the end of the season. "I've always enjoyed the under-the-radar thing," Irwin said. "Eventually, yeah. If I make it up this year, people are going to figure out who I am." Irwin probably isn't completely under-the-radar at this point, but he probably doesn't get the attention he deserves. He's got a low-90s fastball, an effective sinker, a filthy curveball that leads to a lot of strikeouts, and some of the best control in the system with a career 1.6 BB/9 ratio. If he is still under-the-radar for some, that probably won't last beyond this year.
Original Story:
http://feedproxy.google.com/~r/Pirate...
THE BACKYARD
BEST OF MAXIM
RELATED ARTICLES
Starling Marte went 2-for-2 with a walk and two stolen bases tonight. The Pirates could use a lot of nights like tonight from Starling Marte during the 2013 season. The outfielder led off the game with a single, after working the count in a long at-bat. He then went on to steal second, and moved to third when the throw from the catcher went wild. One play later Marte scored on a...
There are two types of lists that usually come out this time of year. The prospect lists focus on the future and the upside of each player. Then there's the lists that focus only on the impact prospects can make in the upcoming season. Baseball America released one of those lists today, looking at the top 20 rookies for the 2013 season. The list is ranked based on the impact the...
This is seriously how Tom Singer's story about Brandon Inge at Pirates.com starts:  Clint Hurdle may finally have his Jose Oquendo. This, if you'd forgotten or never knew or never cared, is Jose Oquendo. It's not so much that the comparison to Oquendo is out of line, it's that I can't figure out why anyone would go looking for a modern Jose Oquendo...
Your browser does not support iframes.Pittsburgh Pirates center fielder Andrew McCutchen is really good at baseball. He can hit, he can throw, he can catch, and he can run. In fact, you might even say McCutchen can do it all on the diamond.But on Friday, he tried his hand at working a video camera.The All-Star wasn't in the lineup for his team's game against the Baltimore...
Gerrit Cole went 9-7 with a 2.80 ERA in the minors last summer and the Pirates right-hander is considered one of the 10 best minor league prospects in the game. PiratesDugout.com caught up with Cole recently.
News and notes from spring training and the WBC… The Pirates take on the Orioles tonight at 7:05 in their only home night game of the spring. ROOT Sports will carry the game. Kyle McPherson will get the start. The Bucs are on ROOT Sports again tomorrow. That game starts at 1:05 against the Twins. On Thursday, the Bucs lost to the Rays 4-2. James McDonald tossed four scoreless...
The Tampa Bay Rays starting pitchers continue to show why they are the team's backbone. It was no different on Thursday when the Rays beat the Pittsburgh 4-2. Pitchers Alex Cobb and Chris Archer pitched seven strong innings. Cobb allowed one hit and struck out five in four innings while Archer surrendered two walks and struck out three in his three innings of work. It was scoreless...
The fourth weekend of college baseball started today. For some former Pirates draft picks, it was a good night for pitching. On the other hand, for two of the top starters in this draft class, their stock is quickly dropping. The schedule for the top college players this weekend can be found here. Check out the draft preview posted here and the recap of the third week's action...
          Every year the Pittsburgh Pirates throw their fans a party where they can get player autographs and interact with coaches and members of team management. It's a unique opportunity for the fans to get up close and personal with their favorite Buccos and show their support. They call this annual
The Pirates pounded the Red Sox 9-3 on Wednesday, although it may have felt kind of like a scrimmage with so many former Bucs on the field for Boston. Brock Holt, Drew Sutton, Pedro Ciriaco and David Ross saw action for the Sox. Jeff Locke pitched pretty well. He went four innings and allowed one run on three hits and two walks. The lefty struck out two and appears to be inching...
MLB News

Delivered to your inbox

You'll also receive Yardbarker's daily Top 10, featuring the best sports stories from around the web. Customize your newsletter to get articles on your favorite sports and teams. And the best part? It's free!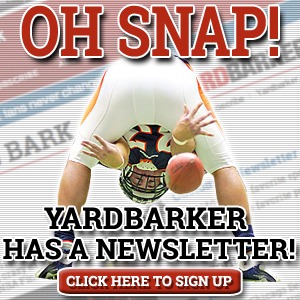 Latest Rumors
The Backyard

Today's Best Stuff

For Bloggers

Join the Yardbarker Network for more promotion, traffic, and money.

Company Info

Help

What is Yardbarker?

Yardbarker is the largest network of sports blogs and pro athlete blogs on the web. This site is the hub of the Yardbarker Network, where our editors and algorithms curate the best sports content from our network and beyond.