Found February 27, 2013 on On The Way Home:
While watching John Olerud during his 17-year playing career (mostly with the Toronto Blue Jays, New York Mets, and Seattle Mariners), I always wondered why he had to wear a helmet in the field. I knew it was because he had a serious head injury that needed to be protected, but didn't know exactly what. Now, I know; on this date in 1989, the first baseman went under the knife for brain surgery, which removed an aneurysm. The problem first became evident a month and a half before on January 11th when he collapsed during an off-season workout. Talk about a scary experience for a 20-year-old (or for someone of any age). Thankfully, Olerud made a full recovery and enjoyed a wonderful MLB career. After coming back at the end of the 1989 season for just 8 at-bats, he showed his worth to the Blue Jays by hitting .265/.364/.430 and coming in fourth in AL Rookie of the Year voting in 1990. However, it took him until '93 to truly break on the scene, when he earned his first All-Star game selection and was third in AL MVP voting. He won his first and only batting title, as he put together an impressive .363/.473/.599 line with 24 homers and 107 RBI. He not only led the league in batting average, but also in on-base percentage, and hit the most doubles (54). With a young prospect coming through Toronto's system by the name of Carlos Delgado, Olerud soon became expendable after not repeating his MVP-caliber season of 1993, and was dealt to the New York Mets. In his three years at Shea Stadium, he quickly proved to be one of the most dependable hitters and fielders in the NL East. He was part of the Sports Illustrated cover in 1999 that named him, Rey Ordonez, Edgardo Alfonzo, and Robin Ventura as the "Greatest Infield Ever." He currently sits on top of the Mets' all-time list for highest batting average with his .315 mark. It wasn't until he signed with the Seattle Mariners when he finally started getting recognized for his defense, as he won three Gold Glove awards in a four year span in the Pacific Northwest from 2000-2003. His career started to wind down in 2004, as he was dealt during the middle of the season to the New York Yankees, then spent 2005 with the Boston Red Sox. He struggled in the first half of '04 with Seattle (hitting .245), but he ended his career still being able to hit, as he hit at a .285 clip between the two AL East powers. I admired Olerud during his career, especially during his time with the Mets. It was amazing how consistent he was with both the bat and glove on a daily basis. Unlike plenty of players during that time (and today), he didn't do any talking, and just let his play do all the talking. It's very rare to find someone without any Minor League stats, as it's almost unheard of to make the jump from being drafted straight to the Major Leagues. That's exactly what Olerud did, with his only Minor League stats coming in 2005 with Boston, adding up to a measily 12 plate appearances. Can you imagine someone getting brain surgery months after getting drafted, sitting out all season, and then making your MLB debut in September without swinging a bat in a professional baseball game? Yea, me neither. That right there, shows you how good of a player John Olerud was. Thanks for reading! To Follow Matt's posts at On The Way Home and Rising Apple, you can follow him on Twitter: @mmusico8. If you'd like to join On The Way Home as a staff writer, you can contact Matt at matt.musico8@gmail.com. The post This Date in MLB History: John Olerud Undergoes Brain Surgery appeared first on On The Way Home.
Original Story:
http://feedproxy.google.com/~r/wordpr...
THE BACKYARD
BEST OF MAXIM
RELATED ARTICLES
The Toronto Blue Jays didn't have a great 2012. Their season collapsed like a house of cards when Jose Bautista broke his wrist and the pitching staff suffered injury after injury. This offseason, Alex Anthopolous made his move. He had accumulated several talented prospects that weren't going to be ready for the majors in 2013, and cashed them in to pick up Jose Reyes, RA...
Toronto Blue Jays catcher JP Arencibia may have a difficult responsibility this season if the team allows him to catch for R.A. Dickey. Knuckleball pitchers like Dickey and Tim Wakefield will oftentimes have their own personal catcher, but Arencibia is hoping to convince the Jays that he is up to the task. According to ESPN the Magazine's Chris Jones, Arencibia has been living...
What else can baseball fans do in January but dream of October? In You May Say I'm a Dreamer, the Outside Corner staff will imagine the route to a World Series in 2013 title for all 30 teams. The Blue Jays have done it. They've avoided the perils that come with being an overhyped team going into the season. They made the playoffs for the first time in 20 years. They conquered...
The first scary collision of the major league baseball season occurred in a spring training game Saturday when Toronto Blue Jays outfielders Mike McCoy and Ryan Langerhans collided while chasing down a fly ball in right-center field. Langerhans came down with the ball and managed to hold on to it, but both players went down and took their time getting up. McCoy took the worst...
A preface: (1) The Blue Jays are of tremendous interest this year, after having spent the offseason adding R.A. Dickey and the Marlins. Many expect that the Jays will win their division for the first time since 1993. At the very least, if they're not favorites, they're close to it. (2) Ricky Romero is of tremendous interest, because what the hell happened? (3) We're suckers...
In the This Is My Nightmare series, we'll take a look at what the absolute worst case scenario for each team would be in 2013. Think of it as the negative complement to our You May Say I'm A Dreamer series that we'll be running during our preview series. A nightmare season for the Blue Jays...well, let's see. You can immediately start with the health of Toronto...
Everyone knows the key players on the Toronto Blue Jays: Reyes, Bautista, Encarnacion, Dickey, Cabrera, and so on and so forth. But after the stars that everyone knows, there's a dropoff to the lesser players: guys like Arencibia, Lind, and Rasmus, who have tons of potential, but have generally underperformed during their careers with the Blue Jays. Picking a player from either...
Continuing from our season preview of the Toronto Blue Jays earlier today... What makes the 2013 Blue Jays different from the 2012 Marlins? The Blue Jays-Marlins comparison is bound to come up a lot this season if the Blue Jays struggle out of the gate. Just like the 2012 Marlins, the 2013 Blue Jays experienced a major retooling in the offseason, bringing in numerous stars...
The Boston Red Sox had their first game against the Toronto Blue Jays on Monday, and this was the first time that Manager John Farrell coached against his former team. As expected the fans of the Blue Jays were slightly upset about Farrell choosing to become the manager of the Boston Red Sox and voiced their opinions before, during and after the game. Farrell was the manager of Toronto...
Is Rush Canada's most popular export? As much as we love maple syrup and moose, it's probably true. Well, singer, bassist and frontman Geddy Lee is sticking with his home country, and has been a Toronto Blue Jays fan for years. In fact, he's often been spotted hanging out at Rogers Centre, cheering the team on. Likewise, with the Jays having completed an impressive offseason...
Outfield prospect George Springer hit a three-run homer off Jeremy Jeffress in the fourth inning and a two-run drive against Claudio Vargas in the fifth, helping the Houston Astros beat the Toronto Blue Jays 10-1 Wednesday. Houston, 29th among the 30 teams in batting average last year, had 18 hits, including two each by Springer, J.D. Martinez, Matt Dominguez and Carlos Corporan...
Facing the Toronto Blue Jays may have been a bit awkward for Red Sox manager John Farrell — who managed the Jays just last year — but two other Boston newcomers thoroughly enjoyed it. Steven Wright and Allen Webster combined to allow a run on four hits over four innings in the first appearance with the pro club for both hurlers. Wright, a knuckleballer, got the start and the...
MLB News

Delivered to your inbox

You'll also receive Yardbarker's daily Top 10, featuring the best sports stories from around the web. Customize your newsletter to get articles on your favorite sports and teams. And the best part? It's free!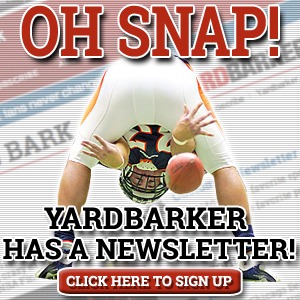 Latest Rumors
Best of Yardbarker

Today's Best Stuff

For Bloggers

Join the Yardbarker Network for more promotion, traffic, and money.

Company Info

Help

What is Yardbarker?

Yardbarker is the largest network of sports blogs and pro athlete blogs on the web. This site is the hub of the Yardbarker Network, where our editors and algorithms curate the best sports content from our network and beyond.