Found August 07, 2012 on Pirates Prospects:
Earlier in the day we covered seven former Pirates players born on this date. That article can be read here. In part two we have Hall of Fame manager Bill McKechnie, who also played with the Pirates. There are also five transactions of note, including the signing of a Pirates legend, plus we have a Jolly Roger Rewind from John Fredland, dealing with a scoring outburst during a long winning streak from eighty years ago today.
The Player/Manager
Bill McKechnie (1886) Infielder for the Pirates in 1907, 1910-12, 1918 and 1920. Manager for the Pirates from 1922 until 1926. He began his big league career with a brief late season trial with the Pirates during the 1907 season. Bill was sent back to the minors for the next two years to refine his skills. In 1910, he returned to Pittsburgh, serving as the team's backup infielder. The 23 year old would see time at all four infield spots that first full year, hitting .217 with 12 RBI's and 23 runs scored in 71 games. In 1911, he saw most of his time at first base, platooning with 31 year old rookie Newt Hunter. McKechnie hit a little better his second year, batting .227 with 17 extra base hits, after collecting just three during his first season. He was strong at putting the ball in play, just 18 strikeouts in 376 plate appearances, with 25 sacrifice hits. Bill saw limited time during the 1912 season, playing 24 games through August, when he was sent to the minors in exchange for infielder Art Butler.
McKechnie returned to the majors in 1913, jumping all around the next four years, with stops in Boston(1913 Braves) New York(1913 Yankees), the Federal League, where he played for Indianapolis in 1914 and Newark in 1915, then back to New York(1916 Giants), before ending up with the 1916 Reds. He remained in Cincinnati for 1917, then was sold back to the Pirates in 1918 for $20,000 during Spring Training. Bill started at third base for the 1918 Pirates, hitting .255 with 43 RBI's and 34 runs scored in 126 games. Despite the regular playing time in 1918, he took a job outside of baseball the next year. The Pirates convinced him to come back in 1920, serving as a backup infielder/coach. That 1920 season was his last in the majors. The next year he played his last year in the minors, hitting .321 for Minneapolis of the American Association.
McKechnie had managed in the majors in 1915, while with Newark of the Federal League. He returned to the Pirates as a coach in 1922, although he initially tried to comeback with the team is his backup infielder role. When the Pirates got off to a bad start, they got rid of manager George Gibson and hired McKechnie for the role. He took them from a 32-33 start, to a 53-36 finish. The next year the team was just as good under Bill, finishing in third place with 87 wins. They improved slightly in 1924, going 90-63, but it was still just good enough for a third place spot.
The 1925 season ended up being a championship year for the Pirates, as McKechnie led them to a 95-58 finish and a World Series win over the Washington Senators. It was the second WS title for the Pirates, who won in 1909, when Bill was in the minors. In 1926, they had a disappointing third place finish and McKechnie was allowed to leave. He would go on to win an NL pennant with the 1928 Cardinals, then another pennant with the 1939 Reds, before winning his second WS title with the 1940 Reds. Bill finished with 1896 major league wins over 25 seasons. With the Pirates, he had a 409-293 record. He was elected to the Hall of Fame as a manager in 1962. Bill was a resident of Bradenton, Florida in his later years and the Pirates Spring Training home is named after him, McKechnie Field.
The Trades
On this date in 1904, the Pirates, Giants and Reds got together in a three player trade. Pittsburgh sends young right fielder Jimmy Sebring to the Reds, while the Reds send veteran Mike Donlin to the Giants and New York sends Moose McCormick to the Pirates. This trade is an odd one in that all three of these players had no problems walking away from their baseball careers, right in the middle of them. Donlin was by far the best player of the group, but he also had a successful career outside of baseball, performing in vaudeville with his wife, who was a famous actress at the time. Sebring also left baseball to be with his wife, who was sick for a brief time. Instead of returning, he began playing for a local team and was blacklisted from the majors. He returned to the majors in 1909, but passed away the following off-season. McCormick retired from baseball for three years, before going back to the Giants, where he was used mostly off the bench. The Pirates got just 66 games out of Moose, but they later acquired Donlin for outfielder Vin Campbell, another players that had no qualms over leaving baseball for more money elsewhere.
On this date in 1930, the Pirates trade outfielder Fred Brickell to the Phillies for outfielder Denny Sothern. The Pirates were giving up a 23 year old outfielder with a .312 average over 265 games, spread out over five seasons. In return, they got a 26 year old center fielder, with a .287 average in 321 games, and a knack of picking up outfield assists, twice leading NL center fielders. The trade quickly went down south for the Pirates. Sothern would play just 17 games for Pittsburgh, and only 19 other games in his big league career. He hit .176 with the Pirates and never picked up another assist after leaving Philadelphia. It wasn't a huge loss for the Pirates, as Brickell also saw a quick drop in his production. He played parts of four seasons in Philadelphia, hitting .258 with one homer in 236 games.
On this date in 1958, the Pirates signed the great Willie Stargell as an amateur free agent. Just 18 years old at the time, and fresh out of Encinal HS in Alameda, California, Stargell went on to have a 21 year major league career, spent all with the Pirates, that ended with him gaining election into the Hall of Fame. His bio from this site can be read here.
On this date in 1987, the Pirates traded third baseman Jim Morrison to the Detroit Tigers for third baseman/outfielder Darnell Coles. Five days later, the Tigers also sent pitcher Morris Madden to the Pirates as the player to be named later in this deal. The Pirates got 14 appearances, three as a starter, out of Madden. He pitched 19.2 innings, with a 5.03 ERA over parts of two years. Coles lasted nearly a full year with the Pirates before he was dealt for outfielder Glenn Wilson. In 108 games with the Pirates, he hit .230 with 11 homers and 60 RBI's. Morrison was in his 11th season in the majors, nearing his 35th birthday at the time of the deal. He hit .274, with 57 homers and 241 RBI's in 552 games for the Pirates over five seasons. He was nearly done as a player at the time, batting .209 in 58 with the Tigers, then .152 with two homers in 51 games for the 1988 Braves, his last team.
On this date in 2000, the Pirates trade utility fielder Luis Sojo, to the Yankees for pitcher Chris Spurling. Sojo had been with New York up until the 2000 season, signing with the Pirates as a free agent. To get the veteran back, the Yankees gave up a 23 year old minor league reliever that they took in the 41st round of the 1997 draft. Spurling was in high-A ball, where he remained and pitched extremely well after the trade. The next year he tried out starting in AA with mild success, but returning to the level the next year, he moved into the closing role and pitched strong in 51 outings. The Pirates lost him in the 2002 Rule V draft and he eventually pitched 187 games in the majors over four seasons. Sojo had signed a one year deal with the Pirates and was not playing full-time. He moved to a bench role with the Yankees, playing parts of three years there before retiring.
Jolly Roger Rewind: August 7, 1922
An eight-run fourth-inning uprising lifted the Pirates to their eighth consecutive victory, 17-10 over the Phillies at Shibe Park.
Trailing 6-4 entering the top of the fourth, the Bucs—"with blood in their eyes and Bowie knives clenched in their teeth," in the words of The (Pittsburgh) Gazette Times—paraded thirteen batters to the plate against three Philadelphia pitchers and recorded nine hits. Bill McKechnie's platoon strategy proved pivotal. The Bucco manager had started Clyde Barnhart in right field against left hander Lefty Weinert, but pinch-hit lefty-batting Reb Russell against right-handed reliever John Singleton with the bases loaded, one out, and one run in. Russell doubled over first base to drive in three runs and give the Pirates an 8-6 advantage.* Later in the inning, Charlie Grimm doubled in two more runs to increase the margin to 11-6.
On the afternoon, ten Pirates—including Russell, seven members of the starting lineup and two relief pitchers—recorded two hits. All thirteen Pirates who played contributed at least one hit to the team's twenty-two hit attack.
The Bucco pitching was less effective; starter Wilbur Cooper, seeking his seventh consecutive victory, left after surrendering home runs on consecutive pitches to Jimmy Smith and Cliff Lee in the third, and McKechnie removed reliever Hal Carson after four walks in the fourth inning. Finally, Whitney Glazer came in to get the final two outs in the fourth; he wound up finishing the game, striking out six in five and two thirds innings and adding to the "slugging riot" with a two-run homer in the eighth inning.
The win moved the Pirates to within one half game of third-place Chicago.**
The (Pittsburgh) Gazette Times game story
* In the first inning, Barnhart had singled in two runs. "McKechnie's stunt of working the Russell-Barnhart combination in right field is getting fine results," observed Chilly Doyle in the Gazette Times.
** This game did not represent the end of the Pirates' winning or slugging. The Bucs wound up winning the remaining three games of the four-game series at Shibe Park, outscoring the Phillies 57-25 in the process. They would ultimately stretch the winning streak to thirteen games.
Original Story:
http://feedproxy.google.com/~r/Pirate...
THE BACKYARD
BEST OF MAXIM
RELATED ARTICLES
According to a source, Jeff Locke is headed to Pittsburgh to join the club. Kevin Correia is slated to spot start on Wednesday for the Pirates. Locke, who was scheduled to start for Triple-A, was promoted likely as insurance arm. The move is not yet official. No word yet on the corresponding roster move.
TOP OF THE SYSTEM A look at how the current top 20 prospects did today.  Note that this list doesn't include players currently in the majors. Rankings are from the post trade deadline update. 1. Gerrit Cole, RHP, Altoona (2-4, 3.93) - DNP 2. Jameson Taillon, RHP, Bradenton (6-7, 3.91) - DNP 3. Luis Heredia, RHP, State College (2-1, 2.28) - DNP 4. Alen Hanson, SS, West Virginia...
Yesterday afternoon, like two hours after I mused on Twitter about a Justin Wilson call-up to be used as a LOOGY down the stretch, the Pirates announced that Wilson would be moved to the bullpen. Given that Wilson throws hard as a reliever and that a lot of his control problems stem from his breaking stuff and that Tony Watson is occasionally homer-happy, having Wilson as an option...
Final: Pirates 4, Diamondbacks 0 WP: Erik Bedard (6-12, 4.53 ERA) LP: Wade Miley (12-7, 2.85 ERA) I only got to see the first four innings of this game, but from what I saw, it was easy to tell that Erik Bedard was on. And he absolutely rolled through Arizona's lineup with seven scoreless innings. He struck out five, didn't walk a batter, and allowed only two hits. Miley pitched...
It's only been less than two weeks in the big leagues for Starling Marte, but we've already seen flashes of exciting plays from the 23-year-old that makes you see his special potential. He showed off his power in his very first pitch in his very first at-bat launching a home run in his 2-for-4 debut. We've seen him show off his cannon arm by nailing a runner trying to stretch...
TOP OF THE SYSTEM A look at how the current top 20 prospects did today.  Note that this list doesn't include players currently in the majors. Rankings are from the post trade deadline update. 1. Gerrit Cole, RHP, Altoona (2-4, 3.93) - DNP 2. Jameson Taillon, RHP, Bradenton (6-7, 3.91) - DNP 3. Luis Heredia, RHP, State College (2-1, 2.28) - DNP 4. Alen Hanson, SS, West Virginia...
AJ Burnett since the All-Star break:5 games, 39 2/3 innings, 30 strikeouts, 7 walks, 25 hits, 9 runsRate stats: 6.8 K/9, 1.6 BB/9, 4.3 K/BB, 2.04 ERA, 0.83 WHIP, .181/.226/.319 againstThe Pirates are 4-1 in Burnett's five starts, including wins his his last four. The Pirates are 13-9 since the All-Star break. You can do the math.  
The Pittsburgh Pirates and Cincinnati Reds are in a chase for the NL Central as well as the best record in the National League. A big reason for each team's success have been their bullpens. They are the best two teams in the league in bullpen ERA and it's not even close. The next best team is almost a full run behind them. The Pirates came into Tuesday night's game against...
The Pirates entered the night 53-0 when leading a game after seven innings. That's how good the back end of the bullpen has been (plus some luck, since the few times the 'pen blew a lead the offense managed to bail them out). All good things must come to an end, unfortunately, and that's what happened on Tuesday. The Pirates were poised to win their third in a row in exciting...
Indianapolis is in first place in their division, with a ten game lead and 28 games left on their schedule. Bradenton has off today. Both DSL teams, as well as the GCL Pirates, were off yesterday. A full recap of yesterday's games can be found here. Irwin will try tonight for his eighth straight strong outing Triple-A: Indianapolis (71-45) vs Charlotte (65-51) 7:05pm Probable...
You know, the Pittsburgh Pirates aren't necessarily playing *bad* lately...the issue is that the Reds just can't be stopped. After losing two straight to being the weekend, the Pirates needed to win yesterday to attempt to salvage a bid at winning the division. Well, they did that with a 6-2 win, but are still 4.5 games out of the division lead. The Pirates are 2...
MLB News

Delivered to your inbox

You'll also receive Yardbarker's daily Top 10, featuring the best sports stories from around the web. Customize your newsletter to get articles on your favorite sports and teams. And the best part? It's free!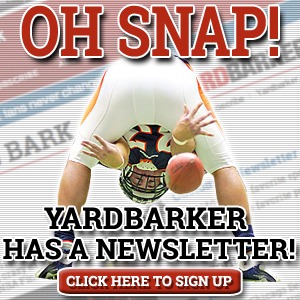 Latest Rumors
The Backyard

Today's Best Stuff

For Bloggers

Join the Yardbarker Network for more promotion, traffic, and money.

Company Info

Help

What is Yardbarker?

Yardbarker is the largest network of sports blogs and pro athlete blogs on the web. This site is the hub of the Yardbarker Network, where our editors and algorithms curate the best sports content from our network and beyond.