Found August 09, 2012 on Pirates Prospects:
Three former Pittsburgh Pirates players born on this date, plus we have a transaction of note, that involved a future Hall of Fame manager. In his Jolly Roger Rewind, John Fredland covers a Pirates no-hitter from 36 years ago.
The Trade
On this date in 1919, the Pirates traded outfielder Casey Stengel to the Philadelphia Phillies in exchange for utility fielder Possum Whitted. Stengel was not popular in Pittsburgh, his high salary demands and crazy antics didn't get him on the good side of Pirates owner, Barney Dreyfuss. Casey was a good player though, hitting .280 with 55 RBI's and 51 walks in his 128 games with the Pirates. Whitted was a 29 year old in his eighth season in the majors, batting .249 with 32 runs scored and 32 RBI's at the time of the deal. He had played every position in the majors at some point, except catcher and pitcher. Whitted hit .389 in 35 games after the trade, then spent the next two years as a solid regular in the Pirates lineup, before they sold him to Brooklyn during the Spring of 1922. He batted .286 with a .733 OPS and 158 RBI's in 277 games with Pittsburgh. Stengel refused to report to Philadelphia after the deal, demanding a salary raise, a common occurrence during his career. He reported to the team in 1920 and hit .294 in 153 games before being dealt to the Giants during the 1921 season. Casey hit .368 in limited time in 1922, then batted .339 in 79 games the next year.
The Players
Matt Morris (1974) Starting pitcher for the 2007-08 Pirates. At one time, Morris was an All-Star pitcher for the Cardinals, winning 22 games in 2001 at the age of twenty-six. However, by the time he reached the Pirates in July of 2007, he was coming off a season in which he posted his highest season ERA at 4.98 with the Giants. During the 2007 season with San Francisco, he was 7-7 4.35 in 21 starts. He also had a low strikeout rate, in fact, Matt had seen a decline in his K/9 rate every season since 2001, slowly dropping from 7.7 per nine, down to 4.8 at the time of the trade that brought him to Pittsburgh. On July 31, 2007, the Pirates gave up outfielder Rajai Davis and a minor league pitcher to acquire Morris. He would make 11 starts for Pittsburgh in 2007 and pitch poorly, going 3-4 6.10 in 62 innings pitched. The next season turned out to be a disaster. Despite being owed just over $10mil for the season, the Pirates pulled the plug on Morris after five starts. He went 0-4 9.67 with a 2.15 WHIP. With his release from Pittsburgh, Matt's career was over, finishing with a 121-92 record over 11 seasons.
Pat Mahomes (1970) Relief pitcher for the 2003 Pirates. He was once a highly rated pitcher in the Twins system, who couldn't put it together in the majors during his first trial. During the 1997 season, Pat went to Japan to pitch, playing there until the end of the next year. His major league record at the time stood at 21-28 5.88 in 135 games, 51 as a starter. When he returned to the states in 1999, Mahomes signed with the Mets, where he went 8-0 3.68 in 39 relief appearances. His ERA rose to 5.46 in 2000, then 5.70 in 2001 while with the Rangers. In 2002, he spent part of the year with the Chicago Cubs, posting a 3.86 ERA in 32.2 innings over 16 appearances. Pat signed with the Pirates as a free agent for the 2003 season, pitching most of the year out of the bullpen with AAA Nashville. For the Pirates, he pitched nine times, once as a starter, going 0-1 4.84 in 22.1 innings. He left via free agency after the season, briefly returning to the Pirates minor league system at the end of 2004, finishing that season with Nashville. Mahomes never returned to the majors after his time with the Pirates in 2003, pitching minor league ball until 2009, with his last four years spent mostly in Independent ball. He went 42-39 in the majors, won 139 minor league games, and pitched over 800 games in pro ball during his 22 year career.
Roman Mejias (1930) Outfielder for the Pirates in 1955 and then again from 1957 until 1961. He was signed by the Pirates in 1953 as an amateur out of Cuba. Mejias hit well his first year of pro ball, playing Class-D ball, batting .322 with 48 extra base hits in 117 games. Moving up to Class-B the next season, he did even better, hitting .354 with 76 extra base hits in 139 games. That earned him a spot with the 1955 Pirates. Roman was a part-time player during his rookie season, getting most of his playing time either off the bench or in left field. He hit .216 in 71 games, with a .585 OPS and 21 RBI's. The next season he spent the entire year at AAA, playing for Hollywood of the Pacific Coast League. Mejias would make the Pirates Opening Day roster in 1957, spending most of the season in the majors(he played 28 games at AAA). He batted .275 in 58 games for Pittsburgh that year, his highest average while with the team.
Over the next two seasons, Roman would serve as the team's backup outfielder at all three spots. He hit .268 in 76 games in 1958, then saw his most action with the Pirates in 1959, when he played in 96 games, hitting .238 with seven homers, 28 RBI's and 28 runs scored. Mejias would spend most of the next two seasons in the minors, but during the 1960 season, when the Pirates won the World Series, he was briefly a member of that team. During a span of a week in May, he pinch ran twice and pinch hit once, scoring one run and striking out in his only AB. He played four games for the Pirates in 1961, again striking out in his only plate appearance. In October of 1961, the Pirates lost him to the Houston Colt .45′s in the expansion draft. Roman played full-time that season and hit .286 with 24 homers and 76 RBI's. He would be traded to the Red Sox that off-season and in two years in Boston, he hit .229 with 13 homers in 176 games. Mejias finished his career with a year in the minors, followed by spending 1966 playing in Japan. With the Pirates, he hit .245 with 17 homers and 83 RBI's in 308 games.
Jolly Roger Rewind: August 9, 1976
John Candelaria pitched the Pirates' first no-hitter in Pittsburgh in sixty-nine years, shutting down the Dodgers 2-0 at Three Rivers Stadium.
The twenty-two-year-old left hander* faced only three batters over the minimum, all reaching base in the third inning: Steve Yeager on a walk, Davey Lopes on a Frank Taveras error and Ted Sizemore on a Bill Robinson error. But Candelaria induced Bill Russell to hit into a forceout to end that threat, and then finished the game by retiring the final eighteen Dodgers in a row.
Writing in The Pittsburgh Press, Bob Smizik noted an indicator of Candelaria's dominance: "there were no spectacular defensive plays necessary, only a handful of good ones." Notably, Al Oliver tracked down Lopes' first-inning drive in the left-center gap** and Frank Taveras' perfect positioning neutralized Sizemore's sixth-inning liner.*** In the eighth inning, Lee Lacy's grounder up the middle hit Candelaria's size-thirteen shoe and fell harmlessly at his feet, allowing him to retire Lacy at first.
With two outs in the ninth and an ABC Monday Night Baseball regional television audience and 15,131 eyewitnesses looking on, Candelaria faced Russell. By then, the Pirates held a 2-0 lead, thanks to Robinson's two-run double off starter Doug Rau in the fifth inning. Russell lofted a fly ball to center, and Oliver hauled it in to complete the first Bucco no-hitter since Nicholas Maddox no-hit the Brooklyn Superbas—the Dodgers' ancestors—at Exposition Park in September 1907.
"I don't think I'll ever have a bigger thrill, unless we win the World Series," said Candelaria, who improved his record to 11-4 with the victory.****
Box score and play-by-play
The Pittsburgh Press game story
* Candelaria's major-league debut had come just fourteen months earlier. In the previous October's National League Championship Series, he struck out fourteen Reds in a game.
** "That was the best play of the game," said Candelaria afterwards.
*** "That was their hardest-hit ball," observed Candelaria.
**** Candelaria's performance inspired Smizik to compose a dramatic lede: "Many times before he had come in this direction. And why should he not have? His fast ball could be a blur, his curve a vast deception. When he was right, the hitters were always in trouble. Last night he was right. True, the overwhelming fast ball, the one that sometimes makes him a double digit strikeout pitcher, was not there. But there was still enough. What it lacked in pure speed, it made up for in dancing movement. And the curve was splendid, going where he wanted it to go."
Original Story:
http://feedproxy.google.com/~r/Pirate...
THE BACKYARD
BEST OF MAXIM
RELATED ARTICLES
Jeff Locke will serve as the long man in the Pirates' bullpen. Jeff Locke was promoted to Pittsburgh on Wednesday to provide the club with a volume of innings if the team needs him. With Correia making the spot start against Arizona, and Jason Grilli deemed unavailable in relief due to pitching on back-to-back nights, the bullpen was short arms. The left-hander has been a starter...
Indianapolis Indians  3,  Charlotte Knights  0 (Box)   It still counts. Justin Wilson pitched a no-hitter. Even though the game was cut short, after 7.5 innings due to a thunderstorm, Justin Wilson still gets to count this game as a no-hitter. Wilson pitched eight no-hit innings, including one in the pouring rain, before the game was halted.  In fact, he simply mowed down the...
Follow me on Twitter @jim_krug       (Opening image credit usatoday) The website was up and gone so quickly that if you weren't talking Pirates' baseball today, you probably missed it.  Luckily, at first gazing upon the sheer idiocy of the concept myself, I immediately preserved a screen shot, like an astronomer wtinessing the sudden, unexpected beauty of a collapsing...
According to a source, Jeff Locke is headed to Pittsburgh to join the club. Kevin Correia is slated to spot start on Wednesday for the Pirates. Locke, who was scheduled to start for Triple-A, was promoted likely as insurance arm. The move is not yet official. No word yet on the corresponding roster move.
TOP OF THE SYSTEM A look at how the current top 20 prospects did today.  Note that this list doesn't include players currently in the majors. Rankings are from the post trade deadline update. 1. Gerrit Cole, RHP, Altoona (2-4, 3.93) - DNP 2. Jameson Taillon, RHP, Bradenton (6-7, 3.91) - DNP 3. Luis Heredia, RHP, State College (2-1, 2.28) - DNP 4. Alen Hanson, SS, West Virginia...
Yesterday afternoon, like two hours after I mused on Twitter about a Justin Wilson call-up to be used as a LOOGY down the stretch, the Pirates announced that Wilson would be moved to the bullpen. Given that Wilson throws hard as a reliever and that a lot of his control problems stem from his breaking stuff and that Tony Watson is occasionally homer-happy, having Wilson as an option...
It's only been less than two weeks in the big leagues for Starling Marte, but we've already seen flashes of exciting plays from the 23-year-old that makes you see his special potential. He showed off his power in his very first pitch in his very first at-bat launching a home run in his 2-for-4 debut. We've seen him show off his cannon arm by nailing a runner trying to stretch...
It's been two weeks since the last time Kevin Correia made a start for Pittsburgh. He was moved into the bullpen when the club acquired Wandy Rodriguez a few days before the trade deadline. Correia made one appearance during that span in relief, where he struggled and allowed four earned over two frames, in adjusting to the new role. Not since when he was with the San Francisco...
©2012 Raise the Jolly Roger. All Rights Reserved..
The Pirates entered the night 53-0 when leading a game after seven innings. That's how good the back end of the bullpen has been (plus some luck, since the few times the 'pen blew a lead the offense managed to bail them out). All good things must come to an end, unfortunately, and that's what happened on Tuesday. The Pirates were poised to win their third in a row in exciting...
The Pittsburgh Pirates and Cincinnati Reds are in a chase for the NL Central as well as the best record in the National League. A big reason for each team's success have been their bullpens. They are the best two teams in the league in bullpen ERA and it's not even close. The next best team is almost a full run behind them. The Pirates came into Tuesday night's game against...
Based on how they've performed at PNC Park coupled with San Diego's play on the road, the Pittsburgh Pirates should be able to end their lengthy home losing streak to the Padres. Of course, if scheduled starter James McDonald's struggles continue, another defeat could be imminent. McDonald again hopes to break out of his second-half funk and help the Pirates avoid losing...
MLB News

Delivered to your inbox

You'll also receive Yardbarker's daily Top 10, featuring the best sports stories from around the web. Customize your newsletter to get articles on your favorite sports and teams. And the best part? It's free!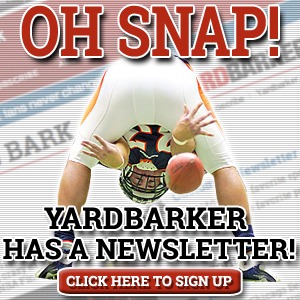 Latest Rumors
The Backyard

Today's Best Stuff

For Bloggers

Join the Yardbarker Network for more promotion, traffic, and money.

Company Info

Help

What is Yardbarker?

Yardbarker is the largest network of sports blogs and pro athlete blogs on the web. This site is the hub of the Yardbarker Network, where our editors and algorithms curate the best sports content from our network and beyond.