Found April 09, 2013 on Fox Sports South:
PLAYERS:
Kris Medlen
,
Cliff Lee
,
Evan Gattis
,
Jason Heyward
,
Wade LeBlanc
,
Gerald Laird
,
Brian McCann
,
Fredi Gonzalez
,
Craig Kimbrel
TEAMS:
Atlanta Braves
,
Philadelphia Phillies
,
Miami Marlins
Here are three things we learned from Atlanta's 3-2 victory over Miami on Tuesday, before a subdued crowd at Marlins Park: 1. Just wait until Kris Medlen recaptures that late-season mojo of last year From a distance, Medlen's cumulative numbers after two starts (1-1, 1.50 ERA) look superb. But he has yet to find a true groove with strikeout-to-walk ratio (45) or WHIP (1.42). And let's be honest, the Marlins' lineup even with Giancarlo Stanton might be the least intimidating in all of baseball. Very little power. Marginal speed. Full of slap-hitting assets. Ugh. That said, it's not Medlen's job to draft or sign the Miami roster, and he didn't fill out the Marlins' Tuesday lineup, either. He could only control the pace of his pitches and the tempo of his delivery; and from my vantage point, he appeared to be looser and more relaxed than last Thursday's losing duel with Phillies co-ace Cliff Lee. Plus, the temperature at Marlins Park was roughly 45 degrees warmer than last week's raincoldugly outing at Turner Field. As for the future, perhaps Medlen can begin another 20-start streak without taking a loss. The real proof's in the numbers, though: From July 31 to Sept. 30 last year, spanning 12 starts and 83.2 innings, Medlen (10-1, 1.57 ERA) absurdly amassed a 9-0 record, 0.97 ERA, 0.80 WHIP and 8410 K-BB ratio. 2. Evan Gattis seems at home behind the plate ... and when occupying the cleanup spot With Freddie Freeman on the disabled list (oblique strain) and Jason Heyward getting a night of rest (minus the defensive cameo in ninth inning), Gattis a fringe-roster candidate in March turned April sensation announced his 4-hole authority early on, belting a homer off Marlins starter Wade LeBlanc in the first inning. Gattis's blast may have fallen short of the million-dollar monstrosity beyond the left-center wall at Marlins Park, but it was the perfect tape-measure shot to excite a Braves fan base that has already embraced the legend of El Oso Blanco with open arms. Speaking of arms, Gattis's Popeye-esque forearms and glove-less batting hands hearken one back to the black-and-white-film days of Hall of Famer Jimmie Foxx (1925-45). To clarify, no one expects Gattis the Braves' co-backup catcher with Gerald Laird in Brian McCann's absence to dominate pitchers like Foxx (534 homers, 1,922 RBI, .325 career average). But then again, Foxx never crushed his first MLB homer while his parents were simultaneously being interviewed on live television. Jokes aside, Gattis's crouching-tiger approach to hitting gives Braves manager Fredi Gonzalez yet another stellar option at the 3-4-5-6 power slots, depending on the day and situation. 3. Craig Kimbrel offers very little hope to opposing hitters in the 9th Of Kimbrel's four appearances in 2013, spanning four innings and four saves, only three batters have reached base, with none scoring. And like Tuesday's winning pitcher, Kris Medlen, Kimbrel doesn't appear to be anything close to peak form. Strangely, that's a wonderful sign of progress for a 7-1 Braves team (winners of five straight) which understands 94 victories may be enough for a playoff berth ... but guarantees nothing about home-field advantage throughout the National League playoffs.
Original Story:
http://www.foxsportssouth.com/mlb/atl...
THE BACKYARD
BEST OF MAXIM
RELATED ARTICLES
WAY DEEP
Video: Bossman Sr. would be proud
During Atlanta's 8-0 win in Miami last night, the Atlanta offense struggled for the first four innings before exploding in the fifth. Andrelton Simmons started the scoring with an RBI single, and Braves rookie catcher Evan Gattis extended the lead to four runs with a three-run homer. But the real cherry on top during the inning was this monstrous home run by Braves third baseman...
Strikeouts are cool. Steals are pretty neat as well. Home run robbing catches, sliding grabs, falling into the stands to snag a foul ball--all awesome. However, there is one play, one thing that people love about baseball above everything else. Yep. You guessed it--the long ball; the dinger; the moon shot; the tater; the country mile; the roof shot; the salami; the round tripper...
From moppin' floors to Turner Field
Justin Upton is hitting enough for an entire team. The slugging outfielder went 4 for 4, including his sixth home run, and Paul Maholm allowed one hit in seven innings to help the Atlanta Braves spoil the Miami Marlins' home opener Monday night by winning 2-0. Upton scored both runs and doubled the Marlins' hit total. The Braves won despite going 0 for 7 with runners in...
The Atlanta Braves have played seven games so far this year, and have won six.  As it stands, new left fielder Justin Upton has hit a homerun for each win.  In addition to the six homers, Upton has two doubles, … Continue reading →
Viewers of the Fox South-Florida television broadcast of Monday's Miami Marlins-Atlanta Braves game on Monday night were treated to a little R-rated entertainment right after they came out of commercial. In one of the stadium's boxes, a camera caught a trio of feather-wearing, tassel-twirling dancers shaking their moneymakers. From the looks of it, there was more action...
MIAMI (AP) -- Evan Gattis hit a three-run homer and the Atlanta Braves completed their second consecutive three-game sweep when they beat the reeling Miami Marlins 8-0 Wednesday night. Mike Minor pitched 5 2-3 innings for the Braves, whose 8-1 record leads the majors. They're off to their best start since 1994, when they began the season 13-1. Only three series into the season...
The Atlanta Braves bolstered their bullpen depth Wednesday by acquiring right-handed reliever Luis Ayala from the Baltimore Orioles for a minor-leaguer. The Braves sent left-handed pitcher Chris Jones to the Orioles. Jones, 24, was pitching at Double-A Mississippi. Ayala, 35, was 5-5 with one save in three chances and a 2.64 ERA in 66 games with the Orioles in 2012. He had a 2...
KEEP YOUR FRIENDS CLOSE AND YOUR ENEMIES CLOSER! Team News and Notes Atlanta Braves (6-1) The Braves currently sit in first place in the NL East, and new addition Justin Upton is a major reason why. The 25-year-old has batted .423/.448/1.192 to start the season, with six bombs and eight RBI. The other half of the Upton brothers, B.J., has struggled to hit himself out of a barn batting...
MLB News

Delivered to your inbox

You'll also receive Yardbarker's daily Top 10, featuring the best sports stories from around the web. Customize your newsletter to get articles on your favorite sports and teams. And the best part? It's free!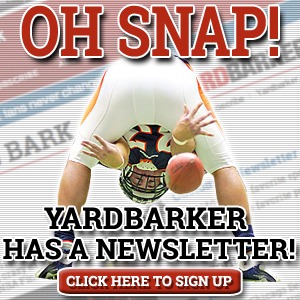 Latest Rumors
The Backyard

Today's Best Stuff

For Bloggers

Join the Yardbarker Network for more promotion, traffic, and money.

Company Info

Help

What is Yardbarker?

Yardbarker is the largest network of sports blogs and pro athlete blogs on the web. This site is the hub of the Yardbarker Network, where our editors and algorithms curate the best sports content from our network and beyond.