Three Up, Three Down: Bad teams get off to good starts
Los Angeles Angels catcher Carlos Perez (58) celebrates with teammates after hitting a walk-off bunt in the 10th inning to defeat the Texas Rangers on April 11, 2017. The Angels won 6-5 in 10 innings. 
Kirby Lee-USA TODAY Sports
Welcome to the very first edition of "Three Up, Three Down" – your weekly catchup of the three best highlights (and lowlights) from around the league. We're here for all of the cheers and the jeers, because it's baseball. You can't have a winner without someone losing along the way.

If your team is in the "Up" section, then rejoice! If you're team is in the "Down" section, just remember that there's always next week. So, let's get into it.
Up: Bad teams get off to good starts
I'm not going to drop that silly "If the season ended today" line on you all, but I am going to kindly direct you to the standings. You may notice that the Angels are leading the AL West, the Twins got off to a 5-1 start, the Diamondbacks are on top of the NL West, and the Reds are sitting on the roof of the NL Central as well. These are four teams that nobody expects to see playing in October, and four is also probably the number of baseball experts who predicted these teams to make the playoffs.
It's a fact that bad teams regularly get off to good starts and vice versa so I'm not saying that we should expect to see these teams hang on to their lofty spots. What I am saying is that if you're a fan of these teams, I hope that you're enjoying this moment. This is the prime time for optimism, and there's nothing like a good start to get your spirits up for a long season.
Down: Diamondbacks defense completely disintegrates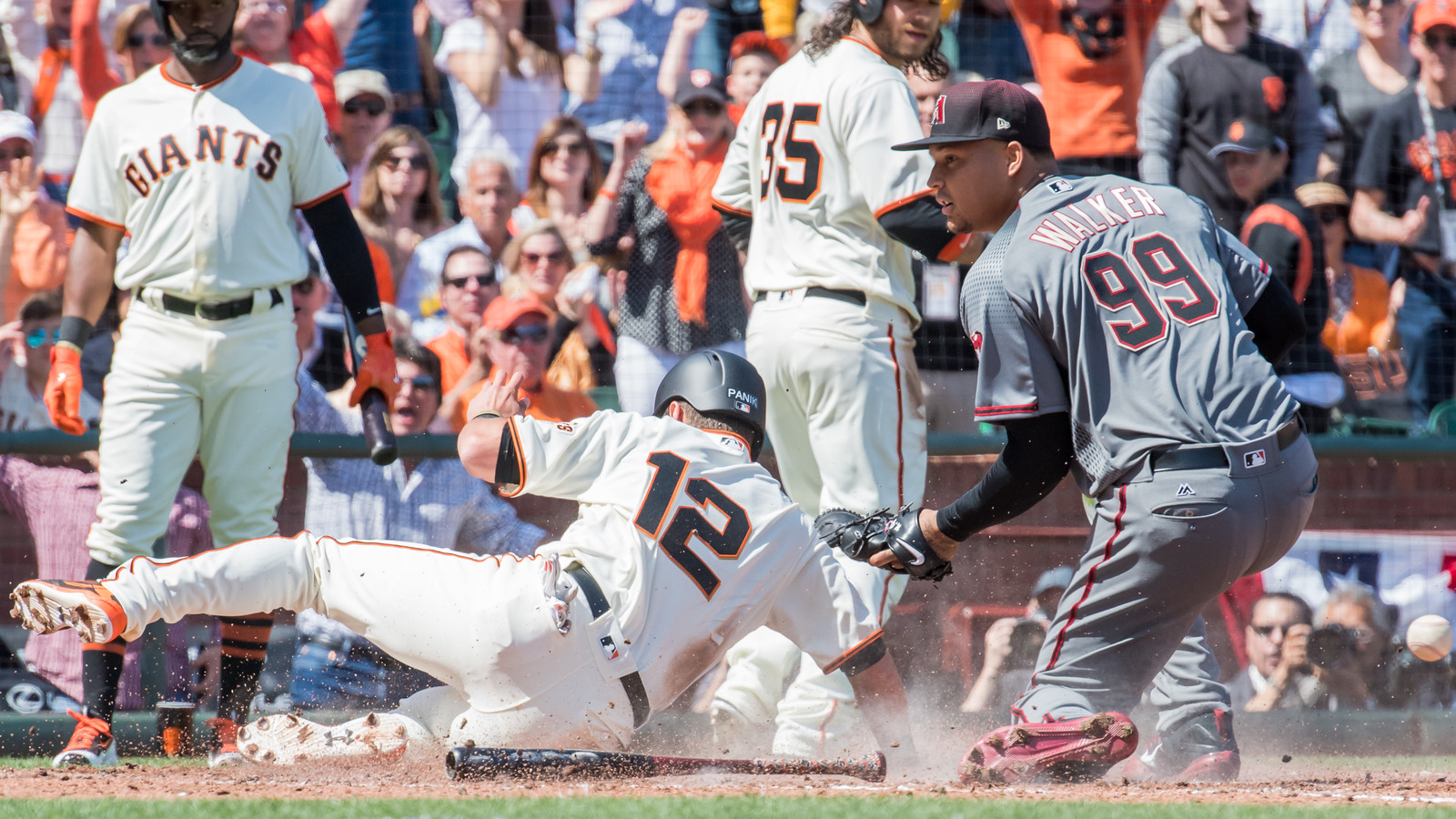 Pitcher Taijuan Walker looks on as Joe Panik slides easily past home plate in an error that gave the Giants three runs against the Diamondbacks. 
Douglas Stringer/Icon Sportswire via Getty Images
The Diamondbacks are doing well, but they lost on Monday and that loss contained one of the wildest plays you'll see in the bigs. Giants pitcher Matt Moore came up to bat with the bases loaded and hit the ball a grand total of 20 feet. This cleared the bases because the Diamondbacks proceeded to collectively spill their spaghetti all over the infield. Taijuan Walker fielded the swinging bunt and threw it to the backstop to make it 1-0. The catcher retrieved it and his throw careened off of Walker's glove to make it 2-0, and then the Diamondbacks capped off their Benny Hill moment when Jarrett Parker beat Walker's tag at the plate to make it 3-0.
Now, baseball is a very difficult game and it's played by human beings who will make mistakes from time to time. Still, this was such a hilarious comedy of errors. Things escalated so quickly! Poor Taijuan Walker went from making a play on a somewhat routine bunt to having a look of utter disappointment and sadness on his face when the third run beat his tag at the plate. Life truly comes at you fast.
Up: Angels pull off two miraculous comebacks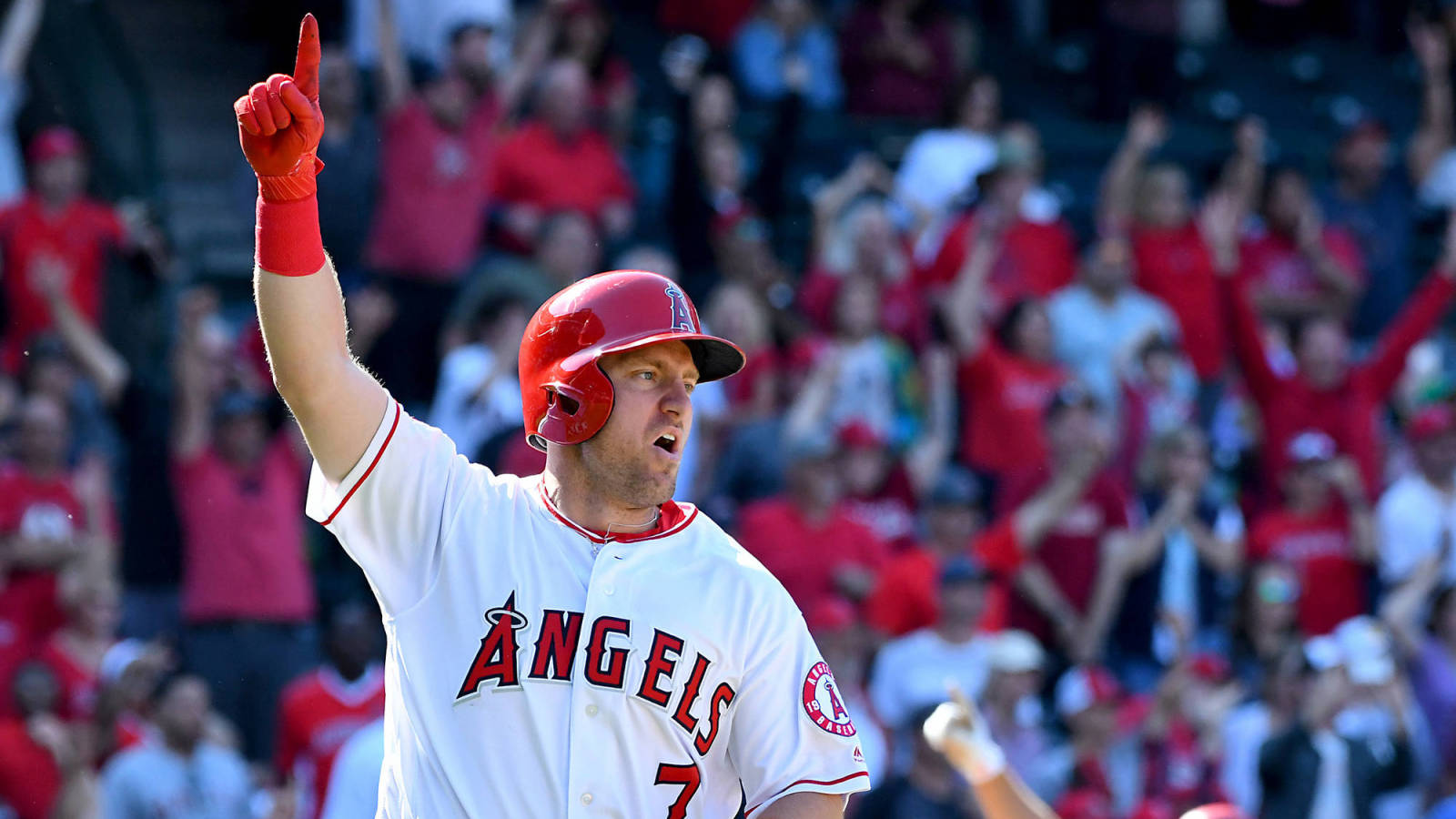 Los Angeles Angels second baseman Cliff Pennington celebrates after hitting a walk off RBI single to defeat the Seattle Mariners 10-9 in the ninth inning of the game at Angel Stadium of Anaheim. 
Jayne Kamin-Oncea-USA TODAY Sports
Speaking of the Angels, two of their victories came via incredible comebacks. If you're into Win Probability, Fangraphs gave the Angels a zero percent chance of winning by the ninth inning Sunday's game against the Mariners. Twelve batters later, the Angels completely turned it around to one hundred percent thanks to a Cliff Pennington walk-off single to win the game.
As if that wasn't enough, the Angels made another big comeback on Tuesday. Although it wasn't of the six-run variety, they were still in a big hole going into the ninth inning against the Rangers. This time, Fangraphs at least gave the Halos a chance – The Win Probability number was at around three percent. Three runs later, the Angels forced extra innings, and then Carlos Perez dropped the bunt to end all bunts to give the Angels another divine comeback victory.
Down: Seattle's bullpen stinks up Safeco Field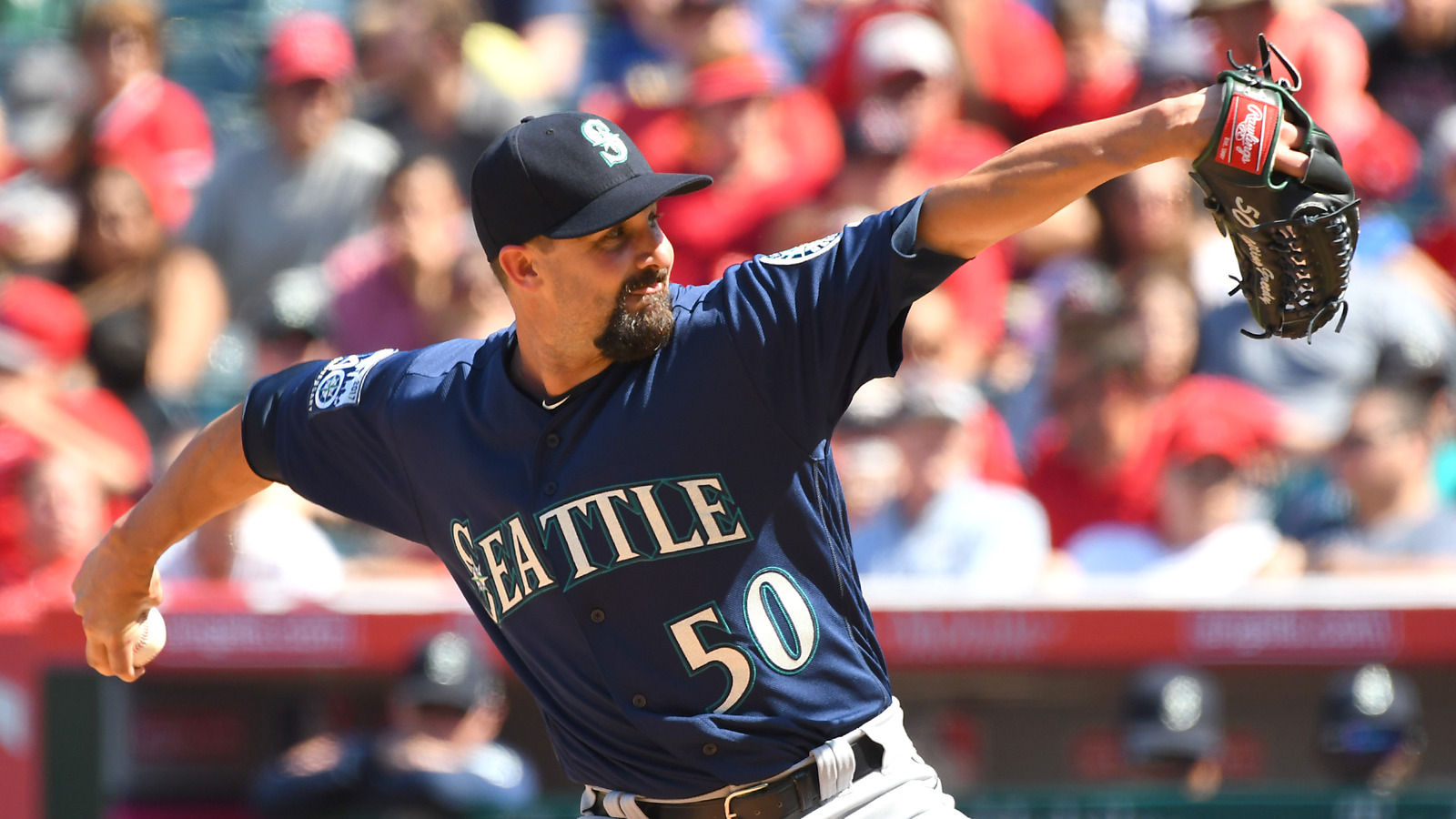 Seattle Mariners relief pitcher Nick Vincent in the eighth inning against the Los Angeles Angels on April 9, 2017. 
Jayne Kamin-Oncea-USA TODAY Sports
If you're a Mariners fan, then I apologize for a couple of things – for bringing up the ninth-inning collapse against the Angels earlier, and also for bringing up the bullpen's absolute capitulation against the Astros on Wednesday night. Granted, you could put this on the entire pitching staff since starter Yovani Gallardo only left with a 5-4 lead after being handed a 5-0 lead, but to see that lead in the fifth inning turn into a 10-5 deficit by the time the eighth inning rolled around is crazy and Seattle should be asking major questions of their relievers right now.
The good news is that Seattle has plenty of time to turn things around. Again, we're only in the second week of the season and the Mariners figure to be a team that will be in the playoff mix come October. However, it's never fun to watch your team blow sizable leads on a regular basis, and it's especially not fun when they start off the season in that manner. Here's hoping things get better for you Mariners fans out there.
Up: Marlins Cat steals the show at Marlins Park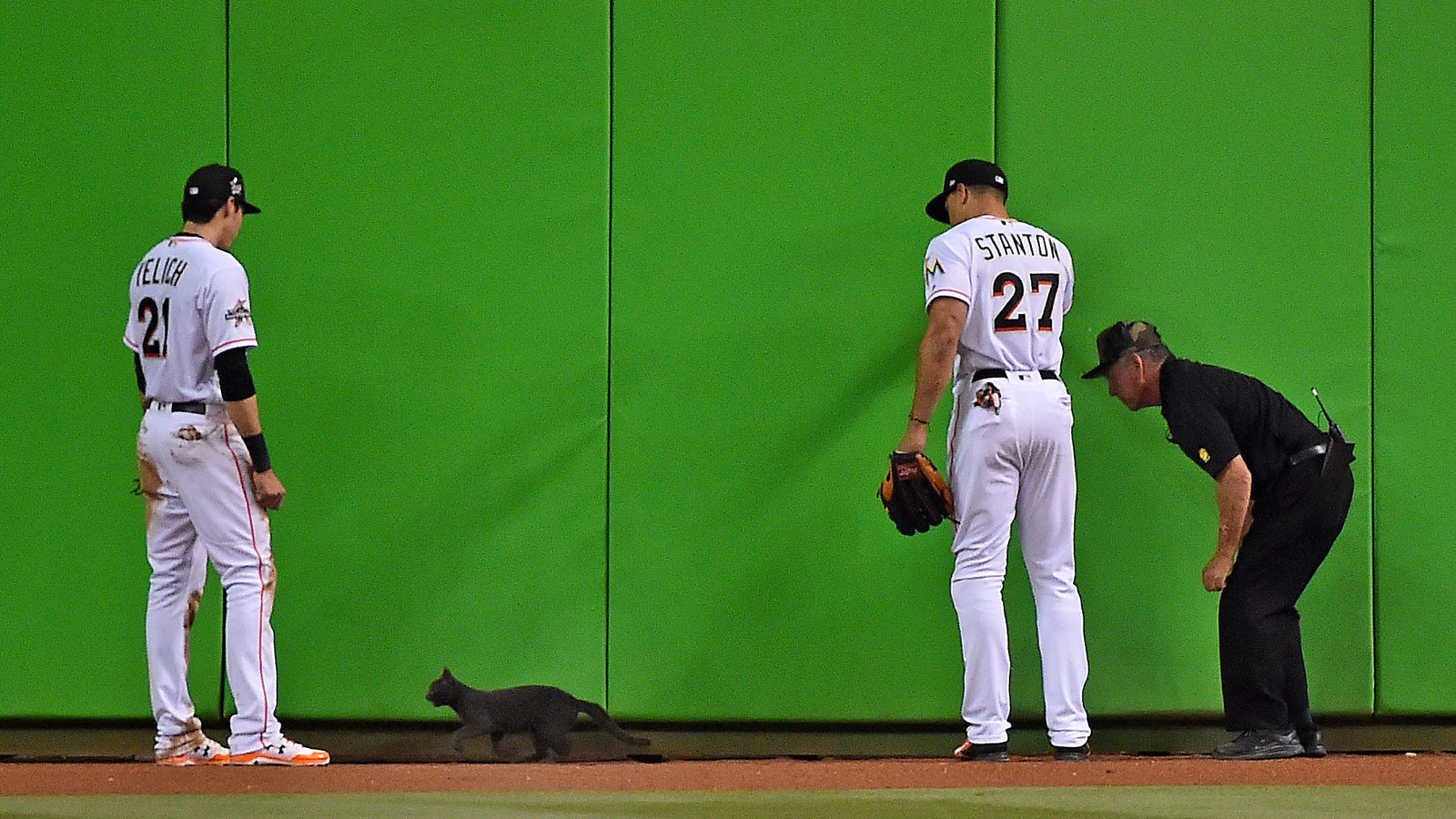 Miami Marlins left fielder Christian Yelich (21) and right fielder Giancarlo Stanton (27) watch as a security guard attempts to remove a cat from the field during the game against the Atlanta Braves at Marlins Park. 
Jasen Vinlove-USA TODAY Sports
Meanwhile, Marlins Park had a strange Opening Week. The main reason why that stadium has a roof is so that they can avoid having to deal with the notoriously wet weather in Miami that caused a myriad of rain delays at their old digs. Unfortunately, the roof was unable to keep the elements from playing a role in Wednesday's game, as lightning caused a power surge that ended up delaying their game for half-an-hour. However, the power surge couldn't zap away the memory of a very good cat who wandered onto the field and took over proceedings on Opening Night at Marlins Park for a few minutes.
Marlins Cat scaled the walls like a feline Bo Jackson and then proceeded to explore that weird fish sculpture thing in center field. I'd imagine that the cat was probably trying to figure out what was going on with that thing, just like us humans have been trying to figure out since the Marlins placed it there. Either way, this is a very good cat and I won't stand for any slander of this cat. Good cat.
Down: Tomahawks cause trouble for Atlanta traffic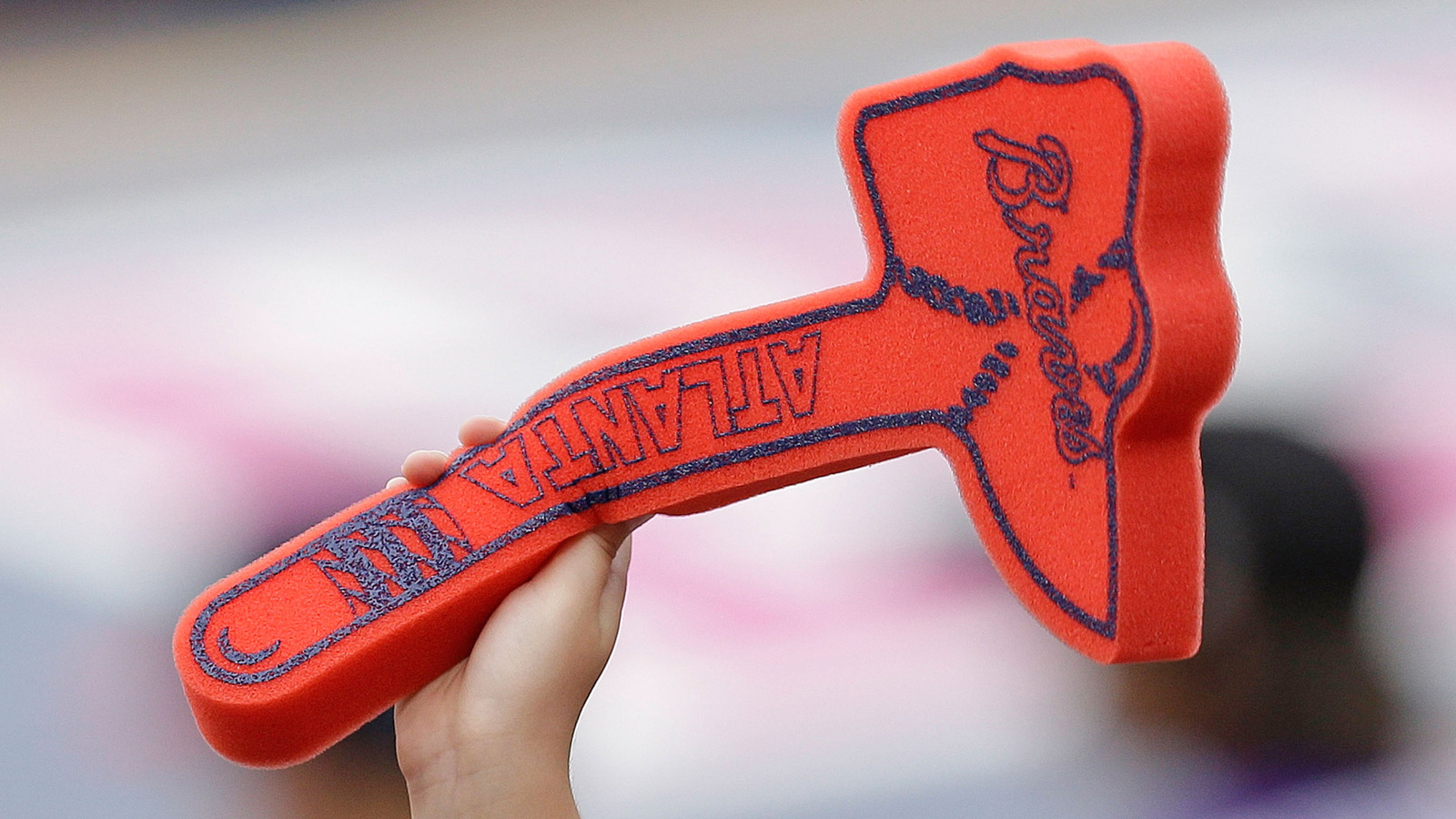 Mike Zarrilli/Getty Images
The Braves had to start their season with eight games on the road and got off to a rough start as a result. However, the silver lining was that once they finally got home, they'd be opening up a brand new stadium in the form of SunTrust Park. Granted, it's probably going to be difficult for fans to get there due to the traffic in that part of the metro area, but it still figures to be a very nice ballpark. Unfortunately, Braves related traffic has already claimed one victim after a truck carrying a load of foam tomahawks spilled some of that cargo onto Interstate-85 in Atlanta.
Foam tomahawks on the road is nowhere near as big of traffic a quagmire as, say, an entire chunk of interstate going kaboom. However, this is the type of stuff that makes you wonder about what's next for the streets of Atlanta. Will an actual flock of Hawks congregate on the roadways and cause a delay next? Will there be a traffic jam that results in it taking you exactly 28 minutes to go three miles? We'll just have to wait and see what the traffic gods have in store for the Braves and the rest of the Atlanta metro area.
MORE FROM YARDBARKER:
QUIZ: Name the players in The Simpsons baseball episode 'Homer At The Bat'
Who are the professional MLB players who appear in classic Simpsons baseball episode 'Homer At The Bat'?
Clue is the player's position.
MORE FROM YARDBARKER
MLB News

Delivered to your inbox

You'll also receive Yardbarker's daily Top 10, featuring the best sports stories from around the web. Customize your newsletter to get articles on your favorite sports and teams. And the best part? It's free!