Found January 26, 2013 on Fox Sports Detroit:
DETROIT -- The weather's cold, but baseball fever was hot at Comerica Park on Saturday. The Tigers arrived to see 10,000-plus ardent fans waiting in line around the block to get into TigerFest, the team's annual winter baseball carnival. "It makes it all worth it when you see them packed around the corner out there," center fielder Austin Jackson said. "They're really pumped up to get in here and get an autograph or take a picture. It makes it all worth it." The event caps off four days of touring around the state and metro area, from Tigers serving fans at Red Robin or Dunkin Donuts to thanking local police officers, firefighters and military members for their service to visiting the DMC Children's Hospital or the North American International Auto Show. "It's good to see the fans, but this is an educational tour for us," manager Jim Leyland said. "We go to different places, sometimes companies. Yesterday we went to Customs Patrol, it's so interesting what goes on. "It's a neat thing for us. Went to the Holocaust (Memorial Center). We went to the mayor's house yesterday. So it's not just shaking hands and signing autographs." Reliever Phil Coke has often been on the bus headed outstate, so this was his first time seeing people and places around metro Detroit during the winter caravan. "It's been absolutely awesome," Coke said. "I've gotten to see a lot of things I didn't even know were here, places that I absolutely want to go back to, like the Heritage Museum and the Army Garrison. "I went to DTE yesterday. I went to Dunkin Donuts yesterday, I went to the GM Building. The cars they have in the center there are all cool. I got to walk around them all. I got to walk where you're not supposed to walk, so it was pretty awesome." Fans were particularly excited to see Triple Crown winner Miguel Cabrera, who was also happy to see them. "Great, awesome to be in touch with fans," Cabrera said. "They were excited. We were excited to be in touch, excited for this year. We look forward to Opening Day." Catcher Alex Avila enjoys interacting with the fans, something the players often don't have time to do during a busy season. "I've been coming here the last three, four years," Avila said. "I always enjoy coming because it's probably the most personal thing you get to do with the fans. I have a good time with it. "Sometimes it can make for some long days, but when you see all the kids smiling and having a good time, it's kind of like going out and getting ready to play when you see the fans out there. It just gets you going." It doesn't take much to get new Tigers right fielder Torii Hunter going. He's seen Tigers fans from the other side when he was on the visiting team, but this was his first time getting to meet them as part of the team. Hunter also got to see more of Michigan, places that some people don't realize are there. "It's just a beautiful place, and I never knew that," Hunter said. "Just coming to the hotel and going straight to the stadium as a visitor, you don't see much. "This caravan has allowed me to open up my eyes, and I get a chance to see a little more of the fans and the city." Hunter also got to know some of his teammates a little better during the winter caravan. "I learned that Phil Coke was crazy," Hunter said, laughing. "I guess a bullpen lefty, you have to have a little craziness and a little amnesia. You gotta forget about that last pitch or forget about whatever. "Phil Coke is awesome, man." Just then, new teammate Prince Fielder photo bombed Hunter's interview with the media. "He's awesome," Hunter said. "He's a lot of fun. He's always cracking jokes on Austin Jackson. When those two are together, it's a cracking-joke session. I love it. "He's an awesome guy, smiles all the time, and I'm glad to be here with him." The fans were glad to be able to be with most of the Tigers, except Victor Martinez, whose wife is expecting a baby any day now. Like the players, fans can't wait for the season to start. "There's been excitement in the air every time I've been able to come to the caravan," Coke said.
Original Story:
http://www.foxsportsdetroit.com/01/26...
THE BACKYARD
BEST OF MAXIM
RELATED ARTICLES
The hot stove in regards to the Detroit Tigers isn't exactly burning at this point in the offseason. Smoldering, maybe. The Tigers may very well make some additional moves to tighten up the roster but by and large the attention is turning to the roster as it currently sits. With that in mind, here are some burning questions that fans are demanding answers to. This will be a 2-part...
DETROIT -- Rookie Bruce Rondon, the Tigers' top prospect to close this season, is being considered by the Venezuelan national team to be its closer in the World Baseball Classic when competition begins in early March. I have heard a lot of talk about that, Tigers general manager Dave Dombrowski said, but weve never been officially asked. Observations of Rondon during spring...
DETROIT Tigers manager Jim Leyland is going to talk about his rookie closer, Bruce Rondon, and his need to turn the page so often in the months ahead that Leyland will either lead to a revival in reading or of an old Bob Seger song. You remember Turn the Page by Ann Arbors Rockin Robert Seger, right? Well, anyway, Rondon, 22, is getting a shot at replacing Jose Valverde, who collapsed...
DETROIT -- Torii Hunter made his way to the radio-interview platform at TigerFest and, before he was even introduced, received a rousing ovation from several hundred fans. A fan wearing a Tigers cap and jacket in the third row of folding chairs began to chant, TORE-ee! TOR-ee! The fans around him joined in, too, greeting Detroits new right fielder. Hunter took a seat and was taken...
DETROIT -- Torii Hunter Jr. might be ready to play for Notre Dame next season after all. Speaking at TigerFest Saturday, Torii Hunter Sr. said his son is progressing ahead of schedule after breaking his left femur during practice for the U.S. Army All-American Bowl at the beginning of January. "He's doing a lot better," Hunter Sr. said. "He's on crutches...
Players do not often reveal their motivations these days.  It can hurt their contract negotiations when working on an extension.  Justin Verlander is not concerned with that, though.  At the Detroit Tigers' annual luncheon, Verlander made no secret of his desire to spend the rest of his career in Detroit. Jason Beck of MLB.com says the question about what Verlander wants...
The Venezuelan Baseball League Final started Wednesday in the city of Valencia. Cardenales de Lara and Navegantes del Magallanes will vie for the championship trophy. Although with little presence of Tigers, many had outstanding participation in the playoffs and it is important to highlight. None more noteworthy than the appearance in January of Omar Infante.
Detroit Tigers ace Justin Verlander recently stated that he would like to spend his entire career in the Motor City and earn Hall of Fame honors in the process.  What is the likelihood of this happening? According to baseballreference.com career leaders for WAR (wins above replacement), of the Top 50 pitchers of all-time only Walter Johnson, Bob Gibson, Carl Hubbell, Jim Palmer...
Coming into 2012, one of the biggest questions the team was facing was whether or not superstar Miguel Cabrera could successfully make the shift back to third base. Cabrera was able to hold his own, but just how well did he do, and was it good enough to stick there long term?
Tigers News

Delivered to your inbox

You'll also receive Yardbarker's daily Top 10, featuring the best sports stories from around the web. Customize your newsletter to get articles on your favorite sports and teams. And the best part? It's free!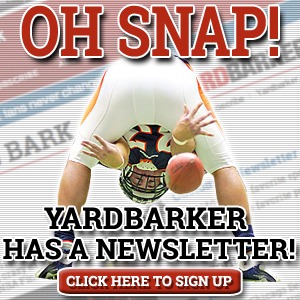 Latest Rumors
The Backyard

Today's Best Stuff

For Bloggers

Join the Yardbarker Network for more promotion, traffic, and money.

Company Info

Help

What is Yardbarker?

Yardbarker is the largest network of sports blogs and pro athlete blogs on the web. This site is the hub of the Yardbarker Network, where our editors and algorithms curate the best sports content from our network and beyond.