Found February 10, 2014 on Fox Sports Detroit:
PLAYERS:
Torii Hunter
,
Victor Martinez
,
Grant Balfour
,
Miguel Cabrera
,
Prince Fielder
,
Rajai Davis
,
Ian Kinsler
,
Austin Jackson
,
David Ortiz
,
Jim Leyland
,
Brad Ausmus
TEAMS:
Detroit Tigers
,
Tampa Bay Rays
,
Texas Rangers
,
Boston Red Sox
,
Toronto Blue Jays
DETROIT -- There isn't a shy bone in Torii Hunter's body. During a first conversation, the Detroit Tigers' veteran right fielder can make a stranger feel like a long-time friend. He can do stand-up comedy, counsel a troubled soul and lead his team in a victory chant on an opponents' field. In fact, Hunter did all of those things in 2013 -- his first season with the Tigers. He took teammates out for meals during spring training, getting to know them as individuals, which allowed him to lead more effectively and quickly. Hunter joined designated hitter Victor Martinez as the strongest voices in the clubhouse, and it didn't hurt that Hunter put up numbers that landed him on the All-Star team. He became the total package. But it's interesting that, for all he did in bringing the team together, he didn't feel totally comfortable until late last season. Even an extrovert needs time to feel secure. "I feel at home now," Hunter told me recently. "This year, I know the guys. I know what kind of jokes I can crack with them, stuff that's important." That moment when he truly became a Tiger with no reservations came on Aug. 29 during an improbable 7-6 victory over the Oakland A's. Detroit trailed, 6-3, in the ninth inning at Comerica Park, but rallied against closer Grant Balfour. It was Hunter's three-run homer that ended it. "That right there was a great moment," Hunter said. "To see the fans jumping up and down and roaring -- that's when I felt like I arrived. I felt like this is where I am going to be." Hunter will turn 39 in July and is in the final season of a two-year contract for $26 million. But he's doing more than collecting milestones, such as career homer No. 300 and his 2,000th hit -- both of which he attained last season. Although most players his age are shutting it down or hanging on, he's still finding ways to make a big impact. He led the American League with 17 game-winning hits and was seventh in the league with a .304 batting average last season. Hunter's power and production are down a bit (17 homers, 84 RBIs) from the prime years of his career in Minnesota and Los Angeles, but his average has never been higher. His only .300 seasons have been the last two. Instead of swinging for the fences as a middle-of-the–order slugger, he now likes to poke opposite-field singles to right. Hunter batted second, ahead of Miguel Cabrera, Prince Fielder and Martinez. Hunter understands his role as a table-setter, has adapted and believes this year's new-look Tigers will do likewise. They signed left fielder Rajai Davis, who stole 45 bases last year for the Toronto Blue Jays. The Tigers also traded for second baseman Ian Kinsler, who averaged 22 steals over the last three seasons, while sending Fielder's power to the Texas Rangers. "Rajai is a fine defensive player and he's special -- so versatile," Hunter said. "He's got tremendous speed and is an underrated hitter. "We're really going to step our game up in stealing bases. Ian's going to steal 20-30 bags easy. And when Austin Jackson puts it together, he ought to get 40 or 50 bags." I mentioned that Jackson has never swiped more than 27 bases and had only eight last year. "He did not have the green light much," reasoned Hunter. "If he's running, I get more fastballs. And with the speed we have now, we don't have people holding up to score on Miguel Cabrera's doubles." With 35 stolen bases, Detroit was last in the majors in 2013, but could steal 100 for only the second time since 2001, the year after Comerica Park opened. For the first time since the park off Woodward Avenue opened, the Tigers might actually have an offense designed to play in it and win. On defense, Hunter's body of work last season was strong, but not up to the years when he won nine Gold Gloves. And it was a ball he didn't catch that created his most memorable moment. Hunter went over the bullpen wall at Fenway Park in an all-out leap as he attempted to catch David Ortiz's series-changing grand slam in the ALCS. Hunter came crashing down as the ball cleared his glove. "I hit my elbow and hit my head," he said. "I was out of it for a minute. I looked up at the guys from the Red Sox bullpen. But adrenaline is like a pain pill. I felt dizzy but went back out. I also jammed my shoulder and got a shot. "I let my body heal and did a lot of rehab and worked on my abs. But there is only one lady who can see my abs. She washes our clothes on my abs." With that, Hunter cracked up. He shook with laughter. Joking aside, there was the serious implication of that play. If the team's oldest player could put it all on the line, who would dare not put out? His stature grew. "I've never had a tougher player," said Tigers manager Jim Leyland, who retired after the ALCS. Brad Ausmus, now be the club's skipper, knows what he has. While Ausmus and Hunter entertained Mud Hens fans in Toledo on the recent winter caravan by playing off one another's jokes, Ausmus paused and pointed to Hunter to make a point. "This right here is why I'm not concerned about our clubhouse," Ausmus said. "Guys like Torii Hunter are a manager's dream -- a natural leader."
Original Story:
http://msn.foxsports.com/detroit/stor...
THE BACKYARD
BEST OF MAXIM
RELATED ARTICLES
Much has been made this offseason about the new-look Detroit Tigers, and it hasn't all been roses from those who cover the team, me included. Fans are worried because for the first time in years they simply don't know what to expect. And that makes people uncomfortable. But sometimes you have to take a step back and count your blessings. Chief among those are the fact that Detroit...
Rick Porcello has been much more valuable to the Detroit Tigers in his five MLB seasons than he's been to your fantasy squad. He's compiled 12.2 WAR in his five years as a Major League starter, including back-to-back three-win seasons in 2012 and '13, without posting an ERA below 3.96. He's pitched at least 162.2 innings in each of his five seasons, falling closer to mediocre...
A struggling season from Andy Dirks and a team without much speed on the base paths resulted in the Tigers signing free agent outfielder Rajai Davis to a two-year deal to share time in left and provide depth elsewhere. What can the Tigers expect from the speedster from Toronto and formerly with Oakland?
For Detroit Tigers ace Justin Verlander, this offseason has not gone as normally as usual. He underwent surgery in January and did not throw a baseball until the beginning of February. Now that he has started to throw at the Tigers' Spring Training complex in Lakeland, Florida, he is more optimistic that he will pitch on Opening Day -- or at least in the Tigers' first series...
Spring training is just around the corner. Heading into camp, who has the inside track on a job? Here's TigsTown initial 25-man roster projection, along with an in-depth preview of each member slated to be on the roster on Opening Day 2014!
LAKELAND, Fla. (AP) -- Detroit Tigers ace Justin Verlander says he threw about 20 pitches off a mound on Monday. Verlander spoke with reporters Tuesday and said he didn't have any pain in his groin and hip. The right-hander had surgery on Jan. 9. The 30-year-old Verlander says he hurt his groin doing squats, and that he also had what was believed to be a pre-existing abdominal...
So the Tigers are supposed to win. This much hasn't changed. The players begin to gather among the palm trees and the expectation blows in with them. World Series or else, a familiar edict around these parts, though whose I'm not quite certain. For that matter, would someone tell me what "or else" actually means? That we will turn off our televisions? Boycott the ballpark...
Detroit Tigers pitching coach Jeff Jones says ace pitcher Justin Verlander is "way ahead of schedule" in his return from offseason muscle repair surgery, reports George Sippel of the Detroit Free Press. Verlander suffered the injury while doing squats in December. Though he originally believed it to be a mild muscle strain. An MRI a couple of weeks later showed that he...
What if I told you Max Scherzer wasn't really that much better last year than he was in 2012? On the surface he lowered his ERA from 3.74 to 2.90, improved his record from 16-7 to 21-3, and (most impressively) pitched 26.2 more innings, but as the chart below shows, his peripheral stats were all pretty similar. Year xFIP K% BB% LD% GB% FB% IFFB% 2012 3.23 29.4 7.6 22.1...
MLB News

Delivered to your inbox

You'll also receive Yardbarker's daily Top 10, featuring the best sports stories from around the web. Customize your newsletter to get articles on your favorite sports and teams. And the best part? It's free!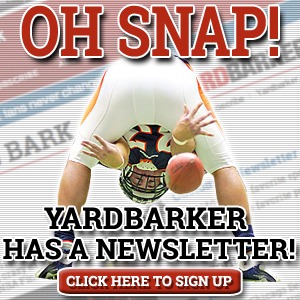 Latest Rumors
The Backyard

Today's Best Stuff

For Bloggers

Join the Yardbarker Network for more promotion, traffic, and money.

Company Info

Help

What is Yardbarker?

Yardbarker is the largest network of sports blogs and pro athlete blogs on the web. This site is the hub of the Yardbarker Network, where our editors and algorithms curate the best sports content from our network and beyond.