I knew the Nationals had talent. I knew they'd be good. I didn't they would be this good, this fast. They're the best team in baseball. Their record proves it. They have the most wins in the majors, 72 to be exact. They have the best pitching staff in the majors. They hold a league low 3.27 ERA. They have the most quality starts (75), and are tied with the Rays with the lowest batting average against (.233) in all of baseball. They have three guys that should finish in the top ten of the Cy Young voting, led by Stephen Strasburg. Their offense, statistically, is an average offense. But that doesn't take into account that Zimmerman, Morse, Desmond, and Werth have all been hurt. What I'm trying to say, the Nationals are good. Damn good. And they should be the favorite to represent the National League in the World Series. However, they might not be this good come October. There's one question that everyone wants answered: The Nats aren't really going to shut down Stephen Strasburg, are they? Let me reiterate this so I make myself perfectly clear. The Washington Nationals are the best team in all of baseball. They have won only one division title, and that was in 1994, the year of the strike (they were the Expos at the time). They haven't made the playoffs since 1981. That was 31 years ago. Basically, they've been the laughing stock of baseball for over 20 years. Put yourself in the Nationals shoes for a minute. You have one of, if not the, best pitcher in all of baseball in Strasburg. It's his first full year back from recovering from Tommy John surgery. You don't want to over use him this early after his surgery and you're trying to prevent further damage to the future of your franchise. You want to shut him down after roughly 180 innings, which is projected to be around late September. OK, I get that. But no way did they think they would have the best record in baseball on August 15th. No way did they think they would be this good, this fast. No way did they think they would be legit World Series contenders. That changers everything! If you have a chance to win right now, you go for it, and you don't think twice while doing so. Especially if you have the losing history of the Nationals/Expos. If they decide to shut Strasburg down, they are slapping every Nationals player, fan, and Strasburg himself right in the face. If I'm a Nationals fan, and they shut Strasburg down, I'd boycott every game for the rest of the season and maybe beyond depending on how the rest of the season plays out. The players play the game to play in October. The fans watch hoping to watch in October. There's no way in hell you can convince me that voluntarily sitting your best player is in the best interest of your ball club. First of all, you can't predict injuries. Especially an injury of that nature. The easiest way to hurt your arm is to continue to throw at that velocity when your arm is fatigued. But who's to say when you're truly fatigued. Only Strasburg truly knows, and as a competitor, he'll never truly admit it. Secondly, if you want to limit his innings, there are plenty of other ways the Nationals could have gone about this. Start him every sixth day instead of every fifth day. Put him on the DL with "shoulder fatigue" to where he still is on his normal schedule, but not throwing live games. That itself will save about three starts and roughly 18 innings. Now I understand no one, including the Nationals, thought they would have to worry about keeping Strasburg out of the playoffs. But for a team that has a long history of losing, there is no way you can limit Strasburg now. You may never have this opportunity again.
Original Story:
http://clubseatsports.com/?p=17738
MORE FROM YARDBARKER
Nationals News

Delivered to your inbox

You'll also receive Yardbarker's daily Top 10, featuring the best sports stories from around the web. Customize your newsletter to get articles on your favorite sports and teams. And the best part? It's free!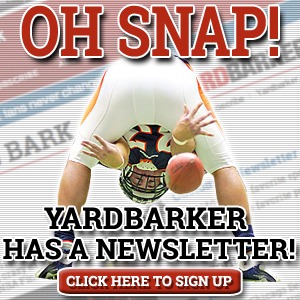 Latest Rumors
Best of Yardbarker

Today's Best Stuff

For Bloggers

Join the Yardbarker Network for more promotion, traffic, and money.

Company Info

Help

What is Yardbarker?

Yardbarker is the largest network of sports blogs and pro athlete blogs on the web. This site is the hub of the Yardbarker Network, where our editors and algorithms curate the best sports content from our network and beyond.