Found March 29, 2013 on IT IS HIGH, IT IS FAR, IT IS caught:
Print. This. Out.1. April is strong. The scrap heap Yankees are long on scrap and short on - well - "heap," finishing that wordplay, despite lack of meaning. Lyle Overbay, Vernon Wells, Ben Francisco, Brennan Boesch and Cookie Rojas - (they coax him from retirement) - bring experienced professionalism and do something the team couldn't do last year: Hit with runners on base. Our starting pitching carries us. We're leading the league on March 31, and the Yankiverse coos like a fat pigeon. Jeter will be back soon, at full speed. The Tonight Show will be back in NYC. All will be right with the world.2. May is a disaster. This isn't a prediction. It's a fact of life. The Yankees always tank in May. The new car smell of the season fades, and the clubhouse hasn't settled into the long haul. This is the month when fissures show up in the concrete. Nunez throws away a few games, Gards runs into a wall, Cervelli's bat disappears, and the angry bloggers - led...
Original Story:
http://johnsterling.blogspot.com/2013...
THE BACKYARD
BEST OF MAXIM
RELATED ARTICLES
The people have spoken, and the trade for Vernon Wells is now considered the top Yankee bad omen for 2013. (NOTE: The poll was taken before the signing of Lyle Overbay.) You chose Vernon Wells over "No Youth" by a tight margin, with "Youkilis," "Jeter limping," "Robbie sitting on generous offer," and "tomorrow's injury" coming...
From Mark Feinsand:Lyle Overbay walked into the Yankees' clubhouse late Tuesday afternoon, immediately spotting Vernon Wells, his former teammate with the Blue Jays. The two embraced, both seemingly amazed to be standing together in the Yankees clubhouse after joining the team within a matter of hours of each other. "I would show you around here," Wells said. "But I...
Damn. This guy was really something in 2006! He could be a real find for this wily Yankee ballclub!
Brian Cashman - continuing his progression toward becoming the Yankee Isiah - has signed Lyle Overbay to a three-day "NBA style" contract.As of Day One, he is batting .400, and the team is undefeated and untied. 
The New York Yankees finalized the trade to acquire outfielder Vernon Wells from the Los Angeles Angels for two players. Wells will immediately move into the starting left field spot and gets a bump in fantasy value as he becomes an everyday player once again. Wells is hitting .361 this spring with four home runs, 11 RBI and two stolen bases. While his batting average has been in...
The Los Angeles Angels of Anaheim have been trying to unload Vernon Wells and his contract for quite some time now, and they finally found a trade partner in the New York Yankees. The Bronx Bombers have been hit with multiple injuries to key players over the last month, and Wells will slot into a starting outfield spot until Curtis Granderson comes back from a fractured right forearm...
AL BEast Notebook – March 28 The Yankees finished their Grapefruit League season today, losing 2-1 to the Pirates. After the game, Juan Rivera was released and according to ESPN New York's Wallace Matthews, Lyle Overbay will be the starting first baseman for Opening Day and for the next six weeks. Well, almost. Their first game is against lefty Jon Lester, so it is likely that...
AL BEast Notebook – March 27 The Yankees made two moves this week, trading for Vernon Wells and signing Lyle Overbay to a "minor league contract." Wells is expected to start the season in left field and Overbay is likely to be the Opening Day first baseman. These moves practically scream "My name is Brian Cashman, I screwed up and it's time to panic." Cashman and Hal...
January 21, 2011. For Angels fans, it is a day that shall live in infamy.   Less than a month into the new year, Mike Napoli and Juan Rivera found themselves bound for the great white north of Toronto, Ontario, Canada. Meanwhile, in Anaheim, players and personnel awaited the arrival of the Angels' newest acquisition: Veteran outfielder Vernon Wells. A man that has had...
I have stayed away from spring training because that Pukilis person is still a Yankee.  And he remains unhurt.But a few things are emerging from the fog of spring:1.  The Yankees are too old.2.  They will continue to be beset with injuries.3.  The injuries will be sequential. 4.  The strategy of signing over-paid, slow, basically career-finished players, and making them very...
Their bags are packed and ready to go, as today will be the final Grapefruit League game of the spring when the Yankees  take on the Pirates from George M. Steinbrenner Field in Tampa. Following today's game, the Yankees will head to Washington D.C., to play the Nationals in an exhibition game tomorrow. On Saturday, the team will travel up to the West Point Military Academy to...
Yesterday's starting lineup vs. Houston:1. Brett Gardner2. Ichiro Suzuki3. Robinson Cano4. Kevin Youkilis5. Travis Hafner6. Vernon Wells7. Juan Rivera8. Eduardo Nunez9. Chris Stewart
MLB News

Delivered to your inbox

You'll also receive Yardbarker's daily Top 10, featuring the best sports stories from around the web. Customize your newsletter to get articles on your favorite sports and teams. And the best part? It's free!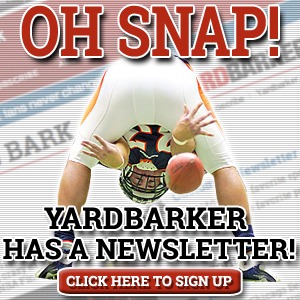 Latest Rumors
Best of Yardbarker

Today's Best Stuff

For Bloggers

Join the Yardbarker Network for more promotion, traffic, and money.

Company Info

Help

What is Yardbarker?

Yardbarker is the largest network of sports blogs and pro athlete blogs on the web. This site is the hub of the Yardbarker Network, where our editors and algorithms curate the best sports content from our network and beyond.