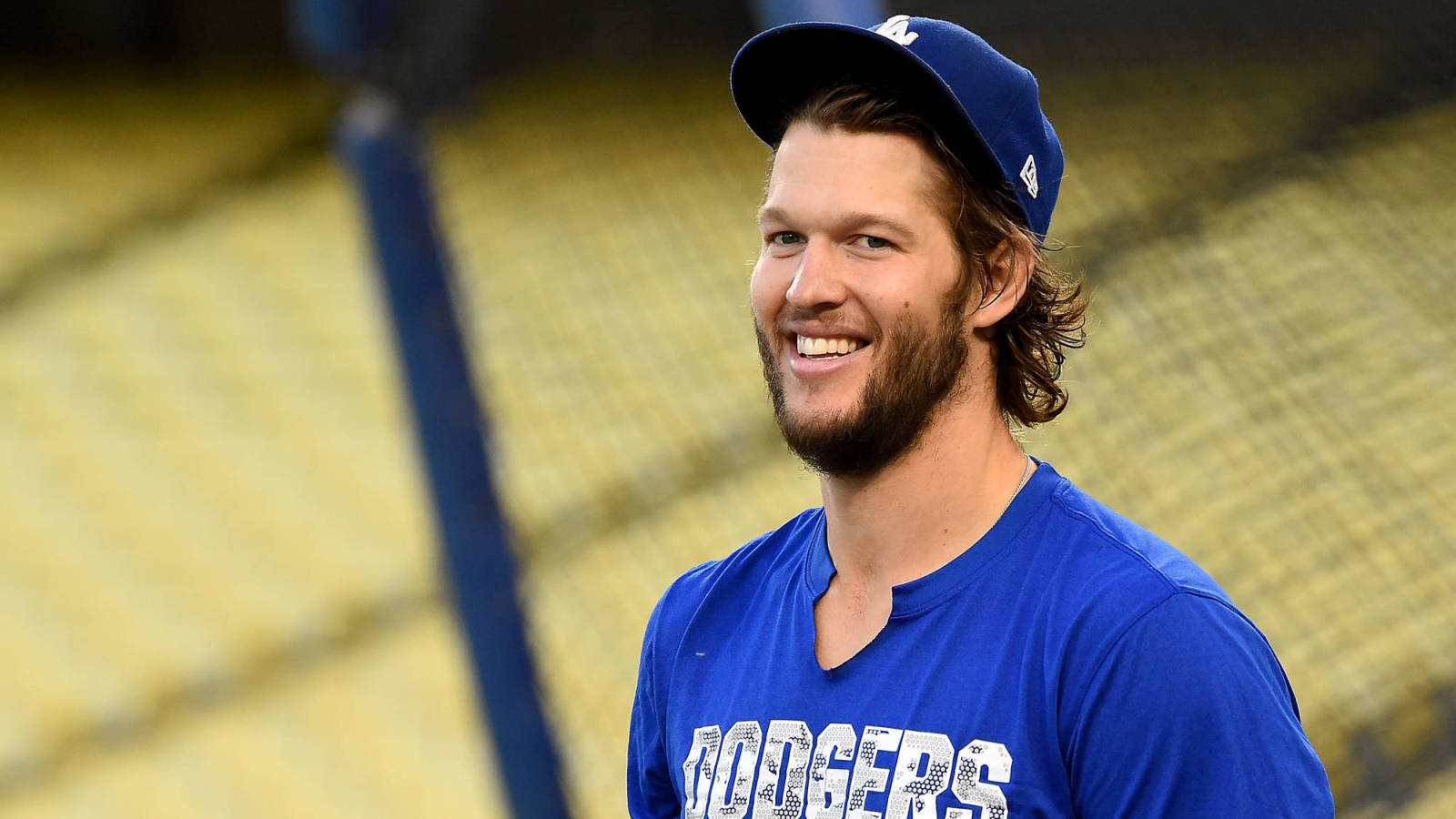 Oct 17, 2016; Los Angeles, CA, USA; Los Angeles Dodgers starting pitcher Clayton Kershaw (22) during today's workout prior to game 1 of the NLCS against the Chicago Cubs at Dodger Stadium. 
Jayne Kamin-Oncea-USA TODAY Sports
Spring Training has kicked into high gear, with batters getting ready for the season and pitchers rounding into shape. Before we know it, the World Baseball Classic and spring ball will come to an end, and MLB games that actually count will begin.
Already this spring, we've taken a look at some early favorites to win Rookie of the Year awards. Continuing along those lines, we'll move onto the pitchers.
Here's a look at the top 10 favorites to win the Cy Young awards — five from each league.
American League
5. Aaron Sanchez (Toronto Blue Jays)
Aaron Sanchez has established himself as the ace of Toronto's starting staff, but 2017 will represent the year he truly breaks out and becomes a legitimate AL Cy Young candidate.
In his first full season as a starter, Sanchez finished with a 15-2 record, sporting an even 3.00 ERA and 1.17 WHIP, while striking out 161 batters in 192 innings pitched. And while he's not exactly a strikeout king, his 7.5 SO/9 was also a substantial improvement over his numbers as a reliever.
With some experience now under his belt, Sanchez can settle into the always dangerous AL East and work on the few hiccups to his game. Chief among them is gaining more control over his pitches and limiting his walks, which topped out at 63 in 2016.
But with his innings limit likely to be removed — a limit that really hurt him down the stretch last season when his play become more inconsistent — we'll get to see exactly who this budding superstar really is. And if his 2016 is any indication, we're all in for a show.
4. Justin Verlander (Detroit Tigers)
In 2011, Justin Verlander won the AL Cy Young award going away, and many anticipated that he'd become a regular candidate to take home the honor. The following season, he finished second in Cy Young voting and that line of thinking was cemented.
Unfortunately for both Verlander and the Tigers, the next three years were different. No longer was he a regular Cy Young candidate. Instead, we watched his win totals dwindle, his losses pile up, and his ERA bloat. He appeared in only one All Star Game and many began to wonder if he was on the downside of his career.
But Verlander, shaking off some injuries, reminded everyone how dominant he can be in 2016. He posted a 16-9 record with a 3.04 ERA and 1.00 WHIP, while striking out 254 batters over 227.2 innings pitched. His 254 strikeouts were the second-most of his career and the most since he struck out since recording 269 in 2009.
Verlander ultimately finished second in AL Cy Young voting behind Rick Porcello, who posted a 22-4 record, and his famous girlfriend, Kate Upton, wasn't exactly pleased with that.
Despite a couple rough spring outings, Verlander will look to continue his resurgence in 2017 and, ideally, bring home another AL Cy Young award.
3. Chris Archer (Tampa Bay Rays)
Chris Archer was not great in 2016. There's really no way around that. He wasn't terrible, but he was a far cry from his 2015 campaign that saw him finish fifth in AL Cy Young voting.
On a struggling team, Archer finished with a 9-19 record a season ago, posting a 4.02 ERA, 1.24 WHIP and 3.81 FIP, while striking out 233 batters in 201.1 innings pitched. In fact, since the 2015 All-Star break, Archer has compiled a record of 12-26 and has not managed to sustain an ERA below 3.85.
But a new year breeds new opportunity and Archer, who is currently pitching for Team USA in the World Baseball Classic, has looked dominant early this spring. He's not yet allowed a single run and his WHIP rests at 0.40. And while that may be a very small sample size, his fastball has been routinely clocked in the upper 90s and his slider, as it's always been, is dominant (a 19.0 whiff rate over his career).
If Archer can improve with his four-seam fastball and keep his speeds up around 96 MPH, he'll thrust himself back into the Cy Young race and erase the memories of an underwhelming 2016 season.
2. Chris Sale (Boston Red Sox)
Each year for the past five years, Chris Sale has been in the thick of the AL Cy Young race. An All Star in each of those five seasons, he's finished no lower than sixth in the voting and as high as third in the voting.
Going from the Chicago White Sox and the AL Central to the Boston Red Sox and the AL East is a tough transition, but as many in the division are currently rebuilding, 2017 represents the perfect opportunity for Sale to get over that hump and net himself some personal hardware.
Sale finished 17-10 a season ago, posting a 3.34 ERA, 1.04 WHIP and a 3.46 FIP, while striking out 233 batters in 226.2 innings. And while those numbers are impressive, they aren't entirely representative of Sale's potential.
The reality is that Sale is a better pitcher than the one we saw a year ago, and he now finds himself in the perfect situation to prove that. And early expectations are that Sale will slow the recent rise of his ERA, which has ballooned a bit over the last three years, and return to throwing fire as he had in 2015 when he struck out 274 batters in 208.2 innings.
1. Corey Kluber (Cleveland Indians)
Two years removed from his first AL Cy Young award, Indians starter Corey Kluber will be looking to repeat that success following an 18-9 record in 2016 that landed him third in the Cy Young voting and 19th in MVP voting.
Although Kluber hasn't come close to replicating his dominant 2014 season, which was followed up with a 9-16 campaign in 2015, he did demonstrate what Cleveland hopes is the beginning of a rebound last season. In addition to his 18-9 record, Kluber posted a 3.14 ERA and 1.06 WHIP, while striking out 227 batters in 215 innings pitched.
The one concern for Kluber last year, which is why Chris Sale is hot on his trail as an early favorite for the AL Cy Young award, was his 3.26 FIP, which was not only above his career average, but also the highest it's been since 2013.
Kluber has also seen his inning pitched decrease each of the last three years, as well as his his SO/9. But in the same breath, he's also allowed fewer hits in each of the last three seasons, and if he can trim down on the number of home runs allowed, he stands a good chance at a season-ending line closer to 2014 than 2015 or 2016.
National League
5. Jake Arrieta (Chicago Cubs)
Jake Arrieta was absolutely dominant in 2015, winning the NL Cy Young after posting a 22-6 record with a 1.77 ERA and 0.86 WHIP. However, he fell off a bit in 2016, going 18-8, which is still quite impressive, with a 3.10 ERA and 1.08 WHIP.
Ultimately, above all else, Arrieta and the Cubs got what they wanted, ending Chicago's long and storied World Series drought by capping off an incredible comeback over the Cleveland Indians.
But 2017 represents quite a change for Arrieta. He's coming off of an uninspiring season — at least in comparison to years past — and will be looking for a massive free agent contract in 2018. In order to land such a deal, he must turn back the clocks and return to his 2015 form. And as we see in most sports, players tend to step up with big performances during contract years.
Of course, in a potential bid to win the NL Cy Young award, Arrieta has a lot of competition, and some of it comes from his own teammates. Jon Lester, who has taken over the top role in Chicago's rotation, is also considered a potential Cy Young favorite and could steal some of Arrieta's thunder.
4. Madison Bumgarner (San Francisco Giants)
Madison Bumgarner has been in the NL Cy Young race in five of the last six years, but has never finished higher than fourth. In 2017, he'll look to improve upon that and his 15-9 record from a season ago.
With a career ERA of 2.99, Bumgarner has been one of the most consistently dominant pitchers in baseball. He's also an innings hog who is good for several complete games each season — a unique feat in an age where pitchers are often given an innings or pitch limit, and strong bullpens are a top priority.
Last season, in addition to his 15-9 record, Bumgarner finished with a career-best 2.74 ERA and 10 SO/9. His WHIP was an impressive 1.03 and he had a career-high 251 strikeouts in 226.2 inning pitched.
Highly decorated, Bumgarner has three World Series rings, a World Series MVP award, an NCLS MVP award, a Babe Ruth award and countless other honors. And now he'd like to add Cy Young to that long list of accolades.
3. Noah Syndergaard (New York Mets)
Noah Syndergaard, a young superstar who is only entering his third professional season, is poised to erupt in 2017 and it's expected he will thrust himself into the NL Cy Young race where he finished eighth a season ago. And similarly to some other pitchers on this list, he'll do so with a significant chip on his shoulder.
Despite being discussed as a potential Cy Young candidate a season ago, Syndergaard wasn't considered a finalist, and that did not sit well with him.
Although the Mets ace did lead the league with an impressive 2.29 FIP, his record of 14-9 likely prevented him from receiving additional support. But if he can put up similar numbers — 2.60 ERA, 1.15 WHIP and 10.7 SO/9 — and generate a higher win total this season, there's no reason to believe he won't be toward the head of the class.
Of course, one thing that could hurt Syndergaard's chances is the presence of teammate Jacob deGrom (and maybe even Matt Harvey), who is also a potential Cy Young candidate and may steal some of the support away from Thor.
2. Max Scherzer (Washington Nationals)
The reigning NL Cy Young award winner, Max Scherzer is poised to follow up his 20-win campaign with another impressive season in 2017. And given that he's now won both an NL and AL Cy Young, it's clear he knows what it takes to rise to the top.
Scherzer finished the 2016 campaign with a record of 20-7, a 2.96 ERA and a 0.97 WHIP. He struck out 284 batters over 228.1 innings and allowed only 54 walks. Those numbers also landed him in the MVP race where he finished 10th.
Whether or not Scherzer can win back-to-back Cy Young awards remains to be seen, but his recent run is nothing short of remarkable. He's led the league in wins three of the last four seasons, led the NL in strikeouts in 2016, matched an MLB record for strikeouts in single game, and tossed two no-hitters in 2015. Scherzer has also been an All-Star in each of this last four seasons.
Ultimately, Scherzer has a good a chance as any to win the NL Cy Young in 2017, but he'll have some stiff competition — especially from the next guy on our list.
1. Clayton Kershaw (Los Angeles Dodgers)
Clayton Kershaw is no stranger to the NL Cy Young award, having won it three times in his career (2011, 2013, 2014). At one point last year, he was again considered a favorite for not only the Cy Young award, but also the NL MVP award.
Ultimately, injuries shortened Kershaw's season, and while he was named an All-Star for the sixth time in his career, he finished fifth in Cy Young voting.
But even with injuries riddling his 2016 campaign, barely allowing for any consistent routine to take shape, Kershaw battled his way through 21 starts, finishing 12-4 with a career-best 1.69 ERA and 0.73 WHIP. He struck out 172 batters in 149 innings and, perhaps most impressive of all, allowed only 11 walks.
Those numbers are remarkable any way you slice it, so it should come as not surprise that Kershaw enters the 2017 season as the odds-on favorite to win the NL Cy Young for the fourth time in his career. And given that he now has a chip on his shoulder, we might be in store for his best season yet.
PLAYERS:
Aaron Sanchez
,
Justin Verlander
,
Rick Porcello
,
Kate Upton
,
Chris Archer
,
Chris Sale
,
Corey Kluber
,
Jake Arrieta
,
Jon Lester
,
Madison Bumgarner
,
Babe Ruth
,
Noah Syndergaard
,
Matt Harvey
,
Max Scherzer
,
Clayton Kershaw
TEAMS:
Toronto Blue Jays
,
Detroit Tigers
,
Boston Red Sox
,
Tampa Bay Rays
,
Cleveland Indians
,
Chicago Cubs
,
San Francisco Giants
,
New York Mets
,
Washington Nationals
,
Los Angeles Dodgers
,
Chicago White Sox
MORE FROM YARDBARKER
MLB News

Delivered to your inbox

You'll also receive Yardbarker's daily Top 10, featuring the best sports stories from around the web. Customize your newsletter to get articles on your favorite sports and teams. And the best part? It's free!