Found February 20, 2013 on isportsweb.com:
A year ago, Toronto Blue Jays fans looked at the season ahead with optimism. Coming off of a .500 season in 2011, the expectation was that with its young talent and returning superstars, the Jays would continue to improve. They didn't. Instead, Toronto finished eight games under .500 and only avoided a last-place finish in the AL East because the Red Sox managed their worst record since 1965. Despite the disappointing season, GM Alex Anthopoulos looked around at season's end and decided the time had come to push all his chips to the middle of the table. Who can blame him?  The Yankees won the division last year but seem more vulnerable than they have in years, the Orioles felt like over-achievers with their Wild Card bid in 2012, and the Red Sox seem to be in rebuilding mode. The offseason has never been as exciting for Jays fans as it was this year.  In November, Toronto pulled off a huge trade with the Marlins to acquire Jose Reyes, Josh Johnson, Mark Buehrle, and Emilio Bonifacio.  They followed that performance by signing last year's All-Star-turned-PED-laughing-stock Melky Cabrera and trading for NL Cy Young winner R.A. Dickey. Toronto's prospect pool has been drained but for the first time in a long time, the Blue Jays have a legitimate shot at a first place finish in the AL East. 3 Up                                                                      Best Case Scenario for 2012 The Blue Jays have not returned to the playoffs since being World Series champs in 1993. As the team celebrates 20 years since that great season, fans may finally get to see the Jays return to the postseason.  A World Series appearance certainly seems possible given the offseason acquisitions and vastly improved rotation. Most Important Blue Jays Jose Bautista Jose Bautista is without question the heart of the team and the Jays' biggest offensive threat even with Edwin Encarnacion's career year in 2012.  Add to it that Bautista missed half of last season with a wrist injury and his return to 40 home run, 100 RBI form is critical but not guaranteed.  Early indications are that Bautista's wrist is healed and he is swinging at full strength.  That's good news for the Jays who desperately need his bat hitting behind Jose Reyes and whoever hits second (likely Lawrie, Cabrera or Bonifacio). R.A. Dickey is obviously a huge addition to the Jays rotation and is considered the ace going into the season. However, Josh Johnson might be more important to the ultimate success of this year's team. Johnson is just 29 years old and it wasn't too long ago he was considered one of the top pitchers in baseball.  An injury-shortened 2011 season and unspectacular 2012 have fans wondering if Johnson will regain his ace-level status, be a perennial injury concern, or simply be a mid-level starter going forward.  If he is able to regain some of his pre-2011 magic, Johnson will be the ace of this staff come playoff time. Potential Breakout Players Anthony Gose can no longer be considered a prospect since he had 166 at-bats last season but he's still only 22 and will be on the short-list of call-ups if Colby Rasmus or Melky Cabrera struggle or if Jose Bautista suffers an injury.  Gose is a speedster and is strong defensively.  He has struggled with plate discipline in the minors but has made strides and should continue to progress.  The Jays are deep this year so Gose may not get much opportunity but if he does, this could be the year he starts to make a name for himself. Aaron Loup is a lefty that should win a spot in the Jays bullpen coming out of Spring Training.  Loup pitched in 33 games last season and posted a 2.64 ERA and 0.91 WHIP so he has proven that he can do it at the major league level.  He doesn't have one knock-out pitch but his above-average slider, solid control, and deceptive motion should make him a reliable option against lefties and make him a mainstay in the Jays bullpen in 2013. 3 Down Worst Case Scenario With high expectations often comes disappointment.  What makes the Jays an exciting and predictable pick this season also feels eerily similar to the 2012 Florida Marlins and 2011 Boston Red Sox.  Toronto had the loudest offseason which could quickly make them the season's biggest disappointment if they don't get off to a fast start.  For teams in the AL East, the difference between a third-place finish and postseason berth is often one or two wins.  If playoffs or even the World Series is the best case scenario for this year's team, a third place finish in the AL East is probably a realistic basement and would certainly disappoint Jays fans. Areas of Concern Ricky Romero Toronto's bullpen struggles last season were largely the result of being overworked because of an underperforming starting rotation.  While the rest of the team saw a fairly large overhaul this offseason, the bullpen will consist primarily of familiar faces.  Casey Janssen, Sergio Santos, Brad Lincoln, Darren Oliver, and JA Happ will have prominent roles again with a fairly deep list of other options capable of rounding out the remaining spots.  Still, there are no sexy names on this list and if one or two of these guys fail to emerge as consistent or even dominant relievers, expect some wins to turn into losses in the later innings when John Gibbons struggles to find his go-to guy. Who Needs to Bounce Back From a Down 2012 Brett Lawrie followed a 2011 breakout campaign with a disappointing 2012 season.  The edgy, risk-taking, cocky third baseman is fun to watch when he's hitting well and the team is winning.  Lawrie will quickly become the player everyone loves to hate if he gets off to a slow start in 2013. Ricky Romero entered 2012 as the Blue Jays undisputed ace and will enter 2013 as the fifth man in the rotation.  That has a lot to do with the acquisitions of Dickey, Johnson, and Buehrle but Romero's 5.77 ERA, 1.67 WHIP and -1.7 WAR in 2012 didn't help matters.  Hopefully Romero benefits from the new faces in the rotation taking much of the pressure off of his shoulders and is able to return to form this season. I'm not even sure Colby Rasmus fits here considering his down 2012 followed a down 2011 but suffice it to say, if Rasmus doesn't get off to a solid start in 2013, Emilio Bonifacio, Anthony Gose, or Rajai Davis will be more than happy to fill in for him.  
Original Story:
http://feedproxy.google.com/~r/isport...
THE BACKYARD
BEST OF MAXIM
RELATED ARTICLES
ZELDA APPROVES
The Toronto Blue Jays vs. former manager John Farrell: Who ya got? Season previews for MLB teams can be a notoriously uninformative exercise, tending to rely a lot on projections, best-case scenarios and "If, and then" propositions. Thanks to this wonderful YouTube video, the traditional season preview — in this case a preview for the upcoming season for the Toronto Blue Jays...
MLB team photo days are an annual — and often hilarious — rite of spring. Most of the photos taken of MLB players are of the garden-variety class, nothing too crazy, nothing too off-kilter. But for every 100 normal photos, there usually is at least one flat-out hilarious photograph. And as far as the photo of Toronto Blue Jays center fielder Colby Rasmus, the curdled cream most...
As the paid media ramps up their detailing of all things Blue Jays in this most optimistic of springs, it seems to me that the link dumps have already been done elsewhere (DJF is very through, and you can follow Blue Jays Aggregator on Twitter for another fine source) s rather than do that, I think I'll just do a player-by-player rundown on the items that have caught my eye and...
Last summer, I wrote a little post titled 2009 Was a Million Years Ago that discussed how fortunes had changed greatly for a few players over just three years. Obviously, I could not cover everything, but I really missed something by not including the Blue Jays' Adam Lind. In 2009, Lind finally got full season of playing time in Toronto and broke out at age 25, hitting .305/.370...
While doing our routine Spring Training WAG analysis, we noticed a few photos of Blue Jays pitcher Ricky Romero hanging with a cute blonde named Kara Lang. They were hiking, bowling and attending Lakers games. After doing a little more detective work we can now say with confidence that Romero is dating Lang, a former member of the Canadian Women's National Soccer Team. She retired...
The Toronto Blue Jays really shook up things this offseason in an effort to finally surge to the top of the ultra-competitive American League East Division.They acquired electrifying shortstop Jose Reyes, and starting pitchers Josh Johnson and Mark Buehrle from the Marlins, acquired reigning National Young Cy Young Award winner R.A. Dickey from the Mets, and signed free agent...
If I'm making a list of things I love and have to constantly defend, "baseball" and "Final Fantasy games" are at the top of the list. I'm a diehard Cleveland Indians fan who has had to justify every crummy "rebuilding" season of fire-sale trades, and I've had the "NO, FINAL FANTASY IV IS THE BEST ONE" video game hipster conversation more times than I'd like...
Toronto makes appearance in Final Fantasy style game.
The Red Sox are ready to begin scrimmages on Thursday, but on Wednesday new Red Sox manager John Farrell sat down with Red Sox Live's Tom Caron to talk business. Farrell says that the tone of camp so far has been "workmanlike," and that the first 10 days the team has been in Florida have been very productive. Farrell also took some time to talk about the evolution of his style...
Blue Jays News

Delivered to your inbox

You'll also receive Yardbarker's daily Top 10, featuring the best sports stories from around the web. Customize your newsletter to get articles on your favorite sports and teams. And the best part? It's free!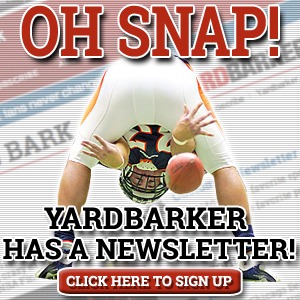 Latest Rumors
The Backyard

Today's Best Stuff

For Bloggers

Join the Yardbarker Network for more promotion, traffic, and money.

Company Info

Help

What is Yardbarker?

Yardbarker is the largest network of sports blogs and pro athlete blogs on the web. This site is the hub of the Yardbarker Network, where our editors and algorithms curate the best sports content from our network and beyond.