Found June 20, 2012 on Fox Sports Arizona:
PLAYERS:
Justin Upton
,
Kirk Gibson
,
Jason Vargas
,
Miguel Montero
,
Chris Young
,
Ryan Roberts
,
Aaron Hill
,
Jason Kubel
,
John McDonald
,
Franklin Gutierrez
,
Kyle Seager
TEAMS:
Seattle Mariners
,
Arizona Diamondbacks
PHOENIX -- In an all-out slugfest with the Seattle Mariners on Wednesday, six Diamondbacks hit home runs, tying a franchise record for a single game. No one needed a homer more than embattled right fielder Justin Upton. The day after going hitless in five at-bats and hearing boos from the Chase Field crowd, Upton launched a three-run home run 457 feet to left-center field in the fifth inning that broke a tie game. "I've been grinding from day 1, so to get a big hit for the team felt good," Upton said. "(It felt good) to pick those guys up like they pick me up." Upton's home run highlighted the five-run inning that put the D-backs ahead for good in a game they would win 14-10 to take their fourth straight home series. D-backs manger Kirk Gibson earlier in the day expressed concern at his all-star outfielder being booed by the home faithful. He recalled being booed "bad" in 1983 with the Tigers in what was his third full major league season. "It kind of brought me to my knees," Gibson said. "I kind of realized that I really had to change some things, the way I was doing things. It worked me into a bad frame of mind." Gibson didn't suggest Upton had to make any changes and wasn't sure how the fan negativity might affect Upton. "First of all, it's not going to help him," Gibson said. "But at the same time, it introduces a new dimension to his growth as a player. He's got to power through it, remain determined." Upton didn't deny hearing the boos Tuesday night, but said they didn't bother him. He even seemed to understand fans' frustration, saying, "I haven't given them much to cheer about." "I've been booed before," Upton said. "I know how to handle it. It's happened a couple seasons when I've started out slow. That's a part of the game." Upton's rough night in Tuesday's 12-9 loss included three strikeouts, the last of which brought a smattering of boos heard earlier in the night to a loud crescendo. It looked early on Wednesday like it could be another long day for him, as he started the day 0 for 2 with a strikeout, but then came his opportunity in the fifth. On a 3-0 count, Upton took Seattle starter Jason Vargas deep with what was tied for the fourth-longest home run at Chase Field this season. In his next at-bat, Upton singled and came around to score on a Miguel Montero single before leaving with a cramp in his left calf, suffered while sliding into third base. Upton said he didnt come out for the seventh inning for precautionary reasons and didn't expect the injury to linger. The home run, Upton's first since May 23, gave him as many RBI in one at-bat as he had in his previous 10 games and nearly matched his previous RBI total (four) for the month of June. He had also not collected an extra base hit since June 9. Gibson, who has stood firm behind Upton as his No. 3 hitter despite ongoing struggles, said Wednesday's home run could be a spark for Upton. "That's why you give him (a green light) on the 3-0 count," Gibson said. "You're hoping for something like what happened that will give him that feeling, give him his confidence back. "We need him to be that guy, and he's capable of being that guy. We know that he can turn it around. If he does, it would certainly help where we're headed." Teammate Chris Young, Upton's closest friend in the clubhouse, also offered a defense of Upton following the game and said the boos are not an issue for him. "When you are a professional athlete, you understand that things like that are going to happen," Young said. "Whether it is fair or not is not really for me to judge. Nonetheless, it happens from time to time. What you have to do is continue to be yourself and continue to play ball. Hes going to come back and hes going to shine and hes going to be fine." Upton admitted Gibson has been a little more reluctant this year to offer a green light on 3-0 counts. In such situations this year he has gone 2 for 2 with seven walks. For his career with 3-0 counts, Upton is now 10 for 17 with five home runs. While Upton's home run may have meant the most, it was not the most exciting of the day. That honor went to D-backs third baseman Ryan Roberts, who knocked a ball off the wall in right-center field and motored around the bases for an inside-the-park home run in the sixth inning. "I was just trying to run hard until somebody told me to stop," Roberts said. "It was exhausting to say the least. Once I caught my breath after a couple innings it was special." Second baseman Aaron Hill and left fielder Jason Kubel also homered in the first inning, while catcher Miguel Montero and shortstop John McDonald homered in the fourth inning. The D-backs had notched six home runs in a game twice previously, most recently on May 19, 2010. "I've always felt this lineup could provide power and we showed that today," Upton said. The Mariners also had two home runs in the game, from Franklin Gutierrez and Kyle Seager, who hit his second homer in as many night.
Original Story:
http://www.foxsportsarizona.com/06/20...
THE BACKYARD
BEST OF MAXIM
RELATED ARTICLES
PHOENIX -- In baseball, as with anything else, no one ever wants to lose his job. Such was the case with Diamondbacks pitcher Josh Collmenter, who was bumped from the rotation to the bullpen after just four starts. Collmenter took the demotion in stride, though, embracing his new role as a reliever and has thrived since making the switch. "It's helped me get back on track...
Wade Miley was not a name focused on this preseason, but the Diamondbacks fifth starter has pitched his way onto the roster of many a fantasy team. While many believed it would be hot prospect Trevor Bauer putting up awesome numbers at the back end of Arizona's rotation, Miley has given the D-Backs a reason to let Bauer continue to develop at Triple-A. Miley's stuff looked...
Ryan Roberts hit an inside-the-park home run, Justin Upton ended a long drought with a three-run shot and the Arizona Diamondbacks tied a franchise record with six homers during a wild 14-10 win over the Seattle Mariners on Wednesday. Miguel Montero hit a two-run homer, Aaron Hill connected for the third straight game, and Jason Kubel and John McDonald each had a solo shot to match...
The first three months of the season have not been kind to the Diamondbacks. An extra-innings loss on Tuesday brings the defending National League West champions' record to 33-35, nine games out of first place. However, Arizona is better than their record suggests. They are one busted slump, one injury return, and one trade away from contending for a playoff spot. The Diamondbacks...
PHOENIX (AP) -- Ryan Roberts hit an inside-the-park home run, Justin Upton ended a long drought with a three-run shot and the Arizona Diamondbacks tied a franchise record with six homers during a wild 14-10 win over the Seattle Mariners on Wednesday. Miguel Montero hit a two-run homer, Aaron Hill connected for the third straight game, and Jason Kubel and John McDonald each had a...
Seattle outlasted Arizona in its last game to even the road set with the Diamondbacks. Facing Trevor Cahill, however, won't make it easy for the Mariners to win a second straight series. Cahill looks to win a fourth consecutive start and help the Diamondbacks bounce back against the Mariners on Wednesday. Casper Wells delivered a two-run pinch-hit single in the 10th inning...
I think we can officially say the Arizona Diamondbacks have "Bieber Fever".Remember last week, when Brad Ziegler tweeted the picture of teammate J.J. Putz and his prized Justin Bieber card?Well, now, a week later, the duo (and fellow reliever Craig Breslow) are auctioning off the autographed card to benefit two great charities...Breslow's Strike 3 Foundation and Ziegler...
NEW YORK Former standout UCLA pitchers Trevor Bauer and Gerrit Cole have been named to the U.S. Teams roster at the upcoming MLB All-Star Futures Game on July 8 at Chase Field in Phoenix. The 14th annual Futures game, slated to take place two days before Major League Baseballs All-Star Game, features both the United States and World rosters, packed with top prospects from all 30...
MLB Interleague Matchup Insight M's vs Diamondbacks Game 3 It looks like another lost season in the Pacific Northwest.  The Mariners own the second worst record in the American League and even the mighty King Felix Hernandez seems to have caught the underperformance bug this season. Wednesday June 20 Chase Field – Phoenix, AZ 3:40PM Moneyline:  Arizona -160, Seattle +150...
It's been a rough year for the Diamondbacks. They haven't been above .500 since May 4th, when they were 14-13. After last night's win over the Mariners, Arizona is 33-34, and looking to get to that .500 plateau again. They got  to one game of .500 last night in style. Second baseman Aaron Hill, acquired from the Blue Jays along with John McDonald for Kelly Johnson...
J.J. Putz's autographed Justin Bieber card -- found by chance in a pack given to him as a joke gift and resulting in a viral internet photo -- will be auctioned off on the Diamondbacks' official website, Putz announced Tuesday, with proceeds to benefit the charities of teammates Craig Breslow and Brad Ziegler. "Given the way I obtained this card, I think the only responsible...
Bats Keep Pace, Top Snakes in 10 The Headline: the offense never rests as the Seattle Mariners get the win in this 10 inning nail biter. Seattle Mariners 12, Arizona Diamondbacks 9 When: 9:40 ET, Tuesday, June 19, 2012 Where: Chase Field, Arizona Temperature: Indoors Umpires: Home — Brian Gorman, 1B — Todd Tichenor, 2B — Larry Vanover, 3B — Tony Randazzo Attendance...
MLB News

Delivered to your inbox

You'll also receive Yardbarker's daily Top 10, featuring the best sports stories from around the web. Customize your newsletter to get articles on your favorite sports and teams. And the best part? It's free!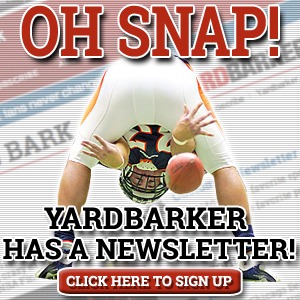 Latest Rumors
The Backyard

Today's Best Stuff

For Bloggers

Join the Yardbarker Network for more promotion, traffic, and money.

Company Info

Help

What is Yardbarker?

Yardbarker is the largest network of sports blogs and pro athlete blogs on the web. This site is the hub of the Yardbarker Network, where our editors and algorithms curate the best sports content from our network and beyond.