Found March 15, 2013 on Fox Sports Florida:
PLAYERS:
Nelson Figueroa
,
Yadier Molina
,
Joe Torre
,
Angel Pagan
,
Brandon Phillips
,
Jimmy Rollins
,
Mike Aviles
,
Andy Gonzalez
,
Ryan Vogelsong
,
Giovanni Soto
,
Joe Mauer
,
Fernando Cabrera
,
Ben Zobrist
,
Eric Hosmer
TEAMS:
Arizona Diamondbacks
,
St. Louis Cardinals
,
San Francisco Giants
,
Cincinnati Reds
,
Philadelphia Phillies
,
Cleveland Indians
,
Minnesota Twins
,
Tampa Bay Rays
,
Kansas City Royals
MIAMI (AP) -- Once again, the United States could only watch as an opposing pitcher celebrated at the World Baseball Classic. This time it was 38-year-old right-hander Nelson Figueroa, who became the pride of Puerto Rico on Friday night when he led his team into the semifinals and eliminated the Americans, 4-3. After Figueroa threw his last pitch to end the sixth inning, he leaped off the mound with a hoot like a kid at recess, then ran to catcher Yadier Molina to share a hug. "We were supreme underdogs against that lineup," Figueroa said. "It was motivation to show them what kind of pitcher I was." On Thursday, demonstrative Dominicans dominated the All-Star-laden U.S. squad. The Americans endured a scoreless streak of 14 innings spanning the two defeats, and Figueroa limited them to two singles in six shutout innings. The Americans have still not won the WBC -- or even reached the final -- in three tries. "When you play double-elimination, it's a crapshoot," manager Joe Torre said. "And Figueroa pitched his tail off tonight." J.C. Romero escaped a bases-loaded jam in the eighth and retired the final four batters for his first save. Center fielder Angel Pagan caught the final out, triggering a pileup of Puerto Ricans behind the mound. "When I caught that ball, I was thinking about my country all the way," Pagan said. "We overcome what everyone expected. I think nobody expected us to be this far, but it's about what we believe, and we believe we can go all the way." The Puerto Ricans advanced for the first time to the semifinals, which begin Sunday in San Francisco. They'll play the Dominican Republic on Saturday in the final game in Miami, which will determine seedings for the championship round. Two-time defending champion Japan and the Netherlands round out the final four. Figueroa (2-0) has a modest 20-35 record for six teams in nine major-league seasons, with his most recent big-league game in May 2011. He pitched in Triple-A last year but dominated the best of the U.S. "I don't throw very hard, but I pitch inside," he said. "It was a great exhibition of what can be done without a plus fastball. It was an opportunity to demonstrate that good pitching beats good hitting." It helped him that the U.S. team was again without WBC RBI leader David Wright, who missed his second game in a row because of a strain on the left side of his rib cage. Figueroa allowed only a single by Brandon Phillips in the fourth and a single by Jimmy Rollins in the sixth. "He kept us off balance. He was hitting his spots," said Phillips, who will now rejoin the Cincinnati Reds in Goodyear, Ariz. "I didn't want to go back to Goodyear. I wanted to go to San Francisco so bad. It stinks, man." Puerto Rico lost to the United States 7-1 on Tuesday, then staved off elimination Wednesday, rallying from a 3-1 deficit in the eighth inning to beat Italy. The hits kept coming Friday, and the Puerto Ricans scored all four runs with two outs. Mike Aviles had an RBI single in the first, and Andy Gonzalez doubled home two runs in the sixth. Ryan Vogelsong (1-1) gave up two runs in 5 2-3 innings. When Figueroa hit the tournament's 80-pitch limit, Giovanni Soto came on and gave up an RBI single to Giancarlo Stanton in the seventh. Trailing 4-1, the Americans continued their rally in the eighth. Rollins and Phillips singled off Jose De La Torre, and Ryan Braun followed with an RBI double. Joe Mauer walked to load the bases, and with two out, Fernando Cabrera walked Ben Zobrist to force in a run and make it 4-3. Eric Hosmer then grounded out again Romero, who followed with a perfect ninth. "We were one swing away from winning the game," Braun said. The crowd of 19,762 was smaller and more subdued than on Thursday, when the Dominican Republic transformed the ballpark into a Caribbean carnival by beating the United States. But Puerto Rican fans honked air horns and waved flags with each hit by their team and each out by the Americans. "I didn't know how big baseball was in other countries," Phillips said. "And when you see other countries play, it's like, wow, that's why I love playing this game." Puerto Rico scored in the first inning on a leadoff single by Pagan and two-out singles by Molina and Aviles. The Puerto Ricans added three runs in the sixth, helped by three walks. Vinny Pestano replaced Vogelsong and walked in a run, then gave up Gonzalez's double.
Original Story:
http://www.foxsportsflorida.com/story...
THE BACKYARD
BEST OF MAXIM
RELATED ARTICLES
I always regarded the WBC as Dancing With The Stars with spikes. It's a manufactured competition, but with its roots in nationalism. However, last night's USA-Puerto Rico elimination was compelling, far more interesting than your average Mets-Marlins spring training game. That interest was generated by the passion in the stands. The WBC means more in terms of national pride to...
Nelson Figueroa (left) and Andy Gonzalez of Puerto Rico. (Getty, via Yahoo) Heidi Watney of the MLB Network probably wants back the below interview, and most likely will also be a great learning experience for her. Friday night, following the WBC game where Puerto Rico beat the United States in a 4-3 victory, Watney thought she was interviewing Puerto Rico starting pitcher Nelson...
I always regarded the WBC as Dancing With The Stars with spikes. It's a manufactured competition, but with its roots in nationalism. However, last night's USA-Puerto Rico elimination match was compelling, far more interesting than your average Mets-Marlins spring training game. That interest was generated by the passion in the stands. The WBC means more in terms of national pride...
SCOTTSDALE, Ariz. -- After a stellar rookie season that saw Joe Paterson become the first Rule 5 Draft pick to make the Diamondbacks' Opening Day roster and compile a 2.91 ERA over 62 appearances, it was confounding for the D-backs and Paterson when he was completely ineffective early last season. Paterson didn't know what was going on and struggled to figure it out most...
PEORIA, Ariz. -- When the Diamondbacks take the field Monday they'll be two weeks from Opening Day 2013. With twelve Cactus League games left then, the D-backs will have to start making some difficult decisions, though manager Kirk Gibson says there is no rush yet. "When the general manager comes into my office and starts opening up the chalkboard then I think we'll...
PEORIA, Ariz. -- Diamondbacks Opening Day starter Ian Kennedy left Saturday's Cactus League game against the Padres earlier than expected after being hit in the left leg by a line drive, but he said afterward that he does not anticipate missing his next start. "It feels like if you foul a ball off your ankle," Kennedy said. "We'll just treat it for next time...
The Diamondbacks have churned out major leaguers over the last few years, but are never really considered one of the better systems in baseball. I think that trend will continue over the next few years as well; they have a few elite guys, then a lot of depth. Note: Avg ranking takes the average of any site I could find that had team rankings (sum of ranks divided by total sites...
Organizational Talent Rankings via Baseball America 2012 (5) | 2011 (23) | 2010 (28) | 2009 (26) | 2008 (20) 2012 Affiliate Records MLB: [81-81] NL West AAA: [81-63] Pacific Coast League – Reno AA: [69-71] Southern League – Mobile A+: [64-76] California League – Visalia A: [67-73] Midwest League – South Bend A(ss): [36-40] Northwest League — Yakima (Hillsboro beginning...
If you are a regular reader of the site going back to last year you will know that my colleague and fellow professor Bryan Curley has a major man crush on Paul Goldschmidt. Unfortunately for him, he doesn't get to gush about him here. He'll have all season to do that I'm sure. When Goldschmidt [...]
Brandon Phillips grimaced as he chuckled about his travel plans. He had hoped to accompany Team USA to the semifinals of the World Baseball Classic in San Francisco. Instead, because the Americans were eliminated Friday night by Puerto Rico, he'll rejoin the Cincinnati Reds at spring training in Goodyear, Ariz. ''I didn't want to go back to Goodyear,'' Phillips...
The U.S. is 0 for 3 so far at World Baseball Classics as the Americans were eliminated from the 2013 tournament on Friday March 15 after dropping a 4-3 decision to Puerto and a 38-year-old pitcher named Nelson Figueroa. The right-hander led his teammates to their glorious win and will now head into the event's semifinal stage. Figueroa said his team was the underdog and it motivated...
This is a perfect example of why when networks hire people to be on-air personalities they need to be looking for actual journalists instead. Friday night following Puerto Rico's upset of Team USA in the WBC, the lovely Heidi Watney from the MLB Network went to interview Anthony Gonzalez from Team Puerto Rico, but apparently thought she was talking to Nelson Figueroa instead...
MLB News

Delivered to your inbox

You'll also receive Yardbarker's daily Top 10, featuring the best sports stories from around the web. Customize your newsletter to get articles on your favorite sports and teams. And the best part? It's free!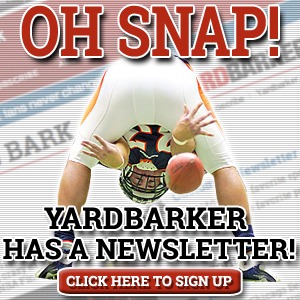 Latest Rumors
The Backyard

Today's Best Stuff

For Bloggers

Join the Yardbarker Network for more promotion, traffic, and money.

Company Info

Help

What is Yardbarker?

Yardbarker is the largest network of sports blogs and pro athlete blogs on the web. This site is the hub of the Yardbarker Network, where our editors and algorithms curate the best sports content from our network and beyond.