Found April 30, 2012 on Fox Sports Detroit:
DETROIT -- While the Tigers were dealing with the fallout from Delmon Young's arrest and seven-day suspension and a cold rain fell at Comerica Park, a ray of light appeared in the clubhouse. Victor Martinez, newly freed from his crutches and sporting longer hair and a big knee brace, sat smiling at his familiar spot in front of his locker. Before long, he had new teammate Prince Fielder laughing and the rest of the clubhouse energized as resumed his role as team DJ, playing some of his favorite songs, just as he did all of last season. "Oh, it feels great," Martinez, who suffered an ACL injury during the offseason, said about being back with the team. "Oh, man, I cant tell you. Im happy. "Definitely, everybody wants to be part of this. This is something special that you guys are seeing. I really miss to be out, and not be part of it." Despite the team's 11-11 record and recent pitching and scoring woes, Martinez explained what he meant by "something special." "You have a great team here," Martinez said. "Youve got a whole team here to give you a great show every day, day-in, day-out. Thats what I call something special. "Youve got a great team, and a team that expects big things to happen this year." Originally, Martinez thought that he was going to have to miss the entire party. But when surgeons determined he did not require reconstruction surgery on his knee, that changed the outlook. "The doctor say there is a lot of chance to play again at the end of the year, just because I didnt need the whole reconstruction," Martinez said. "Im going to keep fingers crossed, keep working hard and see what happen. "He give me 20 percent before, now he give me a good chance to come (back) by the end of the year, so well see." Although you could immediately tell the mood was brighter, Martinez downplayed whether he thought the team had missed his presence. "If you ask me, I dont think so," Martinez said. "Theyve been around a long time. They know what theyre doing. "Its a long season. Every team, every team at some point is going to have trouble. Like I say, just stay together. Thats why its teamwork. You stay together and you come out of it together." Martinez said he has to travel to Colorado next week to have his knee checked and will also go out there at least one more time after that. With the happy news that he might be able to play at the end of the season, Martinez has been attacking his rehabilitation in Orlando. "I dont think it makes it easier, but its something that make you work for," he said. "Like theres a light at the end of the tunnel, you can see coming. "Sometimes you think in the offseason, Oh, man, I wanna get back on the field again. Just having the whole year (off), and just watching your teammates play, its tough." At it is for most injured players, it's difficult for Martinez to watch the Tigers play on television. "I just get desperate watching the games," Martinez said. "I grab a bat at my house, my wife gonna get crazy: Dont hit me with the bat! Leave the bat in there! "Between my son and I, all baseball. I watch some games, but its tough." Now that he's no longer on crutches -- the dreaded sticks that he was able to ditch 10 days ago and still might use as firewood -- Martinez said he plans to visit the Tigers more often. Whether his son, Victor Jose, joins him on his next visit, remains to be seen. "Hes in school right now, and hes playing tournaments almost every day," Martinez said. "So well see." SCHERZER EXPECTS TO BE FINE Despite a 1-3 record and 7.77 ERA, Max Scherzer is not overly worried about getting back on track. "I think Max Scherzer will be fine," manager Jim Leyland said. "We've done a lot of work (Monday) with Scherzer, comparing the tapes from when he was on that big roll in the second half a couple years ago, looking at a lot of things." Scherzer said this problem is not quite as severe as when he had to go to Toledo a couple of years ago. "There's just a couple small little tweaks I've got to make to be able repeat consistently, to be able to have everything fill up the strike zone," he said. "But this isn't an overhaul. My stuff is right where it needs to be overall. "I've got a fastball, slider's there, changeup's there, so I'll just keep grinding away. I know how it is." Scherzer said just seeing the positioning of his hands on video showed him something he could easily correct. "I know my windup pretty well," he said. "When I do some things right, I'm able to repeat it. "Right now my hands are low. I feel like once I'm able to do that, I'll have a nice, smooth delivery. When I get there, I can repeat it." Even walking seven batters in 4 23 innings Sunday in New York did not faze Scherzer. "All I've got to do is go out there, fix it, do it and pitch," he said. "I know I'm a good pitcher in this league, and I know I'm very capable. "I believe next start I'll be right where I need to be." FISTER SHOULD BE BACK SOON Doug Fister, out since April 8 with a strained left side, is scheduled to have one rehabilitation start, Wednesday night in Toledo. If he's healthy, his next start after that will be with the Tigers. "The plan is to try to get him to hopefully throw 75 pitches," Leyland said. "If everything goes well, the plan would be to start him in Seattle on Monday. But that's if everything goes well." Leyland said he plans to go watch Fister after the Tigers' day game against the Royals. BEST WISHES TO INGE Brandon Inge, released last Thursday by the Tigers after 11 years and signed by Oakland, started Monday night at third base for the A's, who were playing in Boston. Justin Verlander reached out to Inge via text message. "I just told him congratulations and told him it was an honor for me playing with him all these years and wished him the best of luck," Verlander said. "He said thanks. I think he's excited to get off on a new foot. "I think it was really tough on him here the last year or so -- none of which was his doing. He worked his tail off. I think everybody could see that it was tough for him. "Tough on us, too. You don't ever want to hear one of your teammates get booed. That's not something you want to be a part of." Leyland was also very happy for Inge, whom he planned to call later in the day. "I'm really thrilled for him," Leyland said. "It's a good situation. He's back at home at third base and hopefully everything works out great for him." The A's had a third-base opening when former Tiger Scott Sizemore tore his left anterior cruciate ligament (ACL) during the A's first full-squad workout in spring training.
Original Story:
http://www.foxsportsdetroit.com/04/30...
THE BACKYARD
BEST OF MAXIM
RELATED ARTICLES
Detroit Tigers right fielder Brennan Boesch caught a sinking line drive while turning away from the ball after losing it in the lights during Tuesday night's game against the Kansas City Royals. Your browser does not support iframes. It happened in the top of the eighth inning when Kansas City Royals DH Billy Butler hit a line drive to right field. Boesch was standing...
On the same road trip that capped a bad week for the Detroit Tigers, a little girl's wish came true in Cy Young -- and MVP -- fashion. Meet Shayna Hersh. She's an 11-year-old from Huntington Woods, Mich., whose nickname just happens to be Verlander. Her favorite team is, obviously, the Detroit Tigers. Her favorite player is, of course, Justin Verlander, and she's been...
LF Delmon Young won't be in Detroit's starting lineup Friday when he comes off Major League Baseball's suspended list, according to manager Jim Leyland. "He won't play Friday," Leyland said. "He needs to get back into the routine of things, taking batting practice, taking fly balls in the outfield, stuff like that. "Would I put him in a game...
Major League Baseball suspended Detroit Tigers slugger Delmon Young for one week without pay Monday following his drunken anti-Semitic rant and arrest. The suspension is retroactive to last Friday, when the incident occurred, the league announced. "Those associated with our game should meet the responsibilities and standards that stem from our game's stature as a social...
DETROIT (AP) -- Austin Jackson had four hits and Rick Porcello pitched eight strong innings to lead the Detroit Tigers past the Kansas City Royals 9-3 on Tuesday night. The Tigers scored five runs in the first and won for only the third time in 11 games. Porcello (2-2) took advantage of the offensive support to snap out of his slump, allowing three runs and seven hits. In his previous...
Four days after being released by the Detroit Tigers, Brandon Inge has found a new home. The veteran infielder, who turns 35 in May, signed on Monday with the Oakland A's. The team cleared a roster spot by designating Luke Hughes for assignment. Inge was released by the Tigers after hitting .100 with a home run and two RBI in nine games. It marked the end of more than a decade...
In the top of the 8th inning of the Tigers-Royals game on Tuesday night, Billy Butler "lined out to right field," according to the box score. Sounds simple enough, but it wasn't your ordinary line out. Tigers' right fielder Brennan Boesch, who has made catching routine fly balls quite an adventure this season*, lost the ball in the lights, I assume, and turned...
Major League Baseball has decided to suspend Detroit Tigers slugger Delmon Young following his drunken anti-Semitic rant and arrest, two sources told the New York Post.
The Oakland A's are struggling at third base. Struggling to the extent that they are begging for an upgrade. The A's are begging so badly that according to Ken Rosenthal of FOXSports.com, they have signed Brandon Inge. The long time Detroit Tiger was finally released by his former club earlier this week. Inge has a career batting average
Third baseman Brandon Inge has agreed to terms on a contract with the Oakland Athletics. FOXSports.com's Ken Rosenthal reported news of the agreement Sunday. Once they put him on the 40-man roster, the A's must pay Inge only a prorated portion of the $480,000 minimum - or about $412,000 - of the $5,308,743 he was owed when released by Detroit on Thursday. Inge hit .100...
MLB News

Delivered to your inbox

You'll also receive Yardbarker's daily Top 10, featuring the best sports stories from around the web. Customize your newsletter to get articles on your favorite sports and teams. And the best part? It's free!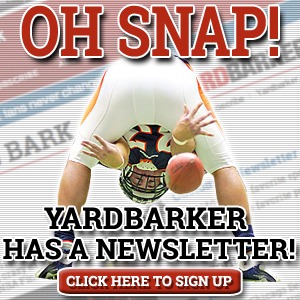 Latest Rumors
The Backyard

Today's Best Stuff

For Bloggers

Join the Yardbarker Network for more promotion, traffic, and money.

Company Info

Help

What is Yardbarker?

Yardbarker is the largest network of sports blogs and pro athlete blogs on the web. This site is the hub of the Yardbarker Network, where our editors and algorithms curate the best sports content from our network and beyond.