Found October 24, 2012 on The Majors Detroit:
Last week 89X ran a contest on who could do the best Miguel Cabrera impersonation for a chance to win tickets to Game 4 of the ALCS against the Yankees. First let it be known that I'm no fan of 89X or the cookie cutter morning show they have going on but nonetheless it was pretty funny to hear just how awful these impressions were. The winner's impression was even god awful. However, Tigers reliever Phil Coke seems to have the Cabrera impression down and I'm positive he would've won if he called in despite obviously not needing the tickets. During an interview with "Intentional Talk" on the MLB Network, Coke discusses a conversation he had with Cabrera on their first meeting in the Major Leagues where… he gives a dead on Cabrera impression. This is sound bite gold to say the least… h/t: MLB Network, WXYT
Original Story:
http://themajors.net/detroit/?p=10445
THE BACKYARD
BEST OF MAXIM
RELATED ARTICLES
Listen, it's not time to write the obituary for the Detroit Tigers. Yes, the San Francisco Giants looked like an unstoppable force last night against the best pitcher in baseball, but it's just one game of four that they must win. Wednesday night was an ominous start to be sure. What Pablo Sandoval was able to do by smashing 3 homers in his first 3 at-bats was not only historic...
Tigers relief pitcher Phil Coke is as funny as they come in the Major Leagues.  He could double as the bullpen comedian on off-days.  Recently, he was interviewed on MLB Network's "Intentional Talk" with Chris Rose and Kevin Millar.  He was asked what it's like facing his teammate Miguel Cabrera who is arguably considered the best bat in the game.  For reference, Coke...
The Detroit Tigers and San Francisco Giants will be kicking off Game 1 of the World Series on Wednesday night, and for Detroit it will mark their first meaningful game in a week. Some fans might be worried that the Tigers won't be ready after their long layoff, but NESN Nation's Dan Duquette isn't one of them. In fact, he's pretty sure that Miguel Cabrera and Prince...
Detroit Tigers third baseman Miguel Cabrera became the first player in 45 years to win the Triple Crown this season, and he is likely to win the American League MVP award when that's announced next month. But first things first: could Cabrera win a World Series MVP? He is the 5-1 favorite to do so at Bovada. Cabrera's Tigers would almost certainly have to...
Prince Fielder told the Detroit Free Press that grown men see him on the street and want to take part in the handshake he has with Miguel Cabrera.  Fielder wouldn't demonstrate how it's done, calling it "top secret."  But technology blew the cover on that.  Now with this tutorial, you and your grown men friends can do the fancy/funky/awkward ritual enjoyed by the Triple...
Detroit Tigers pitcher Jose Valverde is known for his excessive antics, and so during this intrasquad scrimmage when third baseman Miguel Cabrera got a single, he decided to taunt him back.It's good to see that the Tigers are loose and still preparing for the World Series, hopefully this time the layoff won't hurt them this time around.H/T: Holdout Sports
Sometimes, a fire starts in the strangest way. Angel Pagan hit a harmless grounder down the line that Tigers third baseman Miguel Cabrera had covered. All he had to do was field the ball, show off his strong arm, and the Giants would be done in a 1-2-3 third inning. But the ball hit the inside portion of the bag and ricocheted like a hockey wrist shot into shallow left field. Cabrera...
I was wrong (again…so I think). On September 27th, prior to game 156, I posted that this would likely be Leyland's last regular season game in Detroit. Now I'm certain he'll be here next April. As intolerable as Leyland's idiosyncrasies, tendancies and hunches are, it is these same foibles that have him in his 2nd WS as a Tiger in 6 years. Take that in for a minute. If...
My predication is that the 2012 MLB World Series Champion will be the New York Yankees. Oh wait the Yankees lost, my bad. If you could please excuse me as I am trying to purposely forget the ALCS pummeling I had to witness last week vs. the Detroit Tigers, which anyone with a half-a-brain should understand why. But this is not about the Yankees, and admittedly that fact is still...
Way back in spring training, Hunter Pence hit a wicked grounder that smacked Miguel Cabrera in the face. A few months later, Pablo Sandoval launched a bases-loaded triple off Justin Verlander in the All-Star game. Here they all are again, with everything at stake. Tigers-Giants in the World Series. A driven team from Detroit, loaded with power bats and arms, guided by wily Jim...
Look Into The Face Of Giant Fear We're going to make this quick and dirty, because baseball stopped being very interesting to me weeks ago, and even a historic comeback by the Giants has not re-stoked my fire. Also, I'm just seeing this on really, really simplistic levels. Here's what I wrote about why the Tigers were going to beat the A's in five, which was exactly...
Egraphs reached out to me last week and asked if I was interested in running a little contest of sorts to give away a few of their really trendy autographs. Egraphs is the autograph of the future - an authenticated personal message from one of your favorite stars, both audio and handwritten, that you can share with your friends on your social networks. You can also pay extra to...
Tigers News

Delivered to your inbox

You'll also receive Yardbarker's daily Top 10, featuring the best sports stories from around the web. Customize your newsletter to get articles on your favorite sports and teams. And the best part? It's free!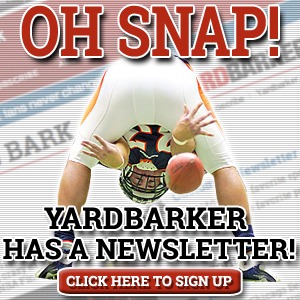 Latest Rumors
Best of Yardbarker

Today's Best Stuff

For Bloggers

Join the Yardbarker Network for more promotion, traffic, and money.

Company Info

Help

What is Yardbarker?

Yardbarker is the largest network of sports blogs and pro athlete blogs on the web. This site is the hub of the Yardbarker Network, where our editors and algorithms curate the best sports content from our network and beyond.