Found September 17, 2012 on The Daily Stache:
PLAYERS:
Clayton Kershaw
,
Gio Gonzalez
,
Cliff Lee
,
Domonic Brown
,
Jason Bay
,
Lucas Duda
,
Daniel Murphy
,
RA Dickey
,
Matt Harvey
,
Tyler Cloyd
TEAMS:
Los Angeles Dodgers
,
Washington Nationals
,
New York Mets
,
Philadelphia Phillies
  I don't even know what to say at this point.  I supposed R.A. was jinxed the moment it was said "all he needs are TWO more wins to hit 20!".  Well, another shot at that was blown tonight when the Mets' offense was yet AGAIN non-existent as they return home to KryptoniteField.  To add even more salt to the ever-expanding wound, the Phillies' win tonight cut their Wild Card hopes to only 3.5 games out. May I just say that when Dickey was going for 20 wins on his own, things were working out just fine.  It was only when Terry decided to get involved and move players all over the map like he was plotting an invasion of Canada that things began to go wonky.  Nevertheless, R.A. was once again brilliant, holding the Phillies to 3 runs over 7 innings and K'd 8 batters, putting him over 200 strikeouts this season.  As usual, he got no run support to aid his bid for the NL Cy Young. What DID aid his bid for the Cy Young however, was that he managed to lower his ERA by .01 and his WHIP by .001, and moved himself within 1 strikeout of the NL lead.  LA's Clayton Kershaw and Washington's Gio Gonzalez remain his closest competition as of right now.  But reigning NL Cy Young Kershaw has a hip injury that could keep him out for the rest of the season, and Gonzalez has walked 9 batters in his last 2 outings, and even though he leads Dickey in wins, he trails in every other meaningful category. The Mets seem to be the only team Cliff Lee can do anything against this year.  Not only did they hand him his first win of the season back in June, but he looked great again tonight, holding the Mets to 1 run.  Oh wait, anyone can do that, my bad. Turning Point Dominic Brown's HR that made it 3-1 in the 7th.  A 3-run deficit is just too much to come back from apparently. Moment(s) of Note It was face-plant night at CitiField!  First Jason Bay became reacquainted with the outfield wall, doing a great impression of the "T" in DELTA.  Later, Lucas Duda would face-plant himself near 1st base, while Daniel Murphy looked on and tried to hold back his laughter.  He didn't do so well. Game Ball R.A. Dickey for putting up with this crap and for notching 8 more K's into his total, which also put him over 200K's for the season. Next Game Matt Harvey (3-5, 2.92 ERA) will make his last start of the year and will go against Tyler Cloyd (1-1, 4.95 ERA) in game 2 of this 3-game series between the Mets and THEM.  First pitch at 7:10 pm EST.  The game can be seen on SNY and heard on WFAN660 AM. @MetsWFAN @dailystache @Meriwyn Let's go METS!!
Original Story:
http://dailystache.net/archives/3597?...
THE BACKYARD
BEST OF MAXIM
RELATED ARTICLES
R.A. Dickey has had an amazin' season for a horrendous team.  But don't we all just wish the rest of the team would muster up enough offense to get Dickey to 20 wins, and presumably a Cy Young?  Of course we do, we're fans. But this Mets team was unable to support Dickey and once again lost a low scoring game with him on the hill, this time to a contending Phillies team....
I've been so down on this team lately. So much so that it's even effected my outlook on non-baseball matters. Everything just feels so drab. Yesterday, I found myself trying to find ways to transcend my negativity into something positive – if only to spare myself from two more weeks of this agonizing final month of the Mets baseball season. The answer was right in front of...
Mets offense falls flat once more as R.A. Dickey gets hit for two homeruns against the Phils. Mets lose a rough one, 3-1. R.A. Dickey pitched his heart out, but the offense fell flat for him once more and unlucky mishaps plagued them. A dropped third strike to Rollins in the first caused to be an issue as Dickey gives up a throwing error that moved him to third and then a sac fly...
Dickey goes for win number 19 tonight! Monday, September 17, 2012 • 7:10 PM Citi Field • Flushing, NY LHP Cliff Lee (5-7, 3.36) vs. RHP R.A. Dickey (18-5, 2.68) Starting Lineup Ruben Tejada, ss Daniel Murphy, 2b David Wright, 3b Scott Hairston, rf Lucas Duda, 1b Jason Bay, lf Andres Torres, cf Mike Nickeas, c R.A. Dickey, rhp The Mets and Phillies start a series tonight as...
NEW YORK -- R.A. Dickey lost a chance to move closer to the 20-win mark while the Philadelphia Phillies capitalized on an opportunity to inch closer to the second wild card spot. Domonic Brown and Jimmy Rollins homered, and Rollins scored another run after reaching on a passed ball after a strikeout as the Phillies topped the Mets 3-1 on Monday night. The victory was the Phillies...
The Mets and Phillies start a series tonight as the Mets look to play spoiler for the suddenly resurgent Phillies. If you have been tuned off to baseball with the Mets decline, the Phillies have been on the rise to become mathematically relevant as the Pirates have really slid off. Tonight, R.A. Dickey will make the start as he goes against Cliff Lee. Dickey is 18-5 over 205.0...
The Phillies were looking to shake off a horrendous four-game series in Houston in which they lost three of four. Cliff Lee was set to start against R.A. Dickey and the Mets, hoping to gain some ground in the wildcard standings.The Phillies got an early lead tonight in Flushing with an RBI sac fly to center field from Chase Utley, scoring Jimmy Rollins. 1-0 Phils.Cliff...
R.A. DICKEY: Leads the National League with a 2.67 ERA (second in the majors) and is tied for second in the majors with 18 wins, one behind Gio Gonzalez and David Price. Dickey is second in the NL with 205 strikeouts. Dickey also leads the NL in complete games (five), shutouts (three) and innings pitched (212.0). He is third in the majors with a 1.04 WHIP and third in the NL...
Philadelphia Phillies (73-74) at New York Mets (66-80) Cliff Lee (5-7, 3.36) vs. R.A. Dickey (18-5, 2.68) Time: 7:10 p.m, Citi Field TV: CSN, MLBN Weather: Partly Cloudy, 75 Media: Twitter and Facebook The Phillies took a huge step backwards in Houston.  They had a chance to make up ground in the Wild Card, but dropped three out of four to the worst team in baseball.  The Phillies...
Yeah, it's September. The elimination number on the Mets is six. On October 3, Mets baseball will become dormant for the winter as the Wilpon family and Sandy Alderson try to re-sign David Wright and R.A. Dickey to long-term contracts. Or at least that's what I hope they'll do. No, the Mets won't be a .500 team this year, but that plan went moot after the Mets had horrendous...
The Philadelphia Phillies didn't do themselves any favors in the NL wild-card race by dropping three of four games in Houston over the weekend. With time winding down, they'll need to take advantage of the next struggling team on their schedule. Cliff Lee looks to continue his hot stretch while opposing Cy Young Award contender R.A. Dickey in the opener of a three-game series...
MLB News

Delivered to your inbox

You'll also receive Yardbarker's daily Top 10, featuring the best sports stories from around the web. Customize your newsletter to get articles on your favorite sports and teams. And the best part? It's free!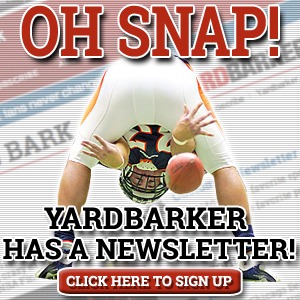 Latest Rumors
Best of Yardbarker

Today's Best Stuff

For Bloggers

Join the Yardbarker Network for more promotion, traffic, and money.

Company Info

Help

What is Yardbarker?

Yardbarker is the largest network of sports blogs and pro athlete blogs on the web. This site is the hub of the Yardbarker Network, where our editors and algorithms curate the best sports content from our network and beyond.