Found February 22, 2013 on Fox Sports South:
LAKE BUENA VISTA, Fla. Jordan Walden isn't afraid to admit it he's still into wrestling. The Braves' reliever grew up a fan of the WWE's The Rock and Stone Cold Steve Austin a fellow Texas native and last season, he even entered games to Triple H's theme song, Motorheads The Game. I like to watch, Walden said. My buddies at home, we all watch it ... In the offseason I had my buddies come over and we watched The Royal Rumble. Walden may be best served getting his fill of drama from the world of pomp and spandex, because with the addition of the former All-Star closer, there figures to be very little surrounding the Braves bullpen this season. We already had one of the best bullpens in baseball and it just got better, closer Craig Kimbrel said. It's going to be fun. Behind the trio of closer Kimbrel, Eric OFlaherty and Jonny Venters, Atlanta's already had a group of relievers that ranked second in MLB last season with a 2.76 ERA trailing only the Reds at 2.65 and was seventh with 481 strikeouts. Then in November, the Braves went out and traded starter Tommy Hanson to the Angels for the 25-year-old Walden, who in 2011 saved 32 games before moving to a set-up role last season. In essence, they took a bullpen that was already dominant and made it, to borrow from the name of Cincinnatis early 1990s relievers, nasty. It's kind of exciting, Walden said. They wanted me in their pen and their pen is already good, so it was a good feeling. It's an acquisition that will give manager Fredi Gonzalez extra flexibility late in games. In the past, opponents knew the Braves would bring in lefties O'Flaherty and Venters before right-handed Kimbrel took over in the ninth inning. But with another power arm in the righty Walden, Gonzalez can stop teams from planning for that leftyleftyrighty setup. Teams have adjusted to that because they knew we were going back-to-back lefties, Gonzalez said. They'd pinch-hit their lefties early or hold onto their righties late in the game. Now we can throw a monkey wrench into that and all of a sudden throw Walden one day in the seventh or eight innings. Walden never thought he'd be a closer. He was thrown into the role as a rookie in Anaheim and after his surprising debut, entered last season with the job in hand. But he was demoted in April, a day after giving up a two-run game-ending home run to Brandon Allen in a loss to the Rays. He appeared in 45 games as a setup man in a season in which he landed on the disabled list with biceps and shoulder injuries, going 3-2 with a 3.46 ERA and one save. His job changed, but Walden said his mentality remained the same. It's the same approach he expects to bring to the Braves as he sets the table for Kimbrel. You still have to go out there and do the same thing, you got to get three outs, he said. So you just have to take it as the same and I got to go at every inning like I'm closing a game I've got to get my three outs. He says hes also looking forward to watching the show that is Kimbrel, who last year became the first pitcher in major-league history to strikeout half of the batters he faced. He's lights out, Walden said. He's the best in the game. I'm ready to watch him in person and learn from him. Before the Braves arrived at spring training, general manager Frank Wren spoke to a group of reporters about Waldens unusual mechanics, discussing the brief moment when Walden pushes off the rubber in which both of his feet are off the ground. It's an unorthodox motion Walden honed as a 10-year-old throwing in the yard with his dad, and one that nearly every pitching coach hes ever dealt with has made some attempt to change. They hate me. Everywhere I've gone, they hate me, Walden said. But when I got out on the mound I've done it so long that my bodys just kind of used to it. Everybody wants to fix it, but it's gotten to me where I'm at now. For the record, Walden says Atlanta pitching coach Roger McDowell has yet to say anything about altering his delivery. Walden was admittedly surprised he was dealt to the Braves, who didn't seem to have any holes in their bullpen. But in bringing a fastball that has touched 100 mph to a group flush with hard throwers in O'Flaherty (94 mph), Venters (95 mph) and Kimbrel (100 mph), hes a more than welcome addition. We get the ball in the sixth inning and more often than not the game is going to be over with, Kimbrel said. Thats how we're going to approach it.
Original Story:
http://www.foxsportssouth.com/02/22/1...
THE BACKYARD
BEST OF MAXIM
RELATED ARTICLES
Finally, the Braves photo day pictures were posted! Here are some of the position players, pitchers in another post. :) How is this the opening mug of the album? Well, at least he got the eyebrows fixed...marginally. ;) Cuter in person. Always looks great. I like this guy much more after meeting him.   We've heard he's a goofball. I think you can tell in this picture. ...
Finally, the Braves photo day pictures were posted! Here are the pitchers, position players in another post. :) Going to dominate this year. ...Wait, what's that tattoo? Beachy, those curls. No. You are a grown man, and your name is not Jarrod Saltalamacchia. Sean Gilmartin looks a little goofier than usual here. He really is handsome, y'all. I like Huddy without facial hair...
Here are 10 things we blindly gleaned from listening to Braves-Tigers on the radio, as the clubs launched the official start of exhibition play on Friday. But first, a mini-rant: In this age of lightning-speed Internet and absurdly advanced technologies, you'd think Major League Baseball would allow Web consumers to purchase the closed-circuit feed of every Grapefruit and Cactus...
It's that time of the year when we take stock of the Atlanta Braves organization and analyze the top prospects. For the next few weeks, we will profile our top-30 prospect list in groups of five. Here are those who are ranked in the 11-15 range.
LAKE BUENA VISTA, Fla. As a practical matter, Gerald Laird was indirectly responsible for Moneyball, the best-selling book (and Oscar-nominated movie of the same name) chronicling the underdog story of the 2002 Oakland Athletics. Here's the scoop: Fifteen years ago and fresh out of high school (southern California), Laird subjectively had more physical upside than future luminaries...
Tim Hudson started and pitched two scoreless innings The Atlanta Braves pitchers were in mid-season form Friday afternoon, as the Braves opened their spring training season against the Detroit Tigers at Champion Stadium with seven no-hit innings.  Unfortunately, the bats were still in deep winter slumber, as the Tigers nipped the Braves, 2-1. The Braves lone run came on a solo homer...
Getty Images Spring Training statistics are hardly a good way to judge upcoming success but none-the-less everyone likes to start with a strong outing. That was just the case for Tim Hudson on Friday. As spring games opened Hudson took the mound for the Braves. A similar  situation could occur on opening day. Hudson pitched two hitless innings against Detroit. He walked a batter...
Justin Upton was almost traded twice before coming to the Braves The Arizona Diamondbacks apparently tried to trade Justin Upton for two and a half years, including a deal with the Mariners that Upton vetoed.  Another deal involving Upton to an American League team was close, but fell through. The deal with the Mariners reportedly included minor league shortstop Nick Franklin, pitching...
Happy first game of spring training day, everyone! The Tigers take on the Atlanta Braves in Kissimmee, Fla.  The first pitch is at 1:05 PM and the game can be heard on WXYT-FM (97.1). in Metro Detroit. The late great Ernie Harwell used to open every spring training with the following from Song of Solomon… Goosebumps.
The Atlanta Braves and the New York Yankees tangle at 1:05 today (February 23) at Champion Stadium.  Veteran left hander, Paul Maholm, will start today for the Braves.  The right handed David Phelps is the Yankees scheduled starter. The Braves pitchers scheduled to follow Maholm are:  Jordan Walden, Anthony Varvaro, Cory Rasmus, Yohan Flande, and J.R. Graham. The Braves will try...
KISSIMMEE, Fla. (AP) -- The first game of spring training can provide some unusual scenarios. Such as Detroit slugger Miguel Cabrera facing Atlanta closer Craig Kimbrel -- in the third inning. Coming off baseball's first Triple Crown season since 1967, Cabrera grounded out against Kimbrel before finishing his day with a drive to the warning track in center field, not a factor...
MLB News

Delivered to your inbox

You'll also receive Yardbarker's daily Top 10, featuring the best sports stories from around the web. Customize your newsletter to get articles on your favorite sports and teams. And the best part? It's free!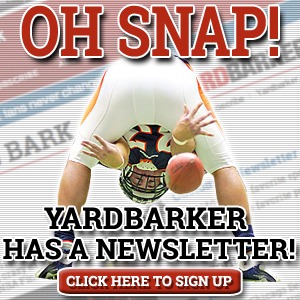 Latest Rumors
The Backyard

Today's Best Stuff

For Bloggers

Join the Yardbarker Network for more promotion, traffic, and money.

Company Info

Help

What is Yardbarker?

Yardbarker is the largest network of sports blogs and pro athlete blogs on the web. This site is the hub of the Yardbarker Network, where our editors and algorithms curate the best sports content from our network and beyond.