Found July 02, 2012 on The Nats Blog:
PLAYERS:
Craig Stammen
,
Matt Capps
,
Tyler Clippard
,
Bryce Harper
,
Drew Storen
,
Joel Hanrahan
,
Craig Kimbrel
,
Huston Street
,
Aroldis Chapman
,
Sergio Romo
,
Scott Downs
TEAMS:
Washington Nationals
,
Minnesota Twins
,
Pittsburgh Pirates
,
Atlanta Braves
,
San Diego Padres
,
Cincinnati Reds
,
San Francisco Giants
,
Los Angeles Angels
For the last two seasons, the Nationals' bullpen has become synonymous with one unimportant but very remarkable thing; All Star game wins.  Starting in 2010 when Matt Capps recorded the final out of the 6th inning by striking out David Ortiz, to Tyler Clippard's one out in the bottom of the 3rd inning in 2011, Nationals' relievers have been the winning pitcher in consecutive All Star games. Sadly this year, the streak will end.  Although the Nationals are sending three players to the All Star game for the first time in their short franchise history, not one of them is a part of one of the best bullpens in baseball. The main reason for that is the massive amount of media attention surrounding both rookie sensation Bryce Harper, and the incredible starting rotation.  With the spotlight focused intensely on these two things, the bullpen has become completely overshadowed. Absurdly, of the seven pitchers in the club's bullpen, five of them have an ERA under 2.00 and two of those five have a WHIP under 1.000.  To make it even more impressive, the bullpen is still lacking one of its best in last year's closer, Drew Storen, who can only make the pen better.  The biggest surprise this season, though, has been the emergence of 28 year-old Craig Stammen.  Once a failed starter for the Nationals back in 2009 and 2010, Stammen has become arguably one of the best relief pitchers in the majors this year with a 1.41 ERA and 1.16 WHIP in 44.2 innings.  Unfortunately despite this utter dominance, he has been passed over as an All Star this year in what may be considered a snub. Historically, the majority of relievers selected for the All Star game are closers, because of the value that is placed on their "high pressure" situational pitching, and this year is no different.  The four relievers selected to the National League team are all closers for their respective teams.  Joel Hanrahan of the Pirates, Craig Kimbrel of the Braves, and Huston Street of the Padres have been closers for the all year, while Aroldis Chapman has had to work his way into the Reds' closer position.  Even though all three of these players are deserving, Stammen is definitely worthy of their company. There is a slight problem though in comparing these two types of pitchers.  They both have their specialties.  While one only really pitches with the lead at the end of the game, the other pitches pretty much at any other time during the game, but it is widely debated which is more valuable.  The consensus usually falls to the side of the closer, but mainly because they have their own measurable stat in saves.  Middle relievers on the other hand are left with a newly developed but unreliable stat labeled holds.   This leads to leaving saves and holds out of the comparison and looking at the most basic stats (i.e., ERA, WHIP) for pitchers while remembering the situation in which each pitches. The best stat to start with has to be ERA, the most important pitcher's stat of them all.  Out of all of the All Star pitchers, only Huston Street has a lower ERA than Stammen by .06, but Street also missed a good amount of time due to injury which leads to a little skew in his stats. A slight advantage also goes to Stammen because he has held his ERA in approximately 13 more innings than any other pitcher.  It is only slight though because his low-pressure long innings situations even it out somewhat. Where Stammen sees a setback though, is in WHIP.  While Stammen sports a 1.16 WHIP, every pitcher except for Hanrahan (1.07), is around a ridiculous 0.75 WHIP.  Even though situations balances this out a little bit, because for fireballers like Chapman and Kimbrel it's much easier to strike out worn out batters, it is definitely not enough to break even.  Stammen control has been a lot worse than every other with 17 walks and 34 hits given up in his 44.2 innings.  This definitely wasn't good for his chances, but it wasn't what hurt the most. The biggest problem had to be that Stammen was an unknown, not only to fans, but to players as well.  While Kimbrel, Chapman, Street, and Hanrahan have established themselves and are pretty well known to any baseball fan; only Nationals fans really know about Craig Stammen.            Players probably don't even recognize his name unless they have faced him, because he is relatively anonymous and underrated to all.  This really hurt because the All Star game has become all about one thing, popularity. This season Craig Stammen should have been in the running for an All Star spot based off of his performance but he was virtually never considered because he wasn't a fan favorite closer.   While it's understandable that not everyone can make the All Star game, the MLB has to start recognizing the middle relievers that push their teams through hard times.  Even though there is no fanfare behind it, it is not fair to leave them with pretty much nothing to aim for.  Stammen and others such as Sergio Romo and Scott Downs, who have had great seasons, should have had at least a fair chance, but in this system, they never will.
Original Story:
http://www.thenatsblog.com/2012-artic...
THE BACKYARD
BEST OF MAXIM
RELATED ARTICLES
Stephen Strasburg, Gio Gonzalez, and Ian Desmond are All-Stars. Bryce Harper could be too. Go here to vote for Harper in the NL Final Vote early and often. And don't listen to Harper, who is apparently voting Chipper Jones: "I think a Hall of Famer should be able to go to the All-Star Game his last year. If I was going to make a vote, I'd go vote for...
The Washington Nationals have placed right-handed pitcher Chien-Ming Wang on the 15-day disabled list and reinstated right-handed pitcher Henry Rodriguez. The Nationals said Tuesday that Wang has a strained right hip. His move to the DL is retroactive to July 1. He is 2-3 with a 7.61 ERA in seven games this season and recently lost his spot in the starting rotation to Ross Detwiler...
ALL-STAR CLASS
Bryce Harper said he would vote for Chipper Jones and not himself for the final All-Star roster spot, so the retiring Brave went out of his way to compliment the Nationals star.
Washington Nationals ace Stephen Strasburg said he's feeling much better one day after lasting just three innings in the record-setting Atlanta heat. Thanks to a good night's sleep at the team hotel, Strasburg looked rested and relaxed in the clubhouse on Sunday morning. ''Yeah, as soon as I got back, I just hit the mattress and passed out,'' he said with...
The Washington Nationals have reached the point where they can hold news conferences to brag about what they've done - instead of what they hope to do. The NL East leaders put Stephen Strasburg, Gio Gonzalez and Ian Desmond at the featured table Tuesday to discuss their selections to the All-Star game. It's the first time Washington has sent more than one player to the classic...
Stephen Strasburg and Gio Gonzalez faced a different battle last weekend. They have been arguably the top 1-2 combination of starting pitchers in the major leagues this season, and each made the National League All-Star team. But both had to pitch through the extreme heat in Atlanta in their starts on Saturday and Sunday, something that plagued the Eastern seaboard and made life...
The month of July is almost upon us, and baseball is about to get a little more interesting. For the most part the buyers have separated themselves from the sellers, and for the first time since 2005 the Washington Nationals are in the position of a buyer. As far as the nature of July guys there are going to be lots of rumors floating around and some of them will have the Nationals...
Ryan Zimmerman homered and drove in four runs and Gio Gonzalez scuffled for his sixth straight road victory to help the Washington Nationals beat the Atlanta Braves 8-4 Sunday in 105-degree heat. The temperature rose four degrees from the first pitch to 105 by the middle of the eighth inning. The National Weather Service reported that Atlanta broke an all-time recorded high at 106...
All-Star shortstop Ian Desmond hit his 14th home run, and the Washington Nationals became the latest team to beat up on Tim Lincecum, pounding the struggling right-hander hard early and often Tuesday night in a 9-3 victory. The opener of the three-game series between first-place teams was barely a contest. Jordan Zimmermann (5-6) pitched a rain-shortened six innings and again enjoyed...
ATLANTA (AP) -- Ryan Zimmerman homered and drove in four runs and Gio Gonzalez scuffled for his sixth straight road victory to help the Washington Nationals beat the Atlanta Braves 8-4 Sunday in 105-degree heat. The temperature rose four degrees from the first pitch to 105 by the middle of the eighth inning. The National Weather Service reported that Atlanta broke an all-time recorded...
In their first full series in July, the first-place Washington Nationals (45-32) will come home to Washington to face off against the largely successful, first-place San Francisco Giants (45-35). Last week, the Giants took over first place with a bang worthy of Fourth of July fireworks: they swept the former first-place Los Angeles Dodgers, prevented them from scoring a single run...
We've hit the quarter-century mark of the podcast, and it was conveniently the All-Star edition of the podcast. None-the-less, we start the podcast talking about former (and future) All-Star Ryan Zimmerman and his recent hot streak. We also talk about the current All-Stars, and we compare the 2012 Washington Nationals to the 2010 World Series Champion San Francisco Giants as...
MLB News

Delivered to your inbox

You'll also receive Yardbarker's daily Top 10, featuring the best sports stories from around the web. Customize your newsletter to get articles on your favorite sports and teams. And the best part? It's free!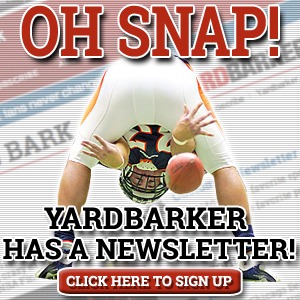 Latest Rumors
Best of Yardbarker

Today's Best Stuff

For Bloggers

Join the Yardbarker Network for more promotion, traffic, and money.

Company Info

Help

What is Yardbarker?

Yardbarker is the largest network of sports blogs and pro athlete blogs on the web. This site is the hub of the Yardbarker Network, where our editors and algorithms curate the best sports content from our network and beyond.