Found August 09, 2012 on hardballchat.com:
Twenty years ago this season the Pittsburgh Pirates were the team to beat.  With two straight seasons ('90-'91) of winning at least 95 games, the Pirates entered the 1992 season with the hopes of continuing their dominance and hopefully a World Series championship.  What they didn't expect was that the '92 season would be their last season as one of the top teams in Major League Baseball.
The Pirates of the early 90′s had speed, power, pitching and chemistry. In 1992, the Pirates had what they needed to finally get over the hump when they fielded one of the prolific hitters in the game in Barry Bonds (.311, 34 Home runs, 103 Runs Batted In, 39 Stolen Bases), Pitchers Doug Drabek (15-11, 2.77 ERA) and a young Tim Wakefield (8-1, 2.15 ERA).  They had a cast of players that would lead Pittsburgh to a 96-66 record and a National League East Division Crown, but once again they would come up short in the National League Championship Series and lose to the Atlanta Braves 4-3 in the best of seven series.
The next 19 seasons would put the Pirates in the Major League Baseball history books, but not a record that Pirates fans would be proud of.  The Pirates would go on to have 19 straight losing seasons.  This would be after losing Barry Bonds to the San Francisco Giants and almost every member of the team that helped to bring glory to Pittsburgh.  For the 19 years of suffering little did the Pittsburgh fans know that the Pirates were just building up their farm system to be able to compete in the future.  But tell a baseball fan that they would have to endure such a long streak of losing just to be able to finally have a winning season and those die-hard fans would drive you out of town.  But a true fan of a team goes through all the ups and downs with an organization so that when they finally find glory days again, they can truly appreciate the ride.
Turn now to 2012 and it is a totally a different story for the Pirates.  They are fun again, they are fast again, they have power, pitching and best of all they are in second place at 63-47, 2.5 games back of first place Cincinnati Reds, first place in the second Wild Card spot and steaming right towards their first playoff berth in 19 seasons.  The Pirates are enjoying their first winning season in a very long time and dreaming of getting back to the World Series.  And one of the best things about this season is their payroll, which is only $62.4 million dollars.  They have a better record than other teams with higher payrolls; so once again, a young team is stealing the show in the Majors.
One of the reasons for the sudden turnaround is the emergence of super star Andrew McCutchen.  He is a stud, he is an All Star, and he is God's gift to the city of Pittsburgh.  Andrew McCutchen, who was born in 1986 and was only 6 years old the last time the Pirates meant anything to the sport of baseball, is enjoying one of his best seasons in his young Major League Career.  McCutchen leads Major League Baseball in batting with a .370 Batting Average, has 23 Home Runs, which he totaled all of last season and also 67 Runs Batted In,  with 52 games to go.  McCutchen is locked up to play in Pittsburgh for another 4 seasons and if the Pirates play their cards right and keep adding pieces to their puzzle, they should be very good team for the remainder of his contract in Pittsburgh.
The Pirates are in a position to be one of the teams in the playoffs this year.  With the addition of the second Wild Card spot, they are sitting very good now, but with first place in the Central Division within reach, you have to believe that the Pirates have every intention to fight for another division crown and put themselves in a better position going into the playoffs.  This has been a great season so far of watching the emergence of a franchise that has been dead for so many years and for all the fans that have suffered through it all. Their time has finally come and their team can finally erase a record that has stood the test of time and looked to never be broken.  Now at least the Pirates can start on a new streak, Winning Seasons.
Original Story:
http://www.hardballchat.com/2012/08/w...
THE BACKYARD
BEST OF MAXIM
RELATED ARTICLES
All things considered, the last five years have been kind to Barry Bonds. Most obviously, Bonds has not -- and will not -- serve time in prison for answers he gave the BALCO grand jury in 2003 about performance-enhancing drugs. He has one felony conviction for obstruction of justice, but that is under appeal. Bonds, 48, remains popular in his hometown of San Francisco, where he...
Andrew McCutchen is chasing a batting title — he leads the National League with a .369 average — as well as an MVP award. The 25-year-old Pittsburgh Pirates outfielder tops the senior circuit in WAR and ranks second in OPS and runs scored. More importantly, he's the catalyst for a team contending for its first playoff berth in two decades. McCutchen talked about his approach...
Barry Bonds is the all-time home run king in Major League Baseball. Fact*. Barry Bonds was indicted for not telling the whole truth and nothing but the truth. Fact. Barry Bonds believes he should be inducted into the Hall of Fame. Fact.In an interview with MLB.com, Bonds was asked whether he thinks he belongs in the Hall or not. Bonds replied, "Oh, without a doubt. There'...
The 2013 Baseball Hall of Fame voting process will be the most interesting we've ever seen. If you ask Barry Bonds, he deserves to be inducted. "Oh, without a doubt. There's no doubt in my mind," Bonds responded when asked by MLB.com's Barry Bloom if he feels he belongs in the Hall of Fame. Bonds, who's long been linked to performance-enhancing drugs,...
There's something special happening in Pittsburgh, Pennsylvania this summer. A city that's become accustomed to the sports summer being nothing but an extended punishment for being so dominant in the winter is getting its gifts early this year. A record-setting losing streak is nearly a thing of the past, and finally, there is the light [...]The post A Pirate Rises: Andrew McCutchen...
Barry Bonds isn't exactly campaigning for inclusion in the Hall of Fame when the ballot is released in November, but he strongly believes he belongs in Cooperstown. "Oh, without a doubt," Bonds told MLB.com before Tuesday's fifth anniversary of his 756th home run, which broke Hank Aaron's longstanding record. "There's no doubt in my mind." ...
I am pretty sure you've seen this before, but probably watching some Little League game. Andrew McCutchen of the Pittsburgh Pirates makes the Arizona Diamondbacks' defense look even more ridiculously bad with his big time hustle on what should have been a bloop single. That should never happen in the Majors. But it probably could [...]
THICK AS THIEVES
Barry Bonds has only nice things to say about Roger Clemens, The two have developed a close relationship, with Bonds saying, "I will go to the end of the earth for that man."
Barry Bonds says without a doubt he belongs in the Hall of Fame Barry Bonds has never been one to shy away from this thoughts and opinions. Bonds sat down with MLB.com five years after hitting home run number 756. His comments still remain explosive as his sweet swing. Barry still has strong opinions on the night he broke Hank Aaron's home run record at AT&T Park in San Francisco...
Scouting Report Giants Prospect Kyle Crick | Bullpen Banter A comprehensive scouting report on Giants prospect and Augusta GreenJackets pitcher Kyle Crick. Bonds is right: No-doubt Hall of Famer – SweetSpot Blog – ESPN It almost goes without saying, but Barry Bonds is deserving of Hall of Fame induction, and there's no doubt about it. 2012: Year of the Catcher? – Beyond the...
Nothing makes me happier than seeing Anthony Rizzo, Andrew McCutchen and Colby Rasmus switch their batting stances to something more funky. However, there are 3 players I hadn't seen in majors before this season. They are the NL's finest and need to be celebrated. Thank you, Dodgers, Brewers and Reds for employing these gems. MLB Week in Review: 8/6/12 www.BattingStanceGuy.com...
MLB News

Delivered to your inbox

You'll also receive Yardbarker's daily Top 10, featuring the best sports stories from around the web. Customize your newsletter to get articles on your favorite sports and teams. And the best part? It's free!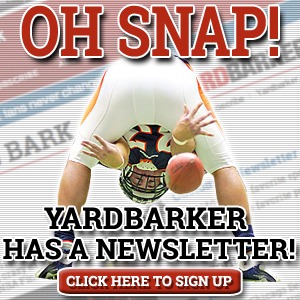 Latest Rumors
Best of Yardbarker

Today's Best Stuff

For Bloggers

Join the Yardbarker Network for more promotion, traffic, and money.

Company Info

Help

What is Yardbarker?

Yardbarker is the largest network of sports blogs and pro athlete blogs on the web. This site is the hub of the Yardbarker Network, where our editors and algorithms curate the best sports content from our network and beyond.