Found January 02, 2012 on hardballchat.com:
Determining what a player can do is always a tricky task. The great thing is that if you do it accurately, you'll look like a genius, and if you make the wrong call, nobody will call you on it, so long as you sounded like you knew what you were talking about. Hopefully I'll accomplish the former as I weigh in on Carlos Quentin's 2012 campaign.
There are a number of factors that we can measure analytically to make an educated guess as to what Quentin will do with the Daddies next season. We could look at the ballpark change (U.S. Cellular Field vs. PETCO Park), his BABIP, his batted ball data, the difference in his competition, or we could ignore these things and chock up his success or failure next season to the cliche "change of scenery," saying that he will succeed or fail because he was either sad or happy in Chicago (this would save me a lot of work). Let's assess the ballpark situation.
PETCO is notorious for destroying offense and making pitchers look good. In Carlos Quentin's case, I'm not so sure this will be the case. Using a nifty little tool I learned about through Jason Collette of BaseballProspectus and DRaysBay, I generated a hit chart of where Quentin hit the ball at US Cellular in 2011 and where those balls would have landed at PETCO. I included on the chart homeruns, doubles, lineouts and flyouts (Quentin didn't hit any triples in 2011). Take a look:
The dark blue dots represent homeruns, the light blue dots are doubles, the orange dots are flyouts and the red-orange dots are lineouts.
As you can see, Quentin hit only seven homeruns at home last season. Of those seven, one would not have gone out at PETCO. Of his doubles and flyouts two, or three (depending upon your judgment of the orange dot in deep-center), additional balls would have left the park. So there's another zip-a-dee-doo-dah or two right there. Since I don't currently have a girlfriend I'm a baseball nerd, I thought it would be fun to take a look at every stadium that Quentin played in in 2011 and see if what his homerun total would have been had he played all 118 of his games at PETCO.
If Quentin hit every ball in the exact same location, but hit them at PETCO, he would have hit 22 homeruns in his 118 games. This suggests that the park may not be as bad of a place to hit for power as conventional wisdom would have you believe. Another thing to keep in mind is that Quentin will not have to play all of his games in San Diego. Playing in the NL West, San Diego visits Coors Field, Chase Field, Dodger Stadium, and AT&T Park nine times each per season. Quentin has a solid track record at Chase Field (he began his career with Arizona) and everyone has a solid track record at Coors Field. He's been awful in small samples in the other two parks, but neither park has a reputation as a hitter's park.
The problem with this research is that the ability to hit a baseball 422 feet over the left field wall can not be replicated even with the same exact swing on the exact same pitch. There are a ton of other issues that go on as a baseball flies off the the bat and into the lucky fan's glove. Wind tunnels and other physical phenomena that I'm just not knowledgeable enough to discuss can affect where the ball lands. Perhaps Christopher Lloyd prevents the ball from leaving PETCO and guides it out at Coors Field. The main point is that I don't know all about the factors that can keep a ball in the park.
What we can gather from Quentin's hit charts is that PETCO isn't as "spacious" as the world seems to think. Perhaps we'll see a small decline in power due to the ballpark, but Quentin is going to the National League, where players often see boosted performance because many teams lack rotational depth. All in all, I think it's fair to expect a moderate improvement on 2011 from Carlos Quentin, assuming he stays healthy.
Original Story:
http://www.hardballchat.com/2012/01/w...
THE BACKYARD
BEST OF MAXIM
RELATED ARTICLES
The San Diego Padres have acquired two-time All-Star outfielder Carlos Quentin from the Chicago White Sox in an attempt to bolster their anemic offense. Quentin grew up in the San Diego area and was a two-time All-Star with the White Sox. He has four consecutive 20-homer seasons, including 36 in 2008. The White Sox will receive minor league pitchers Simon Castro, a right-hander...
The San Diego Padres desperately need help at the plate. Their anemic offense last year killed any chance that the Padres could reach the playoffs. To help score some runs, San Diego traded a pair of prospects to the Chicago White Sox for outfielder Carlos Quentin. Quentin, who grew up in San Diego, should be able to help right away. Since becoming a regular four years ago, the 29...
The White Sox traded outfielder Carlos Quentin and his potential $8 million salary to San Diego for a pair of pitching prospects.
New Year's Eve is supposed to be a holiday, but don't tell that to Josh Byrnes and Kenny Williams, who—for the second time—engineered a trade involving Carlos Quentin. For the White Sox, Saturday's deal is merely a small step in the rebuilding process. For the Padres, though, it seems to suggest future moves on the horizon. As R.J. Anderson noted, Quentin is a curious...
After the San Diego Padres traded for Carlos Quentin of the Chicago White Sox this past weekend, they seem to be flush with outfielders. Are the Atlanta Braves a good match for one of their several corner outfielders?Maybe, maybe not. It's established that Cameron Maybin is going to be starting in center field for them in 2012, as he should. I think at this point in time, he...
Every morning we compile the links of the day and dump them here... highlighting the big storyline. Because there's nothing quite as satisfying as a good morning dump. According to a major league source, the Red Sox weren't engaged in talks for outfielder Carlos Quentin, whom the White Sox traded to the Padres Saturday for pitching prospects Simon Castro...
Oft-injured Sox right fielder goes for 2 minor league pitchersCall it rebuilding, re-tooling or maybe even re-investing, but this is your White Sox offseason so far: They have lost No. 1 starter Mark Buehrle and starting left fielder Juan Pierre to free agency, and closer Sergio Santos and starting right fielder Carlos Quentin in trade.
  Here it is, the first Daily Friar of the new year. With the turn to a new calendar it brings exciting things into view for Padres baseball. After the Quentin trade yesterday, and whatever trades may come between now and the beginning of the season, I'm getting very excited about the upcoming season. Rest assured as well that you will have a Daily Friar to look at every...
Quentin is (snap into Rob Lowe's character on Parks and Recreation) LITrully one of the hardest players to rank (snap back out). He has the potential to be a top 10 outfielder, especially when power is down across the league, but injuries limit him. Over his four seasons with the White Sox he has averaged 119.5 games per season and has never made it past 131. It's not good that...
The 2011 challenge facing Dayan Viciedo is not to exactly replace Carlos Quentin. That task seems too lofty of a goal for the 5-foot-11, 230-pounder, who all but officially became the starting White Sox right fielder when Quentin was traded to the Padres on Saturday for right-handed Minor League pitcher Simon Castro and southpaw Pedro Hernandez.
White Sox News

Delivered to your inbox

You'll also receive Yardbarker's daily Top 10, featuring the best sports stories from around the web. Customize your newsletter to get articles on your favorite sports and teams. And the best part? It's free!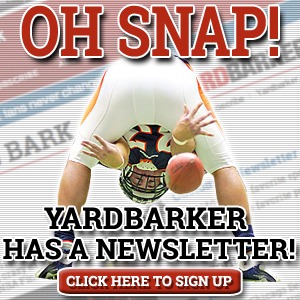 Latest Rumors
The Backyard

Today's Best Stuff

For Bloggers

Join the Yardbarker Network for more promotion, traffic, and money.

Company Info

Help

What is Yardbarker?

Yardbarker is the largest network of sports blogs and pro athlete blogs on the web. This site is the hub of the Yardbarker Network, where our editors and algorithms curate the best sports content from our network and beyond.