Found August 29, 2012 on Obstructed View OLD:
Aisle 424 wrote last week about the paucity of fans at U.S. Cellular at the conclusion of the White Sox' sweep of the Yankees, and it got me to thinking. It got me to thinking so much I actually used the word paucity in a sentence. But mostly it made me ponder the possibility of the same thing eventually happening to the Cubs. Sure, in this current epoch of unconditional attendance (or at least ticket purchasing) by the Wrigley faithful and word-of-the-day Cubs blogging by yours truly, it doesn't seem like a remote possibility that a good Cubs team would ever have such a difficult time putting blue-bleeding butts in the bleachers.(Sorry, that expression is completely gross, but I'm keeping it.) But over time, it's a real possibility. 
If Cubs fans lost interest one by disappointed one, if the market for witnessing baseball melancholy gradually dried out, if you, dear reader, became the first domino in a chain of secession from Cubdom . . . the Cubs could eventually become unpopular. What I want to know is, what would it take?
What would have to happen to make you stop attending Cubs games altogether? I'm not saying you'd abandon all hope and start cheering for the Expos to make a comeback, I'm just asking, what would it take to make you so disinterested in watching Cubs baseball live that you wouldn't even go to a game in which their Cy-Young caliber pitcher had a chance to lead the sweep of the best team in the league? Let's face it, that's pretty much the pinnacle of attendance apathy.
I know some of the OV regulars have no interest in attending as it is. But if you are among the throng of willing participants in the conga line through the Wrigley turnstiles, what would it take to get you to hang up your . . . conga shoes? Here are some possibilities.
Maybe it's the rising ticket prices that could dissuade you from buying tickets. That would make sense. The Cubs are a bad baseball team charging really-good-team prices to watch them play bad baseball. But if cost is going to be the predominant factor in turning Cubs fans away, the Cubs would have to be absolutely obstinate about keeping prices high. For whatever reason, a lot of people are still investing a lot of money in buying tickets to Cubs games, and if that trend is declining, it's doing so slower than a Joe Mather curveball.
I'm laughing loudly at the idea of the Cubs collapsing. What's to collapse? It's not like the Cubs are a house of cards waiting to fall. They're a house of card. But I'm using C-words here, so deal with it. If the Cubs stay really bad for a really long time (and who among the living and reasonably sane doesn't think that could happen?), interest will wane. Judging by the current market, they'd have to continue losing, uninterrupted by success, for the better part of a decade. That can be tough. You never know when even an ineptly run team might accidentally be good for awhile, so the Thoyer Super Friends brain trust would have to thoroughly disappoint to sustain the current tidal wave of suck. I'm not saying it isn't a possibility, but the inertia of Cubs fans' loyalty doesn't seem to allow for a mass exodus due to bad baseball anytime soon.
Let's not forget that the White Sox are less than seven years removed from their last World Series parade. If the same thing happened to the Cubs, is it possible that fans would stop coming to Wrigley? Cubs fans could tune out the way Moonlighting fans did after David slept with Maddie. Once the seemingly endless chase for success finally comes to an end, maybe that could be the ironic last straw for fans just looking for a reason not to come to the ballpark anymore? Maybe Cubs fans only want what they can't have. Maybe . . . heh, ****, come on. This would never happen. 
This is has been a really, really boring team to watch. Maybe people for whom the novelty of new prospects playing at the major league level has become tiresome will actually slip into a state of prolonged unconsciousness. That might physically prevent fans from attending games at Wrigley, but it would, ironically, be just the thing to make the endeavor bearable.
This is the one I'd be most interested in feedback on. What if the Ricketts finally approved and implemented serious changes to Wrigley Field? Or maybe they blow up Wrigley altogether and start from scratch. What level of change would it take to kill your interest in coming? Replacing the troughs with civilized urinals? Cutting off beer sales in the top of the third inning? Orange shag carpeting in the mezzanine suites? Or, perish the thought, replacing the Wrigley scoreboard with a gigantic jumbotron that merely simulated the old-fashioned hand-operated scoreboard? Seriously, what change at Wrigley would keep you from ever returning?
Really. They are the Cubs. If there's one thing they can do, you'd think it would be getting people to stop coming. Somehow they're failing even at that.
What the hell is wrong with us?
Original Story:
http://www.obstructedview.net/chicago...
THE BACKYARD
BEST OF MAXIM
RELATED ARTICLES
Iowa Horacio Ramirez gave up 7 ER in 4.2 IP so its good to see that working out well. Miguel Socolovich struck out 2 in 1.1 IP of work. He is now our best relief pitcher.  Smokies Logan Watkins ended the Smokies home season with a walk off HR, his 7th of the year. Baby Brenly went 3-4 and also hit a HR his 6th.  Austin Kirk gave up 2 ER in 7 IP and struck out 1 batter.  Daytona...
The Chicago Cubs and shortstop Starlin Castro have agreed to a seven-year contract with a club option for 2020. The 22-year-old Castro is a two-time All-Star and in just his second full major league season. He led the National League in hits with 207 last season. Since making his major league debut on May 7, 2010, Castro has more hits than any player in the NL with 486. Castro...
CHICAGO -- Starlin Castro was barely out of his teens when he made his big league debut. Now it looks as though he'll still be donning Cubbie blue when he hits his 30s. The Chicago Cubs and their young shortstop agreed to a seven-year contract with a club option for 2020, the team said Tuesday. The deal could keep Castro in Chicago until after his 30th birthday. "Only the...
The Chicago Cubs activated right-handed pitcher Blake Parker from the 60-day disabled list on Tuesday, and they designated left-handed pitcher Alex Hinshaw for assignment. Parker, 27, has been out since June 6 with a right elbow stress reaction. He began his season with Triple-A Iowa and has yet to yield a run in 4 1/3 innings of relief work with the Cubs. Parker made...
Are you out of work, behind on your house payments, the electric is about to be shut off and you need to pay for a divorce? Getting out of debt could be easy. Do you know this bank robber? Would you consider turning on your homeboy, but don't have the nerves to rat? Let us help you. We'll turn on your homeboy. And split the reward money with you! It's a win-win. mail@bustedcoverage...
Iowa The Greg of Rohan was 2-4 with a HR. Jaye Chapman lowered his ERA to 8.64 by working a clean inning. Smokies Jae Hoon Ha hit his 7th HR of the year and is batting .405/.476/.649 in his last 10. He added an OF assist for fun. Ha has a .995 OPS in August and I can't remember him having a better month than this in his career.  Daytona Need we even say anything? Another PPD...
The Chicago Cubs and shortstop Starlin Castro have agreed to terms on a seven-year contract that includes a club option for an eighth season in 2020.  The contract covers Castro's four arbitration seasons as well as his first three free agent seasons (club option for his fourth free agent season).  Terms of the deal were not disclosed. Additionally, the contract at a minimum...
According to Paul Sullivan, the Cubs are going to shift gears with regards to what they're doing at 3rd base. You're not alone if that doesn't make any sense. Sveum says they are "shifting gears" on playing time for Vitters. Valbuena to get bulk of starts down stretch. — Paul Sullivan (@PWSullivan) August 30, 2012 About 10 days ago this article was published...
The Cubs agreed to terms with All-Star shortstop Starlin Castro on a seven-year deal with a club option for 2020. The 22-year-old two-time All-Star is will reportedly receive $60 million in total salary, erasing his four remaining arbitration-eligible years and first two years of eligibility in free agency. He can hit the free-agent market at age 30 if his $16 million option isn...
The Cubs haven't had much success against the Brewers this season. With a wild comeback win on Thursday, Chicago at least got the last laugh against their NL Central rival. Jonathan Lucroy hit a grand slam and drove in seven runs for Milwaukee, but Alfonso Soriano's RBI single capped a three-run comeback in the ninth inning that lifted the Chicago Cubs over the Brewers 12...
Josh Collmenter threw four innings of shutout ball with six strikeouts and Willie Bloomquist punched an RBI single and later scored to cap a three-run 4th, as the AZL Diamondbacks built up an early 5-0 lead and then hung-on to defeat the AZL Cubs 6-4 in Arizona League action tonight at HoHoKam Park in Mesa.    Collmenter (ulcers) and Bloomquist (back stiffness) are assigned...
Mike Fiers tossed 7 1-3 solid innings to lead the Milwaukee Brewers to a 3-1 win over the Cubs on Wednesday night, their eighth straight victory against Chicago. Fiers (8-6) held the Cubs to four hits and struck out six, helping Milwaukee beat its division rival for the 13th time in 16 games this season. The Brewers have won eight of their last nine overall and moved within five...
MLB News

Delivered to your inbox

You'll also receive Yardbarker's daily Top 10, featuring the best sports stories from around the web. Customize your newsletter to get articles on your favorite sports and teams. And the best part? It's free!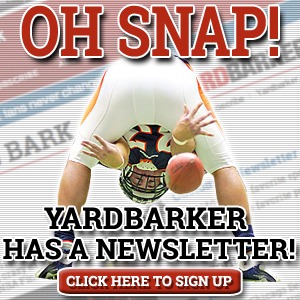 Latest Rumors
The Backyard

Today's Best Stuff

For Bloggers

Join the Yardbarker Network for more promotion, traffic, and money.

Company Info

Help

What is Yardbarker?

Yardbarker is the largest network of sports blogs and pro athlete blogs on the web. This site is the hub of the Yardbarker Network, where our editors and algorithms curate the best sports content from our network and beyond.