"While We're Waiting" serves as the early morning gathering of WFNY-esque information for your viewing pleasure. Have something you think we should see? Send it to our tips email at tips@waitingfornextyear.com. "It is entirely the case that Corey Kluber has conceded 10 runs and recorded a 7.84 ERA over his two most recent starts. It's also entirely the case that Kluber has recorded an 8:2 strikeout-to-walk ratio and slightly above-average 47.5% ground-ball rate and decidedly above-average 2.91 xFIP over those same 10.1 innings (and 51 batters faced). It's finally the case that runs allowed are conspicuously fascist." [Cistulli/FanGraphs] —- "In a vacuum, signing Clark would seem like a roster-filling move with the potential for some upside. But based on Brown's familiarity with Clark, from their time together in LA, he makes this possibility a bit more intriguing. If Brown likes the fit for Clark on this team at a nominal price, then I'm going to trust his judgment on that. If it came down to one guy or the other, though, I'd prefer the Cavs address the need at point guard by inking Collison." [Bowers/Stepien Rules] —- Oof. "That's right. With their current salary situation, the Nets will spend over $81 million on the luxury tax alone. To compare, the Miami Heat paid $80,736,455 in salaries for their championship team this past season, and they had the third-largest salary figure in the league. If you add up the projected salary for a 15-man roster, the tax level, the amount the Nets still pay Travis Outlaw ($4 million), Prokhorov will end up shelling out a grand total of $186,118,490 on the Brooklyn Nets roster in 2013-14." [Kharpertian/The Brooklyn Game] —- Comparing undefeated OSU seasons to the current group- "Zach Boren was also a huge piece to the undefeated run, his switch from fullback to linebacker shoring up a defense that was decidedly mediocre before the move. His emergence allowed Ryan Shazier to excel at playing his own position instead of doing just so-so at essentially trying to play two linebacker positions through the first half of the season. Last year's crop also featured experienced depth up front with Nathan Williams and Garrett Goebel while the defensive backfield included seasoned veterans in Orhian Johnson and Travis Howard. Similar to '02, the seniors weren't overly responsible for the offense's production as only two guys were regulars. Jake Stoneburner could make a case he was underutilized in Columbus as he totaled 16 grabs for 269 yards and four scores in his final season. Reid Fragel proved to be one of the great stories of the '12 season as he successfully made the difficult transition from tight end to right tackle in one offseason." [Lauderback/Eleven Warriors] —- Trading for Gasol? "Offensively, Gasol would bring the Cavaliers a great, reliable pick-and-pop big man. Gasol has shot 43.3% from 16-23 feet over the course of the last three seasons while attempting slightly more than three per game. Kyrie Irving has not had a legitimate partner to pick-and-roll for an extended period of time within his two NBA seasons, so Gasol would be a welcome breath of fresh air. Gasol also features one of the most refined post-games in the NBA, able to score from a variety of positions in the post. Of course, it's also worth mentioning that Gasol is turning 33 in four days. It's entirely possible that his skills and athleticism may have eroded to the point where he would become a total diminishing return due to injury and miles. However, that's part of the reason that he's possibly available, along with the possibility of Dwight Howard returning." [Vecenie/Fear the Sword]
Original Story:
http://www.waitingfornextyear.com/201...
MORE FROM YARDBARKER
MLB News

Delivered to your inbox

You'll also receive Yardbarker's daily Top 10, featuring the best sports stories from around the web. Customize your newsletter to get articles on your favorite sports and teams. And the best part? It's free!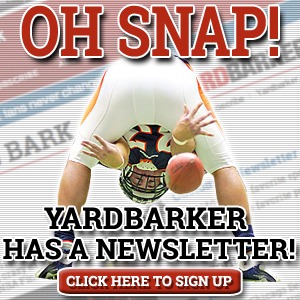 Latest Rumors
Best of Yardbarker

Today's Best Stuff

For Bloggers

Join the Yardbarker Network for more promotion, traffic, and money.

Company Info

Help

What is Yardbarker?

Yardbarker is the largest network of sports blogs and pro athlete blogs on the web. This site is the hub of the Yardbarker Network, where our editors and algorithms curate the best sports content from our network and beyond.