Found April 10, 2012 on Waiting For Next Year:
PLAYERS:
Josh Tomlin
,
AJ Pierzynski
,
Manny Acta
,
Chris Sale
,
Aaron Cunningham
,
Matt LaPorta
,
Alex Rios
,
Jose Lopez
,
Adam Dunn
,
Shin-Soo Choo
,
Jonathan Sanchez
,
Addison Reed
,
Dan Wheeler
,
Rafael Betancourt
,
Gordon Beckham
,
Jason Donald
,
Matt Thornton
,
Brent Morel
,
Paul Konerko
,
Hector Santiago
TEAMS:
Chicago White Sox
,
Cleveland Indians
,
Colorado Rockies
It's live-blog recap time, 2012 style!  As I'm sure you remember, when TD can't cover the recap, I step in and blog the game from my comfy chair.  As always, I know you don't pay your hard-earned money for no stinking live-recap.  Sorry 'bout that.  But if you'd like to…
7:15 PM  – Three things I learned about Josh Tomlin while hurriedly scarfing down dinner and watching the top of the first inning:
It's only a matter of time until he gets arrested for a crime he's not committed: facial hair like that belongs on a picture hanging in the post office.
He has—almost beyond comprehension—never pitched against the White Sox before in his career?  Rick Manning has said this three times now, and I still find it hard to believe…
He's also not learned how to stop letting up home runs.  After carrying the fourth-highest home run rate last season, Tomlin picks up right where he left off.  Both De Aza and AJ Pierzynski take him deep to right.
White Sox 3, Indians 0.
7:24 PM – So this is what Manny Acta's "right-handed" lineup looks like:
Donald (5) Asdrubal (6) Choo (9) Santana (DH) Lopez (3) Dunc-A-Dunc (7) Kipnis (4) Cunningham (8) Marson (2)
Ok.  I do want to see Donald get some more plate appearances this season where possible, and it makes all sorts of sense to bench Brantley, Hafner, and Hannahan against a lefty like Chris Sale, who has a particularly nasty arm-slot.  But in the end?  I guess this proves what we already knew: we don't have much in the way of right handed hitting on this team.
As an aside, Shapiro and Antonetti spent a good deal of the off-season reminding us that "a team like the Indians" (a description that is beginning to become tiresome, at least to me) must "choose its weaknesses".  I suppose I can acknowledge that a team with a payroll like this is bound to have weaknesses.  But has anyone yet asked, with a straight-face, why the weaknesses we choose to carry are the two most fungible in all of baseball?  Right handed, corner players grow on trees, you guys.  Pull your heads out of molasses.  This shouldn't be so hard.
Oh, yeah.  Choo walked, but to no avail.  Still 3-0 Pale Hose heading to the top of the second.
7:28 PM – Um.  You guys?  The home runs are a concern, totes.  But Josh Tomlin has now pitched two innings and has….four strikeouts?  That's honestly more than I expect out of him per nine innings, so maybe all's not lost?
7:36 PM – I was about to write that Aaron Cunningham reminds me A LOT of Matt LaPorta—in his batting stance, his pedigree, his inability to meet his potential, etc.  Then he took a pitch from Chris Sale the other way for a two-out single, as if to say, "Shut your face, Steiner."
Chris Sale has now allowed one hit and two walks through two innings.  I think Sale is an excellent pitcher; he has dominant stuff and is near unhittable against lefties with that arm-slot.  But I'm going to go on the record now: he belongs in the bullpen.  He will struggle with his command as a starter.  Which is to say the Indians need to stop swinging at all this nonsense.
7:48 PM – Josh Tomlin has six strikeouts through 4 innings pitched.  Four of those have been swinging.  This after he had the fifth lowest strikeout rate among AL starters last season.
In other words, I think I'm going to allow the facial hair.
Still 3-0 Bad Guys.
7:49 PM – Last season, those AT&T "Flash Mob" commercials seemed to drive a lot of people nuts.  Our own Kirk often appeared to be on the verge of uncontrollable Twitter-Rage when subjected to repeated viewings.
Luckily, I was largely immune.  I have a way of tuning out commercials (and any advertising, really) to the point where I don't even realize they're there.  Must be a terrifying thought to all those companies investing big bucks in advertising, but it's one of four talents I possess, along with chili-making, assembling ceiling fans, and making self-congratulatory lists.
Or at least I thought I was immune to advertising.  This gondola-pepperoni-Subway commercial makes me want to stab myself in the pupil with a rusty icepick.
This is the fourth game of the season.  I'm never gonna make it.
8:00 PM – After a broken-bat single to LF, Alex Rios inexplicably tries to steal second base.  I say "inexplicably" because Josh Tomlin holds runners as well as anyone, and Lou Marson picks pieces of guys like Alex Rios out of his stool.  Silly Alex Rios.
Also, while I like all these strikeouts, I just checked Tomlin's batted-ball stats: 75% of the contact tonight has been either a line drive or fly ball.  He just can't live like that.
Still 3-0 White Sox, heading to the bottom of the fourth.
8:05 PM – Given that our 4-5-6 hitters were up that inning, that went far too quickly.  Santana ground out.  Lopez fly out.  Dunkers with a swinging strike out.
Chris Sale has thrown 59 pitches through four innings, but has still only walked two. Maybe I was wrong about his incipient control issues….
8:22 PM – After Choo allows De Aza (he of the 1st inning HR) to stretch a single into a double, Jose Lopez has a liner go off his glove and dribble into right field, allowing De Aza to score easily from second: 4-0 Sox.
Adam Dunn follows with a nine-pitch walk off Tomlin.  Dunn has now seen 26 of Tomlin's 95 pitches.  Yes, I find that statistic interesting: Dunn is such a patient hitter that even when he struggles, he still affects the game by driving up the opposing pitcher's pitch count.
But I'm also mentioning pitch counts as much as possible in TD's stead.  He begged me to do that as an homage to his favorite play-by-play guy.
Meanwhile, the White Sox have seven hits to the Indians one, and Josh Tomlin still has more than a strikeout per inning.  This is a weird game.
8:25 PM – I kid you not.  The Indians just made three outs in three minutes.  Kipnis, Cunningham and Marson.  1-2-3.
8:36 PM – Despite loading the bases, Jairo Ascensio looks like a decent RH-bullpen arm to me.  He'll have to stay down in the zone, but his pitches have some nice late movement—in on a right handed batter.  That said, he did give up a couple of hits and a walk, but he also had a swinging strikeout while inducing some good groundball contact.
8:42 PM – Chris Sale just allowed a baserunner—his first since the second inning.  This should make me happy.
Unfortunately, the baserunner is Shin-Soo Choo, and he reached base by way of a Chris Sale fast ball to the hand.  The same hand that Jonathan Sanchez broke last year.  This makes me sick.
8:47 PM – Choo stays in the game, takes first base, and then steals second.  Santana then drives him in with a single to right field.
Jose Lopez is still our #5 hitter, though.  So the inning ends there.  4-1 White Sox.
9:05 PM – I just took a quick break to get some work done.
OK.  That's a lie.  I just zoned out for 18 minutes.  But in my defense, the offense has zoned out for four straight games now, so LAY OFF ME!
Either way, nothing of note has happened since 8:47, I promise.  Ascensio had another good-ish inning with another K.  Shelley got a hit.  Kipper GIDP'd.  Sale got pulled for the impressive young righty Addison Reed.  There was an error that didn't end up mattering.  Et cetera.
STO also played the "Oooohhhhhh PEP-ah-RONeeeee" song again, and here I sit without a rusty icepick.
9:14 PM – Dan Wheeler makes Rafael Betancourt seem an exciting and frenzied pitcher.  This half inning has been going on for 9 minutes.  There is one out.  Runners on first and second.  I am comatose with boredom.  Reminder: it is the fourth game of the season.
9:20 PM – After an excruciatingly irritating wild pitch, I've decided that Dan Wheeler might be this year's Obie if he's not careful.
Also, with runners now on second and third and one out, Gordon Beckham pops a fly down the right field line.  I mention this only because Choo throws beautiful a strike to home plate.  Ramirez would've been out by thirty feet.  So maybe Choo's hand is OK?
De Aza finally grounds out to second.  Almost fifteen minutes and 24 pitches later, the top of the eighth comes to an end.  The Indians have two innings to score three runs.  Top of the order coming up.  Still 4-1.
9:29 PM – Jason Donald.  I stick up for you all off-season long and then you go and do something like that?  Donald takes the first three pitches from Addison Reed, like a good lead-off boy.  He also takes strike one.
It's what happens next the drives me crazy.  Fastball at Donald's eyes, and he swings.  Pop up to first.  One down instead of one on.
Matt Thornton, the tough lefty, comes in to face Asdrubal, who promptly grounds out to short.  Choo lines a single off Beckham's glove, but Thornton gets Santana to ground out to third.  Which means the murderer's row of Lopez, Shelley and Kipnis is scheduled to bat in the bottom of the ninth.
9:39 PM – The top of the ninth was (wait for it…) boring.  Raffy Perez slowly worked through Brent Morel, Adam Dunn and Paul Konerko.  Still 4-1.
I just realized I have Chicago's closer, Hector Santiago, on my fantasy team.  If you ever want to know whether your natural inclination is toward pessimism or optimism, ask yourself how you feel in a situation like this.  Personally, I feel I can't lose: either my real team comes from behind for a dramatic victory or my closer gets a save.
But I know there are those out there who feel the opposite: paralyzed by the knowledge that no matter what happens, some of it will be bad.  To you, I say: stop harshing my buzz.
9:43 PM –I guess Jose Lopez didn't like my little joke earlier about him batting in the #5 slot.  He takes Santiago deep to left for the Indians' second run of the evening.  4-2 Bad Guys.  Shelley is looming.
9:45 PM – Shelley didn't loom for long.  He flew out to left center, and Kipnis struck out in, like, 14 seconds.  Which means Aaron Cunningham is our last hope.  Rats.
9:47 PM – Aaron Cunningham confirms my earlier suspicions, striking out in what can only be described as LaPorta-esque fashion.  With that, the Tribe falls to 1-3 on the young 2012 campaign.
There are things to like about this team: I think our starting pitching is going to be strong enough—though they obviously can't keep up that opening weekend performance.  Similarly, the bullpen is going to be fine, despite some of the tremors we saw over the weekend.  I do worry that they just won't hit enough—especially against left handed pitching.  I know this gets overblown more than it should, but when the Tribe faces a lefty like Chris Sale, we basically have to punt that game; our lineup tonight was, for all intents and purposes, laughable.  Luckily, the AL Central doesn't have too many southpaw starters, but that's not really a winning attitude, I don't think.
Regardless, we've now played four games and scored 14 runs.  Manny Acta isn't worried about the anemic offense, and, to be honest, neither am I.
Not just yet, anyway.  But like Shelley, I'm looming.
Photo Credit: AP/Mark Duncan
Original Story:
http://www.waitingfornextyear.com/201...
THE BACKYARD
BEST OF MAXIM
RELATED ARTICLES
The Cleveland Indians are building for their future up the middle. One week after locking up their All-Star shortstop, the club has reached an agreement with catcher Carlos Santana on a multiyear contract, a person familiar with the negotiations told The Associated Press on Monday night. Santana, who hit 27 homers in his first full season in 2011, is expected to sign his new contract...
The Cleveland Indians and catcher Carlos Santana have reached an agreement on a multi-year contract, according to MLB.com.Terms of the new deal have not been disclosed, but an official announcement is expected Tuesday.Santana is entering his second full season with the Indians. The 26-year-old batted .239 with 27 home runs and 79 RBIs last season.The Indians also signed All-Star...
As Ozzie Guillen tried to explain his way out of another mess he created with his mouth, Chicago's new manager felt compassion for his predecessor. Robin Ventura watched and wished the best for Guillen. ''It's a tough day for him,'' Ventura said Tuesday, hours after Guillen apologized in South Florida for comments lauding Cuban dictator Fidel Castro, remarks...
SWIFT PUNISHMENT
Prior to the skipper's news conference, the team announced that Ozzie Guillen has been suspended five games for his comments about Fidel Castro.
Florida Marlins manager Ozzie Guillen is probably regretting recent statements he made to Time magazine as he's been suspended for five games by the MLB club for singing the praises of former Cuban dictator Fidel Castro. Quotes attributed to Guillen were published on the popular magazine's website on Apr 6 in which he praised Castro for his longevity. The comments...
Marlins manager Ozzie Guillen's comments professing admiration for Fidel Castro caused a bigger uproar than if the Miami baseball team had spent the entire season in last place. In the U.S. city with the biggest Cuban-American population, Cuban exiles and politicians decried his remarks. Soon afterward, the Venezuelan manager issued a tearful, public apology. He has been suspended...
A.J. Pierzynski hit a three-run homer and drove in four runs to lead the Chicago White Sox to a 10-6 win over the Cleveland Indians on Wednesday. Pierzynski connected off reliever Rafael Perez in Chicago's five-run, sixth inning that included a two-run shot by Alejandro De Aza off Dan Wheeler. De Aza opened the game with a single and scored during Chicago's four-run first...
Ozzie Guillen tried to clear the air and do a little damage control on Tuesday morning in wake of his controversial comments about Cuban dictator Fidel Castro. The Miami Marlins manager delivered what appeared to be a heartfelt, hour-long apology at Marlins Park in Miami on Tuesday morning. He apologized over and over again and pledged to work alongside the Cuban community going...
Suspended Marlins manager Ozzie Guillen spoke to his players before the clubhouse opened to reporters on Wednesday. Guillen arrived at the clubhouse entrance just before 4 p.m., and entered along with Michael Hill, Miami's general manager. He was expected to apologize to the team for saying he admired Fidel Castro, a comment that led to his five-game suspension that will start...
For all of you who couldn't understand Ozzie Guillen's press conference earlier today here's what he said (video here): "I'm here because I hurt a community, I didn't want to do it, but I did it. Not only all the Cuban people around the world or living in Cuba, but the entire Latin American community. People from Venezuela, Nicaragua, Guatemala, and if I forget...
Ballertainment The official fallout from Ozzie Guillen's expression of love for former Cuban President Fidel Castro has begun. The Miami Marlins have suspended Guillen for five games, without pay. That may not be good enough, though. Fans and members of the Latino community in Miami are calling for him to be fired. Here is the controversial excerpt from the TIME Magazine interview...
In light of his comments about Fidel Castro (of which opinions have varied about how disgusting they were, but all falling on that side of the spectrum), the Miami Marlins have suspended manager Ozzie Guillen for five games, effective starting with tomorrow's game against the Phillies. Guillen will miss the remaining two games against the Phillies, along with the first full series...
MLB News

Delivered to your inbox

You'll also receive Yardbarker's daily Top 10, featuring the best sports stories from around the web. Customize your newsletter to get articles on your favorite sports and teams. And the best part? It's free!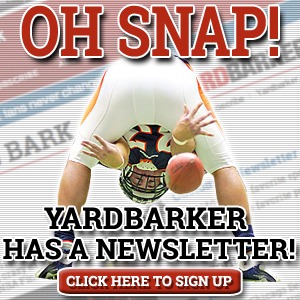 Latest Rumors
Best of Yardbarker

Today's Best Stuff

For Bloggers

Join the Yardbarker Network for more promotion, traffic, and money.

Company Info

Help

What is Yardbarker?

Yardbarker is the largest network of sports blogs and pro athlete blogs on the web. This site is the hub of the Yardbarker Network, where our editors and algorithms curate the best sports content from our network and beyond.