Found September 27, 2012 on Fox Sports:
No hitter has won baseball's Triple Crown since Carl Yastrzemski in 1967. You probably knew that already. Here, though, is an even more telling piece of information about one of the hardest achievements in professional sports: Until Detroit's Miguel Cabrera recently held the American League lead in batting average, home runs and RBI, only one player since Yaz -- Dick Allen in 1972 -- had been atop all three categories in the month of September, according to STATS LLC. Let that marinate for a moment: Cabrera is only the second person in nearly a half-century to be in Triple Crown position during the season's final month. "It's so hard," said Al Kaline, the Hall of Famer who challenged Yastrzemski for the '67 batting title before finishing third. "You think about power ... Back when I played, there were big, strong power guys who didn't hit for average -- pull hitters, (Harmon) Killebrews, guys of that nature. "To see Miguel ... I don't even want to classify him as a power hitter. He's a great hitter who can hit for power. He's not a power hitter who happened to have a good year batting average-wise." Cabrera leads the AL in batting average (.326) and RBI (133), and he's hit 42 home runs -- only one behind Josh Hamilton. He's within orbit of an historic achievement that scarcely has been sniffed for two generations. The attempt itself is noteworthy. So, too, is the respect and downright awe that exists for Cabrera among his peers in the major leagues. Cabrera is on pace for his fourth straight year hitting .320 or better, his sixth straight of 30 or more home runs, and his ninth straight of at least 100 RBI. To those of us who watch Cabrera, his pursuit of a Triple Crown is significant and exhilarating. To those who stand on the field beside him -- teammates and opponents -- the bigger surprise is he hasn't done it already. "With Miguel, he almost does this every year," Royals left fielder Alex Gordon said this week. "Is it really a surprise that he's putting up these numbers? No. It's pretty special when you're going for a Triple Crown, but his numbers are always like this. "I want to say it's a matter of time before he gets it." Considering the history Cabrera is up against, Gordon's last statement is preposterous. But it may also be correct -- even during an era in which the feat would appear more difficult than ever. "I think relief pitching has a lot to do with it, I really do," Tigers manager Jim Leyland said, when asked why baseball has waited so long for another Triple Crown winner. "Some games, these guys go two at-bats against a starter, one against a reliever, one against a specialist, maybe another against a closer or setup guy. "It's really a difficult thing to do, particularly for a guy like Cabrera. Cabrera doesn't get any infield hits. It's just a difficult thing to do." Cabrera's performance Wednesday against Kansas City illustrated just how hard the task remains. He punished the ball three times: a scalded grounder that Royals starter Jeremy Guthrie deflected for an out, a line shot to straightaway center field, and a towering fly that Gordon caught with a leaping, over-the-wall catch. End result: 0-for-4. (Remember this if Cabrera misses the Triple Crown by one home run -- a possibility brought to Gordon's attention, with unprintable color, by fans seated in the left-field corner at Comerica Park.) Cabrera is a combined 1-for-11 over his past three games. Bad luck? Good pitching? Anxious swings? Maybe some of all three. As Kaline said, it's hard. "They're pitching me backwards now -- starting off-speed for strikes," Cabrera said. "I'm an aggressive hitter. That's not what I want early in the count. I want to be aggressive, try to put the ball in play. That's what I've been doing the whole year." Cabrera, who's also engaged in a fierce MVP battle with Mike Trout, said he feels no more pressure at the plate than normal. Off the field, though, he admits to feeling a little uncomfortable about the media's interest in his pursuit. "The attention I have right now, I don't expect that," he said. "That's too much. I'm not the kind of guy who likes to talk too much about numbers. It kind of bothers me a little bit. My goal is to win games. It doesn't matter if I go 0-for-4, 0-for-5." To that end, the Tigers have won four straight games. They lead Chicago in the American League Central by 1-1/2 games. Asked which mattered more -- the Triple Crown or a division title -- Cabrera smiled. "Division title," he said. "Easy answer. I've got a good feeling we're going to win."
Original Story:
http://msn.foxsports.com/mlb/story/de...
THE BACKYARD
BEST OF MAXIM
RELATED ARTICLES
THIEVERY
Miguel Cabrera of the Detroit Tigers is closing in on the American League triple crown, which could tip the scales in his favor when it comes time to vote for the Most Valuable Player Award. He entered today with a fairly comfortable lead in batting average over Mike Trout, his chief competition for [...]
Miguel Cabrera is on the verge of doing something that hasn't been done in over four decades; winning MLB's Triple Crown. By definition, in order to win the Triple Crown, a batter must lead the league in home runs, runs batted in and batting average. Cabrera currently has 42 home runs, 133 runs batted in and a .331 batting average, leading the league in each of these categories...
The members of the Baseball Writers' Association of America (BBWAA) definitely have their work cut out for them when it comes to picking this year's American League recipient of the Kenesaw Mountain Landis Memorial Baseball Award, better known as the Most Valuable Player award. For me, the case is undeniably murky. Still, if I had a vote to submit, I would lean ever-so-slightly...
BOSTON (AP) -- Former Red Sox outfielder Carl Yastrzemski thinks that being in a pennant race will help Detroit's Miguel Cabrera in his attempt to win the Triple Crown. And Yaz should know: He's the last player to lead his league in batting average, homers and RBIs in the same season. "In 67, the Triple Crown was never even mentioned once," Yastrzemski said Wednesday...
Miguel Cabrera is batting .326, he has hit 42 home runs, and has 133 RBIs.  These numbers are particularly significant this season as they give him a legitimate chance at being the first Triple Crown winner since Carl Yastrzemski in 1967.  Cabrera leads the American League in both batting average and RBIs, but trails Josh Hamilton by one home run.  So Cabrera sounds like a lock...
One week from today, we'll know. We'll know if baseball stages an encore to last year's Game 162 magic. We'll know if Miguel Cabrera becomes the first Triple Crown winner in 45 years. We'll know if the storybook seasons of the A's and Orioles stretch into the playoffs. We'll know if the Angels or Rays shatter the odds and snare a wild-card berth. ...
Miguel Cabrera and Mike Trout. The AL MVP race is pretty much a two-horse race at this point. It's the explosive rookie phenom vs. the man chasing the elusive Triple Crown. Those who decry baseball as "boring" would be hard pressed to explain the tension present in this sudden rivalry. Almost overnight, it seems every sports media outlet in existence has their cameras trained...
By ANTHONY ANDROFOXSportsSouthwest.com ARLINGTON, Texas The only person standing between Detroit's Miguel Cabrera and a Triple Crown is pulling for the Tigers' slugger to be the first to achieve the milestone since 1967. That doesn't mean Josh Hamilton plans to go into a power funk though. Cabrera started the day leading the American League in batting average and...
The WAR (Wins Above Replacement) has been a very popular and controversial stat this year, especially when given the argument over who should be the AL MVP, Mike Trout of the Angles or our own Miguel Cabrera. Now if your asking yourself what exactly is the WAR statistic FanGraphs describes it as such… WAR basically looks at a player and asks the question, "If this player got...
Matt Shepard of WDFN in Detroit joins Fox Sports Tonight to discuss Miguel Cabrera's quest for the Triple Crown.
On an edition of SportsCenter Wednesday afternoon, Rob Parker and Keith Law had a debate about the AL MVP award. I can't find any video online to share the ridiculousness, but essentially, Law provided rational arguments arguing for Mike Trout while Parker took a page from the Skip Bayless book and made his point in favor of Miguel Cabrera by being loud. After the...
MLB News

Delivered to your inbox

You'll also receive Yardbarker's daily Top 10, featuring the best sports stories from around the web. Customize your newsletter to get articles on your favorite sports and teams. And the best part? It's free!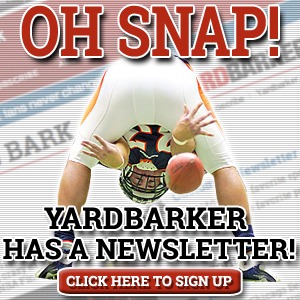 Latest Rumors
The Backyard

Today's Best Stuff

For Bloggers

Join the Yardbarker Network for more promotion, traffic, and money.

Company Info

Help

What is Yardbarker?

Yardbarker is the largest network of sports blogs and pro athlete blogs on the web. This site is the hub of the Yardbarker Network, where our editors and algorithms curate the best sports content from our network and beyond.