Found October 23, 2012 on Boston Sports Then & Now:
PLAYERS:
John Farrell
,
Jose Bautista
,
Bobby Valentine
,
Terry Francona
,
Jon Lester
,
Clay Buchholz
,
Daniel Bard
,
Dustin Pedroia
,
David Ortiz
,
Felix Doubront
,
Junichi Tazawa
,
Julio Lugo
TEAMS:
Toronto Blue Jays
,
Boston Red Sox
,
Cleveland Indians
John Farrell is happy to be back in Boston John Farrell was introduced as the new manager of the Boston Red Sox today.  The hiring has been met with a mixed reaction among Red Sox Nation.  It's a bit surprising to me because I would have assumed that if this news had come down last year that Boston would have been pretty excited about the hire.  I think if nothing else it shows just how much the decisions by the Red Sox brass over the course of the past 2 years has jaded the fan base.  Let me try and cheer you up.  John Farrell was a good hire and is going to make a great Red Sox manager. Look, I know Farrell's results were in Toronto were nothing to write home about.  he stepped into a rebuilding situation up there and went 81-81 in his 1st season but regressed to 73-89 in year 2.  He had a lot of injuries on a young team and it was too much to overcome.  The Blue Jays lacked clubhouse leaders outside of Jose Bautista who was injured for much of the second half of the season.  He was a lame duck coach who had already expressed interest in jumping ship to Boston where Bobby Valentine had written his future off by the trading deadline.  Farrell was eager to jump back into Boston and carry over the success that his mentor Terry Francona left behind when he was unceremoniously dumped following the 2011 season.  Farrell admitted that he would have never left if he knew the path that things would go down. Farrell hopes to replicate the success he had previously in the Red Sox dugout So now here he is, eager to right the ship.  He has a strong relationship with the core of the team – Jon Lester, Clay Buchholz, Daniel Bard, Dustin Pedroia and presumably a returning David Ortiz.  He worked well with the young pitchers in the Cleveland system when he was an instructor there and then again in Boston when he helped Lester and Buchholz launch their careers.  He will now get to work with young pitchers Felix Doubront, Junichi Tazawa, Rubby De La Rosa, and Matt Barnes among others.  He will also try to rebuild a clubhouse culture that has been lost since the end of Terry Francona's regime.  He has full autonomy to pick his coaching staff and looks to be bringing in former Pawtucket Red Sox manager Torey Lovullo as his bench coach.  He will hire a solid X's and O's guy as his pitching coach.  He will work lock-step with GM Ben Cherington who had Farrell in mind as his guy as soon as he took the Red Sox GM job after the 2011 season. Is he Terry Francona?  Maybe he is, maybe he's not.  I'll tell you who he isn't though – he's not Bobby Valentine and let us all thank God for that.  He also isn't Julio Lugo.  I've heard that brainless observation a few too many times and can only shake my head at it.  Valentine's motivation was driven by his ego but Farrell's will be driven by the same thing that drove Francona's – the desire to put together a group that will bring a winner back to Boston.  He doesn't care about the petty little stuff the media harps on that Bobby Valentine would get too often sidetracked with. The #1 thing in sports is loyalty.  You need to have it.  Francona met his end in Boston when he lost the loyalty of the players.  Valentine never knew how to command the loyalty and he never stood a chance here.  John Farrell is ready to be loyal to his players and create a culture that will ensure that his players are loyal to him.  There is a lot of work to be done, a WHOLE LOT of it to be precise, but if you don't think that Farrell will be up to the task then I think you are in for a very pleasant surprise. Follow me on Twitter
Original Story:
http://boston.sportsthenandnow.com/20...
THE BACKYARD
BEST OF MAXIM
RELATED ARTICLES
BOSTON -- John Farrell wants to bring stability to the Red Sox, and that starts with the coaching staff. While Farrell has reportedly brought Torey Lovullo from Toronto to become his bench coach, he said he's still discussing the rest of the team's coaching vacancies with Red Sox general manager Ben Cherington. "I wouldn't say we're really...
With the return of John Farrell officially scheduled for Tuesday at noon, the question can change from who will manager the Red Sox in 2012, to who will get the most out of Farrell's return to Boston? After a season in which Boston had a team ERA of 4.70 and a team high of 11 wins by Clay Buchholz, the starting rotation and staff as a whole needs needs a lift...
A lot has changed since last December, and that was no more clear than it was Tuesday on a sunny October day in Boston. Just 11 months ago, Bobby Valentine was in front of the podium at Fenway Park, speaking about how excited he was to have another chance at managing again, let alone leading the Boston Red Sox. "This day is a special day, and it's more than...
Here is a live stream courtesy of NESN of new Boston Red Sox manager John Farrell's introductory press conference. Live Video streaming by Ustream Follow Ian on Twitter @soxanddawgs. And be sure to like us on Facebook as well.
9:30 a.m. ET: The Red Sox are set to introduce a new manager for the second time in as many years on Tuesday. And while the 2011 hire of Bobby Valentine came with plenty of uncertainty, the Red Sox certainly think they know what they're getting this time around. The Sox will (re)introduce John Farrell on Tuesday afternoon, this time as the new manager of the...
Video courtesy of Mike Petraglia.
Every morning, we compile the links of the day and dump them here... highlighting the big storyline. Because there's nothing quite as satisfying as a good morning dump. "That's our ultimate goal, to have that stability," Lester said by phone last night. "You look from '04 to 2011, pretty much it was the same people. A few moving parts here and there, but the core management...
The Red Sox formally introduced John Farrell as their 46th manager in team history yesterday, and if there was one takeaway from the day – including the press conference and the numerous on-air and print interviews Farrell did – it is that he couldn't be more unlike his immediate predecessor. Speaking of which, Bobby Valentine appeared on Costas Tonight on the NBC Sports Network...
Two of the most prominent players on the Red Sox had nothing but good things to say about the hiring of John Farrell as the new manager on Sunday evening. Jon Lester, who had a particulalrly rough 2012 season with Bobby Valentine is looking forward to 2013, and the familiarity Farrell brings to the Red Sox organization. And David Ortiz understands the respect factor...
 Most Red Sox fans expected for their team to receive former All-Star first baseman Adam Lind along with manager John Farrell on Sunday but that wasn't case as ESPNBoston.com Red Sox writer Gordon Edes quickly disputed it around 8:30 a.m. Instead, Toronto sent right handed relief pitcher David Carpenter to Boston. A 12th round draft [...]
The Red Sox sent Mike Aviles to the Blue Jays in exchange for John Farrell, but it appears that they discussed sending a key piece of their bullpen up north as well. Compensation talks between the two teams for Farrell's services came down to either Aviles or Red Sox closer Andrew Bailey, according to ESPN's Buster Olney, although it's unclear how the two clubs ultimately...
Although it wasn't pretty, a win is a win, and the Patriots are now in first place in the AFC East despite having many flaws. The main concern for me surprisingly is not the secondary, it's the offenses inability to close out games. For the third time in six games, the Patriots blew a two possession lead in the fourth quarter. In each of these  games the offense has had the...
MLB News

Delivered to your inbox

You'll also receive Yardbarker's daily Top 10, featuring the best sports stories from around the web. Customize your newsletter to get articles on your favorite sports and teams. And the best part? It's free!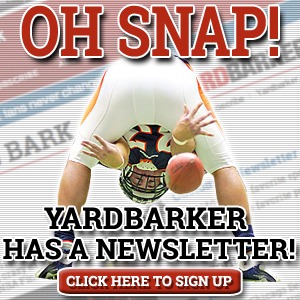 Latest Rumors
The Backyard

Today's Best Stuff

For Bloggers

Join the Yardbarker Network for more promotion, traffic, and money.

Company Info

Help

What is Yardbarker?

Yardbarker is the largest network of sports blogs and pro athlete blogs on the web. This site is the hub of the Yardbarker Network, where our editors and algorithms curate the best sports content from our network and beyond.