Found January 07, 2013 on The Daily Stache:
I've read the stories, seen the surveys, and it's pretty clear to me nobody is getting in the Hall of Fame this year: Too many fringe candidates among the clean ones, too many dirty candidates among the shoo-ins, too many look-at-me voters who claim to be turning in blank ballots out of some misguided sense of honor. I voted for Piazza. I voted for him because he was the best offensive catcher I ever saw, because he assembled one of the greatest — if not the greatest — offensive resume of any catcher ever born. And though he has long been caught in the vortex of whispers and rumors about PED use, there has yet to be a credible complaint lodged against him. – Mike Vaccaro of the NY Post Mike Piazza is my favorite all time player and I became a Mets fan because of him. The second he is finally elected to the Hall of Fame, I'm finding a place to stay in Cooperstown so I can be at his induction ceremony. But, based upon some of the facts coming out about how some of the writers voted, it looks like I wont be making that trip to Cooperstown in 2013, and that is a shame. Piazza is the greatest hitting catcher of all time. He could do it all, hit for power, hit for average, get on base anyway he needed and carry a team. He was the heart and soul of the Mets teams in 1999 and 2000 that brought playoff baseball back to Queens after many years without it. His home run on September 21st, 2001 against the Braves in the 8th inning to give the Mets the lead for good, will go down as one of the biggest home runs in New York baseball history, His moments even with the Dodgers, the team that took a chance on him as a 62nd round pick, were exceptional with offensive years that no catcher may ever duplicate again. The people who watched him play know that he was a dangerous player every time he came to bat, and even though his defense was, ok at best, he was still solid enough to catch on a somewhat regular basis for over 10 years. Jay Jaffe, the famed baseball sabermatrician who came up with the JAWS system to determine the worth of the players eligible for the Hall of Fame has also said he believes Piazza is a Hall of Famer. The idea of suspected PED use, which really comes from a connecting the dots sequence from some in the Media about some acne on his back, really is old news and nobody has had any concrete evidence about the subject. No books have been written about it, he wasn't in the Mitchell Report or been reported as one of the players that tested positive from the preliminary tests in the 2003 season. The other idea of people forcing players to wait a year at times so they don't have the coveted title of "First-Ballot" Hall of Famer.is dumb. If you're worthy in the second or fifteenth year of voting, what made you not worthy the first time or all the times after. Mike Piazza on January 9th will probably miss out on reaching the Hall of Fame because of suspicion, out dated traditions and simple stupidity from the voting members. That, as I said before, is a shame and much like Mike, it looks like I will have to wait another year to book my trip to Cooperstown The post Will Piazza be Held Out of the Hall of Fame? appeared first on The Daily Stache.
Original Story:
http://dailystache.net/will-piazza-be...
THE BACKYARD
BEST OF MAXIM
RELATED ARTICLES
Murray Chass claims he knows Mike Piazza used steroids. Wait, before you start mumbling expletives at Chass under your breath, keep reading. The former New York Times reporter is not alone. Joel Sherman, a columnist for the New York Post, also raised suspicion about the Mets former catcher. Both Chass and Sherman covered the Mets in the Piazza era. These guys spent a lot of time...
A true Mets hero begins what we all hope will be a short journey this afternoon. You may have read somewhere that this is Mike Piazza's first time on the Hall of Fame ballot and it remains to be seen if his on-field accomplishments will be enough to usher him through the doors on his first go 'round. They should be enough, of course, but there is enough of a taint to those...
Its kind of funny that right now all the chatter is about will  Mike make the HOF leap today or be lumped with all the other steriod players and have to wait another  year.  Later today after the annoucement at 2pm the talk hopefully turns into what Hat will Mike wear when he is inducted later this summer.  The guy deserves to be a 1st ballott HOF.  Best of luck to the Former...
With the Hall Of Fame election announcement coming on January 9, 2013, it is time to review the ballot, go over the names, and decide who belongs in the Hall Of Fame. There are twenty four men on the ballot for the first time this year and we will take a look at each one individually prior to official announcements. You can find all of the profiles in the I-70 Baseball Exclusives...
This week, I'm expecting to reach my boiling point when it comes to the Hall of Fame and those who vote for it. I'm expecting to see Mike Piazza fall shy of the necessary votes to enter the Hall of Fame, and in my mind – that is a crime against baseball and the fans that every writer who doesn't vote for him should be ashamed of. I'm not going to sugar coat this. I believe...
"long fly ball, deep centerfield…this one has a chance….HOME RUN! MIKE PIAZZA! AND THE METS LEAD 3-2!" – howie rose, 9/21/01 — Brian Erni (@brianerni) January 9, 2013 Plain and simple — this was the most amazing game I have ever been to. I hate to say Mike Piazza lifted the fan base on his shoulders with one swing of the bat, but he did. I get chills thinking about...
NEW YORK (AP) -- Steroid-tainted stars Barry Bonds, Roger Clemens and Sammy Sosa have been denied entry to baseball's Hall of Fame with voters failing to elect any candidates for only the second time in four decades. Bonds received just 36.2 percent of the vote, Clemens 37.6 and Sosa 12.5 in totals announced Wednesday by the Hall and the Baseball Writers' Association of...
This year's ballot is extremely crowded, due to a host of players who should have been elected previously combined with a strong freshman class. It's only going to get worse next year and unless the BBWAA starts electing people who are clearly qualified or the Hall of Fame changes it's rules on who is eligible and how many people voters can pick on a given ballot – it will...
(The following is adapted from Senator Joseph McCarthy's famous Red Scare speech in Wheeling, West Virginia from February 9, 1950. I wouldn't want any of you to think I was trying to pass someone else's work off as my own. Wink.) Ladies and gentlemen, today as we celebrate the one hundredth birthday of one of the greatest men in American history, I would like to be...
All the Hall of Fame ballots have been cast, all the votes have been tallied, and now there's some guy in a Steve Henderson jersey is walking to the podium with a large white envelope in his hand… You guessed it, it's time for MMO to reveal their Hall of Fame results and the winners are… A drum roll please… Congratulations to… Craig Biggio Jeff Bagwell Mike Piazza...
Cancel your vacation to Cooperstown. Not one player on the 2013 ballot is getting inducted this year. Barry Bonds, Roger Clemens, Sammy Sosa and Mike Piazza were among those denied enshrinement into the Baseball Hall of Fame when the voting results were revealed on Wednesday. The Baseball Writers' Association of America (BBWAA) decided that no one on this year's ballot was worthy...
Yesterday, Clayton did a nice job digging up as many Hall of Fame ballots as he could to put together a sneak preview of what we could expect on Wednesday when the BBWAA will announce who will be inducted into Cooperstown. With about 12% of all the ballots in, it looks like Mike Piazza will not have nearly enough votes to make the Class of 2013, and in fact the data shows that only...
Mets News

Delivered to your inbox

You'll also receive Yardbarker's daily Top 10, featuring the best sports stories from around the web. Customize your newsletter to get articles on your favorite sports and teams. And the best part? It's free!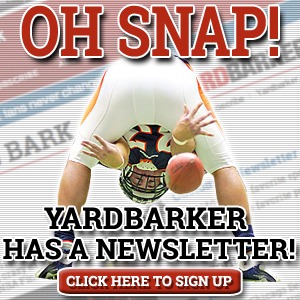 Latest Rumors
Best of Yardbarker

Today's Best Stuff

For Bloggers

Join the Yardbarker Network for more promotion, traffic, and money.

Company Info

Help

What is Yardbarker?

Yardbarker is the largest network of sports blogs and pro athlete blogs on the web. This site is the hub of the Yardbarker Network, where our editors and algorithms curate the best sports content from our network and beyond.