Found January 25, 2013 on Fox Sports Florida:
TAMPA, Fla. This dance has only begun. It will be more tango than waltz, more salsa than slow step. It will be a tease that tickles the imagination, seducing hearts and minds of seamheads on both sides of the bay. Lets be frank: Its not a matter of if. Its a question of the juicy when. When will Wil Myers, the jewel of the Tampa Bay Rays haul in a six-player December trade with the Kansas City Royals, make his major-league debut? When will Myers, the 22-year-old comet whom scouts have likened to former two-time National League MVP Dale Murphy, be scribbled into manager Joe Maddons lineup? When will Myers, the outfield prospect who cracked 37 home runs with a .314 average and a .387 on-base percentage last season to become a poker chip for his former franchise, dig into Tropicana Fields batters box for the first time? When will his wait be over? Be prepared to kick your heels a little longer. The Thomasville, N.C., native said all the right things at the Rays Winter Development Camp on Jan. 15 in St. Petersburg, Fla., part of a first visit to his future digs. He talked about how his progression is a front-office decision. (He has taken cuts at Durham Bulls Athletic Park, home of Class AAA Durham, located about 75 miles from his home.) He talked about how he understood the trade is part of baseball business. He talked about how each players dream is to make the major leagues, and thats where he soon envisions himself to be. Ah, but Wil, how long until that happens? And how will you look once you arrive?Theres less pressure on him in Tampa Bay than there would be in Kansas City, said Jim Callis, executive editor of Baseball America, a leading magazine that includes a focus on young prospects. In Kansas City, hed been seen as one of the guys whos supposed to be a savior of the franchise. Where in Tampa Bay theres some pressure when you get traded for (pitchers) James Shields and Wade Davis; obviously, he came at a high cost but at the same time, its not like anybodys going to be saying, Hey, we need Wil Myers to hit 25 homers as a rookie if were going to have any chance. Hell be a key cog, but theyve got (third baseman) Evan Longoria. Theyve got (pitcher) David Price. Theyre not asking Wil Myers to be the star of the team. This is why it will be fascinating to track Myers in the near future. He left a situation in Kansas Citys system where, upon his call-up, he would have been asked to soar from a phone booth with a cape and a million-dollar smile. His legend grew in the three years since being drafted in the third round from Wesleyan Christian (N.C.) Academy. It became more than normal, more than contained. He would have become LeBron James, circa Cleveland, in cleats. He would have become as much a part of Kansas City as Arthur Bryants burnt ends. (He received a standing ovation at the Futures Game at Kauffman Stadium last July, for goodness sakes.) Meanwhile, hell be given a chance to be super on his own terms at Tampa Bay. This will be a different pace. It will be more Tour de France than Indianapolis 500. Here, theres no baggage. Here, theres no weight that comes with being the guy groomed to redirect a losing franchise. Here, his bat wont be tied to two-ton bricks of expectation. Certainly, the consensus minor-league player of the year will be an intrigue in his new galaxy. But hell be far from the brightest star. Hell hold promise, but he wont be pressured to produce right away. If all goes well, he's probably a borderline All-Star most years, R.J. Anderson, a transactions analyst for Baseball Prospectus, wrote in an email. He's got the ability to hit for average, power and draw walks, which is about all you can ask from any hitter. His approach is real mature, almost bordering on passive up there because he just doesn't swing at bad pitches. His hands are just unreal; he can hit a fastball, he can adjust to a breaking ball, whatever. That's the best asset Myers has and guys like Longoria, etc. have. If you've got good hands and some idea at the plate, you should be a good hitter. I tried digging up dirt on the guy, to figure out if Kansas City was selling a rotten potato, but there's little out there, Anderson continued. There were athleticism concerns (baserunning and fielding, he's an average-ish runner now), a longish swing on occasion, etc., is about it. Minor stuff, really. His makeup has gotten praised he takes extra batting practice and worked hard to stick at catcher and to pick up the other positions they've asked of him. Basically, he's about as good a bet as any prospect in the system to contribute at the big-league level. Unless there's a well-hidden skeleton in his closet, it's hard to see him busting. So as we continue to watch and wait, its hard to keep the wonder in check. Myers clock is ticking. His time at Tropicana Field will come, if not to start the season, perhaps soon after. This is about when, not if. Enjoy the countdown. Enjoy the dance. You can follow Andrew Astleford on Twitter @aastleford or email him at aastleford@gmail.com.
Original Story:
http://www.foxsportsflorida.com/01/25...
THE BACKYARD
BEST OF MAXIM
RELATED ARTICLES
TAMPA, Fla. Could baseball be at risk in the Tampa Bay region? It's uncertain. But the message delivered by Tampa Bay Rays owner Stuart Sternberg on Thursday during a one-hour talk at a Hillsborough County Commission meeting was strong. Sternberg, who became the club's principal owner in 2005, told commissioners, "MLB, at this point, doesn't believe any more in...
Kyle Farnsworth and the Tampa Bay Rays have reached a one-year agreement for 2013. Farnsworth, 36, will have a base salary near $1.5 million and can earn more in performance incentives. Farnsworth missed the start of last season while dealing with an elbow injury. He was activated in late July. Last season Farnsworth had a 4.00 ERA and a 1.33 WHIP in 27 innings of work. He has pitched...
Dueling press conferences and statements today indicate that Major League Baseball and the Tampa Bay Rays ownership are either violently agreeing or subtly playing chess against one another with regard to the franchise's future on the gulf coast of Florida. Quotes via Adam Berry (mlb.com): Principal Rays owner Stuart Sternberg stated today that it is his full intent to keep Tampa...
Evan Longoria bundled up before stepping out into the cold, zipping his bright blue winter jacket all the way up, putting on his scarf and pulling his gray stocking cap tight over his ears. This wasn't exactly baseball weather. The Tampa Bay Rays third baseman spent Saturday hanging out with fellow Red Bull athletes and taking in the dizzying sights and loud sounds of the Winter...
The Tampa Bay Rays reinforced their bullpen Thursday, reaching an agreement to re-sign free-agent right-hander Kyle Farnsworth, according to a major-league source. Farnsworth, 36, will receive a guarantee of between $1.25 million and $1.5 million plus incentives, the source said. The deal is pending a physical. The Rays know Farnsworth well - he pitched for them the past two seasons...
Kyle Farnsworth's free agent decision is expected to come soon, with the big right-hander having narrowed his decision down to the Tampa Bay Rays and the ever-present Mystery Team. Farnsworth lost his closer's spot in Tampa Bay to the phenomenon that was Fernando Rodney, and his injury-limited 2012 season was somewhat of a disappointment: in 27 innings, Farnsworth allowed a 4...
The Tampa Bay Rays and free agent Luke Scott have expressed mutual interest in a reunion, according to Marc Topkin of The Tampa Bay Times. Scott spent 2012 with the Rays, and both sides have continued to express mutual interest in a reunion. Tampa Bay is in need of a designated hitter, and their search may ultimately lead them to a reunion with Scott. The slugger...
DISCLAIMER: I'm fully aware that this site is solely dedicated to the Red Sox, Red Sox Nation and people smart enough to read and comprehend the literary nuggets of gold written by the Red Sox Life staff. With that said, enjoy.  I feel like I've got a pretty good bull-crap meter especially when it involves a video. There have been times when I've watch something on the...
Tampa Bay Rays principal owner Stuart Sternberg went into battle again on Thursday. The former Wall Street investor, who in 2005 purchased the majority interest in the club, has been looking for a way to get out of Tropicana Field, but to no avail. His audience was one with a keen interest in the Rays as he was invited by the Hillsborough County commissioners to speak about the health...
The Tampa Bay Rays have signed free-agent reliever Kyle Farnsworth to a one-year contract, according to an ESPN.com reports. Farnsworth, 36, will earn between $1.25-1.5 million plus incentives, according to a FOX Sports report. The right spent the previous two seasons in Tampa Bay. He posted a 4.00 ERA in 27 innings in 2012. He saved 25 games the previous season.
MLB News

Delivered to your inbox

You'll also receive Yardbarker's daily Top 10, featuring the best sports stories from around the web. Customize your newsletter to get articles on your favorite sports and teams. And the best part? It's free!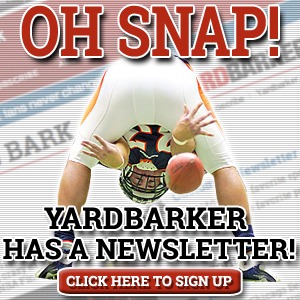 Latest Rumors
The Backyard

Today's Best Stuff

For Bloggers

Join the Yardbarker Network for more promotion, traffic, and money.

Company Info

Help

What is Yardbarker?

Yardbarker is the largest network of sports blogs and pro athlete blogs on the web. This site is the hub of the Yardbarker Network, where our editors and algorithms curate the best sports content from our network and beyond.