Found February 05, 2013 on Fox Sports South:
PLAYERS:
Chris Johnson
,
Chipper Jones
,
Justin Upton
,
Martin Prado
,
Juan Francisco
,
Fredi Gonzalez
,
Randall Delgado
,
Zeke Spruill
,
Nick Ahmed
,
Brandon Drury
,
Lance Berkman
,
Roy Oswalt
TEAMS:
Atlanta Braves
,
Arizona Diamondbacks
,
Texas Rangers
ATLANTA Chris Johnson knows exactly what hes getting himself into. Growing up, Johnson, his mom, dad and sister would make the 8 -hour drive from Naples, Fla., to Atlanta to see the Braves and to see Chipper Jones. Johnson worked with Jones father, Larry Sr., in college at Stetson and would hear about Chipper from Hatters coach Pete Dunn, Chippers godfather. Dunn, Johnson said, would often tell his players If youre going to be like anyone, be like Chipper Jones. He isnt trying to be Chipper Jones but Johnson is trying to replace him. Im excited to play third and I know the history over there, Johnson said. Ive got some shoes to fill and Im just going to do the best I can and try and just make sure I play Chris Johnsons game and obviously not Chipper Jones game. Acquired from the Diamondbacks as part of the Justin Upton trade a deal that cost the Braves a player that was slated to be their best option at the position in Martin Prado -- Johnson will head to spring training contending with Juan Francisco at third, though manager Fredi Gonzalez said the two could end up sharing the role. I talked to Chris about it and at the very minimum you go into it as a platoon situation. That could always change, Gonzalez said. You start hitting the ball, you start playing well and you find yourself in there more and more. Ill tell the same thing to Juan when I see him in spring training. But at the bare minimum, you think about it that way and whoever wins that job nobodys a dummy, if someone starts producing over somebody else, they get more playing time. Johnson, 28, has made 315 career starts at third, including 127 last year for the Astros and D-backs and is coming off a year in which he hit a career-high 15 home runs to go along with a .281 average, 76 RBIs and .777 OPS. Johnson also saw his power numbers jump at Chase Field, hitting seven home runs in 44 games at a park thats among the leagues most hitter-friendly, ranking sixth in last year in producing 1.19 HRs per game. Defensively, Johnsons metrics have trended toward poor with a minus-9.4 ultimate zone rating (UZR) and defensive runs saved (DRS) of minus-11. The 25-year-old Francisco does have offer more home-run capability, posting three years in the Reds minor league system of 25, 23 and 22 home runs and better defensive metrics than Johnson with a 3.0 UZR and a DRS of 1. On the down side, Francisco struck out 34.1 percent of the time last year and has struggled vs. left-handed pitchers in his 174 big-league games. He has a .190 average against lefties and all nine of his home runs last year came with righties on the mound. Its a sizable drop off from Johnson, who has a doesnt provide quite the drop off with a .255 (lefties) and .283 (righties) split. Obviously I know myself and Juan are going to come into spring training and eye that starting job, Johnson said. Thats everybodys mentality but then once camp breaks were all wearing the same uniform and were going to pull together and do the best we can. I know theres going to be a battle over there in spring training to try and figure out if somebody can take the spot and thats our mindset. The Braves know what theyre getting with Johnson, while Francisco could provide more upside. It creates a debate that figures to last through the spring -- and potentially into the early stages of the season. But as Gonzalez pointed out, this being the only real question on the roster isnt necessarily a bad thing. I feel good about it. I think we replace what Chipper can give us in left field with Justin, he said. So if everything falls right and everybodys doing what theyre supposed to be doing, to worry about your No. 8 spot? The eighth hitter in the lineup and the third base platoon situation? Thats not bad at all, really. Johnson wasnt expecting to be traded when he woke up on Jan. 25. He went through his normal morning routine and was preparing to head to the Diamondbacks facility to workout when his girlfriend came running downstairs after receiving a text message from Johnsons parents that said Get packing again. (She) was like Hey, you need to check your phone, said Johnson, who was traded from Houston to Arizona on July 29. I had like 65 text messages on my phone. There was no introductory press conference, no hoopla as he was dealt to Atlanta along with Upton, a two-time All-Star, in exchange for Prado, pitching prospects Randall Delgado and Zeke Spruill and minor-league infielders Nick Ahmed and Brandon Drury. He was almost an afterthought in the trade but Johnson doesn't mind. He says that hes come to learn anything can happen after his time with the Astros, where he saw the likes of Lance Berkman and Roy Oswalt traded. Its fine for me. I dont mind it at all, Johnson said. I try not to get involved with other players. Thats why the platoon situation doesnt bother me all that much. I just try and focus on what I can do and try to get better myself. Justins an unbelievable player, so its good to be lumped in with a guy like that. Were also good friends so were excited to come over here and try and help out. The day after the deal, Chipper took to Twitter, writing: Wanna welcome Stetson grad and ex LJ Sr disciple, Chris Johnson, to Braves Country! Look forward to seeing him man the hot corner! Johnson isnt trying to be Chipper Jones, but he clearly has his attention and expects hell lean on the future Hall of Famer hes trying to take over for. Hopefully I can get together with him at spring training and pick his brain and learn as much as I can from him, Johnson said. When hes not hunting.
Original Story:
http://www.foxsportssouth.com/02/05/1...
THE BACKYARD
BEST OF MAXIM
RELATED ARTICLES
The Atlanta Braves play at Disney's Wide World Of Sports for spring training. (Photo credit: Wikipedia) With the Super Bowl over, and the 2012 college football and NFL seasons in the books, we can turn our complete attention to major league baseball, and the Atlanta Braves.  Sure, the NBA is still percolating, but we watch it with one eye until the playoffs start, don't we?...
ATLANTA The chrome blue rig idled in the player's parking lot at Turner Field Monday morning, slowly being loaded down with essentials both personal and professional to be transported to spring training. Seven short days remain; baseball looms. Along with the rest of the Braves' supplies packed and shipped down to ESPN's Wide World of Sports complex in Orlando, catcher...
From a friend at FOX - anyone going? :)   Former Braves manager Bobby Cox will sign autographs to benefit East Coweta Boys Basketball Feb. 8 Former Atlanta Braves Manager, Bobby Cox, will be signing autographs at East Coweta High School this Friday evening, February 8, before the East Coweta High School Indian's game versus the Newnan High Cougars. Those interested must purchase...
The retirement of Chipper Jones was always going to leave huge shoes to fill in Atlanta, where he not only pieced together a (future) Hall of Fame career but produced at a high rate even in his last season. Of course, the heir apparent just two weeks ago looked to be Martin Prado, who was traded to Arizona in the seven-player deal that most notably brought Justin Upton to Atlanta...
Kris Medlen has opening day talent Be interesting to see how Braves manager Fredi Gonzalez sets up his starting rotation this season.  He's got three starters, arguably four, that could potentially start Opening Day. My guess is that either Hudson, or Medlen, will be the Opening Day starter.  Probably Hudson, for the simple reason that Braves managers generally give the nod to...
Last season, the Braves bullpen ranked as one of the best in baseball, featuring talented arms and one of the game's elite closers. After the Tommy Hanson trade, which brought over strong-armed reliever Jordan Walden from the Angels, the late innings look to be in good hands this season in Atlanta. Adding Walden to the depth chart of Eric O'Flaherty, Jonny Venters and Craiig...
Expect Freddie Freeman to have a big 2013 Freddie Freeman has had a couple nice years in the major leagues.  Last season in the first base position rankings, he ranked tenth in the major leagues in homers (23), sixth in RBIs (94), fifteenth in average (.259), and 12th in OPS (.796). Those are good numbers for a player in his first two years, but the Braves need a lot more.  The...
Spring training is right around the corner and, shockingly, free agent Michael Bourn still hasn't signed on with a new club. The latest team to show interest in the speedy outfielder is the New York Mets, according to The Star-Ledger. Mets general manager Sandy Alderson said there is "ongoing discussion" with Bourn. Since Bourn's former team, the Atlanta Braves, sent Bourn...
A Mets source told Nick Cafardo of the Boston Globe that the front office is still trying to get MLB to allow them to keep their first-round pick if they sign Michael Bourn. They are still trying to determine whether they can convince Bourn to sign a potential backloaded deal and that they will go "all out on the compensation"  if they know their pick will be protected...
The following listing rationalizes the National League's top 10batting lineups heading into spring training, with an emphasis on the six best offenses for the 2013 season. As you'll see when scrolling down, the Braves stand atop the countdown. But this isn't some kind of charitable act for FOX Sports South teams. Bottom line: If GM Frank Wren hadn't moved heaven...
The top story for the Mets continues to be Michael Bourn – will he sign or won't he? Will MLB protect the pick or won't they. There are good arguments to be made on both sides, but the bottom line is that ultimately Bourn will go wherever he wants to play, be it the Mets, the Indians or any other team that may be in the mix. Sometimes players want to play in a particular region...
MLB News

Delivered to your inbox

You'll also receive Yardbarker's daily Top 10, featuring the best sports stories from around the web. Customize your newsletter to get articles on your favorite sports and teams. And the best part? It's free!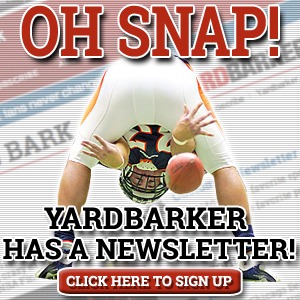 Latest Rumors
The Backyard

Today's Best Stuff

For Bloggers

Join the Yardbarker Network for more promotion, traffic, and money.

Company Info

Help

What is Yardbarker?

Yardbarker is the largest network of sports blogs and pro athlete blogs on the web. This site is the hub of the Yardbarker Network, where our editors and algorithms curate the best sports content from our network and beyond.