Found October 25, 2012 on isportsweb.com:
Listen, it's not time to write the obituary for the Detroit Tigers. Yes, the San Francisco Giants looked like an unstoppable force last night against the best pitcher in baseball, but it's just one game of four that they must win. Wednesday night was an ominous start to be sure. What Pablo Sandoval was able to do by smashing 3 homers in his first 3 at-bats was not only historic, but also dumbfounding to unsuspecting Tiger fans. But it's time to move on. Game 2 will feature Doug Fister (10-10, 3.45 ERA) against Madison Bumgarner. Both pitchers had excellent seasons but finished out the year on different trajectories. Fister had a 2.34 ERA in 5 September starts and has a 1.35 ERA in 2 postseason appearances thus far. Bumgarner was lights out for 5 months but coughed up a 5.47 ERA in September and has been battered for 10 earned runs in 8 playoff innings, spanning 2 starts. Doug Fister has a tall task in Game 2 The Giants shut Bumgarner down after Game 1 of the NLCS to 'fix' him. Sound familiar Tiger fans? The Giants are hopeful that what ailed him was easier than the corrections the Tigers tried to instill upon Jose Valverde over the last week and a half. Game 1 observations: Sandoval and Marco Scutaro looked invincible at the plate. Fister will have to find a way to neutralize their hot streaks so that the Tigers can stay in the game longer than an inning. I've never liked pandas, honestly. They are kind of rare and spooky. What Pablo "Kung Fu Panda" Sandoval was able to do last night was also rare and spooky. So, by default, I officially don't like Sandoval. Not only does Angel Pagan appear to be the kind of player that is really going to annoy the Tigers this series, but CTU has officially confirmed him as a member of Jack Bauer's 'watch list'. He just looks like he's up to something unsavory. Speaking of looking unsavory, Hunter Pence looks like a certifiable madman. I've watched him closely throughout his career. It appears as though he's left a few screws behind with each new city he calls home. Hold tight Hunter! When Justin Verlander struck Barry Zito out during his first at-bat with a changeup last night, Zito seemed incredulous. He was muttering things like "Wow", and "a changeup?". Verlander went all fastballs in that 2nd at-bat and Zito made him pay with an RBI single on a heater right down the tube. Zito got the last laugh in this one. They will meet again in Game 5. That San Francisco Giants crowd is sensational. I was shocked to discover on Twitter yesterday that the official Giants Twitter account has 333,000 followers. Detroit's has 182,000. Fister will be tasked with not only shutting down the Giants offense, but also of finding a way to quiet the pandemonium in the stands. Jose Valverde will not pitch again as a Detroit Tiger unless the Tigers are getting blown out once more in this series by 5 or more runs. Valverde had 3 mostly good years as a member of the Tigers and it's awfully sad and a damn shame to see him go out like this. My heart aches for the guy. On the bright side, Joaquin Benoit seemed to be outstanding last night. He hit 97 with his fastball, which is as hard as he's thrown all year long, and his changeup was money. He will take on a prominent role in this series, and could very well be used in a closing situation against right-handers. Fixing Benoit was as critical as correcting Valverde's woes. At least they got one of the two accomplished. All in all, the Tigers bats weren't atrocious. They had 8 hits and were robbed on 2 others by Gregor Blanco. A few other sharply hit balls just weren't able to find a hole in the defense. In 49 career regular season games covering parts of 2 seasons, Al Alburquerque has never allowed a home run.  In 7 playoff games he has allowed 2, one last night and one in 2011. Rick Porcello looked sharp in his brief cameo. I expect him to be a substantial key in this series with the scrappy Giants forcing pitch counts up against the Tigers' starters. Today is a new day. As we just witnessed last night, in playoff baseball, anything goes. Tune in, expect nothing, and hope for the best.
Original Story:
http://feedproxy.google.com/~r/isport...
THE BACKYARD
BEST OF MAXIM
RELATED ARTICLES
Headed into last night, the Tigers were the favorites to win the World Series in large part because they had Justin Verlander, and people tend to favor teams who have ace starters in the playoffs. Last night, however, Justin Verlander did not pitch like an ace, and the Tigers jumped on him for five runs in four innings of work – as many as he'd allowed in his previous seven...
Game 1 of the World Series between the Detroit Tigers and San Francisco Giants is upon us. In the ultimate contrast of styles, Justin Verlander will oppose Barry Zito. I think Dan Plesac of MLB Network said it best when comparing the fastballs each pitcher possesses. He said Zito could hit you in the eye and not even cause a bruise, while JV can throw it through a brick wall. We'll...
Despite going six strong innings for the Detroit Tigers, pitcher Doug Fister ended up taking the loss in game two of the 2012 World Series. Early in the game, Doug was lucky to even finish the game after getting drilled in the head by a line drive from the bat of Giants hitter Gregar Blanco: (Courtesy of Die Hard Sports)
Umpire Dan Iassogna deserves credit for making the correct call on a difficult play to judge at home plate during Game 2 of the World Series on Thursday. Detroit Tigers first baseman Prince Fielder was trying to score from first on a double down the left field line by Delmon Young in the second inning. Left fielder Gregor Blanco threw in to home as Prince Fielder was rounding third...
Detroit Tigers starter Doug Fister stayed in the game despite getting hit in the head by a hard line drive off the bat of San Francisco's Gregor Blanco. Blanco's drive in the second inning of Game 2 of the World Series on Thursday night hit Fister on the side of the head and ricocheted all the way into center field for a single. Manager Jim Leyland, pitching coach Jeff Jones...
Things were looking up for the Tigers in the second inning of Game 2 of the World Series on Thursday night. Giants pitcher Madison Bumgarner, he of the 11.25 ERA in previous 2012 postseason games, had just hit leadoff batter Prince Fielder. Delmon Young then smoked a double down the line that bounced off a wall and jetted out in foul territory before left fielder Gregor Blanco...
(source feed provided no summary content for this entry)
Detroit ace Justin Verlander suffers rare misfire in game he was supposed to win.
The Detroit Tigers and San Francisco Giants will be kicking off Game 1 of the World Series on Wednesday night, and for Detroit it will mark their first meaningful game in a week. Some fans might be worried that the Tigers won't be ready after their long layoff, but NESN Nation's Dan Duquette isn't one of them. In fact, he's pretty sure that Miguel Cabrera and Prince...
As the 2012 World Series kicks off tonight, if course there has been a lot of discussion about the two participants. Coming into this season, the Tigers would be considered the favorite. But, the Giants had more regular season wins (91-88) and they also have homefield advantage because of the National League's victory in this year's All Star Game. Of course, the NL got their...
Tigers News

Delivered to your inbox

You'll also receive Yardbarker's daily Top 10, featuring the best sports stories from around the web. Customize your newsletter to get articles on your favorite sports and teams. And the best part? It's free!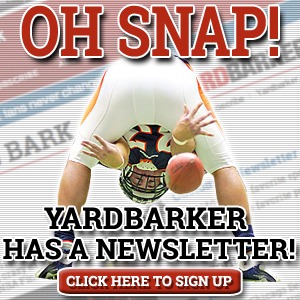 Latest Rumors
Best of Yardbarker

Today's Best Stuff

For Bloggers

Join the Yardbarker Network for more promotion, traffic, and money.

Company Info

Help

What is Yardbarker?

Yardbarker is the largest network of sports blogs and pro athlete blogs on the web. This site is the hub of the Yardbarker Network, where our editors and algorithms curate the best sports content from our network and beyond.