Found April 07, 2013 on Fox Sports Ohio:
CINCINNATI Just another work day for Xavier Paul is to show up at the ballpark and be ready to do whatever Cincinnati Reds manager Dusty Baker asks.Pinch-hit? Hes ready.Pinch-run? Hes ready.Late-inning defense? Hes ready.Hand Baker a wristband or a toothpick? Hes ready.So Sunday morning in Great American Ball Park was different for the 28-year-old Paul, a native of Sidell, La. When he walked into the clubhouse he saw his name on the lineup board.It figures. It was his first start of the 2013 season and his assignment was to face Washingtons Stephen Strasburg, one of baseballs best pitchers.But thats the way it is for extra outfielders. They take what they can get and take it with a smile and with as much optimism as they can muster.Paul made much of his opportunity on this day as the Reds smothered Strasburg and the Washington Nationals, 6-3.Paul singled his first two times up and scored a run in the first inning, then broke a 3-3 tie in the sixth with a run-scoring ground ball to second base.And when he wasnt swinging the bat, he used his glove for more than warmth in left field, making an excellent catch on Ian Desmond in the sixth inning after a long run toward the foul line.There was, of course, a method to Bakers manipulations. There always is. After regular left fielder Ryan Ludwick wrecked his shoulder on Opening Day Chris Heisey stepped in and started the next four games.Heisey, though, bats right handed and Strasburg throws right handed, and throws like few other right handers.Right handers only hit .185 against him last year and left handers hit .270, said Baker.So because Paul bats left handed he drew the assignment Sunday.I know its a real tough job to be a fourth or fifth outfielder, said Baker. He played a lot in spring training and it has been only about a week since we left that gives him a little advantage, said Baker. But I think he has a better chance against a good right hander like Strasburg.Not much.Its a tough job, a job in which you have to find a way to keep yourself ready, keep yourself in shape. You have to run and throw in between work harder than anybody. If you are a starting outfielder, you run about a mile a day just running back and forth to your position between innings.An extra outfielder is more like a caged jaguar pacing the small floor plan of a major-league dugout.Paul, of course, relishes the challenge. Playing time is playing time, whether it is again Stephen Strasburg or Steven Spielberg. Before Sunday, Paul had four pinch-hitting appearances, including his first career grand slam home run during a 15-0 win over the Los Angeles Angels of Anaheim.I just have to go in there and battle because I know it will be a tough day in the batters box, said Paul before Sundays game. He has a great repertoire of pitches, a really good fastball. Ive never faced him, but Ive watched video.Now he has faced him and he has had success.He has good stuff, no doubt about that, Paul added. At the end of the day he had to throw strikes and I had hit strikes. You try to treat him like any other hard-throwing right hander. You just battle him from the mental side of it, but you sure know it wont be a walkover.While the Reds were thinking about the task of facing Strasburg, the Nationals were thinking about their task of facing Cincinnatis best, Johnny Cueto.Its a classic old school match-up, said Baker. This is about as good as it gets.It didnt look like much at the start. The Reds scored three in the first and Cueto gave up a three-run home run to Kurt Suzuki in the third.Cueto settled down and gave up just the three runs, seven hits and three walks in six innings. And when the Reds raked Strasburg for three runs in the bottom of the sixth, Cueto was awarded the victory.Baker said Cueto looks forward to a day like Sunday.Johnny isnt easily rattled, said Baker. He used to be. But not any more. He never complains about who he is pitching against. Ive had some guys complain, I get all the tough draws.Baker said Cuetos comfort level was elevated gradually, after he learned how to get out of trouble, Find out how to come up with Damage Control, how to give up just one run instead of blowing up and giving up four. Thats what Johnny has done. He knows how to pitch to situations if he needs a strikeout or if he needs a double play.Baker said he hears Cueto in the dugout yelling at the teams other pitchers, Double play, double play.Baker laughed and said he remembers Greg Maddux, how hed throw a sinker and get a double play to get out of a bases loaded one-out mess, And everybody would call him a lucky so-and-so. It just so happens the same guy was lucky all the time.
Original Story:
http://www.foxsportsohio.com/mlb/cinc...
THE BACKYARD
BEST OF MAXIM
RELATED ARTICLES
The Redlegs (4-2) took the rubber match of the series Sunday by turning away the Nationals (4-2), 6-3. It was matchup pitting two aces against one another: Washington's Stephen Strasburg vs. Cincinnati's Johnny Cueto. Although the affair promised to be a pitcher's duel, it certainly didn't start out that way. Strasburg surrendered three runs to the host Reds...
This guy's got balls. If he misses that catch, disaster could've struck and really harmed his child. We're sure his wife is not pleased either way. But this guy wasn't going to let that happen, as he snagged the ball with perfection, prompting cheers from those around him.  H/T USA Today Sports. Via @scottjohnson48
Louisville won 6-4. Box Score Jason Donald went 4-5 with 2 doubles, an RBI and a run. Henry Rodriguez went 1-4 with a walk. Mike Hessman went 0-2 with a walk and 2 RBI. Felix Perez went 1-3 with a run and a walk. Konrad Schmidt went 1-4 with a double, RBI and a run. Krisopher Negron went 1-2 with 2 walks and a run. Josh Fellhauer went 1-1 as a pinch hitter. Chad Reineke threw 4...
Sunday was the kind of pitching matchup normally reserved for opening games of playoff series. The marquee reads Johnny Cueto vs. Stephen Strasburg and people take notice, tickets are bought and butts are filling the seats. The actual pitching didnt live up to the hype. The Reds and Nationals offenses, proving the old adages about how everyone puts their pants on one leg at a time...
A bitter division rivalry will be renewed Monday night as the Cardinals play host to the Reds at Busch Stadium. Adding to the luster of the game is the fact that it marks the home opener for Mike Matheny's crew. Naturally, this presented St. Louis Post-Dispatch writer Bernie Miklasz the opportunity to once again hail St. Louis as "The Best Baseball Town in America....
Back on Saturday, Washington Nationals outfielder Jayson Werth hit a long home run off of Cincinnati Reds pitcher Sean LeCure in the seventh inning to built a 5-1 to the team that used to be known as the Montreal Expos. As cameras followed the ball out of the Great American Ballpark, keep an eye on the fan wearing the sunglasses as he snags the ball while holding his young son...
ST. LOUIS (AP) Brandon Phillips kick-started a nine-run ninth inning with a tiebreaking bloop double and Shin-Soo Choo made amends for two botched fly balls with a three-run double, and the Cincinnati Reds spoiled the St. Louis Cardinals' home opener with a 13-4 victory on Monday. Mitchell Boggs (0-1), the stand-in closer for St. Louis, yielded six runs while getting only one...
The Washington Nationals had a rough series opener against the Cincinnati Reds on Friday night losing 15-0, which was the worst loss in team history since 2005. The Nats looked to come in to recover from that beating on Saturday afternoon behind Ross Detwiler, and they did just that, even if it did come off the rails a bit in the late innings. Speaking of Detwiler, he had quite...
Todd Frazier and Zack Cozart each homered twice, and the Reds hit six in all - including Xavier Paul's pinch grand slam - while sending the Washington Nationals to a 15-0 defeat Friday night, their first loss this season and their worst loss since returning as a team.
  As if opening the season against the Los Angeles Angels and the Washington Nationals wasn't enough, the Reds now head to St. Louis for a trio of games against the rival Cardinals. Dusty Baker's bunch is coming off back-to-back series victories over two teams expected to make legitimate runs at the World Series crown. Meanwhile, the Cardinals are coming home for...
Washington Nationals manager Davey Johnson is being honored for something he did in Cincinnati 18 years ago. Johnson led the Reds to a division title in 1995 and the NL championship series, where they were swept by Atlanta. Former owner Marge Schott decided to replace Johnson with Ray Knight after the season. The Reds wouldn't win another division title until 2010, when they...
MLB News

Delivered to your inbox

You'll also receive Yardbarker's daily Top 10, featuring the best sports stories from around the web. Customize your newsletter to get articles on your favorite sports and teams. And the best part? It's free!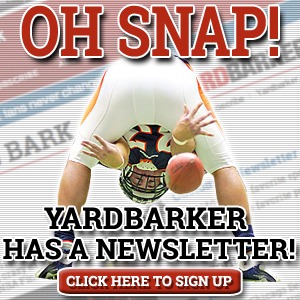 Latest Rumors
The Backyard

Today's Best Stuff

For Bloggers

Join the Yardbarker Network for more promotion, traffic, and money.

Company Info

Help

What is Yardbarker?

Yardbarker is the largest network of sports blogs and pro athlete blogs on the web. This site is the hub of the Yardbarker Network, where our editors and algorithms curate the best sports content from our network and beyond.