CC Sabathia went seven and got the win but gave up five, four on the first home run of Wil Myers' career. (Photo by Rich Schultz/Getty Images) Tampa Bay Rays 5 — New York Yankees 7   Unlikely hero, Vernon Wells, got the lead in today's 7-5 win over the Tampa Bay Rays. The Yankees had an early scoring opportunity in the first inning when Ichiro singled and Cano walked against rookie starter Alex Colome but Colome would settle down with a strikeout and a fly out to get out of the inning. CC Sabathia had a clean first inning but the Rays' big bat would make an impact to start the second. Third baseman Evan Longoria would lead off the second inning with a home run to center field. The Yankees had a shot to respond in the bottom half of the inning when Jayson Nix hit a double and David Adams got his first career walk (83 ABs entering today). But Chris Stewart would not succeed as he hit into a double play to end the threat again. In the third inning, the Yankees would take the lead though. An error with a pair of singles would load the bases with two outs for last night's story, Zoilo Almonte. The rookie left fielder would single in two runs with a line drive to center field. In the fifth inning, Alex Colome would lose the strike zone. Robinson Cano would walk for his second time and an attempt at turning a double play by first baseman James Loney would allow Travis Hafner to reach and put Cano on third base. Lyle Overbay would walk and Zoilo Almonte would come up with the bases loaded one more time. After getting ahead to a 3-0 count, it would become full and after a foul ball, Almonte would walk in the third run of the game. At this point, Zoilo Almonte had driven in all three runs and CC Sabathia was on a way to a win. Sabathia would start the game with a walk to Sam Fuld, the #9 hitter in the lineup. Desmond Jennings would hit a double to put runners on second and third with no outs. The big lefty looked to be getting out of trouble with a strikeout of Sean Rodriguez and a pop out from Ben Zobrist. Avoiding the hot bat of Evan Longoria, three home runs in the last two games; Sabathia would intentionally walk him to face the rookie Wil Myers. On a 1-2 fastball, Wil Myers would hit a high fly ball to right center field. Brett Gardner would get to where the ball was going and with a leap, the ball would appear to deflect off of his glove and the ball would go into the stands. Wil Myers' first career home run is a grand slam off of CC Sabathia. But more importantly, the Yankees had lost their 3-1 lead and were now trailing 5-3. In the seventh inning, Joel Peralta would be in the game and would start his appearance with a walk of Robinson Cano, his third of the game. Travis Hafner would fly out before Lyle Overbay hit a double to put the go-ahead run at the plate in the form of Zoilo Almonte. The young outfielder would not get absorbed in the situation and would take four straight out of the zone and walked for the second time today, this time loading the bases. Power left-handed reliever Jake McGee would be brought in to face Jayson Nix and would strike him out. The next batter, David Adams, had his first walk of the season in the second inning today. He would get his second career walk with the bases loaded, cutting the lead to just one now. With the bases loaded and a prime scoring opportunity, Joe Girardi decided to pinch-hit for Chris Stewart with Vernon Wells. Entering today's game, Vernon Wells was hitless in his last 11 at-bats and came in on a 9-for-87 skid. The move would be beneficial for Wells though. Jake McGee is primarily a fastball pitcher and he lived up to his reputation. Cranking the gun up to 98 MPH, McGee pounded the strike zone but the 1-2, 96 MPH fastball would be the pitch that Wells got a hold of. Driving it the opposite way, the deep fly ball would bounce on the warning track and fan interference would play a factor. Based on umpire's discretion, instead of a usual ground-rule double, the umpires awarded Wells with three runs instead of two and the Yankees had a 7-5 lead, completing the comeback. David Robertson would get the eighth inning and would strikeout two of the batters he faced. Mariano Rivera got the save opportunity and despite a single to rookie Wil Myers, would finish off the game for his 26th save of the season. CC Sabathia went seven innings and got the win. But he allowed five runs on six hits with two walks and two strikeouts. The big blow was clearly the Wil Myers grand slam. Walks were a huge part of today's game. The Yankees had nine walks in today's game. Robinson Cano had a career-high four walks today and scored three times. David Adams would get his first two walks of his career. Two of the walks in today's game (Adams, Almonte) would bring in runs. Patience paid off for the Yankees today.     Win – CC Sabathia (8-5) Loss – Joel Peralta (1-4) Save – Mariano Rivera (26)   Notables Rays *Wil Myers – 3 for 4, R, Grand Slam (1) in the 6th, 4 RBI (6) *Evan Longoria – 2 for 3, 2 R, BB, 2B, Solo Home Run (17) in the 2nd, RBI (47) Yankees *Vernon Wells – 1 for 1, 2B, 3 RBI (30) *Zoilo Almonte – 1 for 2, R, 2 BB, 3 RBI (4)   Current Yankees Record: 41-33   Get your Yankees Tickets from our friends at TiqIQ.
Original Story:
http://bronxpinstripes.com/game-day/y...
PLAYERS:
CC Sabathia
,
Wil Myers
,
Vernon Wells
,
Evan Longoria
,
Jayson Nix
,
David Adams
,
Chris Stewart
,
Zoilo Almonte
,
Robinson Cano
,
James Loney
,
Travis Hafner
,
Lyle Overbay
,
Sam Fuld
,
Sean Rodriguez
,
Ben Zobrist
,
Brett Gardner
,
Joel Peralta
,
David Robertson
,
Mariano Rivera
TEAMS:
New York Yankees
,
Tampa Bay Rays
MORE FROM YARDBARKER
MLB News

Delivered to your inbox

You'll also receive Yardbarker's daily Top 10, featuring the best sports stories from around the web. Customize your newsletter to get articles on your favorite sports and teams. And the best part? It's free!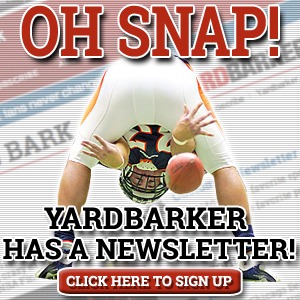 Latest Rumors
Best of Yardbarker

Today's Best Stuff

For Bloggers

Join the Yardbarker Network for more promotion, traffic, and money.

Company Info

Help

What is Yardbarker?

Yardbarker is the largest network of sports blogs and pro athlete blogs on the web. This site is the hub of the Yardbarker Network, where our editors and algorithms curate the best sports content from our network and beyond.