Posted April 26, 2013 on AP on Fox
PLAYERS:
Jean Segura
,
Corey Hart
,
Mat Gamel
,
Aramis Ramirez
,
Doug Melvin
,
Ariel Pena
,
Zack Greinke
,
Ryan Braun
,
JJ Hardy
,
Prince Fielder
,
Alcides Escobar
,
Yuniesky Betancourt
,
Alex Gonzalez
TEAMS:
Milwaukee Brewers
,
Los Angeles Angels
,
Los Angeles Dodgers
,
Baltimore Orioles
,
Detroit Tigers
,
Kansas City Royals
(Eds: With AP Photos.) By ANDREW WAGNER Associated Press Through the season's first 11 games, Milwaukee Brewers manager Ron Roenicke submitted 10 different lineup cards. The baseball version of musical chairs was in large part due to attrition, especially at first base, where Roenicke saw his starter, Corey Hart, and backup, Mat Gamel, go down in spring training with knee injuries. Later, third baseman Aramis Ramirez was lost for two weeks with a sprained knee. On top of that, slumps by some of Milwaukee's stars made putting together a lineup a struggle. Through all the uncertainty, Roenicke got his most consistent performance from an unexpected source. Shortstop Jean Segura has been a rock for Milwaukee's offense. In just his first full major league season, the 23-year-old has hit from Day 1 and when Ramirez went down, he kept right on hitting and now is filling the No. 2 slot in Roenicke's lineup. Segura has one of the top batting averages in baseball (.356) and is among the league leaders in stolen bases. ''He's gone beyond expectations,'' general manager Doug Melvin said. ''When we made the deal, I'm not sure we really thought he'd be a big leaguer at this time.'' Segura made his major league debut July 24, 2012, for the Los Angeles Angels - and that was it. The Angels shipped him - along with right-handers Johnny Hellweg and Ariel Pena - to Milwaukee in exchange for Zack Greinke. Two weeks later - after hitting .438 in eight games with the Brewers' Double-A affiliate - Segura was called up to Milwaukee on Aug. 6 and never looked back. He started slow, but finished the season hitting .264 with four doubles, three triples and 14 RBIs as Milwaukee charged back into wild-card contention. To prepare for the 2013 season, Segura traveled to his native Dominican Republic, where he won the Dominican Winter League batting championship with a .324 average, adding 21 RBIs and 11 stolen bases in 35 games with Cibao. Winter ball helped prepare Segura for the rigors of an MLB season. ''With just a little time in the big leagues, it helped a lot,'' Segura said. ''It's a hard league. They have tough pitching, guys who throw 95, 98 (mph). It's a tough league to hit in.'' He carried right on in spring training, leading the team with a .367 average, five doubles and five stolen bases and opened the season with hits in 15 of his first 19 games. ''It's really, really impressive,'' left fielder Ryan Braun said. ''Offensively, defensively and on the bases, he does everything well. He's a really good player. We saw it at the end of the year last year, when he was great for us. He went and led the league hitting in winter ball; he was great in spring training so we've seen it over a prolonged period of time. I think he's got a chance to be a special player - a difference-maker.'' There was little doubt that Segura would hit but there were questions about his glove, specifically, whether Segura would have to move to second base, as many scouts and observers suggested while Segura worked his way up the Angels' organizational ladder. ''That's the one position I really loved to play,'' Segura said of shortstop. ''When I signed, they moved me to second base. When I was little, I always played shortstop and I loved it there. Now I have the opportunity to play there every day in the big leagues.'' The Brewers had already parted with J.J. Hardy, part of their core of young talent, along with Prince Fielder and Ryan Braun, who had helped the franchise emerge from baseball's abyss. Hardy's replacement, the young and talented Alcides Escobar, went to Kansas City to bring Greinke to Milwaukee. Yuniesky Betancourt was a one-year stop-gap in 2011 and veteran Alex Gonzalez wasn't a long-term answer, either, leaving the Brewers in the market for their shortstop of the future. So far, Segura has been everything the Brewers had hoped for. ''He's a guy that came out of Double-A last season and he's young,'' Roenicke said. ''I don't know exactly what we're going to see and how consistent it's going to be, but right now, the defensive part of it is enough to keep him out there even if he wasn't swinging the bat real well. He covers a lot of ground and he makes a lot of plays that other shortstops can't make.'' Segura committed 10 errors last season when he came to Milwaukee after playing 104 games with the Angels' and Brewers' Double-A affiliates. That's high, but not surprising for such a raw talent. This season, Segura has just one error through 19 games and has looked more than comfortable in the field. With any young player - especially one with just 64 games of Major League experience - there are bound to be mistakes, but it's part of the maturation process. For Roenicke, the pros outweigh the cons. ''Seg is 23 years old, he's got all kinds of energy,'' Roenicke said. ''He's going to make some mistakes. We know that. But his pluses are so good. The mistakes are going to happen. He's doing a great job. For all the little things he may not be exactly right on, he does so much of the other stuff well that I love to have him out there every day.''
Original Story:
http://msn.foxsports.com/mlb/story/Yo...
THE BACKYARD
BEST OF MAXIM
RELATED ARTICLES
It took only six days, but Major League Baseball has finally determined that Brewers shortstop Jean Segura and anyone else who might want to run backward on the basepaths doesn't have the right to "steal" first base. During Milwaukee's Friday night victory against the Cubs, Segura was on second base and Ryan Braun was on first base when Segura got caught in a...
It was a tough way for the Milwaukee Brewers to have their nine-game winning streak come to an end. With the tying run on second base and two outs, Brewers first baseman Martin Maldonado fouled a pitch that hit off the dirt and bounced up and hit him in the shoulder. Home plate umpire Paul Emmel ruled Maldonado was out of the batters' box when the ball hit him, ending the game...
Yeah, yeah, we know this photo is from a few weeks ago, but this Morry Gash picture--lolz "Gash"--is the modern baseball equivalent of that iconic photograph of the soldier who just returned from war who's passionately kissing his wife. Or at the very least, that "Hang In There" poster with the cat. It's a testament to Carlos Gomez's speed. It displays...
Earlier today, Jim Breen / @JP_Breen - head writer at the wonderful Disciples of Uecker site and a contributor at fangraphs.com - asked fans, via twitter, if they thought Yuniesky Betancourt had "fundamentally changed as a player." This question was asked in light of Betancourt's unexpected offensive contributions as an everyday player so far this season. For those...
The Milwaukee Brewers and Los Angeles Dodgers haven't fared too well at the plate against right-handers. Now they will face rookie right-handed starters they have never seen. It's hard to know what to expect in Saturday night's pitching matchup between the Brewers' Wily Peralta and Dodgers' Stephen Fife, with Milwaukee seeking to even this series at a game apiece...
(Photo: Getty Images) I didn't stay up for the whole Brewers/Padres game on Wednesday night, but reports indicate it had a blown-call finish.  With the tying run in scoring position, Martin Maldonado hit a fair ball that bounced back into him, and he was called out on batter's interference to end the game.  Replays showed that Maldonado's foot was still in the batter's...
Milwaukee Brewers shortstop Jean Segura has been scratched from Saturday night's lineup after splitting the nail on his right index finger during batting practice, the team announced. One of Milwaukee's hottest hitters, the 23-year-old Segura is hitting .359 with one home run and six RBI while leading the National League in stolen bases with seven. With Segura out of the...
Your browser does not support iframes.A paper airplane took flight at Dodger Stadium Friday evening.The moment of landing, though, came in the bottom of the seventh, when the winged aircraft gracefully soared by Milwaukee Brewers southpaw Mike Gonzalez, and subsequently landed to the right side of the pitcher's mound.It was quickly removed by the home plate umpire before play...
*Yuniesky Betancourt, Spring Training 2013 casualty, is now with the Milwaukee Brewers and is batting .279/.795 with 3 HR and 15 RBI.  Instead of releasing him, Amaro should have signed him to a 5 YR/$125M contract.  Don't ya think?!*Ben Revere might be a defensive whiz, but his offense negates any good he does with the glove.  His OPS is .472, which ranks 186th out of 192...
(Photo: TOM LYNN/AP) Last weekend, the Brewers won two games thanks to several timely errors by the Cubs.  In games started by Edwin Jackson and Scott Feldman, the Brewers took the lead on unearned runs both times.  It seems like a shame for Jackson and Feldman to get tagged with losses in those cases (as much as the Cubs losing can be a "shame" anyway). It got me thinking...
MLB News

Delivered to your inbox

You'll also receive Yardbarker's daily Top 10, featuring the best sports stories from around the web. Customize your newsletter to get articles on your favorite sports and teams. And the best part? It's free!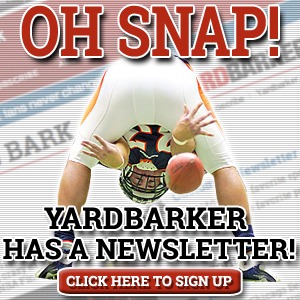 Latest Rumors
The Backyard

Today's Best Stuff

For Bloggers

Join the Yardbarker Network for more promotion, traffic, and money.

Company Info

Help

What is Yardbarker?

Yardbarker is the largest network of sports blogs and pro athlete blogs on the web. This site is the hub of the Yardbarker Network, where our editors and algorithms curate the best sports content from our network and beyond.