Found September 20, 2012 on Full Spectrum Baseball:
Douche….Canoe….Captain Honestly, some Spanish words just sound better than their English counterparts.  While "ignorante" flows off the tongue like the most beautifully heinous Latin invective imaginable, calling Yunel Escobar an "ignorant, homophobic *******" also has a certain guttural quaintness as well.  Since science yet denies us the ability to truly read another person's thoughts, we cannot fully know what has gone through Escobar's mind.  Perhaps more important is what was not going through Escobar's cranial space each and every time he chose to use an eye black sticker decorated by a homophobic slur.  That leaves us with the tried and true method of simply damning him for his actions based only on the data presented. Escobar knew exactly what the words meant.  He turned himself into a small, mobile billboard for hate every time he took the field using the stickers.  He failed mightily in protesting his innocence by invoking the "I have gay friends" defense.  By that same
Original Story:
http://www.fullspectrumbaseball.com/2...
THE BACKYARD
BEST OF MAXIM
RELATED ARTICLES
In the wake of Yunel Escobar's ignorant and homophobic usage of his eye black, I think it's important that we remember that eye black is not the culprit here. Eye black is still great. Eye black will always be great. Especially, when hot yumps decide to wear it. Yunel Escobar gave eye black a bad name. We immediately repair that name.
Ain't it the way?  Here I am yesterday finally dedicating myself to working up one of my patented gigantic posts (which any post here is all too rare this summer) and just wondering how to handle the breaking-but-predictable news of the Buffalo deal and THIS happens. Not that I'm complaining about my minor inconvenience, just noting the timing conflict. So I laid aside that...
The Toronto Blue Jays acted quickly and swiftly in disciplining infielder Yunel Escobar for wearing eye black that had a gay slur written on it. The club announced Tuesday afternoon that the shortstop would be suspended three games, effective immediately. The Jays are in New York to take on the Yankees on Tuesday night where the suspension will begin. Yunel Escobar will be suspended...
Many Red Sox players were outraged by Yunel Escobar's homophobic eye black message. While the controversial eye black message went unnoticed by most Red Sox players on the field, Nick Cafardo said it was inexcusable for the Blue Jays players and coaches to let him out onto the field with that slur written under his eyes. Escobar's off-field issues lead to him to be moved...
Toronto's f'in idiot of a shortstop, Yunel Escobar, thought of a brilliant plan to write a homophobic slur in spanish in his eye black on Saturday. As shown in the picture, Escobar had "Tu ere Maricon" under his eyes that can be translated into, well, read on and find out. Washington Post The Toronto Blue Jays and Major League Baseball have suspended shortstop...
The Toronto Blue Jays announced Tuesday a three-game suspension for shortstop Yunel Escobar as a result of a homophobic slur written in Spanish on the eye black he wore during last Saturday's game. The punishment, agreed upon by major league baseball, the team and the players' association, will include a donation to the You Can Play Project and the Gay and Lesbian Alliance...
Toronto Blue Jays shortstop Yunel Escobar is BOLD. Escobar thought it would be a good idea to wear eye black with a gay slur written in Spanish on Saturday when the Blue Jays faced off against the Red Sox. Of course the MLB is investigating. "The Toronto Blue Jays do not support discrimination of any [...]
Okay. Toronto Blue Jays shortstop Yunel Escobar will be sitting out the next three games after he was suspended by Major League Baseball for putting a Spanish, homophobic slur in his eye-black for a game this past Saturday. Yeah, that's right, he was suspended for something incredibly stupid. The image was first noticed in a Getty Images photo and yes, it's going...
Ozzie Guillen is not the smartest man on the planet. I'm not the first person to make that observation and I guarantee you I won't even be close to the last as long as he has an audience to speak to. Let us be clear Guillen like everyone else has a right to his feelings and the opportunity to create an environment in his home that he and his family find comfortable (more on...
In light of this afternoon's press conference with Yunel Escobar's three game suspension was announced (and Escobar claiming that his hairdresser and interior decorator were both gay), Ozzie Guillen was asked to weigh in by Shi Davidi, columnist for SportsNet in Canada. Guillen's comments were typical of him at this point. Ozzie Guillen on Escobar: In my house...
There won't be any pictures in this post. If you want to see Bryce Harper and other rookies for the Washington Nationals dressed as female gymnasts, sporting just leotards as they board Amtrak, you can Google it. It's out there. If you want to see other rookies dressed as nurses, French maids, or ballerinas in tutus and bedazzled headbands, head to Twitter where respected athletes...
Yunel Escobar was suspended for three games Tuesday by the Toronto Blue Jays for wearing eye-black displaying a homophobic slur written in Spanish during last Saturday's game against the Boston Red Sox.
Blue Jays News

Delivered to your inbox

You'll also receive Yardbarker's daily Top 10, featuring the best sports stories from around the web. Customize your newsletter to get articles on your favorite sports and teams. And the best part? It's free!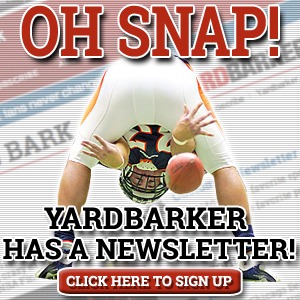 Latest Rumors
Best of Yardbarker

Today's Best Stuff

For Bloggers

Join the Yardbarker Network for more promotion, traffic, and money.

Company Info

Help

What is Yardbarker?

Yardbarker is the largest network of sports blogs and pro athlete blogs on the web. This site is the hub of the Yardbarker Network, where our editors and algorithms curate the best sports content from our network and beyond.