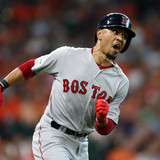 While arbitration hearings can often be a contentious process, Red Sox President of Baseball Operations Dave Dombrowski told reporters that the team's relationship with Mookie Betts didn't suffer as a result of this week's hearing (link via MassLive.com's Jen McCaffrey). "I called him and texted him back and forth," said Dombrowski. "(Assistant general manager) Brian O'Halloran spoke...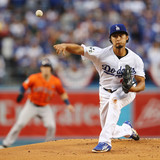 In updating the Rangers' pursuit of starters, Jeff Wilson of the Fort Worth Star-Telegram writes that there has recently been "more activity between" other teams and free agent right-hander Yu Darvish. However, having spent nearly all of his career in Texas, Darvish is waiting for the Rangers to court him more aggressively, Wilson suggests. The Rangers expect him to land better offers...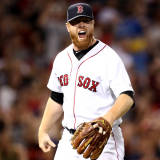 Welcome to this week's edition of Three Up, Three Down — your weekly catch-up of the three best highlights (and lowlights) from around the league. We're here for all of the cheers and the jeers, because it's baseball. You can't have a winner without someone losing along the way.Up: Cleveland and Boston deliver an instant classicBaseball's season is 162 games long, and it's not like...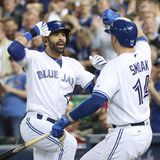 It was not too long ago that the obituary for the 2017 Toronto Blue Jays was all but written: "The Blue Jays, recent champions of the American League East division, died suddenly in May of 2017, following a sudden and brutal April debut. Major League Baseball's last remain Canadian outpost was celebrating its 40th season and hopeful for a continued run of excellence, having just...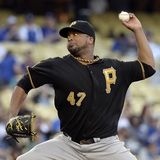 Toronto Blue Jays pitcher Francisco Liriano talks about his start Monday in Dunedin, Florida and how ready he is for the regular season.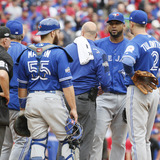 The news for Toronto Blue Jays pitcher Francisco Liriano isn't great, but it could have been much worse after he was hit in the back of the head by a line drive on Friday. Blue Jays trainer George Poulis told reporters on Saturday that Liriano came away with a concussion. BREAKING: Official diagnosis is a mild concussion for Francisco Liriano. No timetable for a return, per ...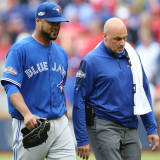 The Toronto Blue Jays are out to a 2-0 ALDS series lead after a 5-3 victory over the Texas Rangers on Friday, but their thoughts right now are with left-hander Francisco Liriano, who was forced to exit the game after taking a line drive to the head. Liriano was on in relief in the bottom of the eighth inning when he was struck in the back of the head/neck area by a comebacker off...
In a good way, Francisco Liriano is making life more complicated for the Blue Jays. Not that a team should take anything for granted, but as the Jays look ahead to the playoffs, it's hard to know exactly which starters could and should serve as their starters. The Jays already had some depth when Liriano arrived as something of a salary dump, but a funny thing has happened — Liriano...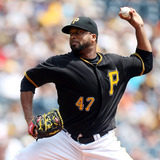 The Toronto Blue Jays apparently weren't finished after trading for veteran right-hander Scott Feldman earlier in the day on Monday. According to Robert Murray of FanRag Sports on Monday, the Jays have acquired lefty Francisco Liriano from the Pittsburgh Pirates. Source: Blue Jays get Liriano from Pirates — Robert Murray (@RobertMurrayFRS) August 1, 2016 Stephen J. Nesbitt...
Francisco Liriano's most recent outing for the Pittsburgh Pirates ended with eight consecutive balls and the bases loaded. The Pirates won that game, 12-1, over the Arizona Diamondbacks, and Liriano allowed just one earned runs on two hits, but the outing was nevertheless troubling for the 32-year-old lefty. Troubling because he walked five and struck out two, marking the third time...
MORE STORIES >>
Astros News

Delivered to your inbox

You'll also receive Yardbarker's daily Top 10, featuring the best sports stories from around the web. Customize your newsletter to get articles on your favorite sports and teams. And the best part? It's free!