I'll take "Eleven-word horror stories" for $2,000, Alex. We learned last week that John Lackey planned to pitch again in 2018, which was at least mildly surprising. Then again, Lackey is a helluva competitor and the starting pitching market isn't exactly brimming with talent. He can probably pull down a decent payday to hold down a spot at the bottom of someone's rotation, which...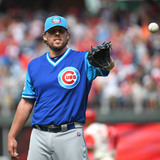 Retirement is not in the plans of pending free agent John Lackey. According to Jon Heyman, Lackey, who pitched for the Chicago Cubs in 2017, is planning on returning to MLB in 2018. Lackey, 39, broke into the league in 2002 as a member of the then Anaheim Angels. With the exception of the 2012 season, which he missed with an injury, he's remained active in the big leagues ever since...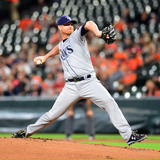 With Jake Arrieta's free agency looming, the Chicago Cubs may be positioning themselves to land another right-handed starter just in case.Marc Topkin of the Tampa Bay Times reported on Thursday that the Cubs are hiring ex-Tampa Bay Rays pitching coach Jim Hickey to the same position. Jon Heyman of FanRag Sports had reported Wednesday that whichever team landed Hickey could have an...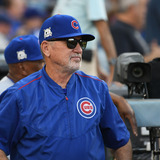 Joe Maddon made one of the more puzzling decisions of the MLB postseason on Sunday night when he chose not to bring closer Wade Davis into the 9th inning of a tie game, and the Chicago Cubs manager had an awesome way of explaining himself the following day.When asked on Tuesday about his questionable decision to pitch John Lackey — who gave up a three-run homer to lose the game ...
We all know that John Lackey's 0-1 sinker down and in to Justin Turner last night was deposited by the Dodgers third baseman into the outfield seats, resulting in a walk-off win for the home team in Game 2 of National League Championship Series. It's possible, however, that the Cubs actually lost the game a moment before that — not when Turner's fly ball cleared the outfield fence...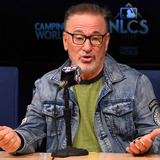 Up until the final game of the regular season, John Lackey had never made a relief appearance during any regular season. In it — an eventual 3-1 loss to the Cincinnati Reds — Lackey tossed one inning, surrendering one run (earned) on two hits and ultimately taking the loss.Of Lackey's 28 postseason appearances, five have come in relief. In those, he's tossed eight innings, allowing...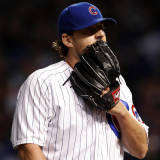 Is John Lackey headed for retirement after the season? One teammate certainly seems to think so.Lackey pitched six innings of two-hit ball and got the win as his Chicago Cubs clinched the NL Central title with a 5-1 victory over the Cardinals on Wednesday.As the team was celebrating their playoff berth following the game, Jon Lester gave a toast in which he hinted that Lackey would...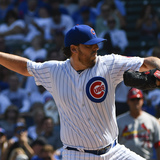 John Lackey was predictably peeved about being ejected from the Chicago Cubs' game on Friday.Lackey was facing St. Louis' Carlos Martinez in the fifth and had a 2-2 count with two on and two outs. He threw what he — and even Martinez — felt was strike three, but the pitch was called a ball. Given a second life, Martinez singled to break a 1-1 tie and give the Cardinals the lead.Lackey...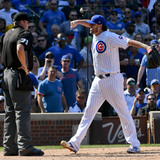 Cubs veteran pitcher John Lackey believed he had struck out a batter to end the fifth inning of Friday's game against the Cardinals, but the umpire behind the plate didn't see it that way.Lackey appeared to throw a strike that Carlos Martinez took, and it would've ended the inning. The umpire called it a ball, though. You can be the judge as to whether or not it was a strike. It...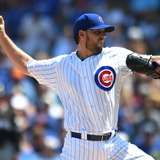 Chicago Cubs pitcher John Lackey took the mound at Wrigely Field Tuesday night for a start against the Cincinnati Reds. And a comical graphic fail put up during the television broadcast stated Lackey has a habit of eating children during his starts.Wait. What?During the top of the 2nd inning and the Cubs up 3-1, a graphic was put up that read Lackey is "Eating 4.2 Children Per Start...
MORE STORIES >>
Cubs News

Delivered to your inbox

You'll also receive Yardbarker's daily Top 10, featuring the best sports stories from around the web. Customize your newsletter to get articles on your favorite sports and teams. And the best part? It's free!