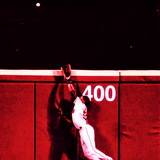 2017 has felt like the year of the home run all season in MLB, with Giancarlo Stanton mashing taters down in Miami and Aaron Judge obliterating baseballs in the Bronx. But, on Tuesday night, that designation became official when Royals outfielder Alex Gordon hit home run number 5,694 on the season, which is the record for most long balls ever slugged in a single season. The 2017...
With just four series remaining and the Miami Marlins at 70-80, there is little left to notice for the rest of Miami's season. In the first home game since Hurricane Irma struck Florida, however, the Marlins played like September's version of the Cleveland Indians. They tagged Matt Harvey for seven runs in 4.1 innings, and they cruised after jumping on the bullpen early and scoring...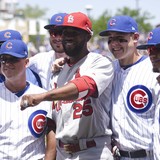 While the 2018 Major League Baseball schedule was released yesterday, this season's pennant race carries on at a breakneck pace and still has plenty of twists and turns to take before resolving itself on Oct. 1.There are still several vital series in the lead-up to this year's postseason. One such series is playing out now  with the Arizona Diamondbacks and Colorado Rockies...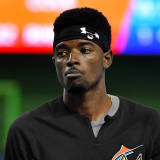 Dee Gordon helped the Miami Marlins make history on Friday, and now the speedster thinks one of his teammates owes him a sweet gift.Gordon went 2-for-5 with an RBI, run scored, and most importantly, a stolen base in the Marlins' 7-1 win over the Atlanta Braves. The stolen base was Gordon's 50th of the year. Teammate Giancarlo Stanton has 53 homers this season, meaning the two...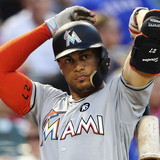 It has been quite the year Giancarlo Stanton has put together, particularl since the All-Star break. The tear the Miami Marlins slugger has gone on is more reminiscent of the work of Frank Castle than that of a mere Major League Baseball player. Since the July pause for the Midsummer Classic, Stanton has elevated his game to levels people long believed he was capable of, but it is...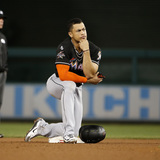 Giancarlo Stanton is a pretty popular guy right now. Not only is he crushing home runs — he's hit 51 home runs so far this season — but he's also appearing in music videos alongside iconic pop stars. Stanton appeared in Lexy Panterra's newest video — "So Good" — and did so in his underwear. OK then.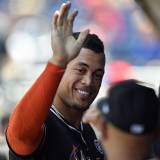 Barry Bonds is no longer the Miami Marlins' hitting coach, but that hasn't stopped him from providing advice to Giancarlo Stanton throughout the outfielder's home run chase this season.Stanton slugged his 51st home run of the season on Tuesday and has been on absolute fire this month with 18 home runs and an OPS over 1.400. He says that Bonds has been guiding him throughout...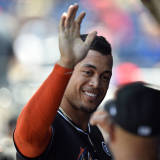 Miami Marlins slugger Giancarlo Stanton reportedly will not be traded this month.FOX Sports's Ken Rosenthal reported Saturday that the Marlins are receiving phone calls on Stanton, but are only "passively listening" and not making an aggressive effort to move the outfielder. The offers have been in the form of a combination of established players, prospects, and financial relief...
Giancarlo Stanton may have very little chance at surpassing Barry Bonds' single-season record of 73 home runs, but the Miami Marlins star is eyeing a number that is certainly attainable and he believes is more legitimate.That number is 61.Stanton, who is currently on pace to hit 60 homers, said Wednesday that he considers 61 — the single-season home run mark set by Roger Maris...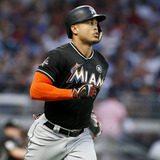 Miami Marlins outfielder Giancarlo Stanton is in the midst of one of the best power stretches in recent baseball history. The All-Star has hit 23 homers in his past 35 games and leads the majors with 44 on the season.To many, this would seem to be a clear indication that Stanton will be the Marlins' franchise cornerstone moving forward. After all, he's still just 27 years old...
MORE STORIES >>
Marlins News

Delivered to your inbox

You'll also receive Yardbarker's daily Top 10, featuring the best sports stories from around the web. Customize your newsletter to get articles on your favorite sports and teams. And the best part? It's free!