Wilmer Flores's season didn't end quite the way he wanted it to. On Sept. 2 in the second game of a double dip with the Houston Astros, Flores fouled off a ball that hit him in the face, effectively ending his season. He finished his year hitting 18 homers and driving in 52 runs while hitting at a .271/.307/.488 clip with a 106 wRC+, .331 wOBA, .217 ISO and .270 BABIP in 362 plate...
SNY caught up with Wilmer Flores while he was handing out food for charity, and got his thoughts on new Mets manager Mickey Callaway.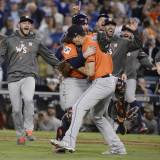 Congratulations to the 2017 World Series champion Houston Astros!The Astros and Dodgers gave fans one of the most memorable World Series matchups of all time, and in victory, Houston gave the baseball world a number of feel-good stories following their first trip to baseball's promised land: The Sports Illustrated cover: Yes, you've likely seen this by now, but props to SI for overcoming...
Wilmer Flores and his tears rallied the 2015 New York Mets to a World Series appearance, but the 2017 rendition of pained Wilmer will provide no inspiration and no hope for the last month of baseball in New York. In the 4th inning of the second game of Saturday's doubleheader with the Houston Astros, Wilmer Flores took a hack at an inside pitch on a 2-2 count and fouled the ball...
Ever since David Wright's absence, third base for the New York Mets has been a merry go round, a spinning top, a revolving door – in one day, out the next. Players from Juan Uribe to Kelly Johnson to Jose Reyes were all just supposed to be stopgaps until the captain returned. Unfortunately now with the captain's future with the club in jeopardy, the Mets have no choice but to search...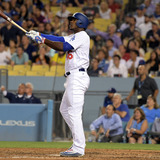 Yasiel Puig has done it again. The Cuban slugger is at the center of another controversy over his celebration methods.Puig clubbed a 3-run home run in the bottom of the fourth inning against the New York Mets on Wednesday night and really admired his shot. As he rounded first, Wilmer Flores said something to him. Puig then slowed up and shouted back at Flores. Puig ended up taking...
ST. PETERSBURG, Fla. (AP) Infielder Wilmer Flores has become the first New York Mets player to go to salary arbitration since Oliver Perez in 2008. Flores asked for a $2.2 million salary, and the Mets argued for $1.8 million during Friday's hearing. A decision is expected Saturday from arbitrators Mark Irvings, Sylvia Skratek and Robert Herzog. Originally slated to serve as a...
New York Mets infielder Wilmer Flores calls in to SNY's Mets Hot Stove to reflect on last season, his recovery from wrist surgery, and his role in the lineup in 2017.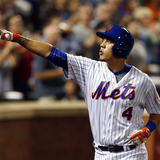 Wilmer Flores may suddenly be Major League Baseball's biggest "Friends" fan. The Mets infielder admitted that he used the TV show to help him learn English when his career was just starting out, and the story has taken off so much that the show's theme song is now his walk-up music at Citi Field. Flores signed with the Mets as a 16-year-old in 2007, and when he came to America...
New York Mets second baseman Neil Walker has opted to have surgery to a repair a herniated disk in his lower back, ESPN.com's Adam Rubin reports. The microdisectomy procedure will require a three-month recovery. "It was a very difficult decision," Walker told reporters Thursday. "There were a lot of factors that were involved — the way the team was playing, the way I felt. I did...
MORE STORIES >>
Mets News

Delivered to your inbox

You'll also receive Yardbarker's daily Top 10, featuring the best sports stories from around the web. Customize your newsletter to get articles on your favorite sports and teams. And the best part? It's free!