Zack Wheeler, RHP Player Data: Age: 27, B/T: L/R, Free Agency: 2020 2017 Primary Stats: 3-7 Record, 17 GS, 86 1/3 IP, 5.21 ERA, 5.03 FIP, 1.587 WHIP, 8.4 K/9, 0.4 WAR 2018 Contract Status: 2nd-Year Arbitration Eligible Grade: C 2017 Review: Zack Wheeler's final statistics of the 2017 season were not very impressive. His season was also cut short due to injury yet again. However...
The New York Mets have decided to tender contracts to right-handed pitchers Matt Harvey and Zack Wheeler for the 2018 season according to Mike Puma of the New York Post. Puma reports that the Mets are expected to tender eight of their arbitration eligible players by the 8 p.m. ET deadline Friday night. The other six players Puma list are Jacob deGrom, Noah Syndergaard, Hansel Robles...
Matt Harvey and Zack Wheeler had disappointing seasons, but the Mets are set to tender contracts to both pitchers before Friday's 8 p.m. deadline. Harvey is projected to receive $5.9 million after a disappointing season in which he went 5-7 with a 6.70 ERA. But general manager Sandy Alderson has indicated the right-hander figures into...
Here's a radical thought for the New York Mets in 2018, move Steven Matz and Zack Wheeler to the bullpen. There are a million reasons why it wouldn't work, from injuries to ineffectiveness. Relievers are more susceptible to injuries because they pitch in consecutive days, and warm up multiple times a game. Matz and Wheeler are the most brittle pitchers that the Mets have, so this...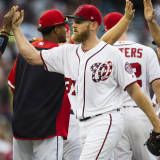 Welcome to this week's edition of Three Up, Three Down — your weekly catch-up of the three best highlights (and lowlights) from around the league. We're here for all of the cheers and the jeers, because it's baseball. You can't have a winner without someone losing along the way.Up: The donnybrook in Detroit Last week, the Yankees and Tigers engaged in what was easily the most bizarre...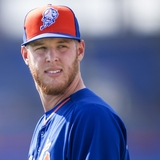 In the latest installment of JRSportBrief on SNY.tv, JR demands that the Mets make changes after news of Zack Wheeler's arm injury.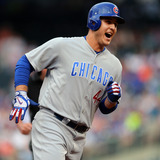 Anthony Rizzo responded to his first game atop the Cubs' batting order in impressive fashion.Joe Maddon has been searching for a leadoff hitter all season. So far, Javier Baez, Ian Happ, Jon Jay, Kyle Schwarber, Matt Szczur, and Ben Zobrist have each manned the top spot. On Tuesday, it was Rizzo's turn, and it didn't take long for the decision to pay dividends. The first baseman...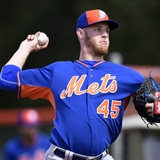 On SNY's Mets Talk Live, the panel discusses the options for the New York Mets as they finalize their rotation before Opening Day, as Zack Wheeler gets a spot after the injury to Steven Matz.
After a good outing on Monday, New York Mets pitcher Zack Wheeler declares himself ready for the 2017 season, and hopes to claim a spot in the team's rotation.
New York Mets pitcher Zack Wheeler discusses his outing on Thursday, and is happy to be healthy and ready to pitch in 2017.
MORE STORIES >>
Mets News

Delivered to your inbox

You'll also receive Yardbarker's daily Top 10, featuring the best sports stories from around the web. Customize your newsletter to get articles on your favorite sports and teams. And the best part? It's free!