Dec 2, 2017; Detroit, MI, USA; Max Holloway (red gloves) celebrates with family after fight against Jose Aldo (blue gloves) during UFC 218 at Little Caesars Arena. Mandatory Credit: Raj Mehta-USA TODAY Sports Dec 2, 2017; Detroit, MI, USA; Jose Aldo (blue gloves) enters the arena before the fight during UFC 218 at Little Caesars Arena. Mandatory Credit...
UFC featherweight champion Max Holloway defended his title against Jose Aldo in a big way at UFC 218 on Saturday night. Holloway destroyed Jose Aldo — who had held the belt for a long time in the past — and finished him off with a third-round knockout. As we know, Aldo was flexed into the fight just three weeks ago, when Frankie Edgar broke his orbital bone while training. Aldo put...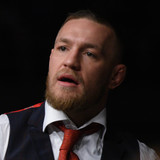 Six-foot-nine, 400-pound Hafthor Bjornsson is better known as The Mountain from HBO's hit series Game of Thrones, and he is one large man.The Mountain has trained with numerous athletes over the past few years, and among them was Conor McGregor, when the two sparred to prepare for The Notorious One's bout against Jose Aldo at UFC 194.Bjornsson recently spoke to RT Sport, and admitted...
Despite losing the featherweight title at UFC 212 in front of his homeland of Brazil, Jose Aldo showed the flashes of brilliance that have been present throughout his entire illustrious career. His mixed martial arts career has been nothing short of incredible, and even after his performance Saturday night Jose Aldo is still the greatest featherweight fighter ever. But his career...
UFC 212 is certainly not one of the better cards that the UFC has had. It doesn't have the depth of quality fights that is expected from a pay-per-view. It doesn't even have much star power to help push it, either. However, what it does have is one of the most intriguing fights in recent memory. It has Holloway vs. Aldo. Fight Background If you don't know who Max Holloway is by now...
Jose Aldo set the MMA community ablaze earlier this week when he claimed he had spies in Frankie Edgar's training camp during the UFC 200 fight week."Of course, there was (a spy)," Aldo said to during a media day in Brazil. "Why wouldn't I kick? That's my own instinct! We always place a spy. We send someone to watch their training and tell us, so we know what they're training."But...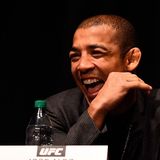 Following his win at UFC 200, Jose Aldo said he held back on throwing his patented vicious leg kicks because he knew his opponent, world-class wrestler Frankie Edgar, would be looking at his kicks as an opportunity to drag the fight to the ground. What initially appeared to be crafty game planning is now looking more like sneaky gamesmanship, as Aldo revealed to MMAFighting's Guilherme...
Former UFC featherweight champion Jose Aldo's tough upbringing in Brazil is well documented.Aldo grew up in one of the country's worst favelas, and with dreams of becoming a professional mixed martial artist, the Manaus native cleaned the gym floors and bathrooms to earn his keep and pay for training. He eventually fought his way to the top of the featherweight food chain and is...
The MMA world was sent into a frenzy earlier this week when rumors began to spread that former featherweight champion Jose Aldo was injured and on the verge of being pulled from his UFC 200 interim fight against Frankie Edgar.But just as the rumors were reaching a fever pitch, the Brazilian took to social media to prove he wasn't injured. In fact, Aldo had just wrapped up a training...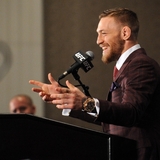 Conor McGregor responded to an insulting tweet from Jose Aldo after his UFC 196 loss on Saturday by calling his former opponent a "loser." Here's the tweet Aldo sent after McGregor lost to Nate Diaz Saturday night: In response, McGregor called Aldo a "loser" after the fight. Aldo had opportunity to show up here and he didn't, McGregor notes after Aldo posted negative post-fight...
MORE STORIES >>
MMA News

Delivered to your inbox

You'll also receive Yardbarker's daily Top 10, featuring the best sports stories from around the web. Customize your newsletter to get articles on your favorite sports and teams. And the best part? It's free!