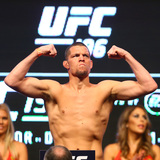 If Nate Diaz is going to fight again, he's going to wait until the right time. So, when is the right time? Well, folks are speculating because he wants a big payday. But Diaz is here to set the record straight. The 32-year-old is here to let everyone know that his return will be on his own terms."I'm not fighting because I am a fighter. You're fighting because someone's telling you...
It's hard to say if Nate Diaz will ever fight again in the UFC. After watching Conor McGregor make roughly $30 million fighting Floyd Mayweather Jr., Diaz — who fought "The Notorious One" twice — now wants to command the big bucks. But he needs to understand that boxing and UFC are two completely different markets, and it's just not going to happen. That's why it may be awhile until...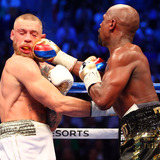 Conor McGregor thinks he could end up facing Floyd Mayweather in the ring again.McGregor held a Q&A at a fan event in Glasgow, Scotland on Friday and spoke about his future. The Irishman was his typical cocky self, saying that he thought he could beat Mayweather in a boxing rematch.McGregor said he thinks the fight could happen again because he believes Floyd would need the money...
Grayson Gregory is not exactly a Floyd Mayweather Jr. fan, but he will be linked — and inked — to the fighter for the rest of his life. That's because the 31-year-old on Monday got a tattoo on his leg of Mayweather's face to pay off a lost bet.Gregory, who runs operations for a social media marketing company, bet a co-worker last month that Conor McGregor would beat Mayweather during...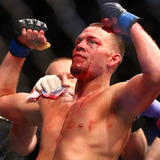 Floyd Mayweather Jr. has been fairly quiet — by his standards — leading up to his Aug. 26 bout against Conor McGregor. Most of what the GOAT has said has happened at the press conferences leading up to the big fight, and he's actually been very quiet on social media.But he's still finding ways to attempt to get in McGregor's head.A member of Mayweather's camp reportedly invited Nate...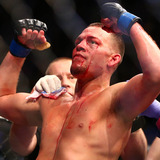 The world is on fire over the Conor McGregor-Floyd Mayweather superfight coming up later this year, and UFC president Dana White is capitalizing on that with a world press tour.Over the weekend, White bumped into McGregor in Los Angeles and the duo posed for a photo in front a private jet. And while they were all smiles, it was the straw that broke the camel's back for ex-UFC superstar...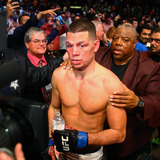 The Diaz brothers have been well-known in the MMA world for years, but Nate Diaz — the younger of the two — really burst onto the national scene in 2016. Last year, he emerged as a viable rival for UFC lightning rod Conor McGregor.Diaz and McGregor split a pair of hotly-contested, hyped-up, big-money fights. With Ronda Rousey and Jon Jones having fallen off, their fights were the...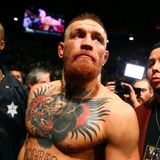 2016 was the year of Conor McGregor. Over the course of 12 months, he revolutionized the fight business. His spectacular knockout victory over José Aldo in 2015 earned him a title shot at lightweight in early 2016, but an injury to the then-champion Rafael dos Anjos triggered a series of events that would push McGregor's stardom to the next level.Nate Diaz showed up to face McGregor...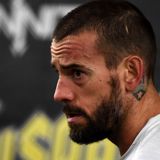 Ever since signing with the UFC at the close of 2014, CM Punk has heard almost the entire roster of fighters voice their opinions on his decision to debut in the Octagon with no formal fight experience under his belt.Some have been welcoming, other have been rather harsh, but Punk understands that opinions are going to vary and everyone is entitled to say whatever they want whether...
Conor McGregor defeated Nate Diaz by majority decision at UFC 202 on Saturday night, but the former champion didn't agree with how the fight was scored. Diaz, during his postfight interview with Joe Rogan, told the world he wants a third fight in the future, because he believed he won on Saturday night. And as for the reason why he wasn't scored the winner by the judges: "I thought...
MORE STORIES >>
MMA News

Delivered to your inbox

You'll also receive Yardbarker's daily Top 10, featuring the best sports stories from around the web. Customize your newsletter to get articles on your favorite sports and teams. And the best part? It's free!