Found May 10, 2013 on Fox Sports:
Unlike other former NASCAR Sprint Cup champions, Kurt Busch kicked off the month of May at Indianapolis Motor Speedway attempting to pass his rookie test - for the IndyCar Series. "For me to go up there and experience the track, experience an IndyCar and go through a rookie orientation -- to have (IndyCar President of Race Operations) Brian Barnhart hand me my card and license at the end was really neat," Busch said. "The way the team helped me get up to speed, it just shows how they've been doing it for years, that they're one of the best groups out there, and to have (team owner) Michael Andretti put his arm around me and coach me through the whole experience, it was the chance of a lifetime. "(IndyCar driver James) Hinchcliffe came by, and it was cool to have a current guy that's been in the car to teach me about paddle shift and the pit-road limiter and all that stuff that's current. Just to have Andretti's wisdom and his guidance through the whole experience made it that much better." Busch developed a relationship with Andretti Autosport owner Andretti through their mutual agent John Caponigro last season when Busch interviewed with potential teams for 2013. At the time, Andretti was entertaining a possible entry into NASCAR and a possible partnership with Dodge. Since then, Busch signed with Furniture Row Racing to run in the Sprint Cup Series, where he is currently 20th in the points standings. Busch has the blessing of FRR team owner Barney Visser to pursue this latest dream. "It's a bucket-list type item," he said. "It's also because I have the heart and desire to do anything in motorsports. So to wrap my arms around, moreso of what can happen next, we've just got to let things sit on the burner here and see where it goes." Although this year's Indianapolis 500 is not a practical option for Busch, he's mentioned the possibility of racing in IndyCar events at Pocono Raceway, Milwaukee Mile and Auto Club Speedway. His mentor, "Hinch," suggested the season finale at Auto Club because, as Busch says he told him, it's a two-to-three-lane track and "that would be your best chance of not running into anything and staying out of the way." "Honestly, you can't expect to go in there and run top 10 right away, but if you're doing it with Andretti, you're going to have the best chance to run well," Busch said of the championship organization. "Logistically, I haven't even looked at (the schedule). My head's spinning from doing 218 (mph in Thursday's rookie test) at Indianapolis. "Today, we're here at Darlington with our Cup car, and we have three hours of practice to get it dialed in for the Southern 500. When there's time, we'll sit down and have discussions about what could happen in the open-wheel world." Busch has never denied his need for speed. In 2011, he participated in the Gator Nationals with Pro Stock champion Allen Johnson. Busch, who finished fifth in his first start in the Brickyard 400 in 2001, found the speed behind the wheel of an IndyCar intriguing because, compared to a stock car, there's no deceleration. "You're just at constant speed the whole time," Busch said. "With a Cup car, you have to let off the gas, slow down for the corner. You have that deceleration rate, (and) that big heavy car doesn't want to turn. Driving the IndyCar there at speed, full-throttle all the way around, gave me more of an appreciation for the track and the allure and the demands that it puts on a team and a driver with an open-wheel car at Indianapolis. It was quite the experience. "Right away, pulling out on the back straightaway, open cockpit, the air's hitting me in the face, when I'm doing 150, I'm like, 'This is a different world.' Then that settled in, and then it was the rookie orientation program where you work up your speed, and it was the first time where I said, 'You ready?' and I'm talking to myself on holding it wide open through a corner. That's when the game changes. That's when you cross into a threshold that really challenges you as a driver." Busch isn't sure what opportunities exist in IndyCar, but just the chance to say he's been on the yard of bricks in an open-wheel car is "a nice achievement." "When you're teaming up with Andretti Autosport to do it, you hope you get that job done, and you want to do everything that they're telling you to do, and to do it perfectly, and (Thursday) was that type of day," Busch said. "To go 218 and to be on the rev chip in sixth gear on the first day -- that's pretty cool. "Any opportunity in motorsports is what I'm looking for. I grew up in a stock car world. I've spent the last dozen years in the Sprint Cup garage. You never know what's around the next turn. I've been full-throttle on a quarter-mile and full-throttle at Indianapolis. There's a lot of cool things out there."
Original Story:
http://msn.foxsports.com/nascar/story...
THE BACKYARD
BEST OF MAXIM
RELATED ARTICLES
Kurt Busch has become the first driver this year to pass rookie orientation for the Indianapolis 500. The 2004 Sprint Cup champion came to Indy this week to test himself on the 2.5-mile oval in one of Michael Andretti's IndyCars. He wound up completing all three phases of the rookie test, the last requiring him to turn 10 laps in excess of 210 mph. He posted a lap of 214 mph...
Kurt Busch's recent IndyCar test wasn't a publicity stunt...
Kurt Busch would like to start seeing drivers attempt The Double again. Shortly after arriving at Andretti Autosport headquarters in Indianapolis on Wednesday, the 2004 Cup champion wasted no time in urging officials from the NASCAR and IndyCar series to compromise on the Memorial Day weekend start times to make it possible. He says fans want to see it. Only three drivers have...
Kurt Busch wants to race an IndyCar at Indianapolis. Just not now. The 2004 Sprint Cup champion kept Ryan Hunter-Reay's primary car out of trouble Thursday, topping 218 mph on one of the world's most prestigious tracks. He became the first driver to pass this year's rookie test at Indianapolis Motor Speedway, likely creating a rumor-filled month of May. ''I...
Kurt Busch has set at Darlington Raceway record in earning the pole for the Southern 500. Busch's lap of 181.918 mph Friday earned him his third career pole at Darlington and broke the two-year old mark of 181.254 mph held by Kasey Kahne. Defending champion Jimmie Johnson will start alongside Busch, followed by Kyle Busch, Kahne and Martin Truex Jr. Kurt Busch got a strong...
Kurt Busch won the pole for Saturday night's Bojangles' Southern 500 from Darlington with a time of 27.032 seconds. Jimmie Johnson, Kyle Busch, Kasey Kahne, and Martin Truex, Jr. round out the top five starting positions. No drivers missed the race. The event will be live on FOX at 7:30 PM EST. Pos # Driver Team Time 1 78 Kurt Busch Furniture Row Racing / Serta Chevrolet...
Kurt Busch claimed the pole for the Bojangles Southern 500. The No. 78 car will lead a field of 43 to the green on Saturday night. Here is the starting lineup for Saturday's NASCAR Sprint Cup Series race at the Darlington Raceway in Darlington, South Carolina. DNQ: None Cars to the Rear None Row 1 1. #78 Kurt Busch 2. #48 Jimmie Johnson Row 2 3. #18 Kyle Busch 4. #5 Kasey Kahne...
Joe Gibbs Racing celebrated in Victory Lane on Saturday night at Darlington Raceway - but it wasn't with the Toyota that dominated the NASCAR Sprint Cup Southern 500. After leading 265 laps, Kyle Busch cut a tire in the closing laps and was forced to nurse the No. 18 car to the end. That allowed Matt Kenseth to capitalize on his teammate's misfortune and take the race win...
Matt Kenseth. Kyle Busch. Kurt Busch. Kasey Kahne. See why everyone is talking about their Darlington runs.
NASCAR News

Delivered to your inbox

You'll also receive Yardbarker's daily Top 10, featuring the best sports stories from around the web. Customize your newsletter to get articles on your favorite sports and teams. And the best part? It's free!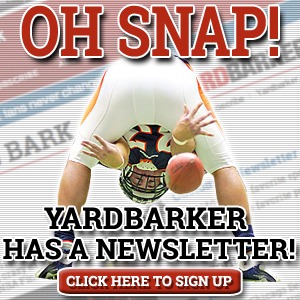 Latest Rumors
The Backyard

Today's Best Stuff

For Bloggers

Join the Yardbarker Network for more promotion, traffic, and money.

Company Info

Help

What is Yardbarker?

Yardbarker is the largest network of sports blogs and pro athlete blogs on the web. This site is the hub of the Yardbarker Network, where our editors and algorithms curate the best sports content from our network and beyond.