Found March 02, 2013 on Start 'N' Park Blog:
PLAYERS:
Kyle Busch
,
Brad Keselowski
,
Matt Kenseth
,
Justin Allgaier
,
Trevor Bayne
,
Elliott Sadler
,
Jamie Dick
,
Austin Dillon
,
Aric Almirola
,
Regan Smith
,
Kyle Larson
,
Mike Bliss
,
Nelson Piquet
,
Blake Koch
,
Brian Vickers
,
Reed Sorenson
,
Parker Kligerman
,
Jeffrey Earnhardt
,
Ryan Sieg
,
Hal Martin
,
Eric McClure
,
Kevin Harvick
,
Daryl Harr
,
Joe Nemechek
,
Josh Wise
,
Chase Miller
TEAMS:
Cincinnati Bengals
AVONDALE, Ariz.—Nothing was going to keep Kyle Busch out of Victory Lane on Saturday at Phoenix International Raceway. Not a pit road speeding penalty. Not a spate of cautions that kept bunching the field. Not Brad Keselowski, who in the past has found magic out front on old tires. The prohibitive favorite in the Dollar General 200—after he won the pole in a laydown earlier in the day—Busch overcame a speeding penalty that dropped him to 22nd position for a restart on Lap 44. That was a momentary setback. Working his way through traffic in short order, Busch passed Joe Gibbs Racing teammate Matt Kenseth for the lead on Lap 89. He lost the top spot briefly by pitting under caution on Lap 152, as Keselowski and three other drivers remained on the track, but Busch regained the lead on Lap 164, clearing Keselowski as the cars streaked into Turn 3. Busch stayed out front the rest of the way. The victory was his first in the No. 54 Toyota and a record 52nd in the Nationwide Series. "It's great to be back, working with (crew chief) Adam (Stevens) and these guys," said Busch, who was winless last year in the Nationwide Series driving for his own team. "It was a bummer deal not to be able to get a win at KBM (Kyle Busch Motorsports) last year, but (owner) Joe (Gibbs) putting me back in his operation and being back with the Joe Gibbs Racing side of things and Mark Cronquist engines, it's a phenomenal day for us to get back to Victory Lane, to feel the taste of it again. "I was almost nervous, feeling like it was my first win, although it's win No. 52 in the series. It's nice to be back." Keselowski held second by stretching his fuel to the end without pitting. Justin Allgaier ran third and leaves Phoenix tied for the series lead with Sam Hornish Jr., who came home seventh. Trevor Bayne and Elliott Sadler completed the top five. Jimmie Johnson, using a rare Nationwide Series appearance to get some extra laps on a track that has befuddled him since its resurfacing in 2011, finished 12th. Even though he tried a contrarian strategy, Keselowski knew that tactics alone wouldn't be enough to overcome Busch's advantage in speed. "I knew I had a shot if something happened to Kyle, and we had to put ourselves in position for good things to happen," Keselowski said. "But Kyle's car was so fast. I probably could have had four tires and he could have had none, and it still wouldn't have mattered. He'd still have drove through the field. "When you have that much speed, you're pretty much immune to strategy." Beginning his fifth full season of Nationwide racing, Allgaier is off to the best start of his career. "The first five (races) kind of get you kicked off for the next 10 or 15," Allgaier said. "This has been huge for us, for Turner Scott Motorsports. Our program has come a long way during the offseason. I'll be the first to tell you that, at the end of the year last year, we were kind of scratching our heads. We knew we had a great organization. We just didn't know what we were missing. "Everybody at the team really buckled down … This is the strongest season start I've had. I hope we can keep that going and transfer it into a championship." The race wasn't yet two laps old when Johanna Long drove hard into Turn 3 and tagged the back of the Ford of Hornish, the series leader entering the race.  With the front of her car damaged by the contact, Long slapped the wall exiting Turn 4, triggering a chain-reaction wreck that collected five other cars, including those of Hornish (who had fallen behind her) and Travis Pastrana. "I don't know; it just took off on me," Long said of her contact with the wall. "I got in a little too hard, there (into) Hornish, felt bad, got under him. I got into the gas, and it just took off. "I definitely didn't want to finish like this. It's really disheartening. I feel really bad. I don't know what else to say." The aftermath of the wreck turned bizarre when the scoring transponder from Jamie Dick's car (another victim of the accident) lodged in the nose of Hornish's Ford. Though Hornish lost two laps on pit road while the transponder was removed, NASCAR restored the No. 12 to the lead lap because the extraction — to prevent Dick's car from being scored improperly – was ordered by the sanctioning body. Hornish's travails weren't quite over. After restarting sixth on Lap 109, Hornish spun in Turn 2 a lap later to bring out the fifth caution but remained on the lead lap. The nose and hood of his car heavily taped, Hornish salvaged the seventh-place finish. By Reid Spencer | NASCAR Wire Services Fin St # Driver Sponsor Car Laps Money Status Led Pts 1 1 54 Kyle Busch Monster Toyota 200 $70,700 Running 142 0 2 9 22 Brad Keselowski Discount Tire Ford 200 $53,450 Running 10 0 3 5 31 Justin Allgaier Brandt Chevrolet 200 $45,334 Running 0 41 4 4 6 Trevor Bayne Valvoline NextGen Ford 200 $35,841 Running 0 40 5 15 11 Elliott Sadler OneMain Financial Toyota 200 $31,241 Running 0 39 6 6 3 Austin Dillon AdvoCare Chevrolet 200 $27,491 Running 0 38 7 19 12 Sam Hornish Jr Detroit Genuine Parts Ford 200 $25,226 Running 0 37 8 3 18 Matt Kenseth RESERS Toyota 200 $17,470 Running 41 0 9 8 43 Aric Almirola Flying J Ford 200 $16,325 Running 0 0 10 21 2 Brian Scott Whitetail Chevrolet 200 $23,816 Running 0 34 11 13 7 Regan Smith Taxslayer.com Chevrolet 200 $14,575 Running 0 33 12 7 5 Jimmie Johnson Great Clips Chevrolet 200 $13,975 Running 0 0 13 14 32 Kyle Larson Eveready Chevrolet 200 $21,066 Running 0 31 14 22 19 Mike Bliss TriStar Motorsports / Sheraton Toyota 200 $19,691 Running 0 30 15 23 30 Nelson Piquet Jr Worx Chevrolet 200 $20,016 Running 0 29 16 30 24 Blake Koch TBA Toyota 200 $19,441 Running 0 28 17 2 20 Brian Vickers Dollar General Toyota 199 $12,375 Running 7 28 18 36 40 Reed Sorenson TheMotorsportsGroup.com Chevrolet 198 $18,841 Running 0 26 19 11 77 Parker Kligerman Toyota Toyota 198 $19,066 Running 0 25 20 27 79 Jeffrey Earnhardt Uponor/Re-Load.biz Ford 198 $19,191 Running 0 24 21 35 51 Ryan Sieg TBA Chevrolet 198 $18,416 Running 0 0 22 32 00 Jason White TBA Toyota 197 $18,291 Running 0 22 23 24 44 Hal Martin American Custom Yachts/Crowne Plaza Toyota 197 $18,166 Running 0 21 24 28 92 Dexter Stacey Maddies Place Ford 195 $11,425 Running 0 20 25 33 23 Harrison Rhodes Rick Ware Racing Ford 194 $18,241 Running 0 0 26 38 15 Juan Carlos Blum VMP Ford 193 $17,866 Running 0 18 27 40 74 Mike Harmon TBA Chevrolet 192 $17,941 Running 0 17 28 12 60 Travis Pastrana Roush Fenway Racing Ford 189 $17,666 Running 0 16 29 20 14 Eric McClure Hefty Reynolds Wrap Toyota 187 $17,616 Engine 0 15 30 37 52 Joey Gase BBB.org/Donate Life AZ Chevrolet 150 $17,866 Transmission 0 14 31 18 99 Alex Bowman Port of Tucson Toyota 142 $17,511 Running 0 13 32 25 01 Mike Wallace Verve! Chevrolet 139 $17,451 Running 0 12 33 10 33 Kevin Harvick Menards / Rheem Chevrolet 101 $10,745 Accident 0 0 34 39 4 Daryl Harr iWorld/Flex Seal Chevrolet 95 $17,376 Engine 0 10 35 17 55 Jamie Dick Vivaautogroup.com Chevrolet 59 $10,681 Accident 0 9 36 29 87 Joe Nemechek AM-FM Energy Wood & Pellet Stoves Toyota 50 $16,641 Accident 0 8 37 26 10 Jeff Green TriStar Motorsports/Embassy Suites Toyota 17 $9,940 Handling 0 7 38 31 42 Josh Wise Curtis Key Plumbing Chevrolet 10 $9,886 Brakes 0 6 39 34 46 Chase Miller Curtis Key Plumbing Chevrolet 8 $9,770 Vibration 0 5 40 16 70 Johanna Long Foretravel Chevrolet 2 $16,381 Accident 0 4
Original Story:
http://startnparkblog.com/?p=21915&ut...
THE BACKYARD
BEST OF MAXIM
RELATED ARTICLES
Getty Images Kyle Busch won the Dollar General 300 from Phoenix International Raceway. It was his first win of the season. Brad Keselowski, Justin Allgaier, Trevor Bayne and Elliott Sadler rounded out the top five. The pole sitter of the race was Kyle Busch in the No. 54 Monster Energy Toyota. He led 142 laps, the most of anyone. His Joe Gibbs Racing teammate, Matt Kenseth, led the...
Kyle Busch overcame a mid-race gaffe on pit road with a dominating performance, leading 142 laps to win his fifth Nationwide Series race at Phoenix International Raceway on Saturday. Busch started from the pole and shook off a speeding penalty to pit road with what was easily the fastest car during the 200-lap race around PIR's mile oval. He eclipsed 11,000 career laps during...
After Joe Gibbs Racing lost two entrants in last week's Daytona 500 due to engine failures, Denny Hamlin and Kyle Busch's teams have opted to change their motors prior to the Subway 500 at Phoenix International Raceway.
Phoenix International Raceway Race Stats 2013 Race Length: 312 miles/312 laps  Track Qualifying Record: 138.766 mph (Kyle Busch, 2012)...
AVONDALE, Ariz. (AP) -- Kyle Busch spun his wheels at the startfinish line for a few extra rotations, filling the track and grandstand with a fog of white smoke. After waiting so long to win on the Nationwide Series again, it felt like the first time again, and he was going to enjoy it. Overcoming a mid-race gaffe on pit road with a dominating performance, Busch led 142 laps at...
AVONDALE, Ariz. — After a solid first qualifying lap at the Phoenix International Raceway 1-mile oval Friday, Busch's No. 78 Furniture Row/Beautyrest Chevrolet SS scraped the wall during the second lap due to a malfunction in the coolant system. The damage (right-front and right-side) was enough that the team will go to the backup car for Sunday's Subway Fresh Fit 500 Sprint...
It was a troublesome Daytona Speedweeks for Joe Gibbs Racing as they lost three motors in the two biggest races of the weekend and had troubles with two more in the Nationwide Race on Saturday. Both Matt Kenseth and Kyle Busch blew engines on consecutive laps while running 1-2 in the Daytona 500 last Sunday. They looked dominant all day and were getting close to coming down for their...
The NASCAR Nationwide Series is at Phoenix International Raceway this weekend for the Dollar General 200. Kyle Busch captured the Coors Light pole with a fastest lap time of 133.057. Busch is driving the No.54 Monster Energy Toyota for Joe Gibbs Racing. Brian Vickers is starting second. There were 40 drivers on the entry list upon its release, with a few notes. Jimmie Johnson will...
Kyle Busch led the way with a lap of 27.249 seconds in the final practice for the Dollar General 200 by AmeriGas from Phoenix. Rounding out the top five was Jimmie Johnson, Kyle Larson, Elliott Sadler, and Brian Scott. Pos # Driver Team Time Behind 1 54 Kyle Busch Monster Toyota 27.249 Leader 2 5 Jimmie Johnson Great Clips Chevrolet 27.316 -0.067 3 32 Kyle Larson...
Kyle Busch won the pole for Saturday's Dollar General 200 by AmeriGas from Phoenix with a time of 27.056 seconds. Brian Vickers, Matt Kenseth, Trevor Bayne, and Justin Allgaier round out the top five starting positions. With 40 entries for 40 spots, no drivers missed the race. The event will be live on ESPN2 at 4:30 PM EST. Pos # Driver Team Time 1 54 Kyle Busch Monster...
Bengals News

Delivered to your inbox

You'll also receive Yardbarker's daily Top 10, featuring the best sports stories from around the web. Customize your newsletter to get articles on your favorite sports and teams. And the best part? It's free!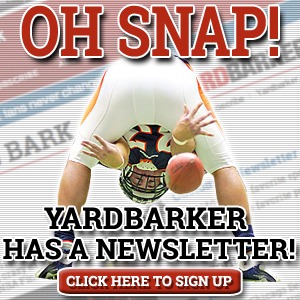 Latest Rumors
Best of Yardbarker

Today's Best Stuff

For Bloggers

Join the Yardbarker Network for more promotion, traffic, and money.

Company Info

Help

What is Yardbarker?

Yardbarker is the largest network of sports blogs and pro athlete blogs on the web. This site is the hub of the Yardbarker Network, where our editors and algorithms curate the best sports content from our network and beyond.