Found April 22, 2013 on Start 'N' Park Blog:
PLAYERS:
Joey Logano
,
Carl Edwards
,
Ricky Stenhouse
,
Greg Biffle
,
Aric Almirola
,
Brad Keselowski
,
JR House
,
Marcos Ambrose
,
David Gilliland
,
Josh Wise
,
David Ragan
,
Timmy Hill
,
Michael McDowell
,
Ricky Stenhouse Jr.
JOEY LOGANO – No. 22 AAA Ford Fusion WHAT HAPPENED? "I watched the 18. He was spinning out and I saw it the whole time. I saw he got loose and thought, 'OK, he's gonna come back across,' and he didn't. It looked like he was gonna stay up there because he kind of slapped the wall with the right side after he hit it the first time, so I'm like, 'All right, I'm gonna gun it and get by him here,' and as soon as I committed to that I saw him start coming back down. At that point you're just lined up to him and hit him a ton. I'm fine. It's just unfortunate for the AAA guys. They deserve better than that. We were working hard on getting our car better. We weren't gonna gain many points this weekend, but we were gonna try to rally for the best possible finish we could get out of it, but it's not good for us." HOW ARE THE CONDITIONS OUT THERE? "This track is just so narrow right now. You can't move around. We were tight for the most part, trying to free it up, and then we put left sides on there and got really loose. I was trying to hold on for what we had and I think there were a lot of guys around us that did the same thing and were really loose. We weren't having a good day as it was, but you don't want to end up in the garage like this." SAM HORNISH JR. – No. 12 SKF Ford Fusion WHAT HAPPENED? "I couldn't see anything. I saw the back of the 34 or 38, I'm not sure which one it was, and then I saw the 9 sitting sideways right at the exit of the corner. I lifted and turned down, which made my hit to the inside wall harder because as soon as you lift and put all that weight up there it gives me enough turn to try to get away from the 9, but then I can't get it back in the other direction. It's too bad for the guys who work on this SKF Penske Ford. I just wish we could have done a little bit better. We got off on our strategy early and this is so much about track position here and how you're running through your tires – whether you're taking two or four. We just got ourselves out of sequence and could never make it back up again." A LOT OF CARS SPINNING TODAY. WHY? "I don't know. It's really, really free out there. There was a point in time where we were really good on the restart and could go for 10 laps, and then the car would get really free in and off the corners, and then after about 20 laps it would be fine for about the next 15, and then it would start doing it again. It's just a weird way that the car and the tires and everything were reacting together. I think it has to do with putting rubber down and also the sun coming out and heating the track up, but the exit of turn two is pretty tough for a lot of people just sliding and getting off the corner because if you run high, you're already a little bit loose and if you try to run low, you just can't keep the rear underneath you to put the power down." CARL EDWARDS – No. 99 Aflac Ford Fusion ON HIS RACE: "That's very disappointing for our whole team because we had such a fast car and then the sun came out and we were not in good shape. The handling went away big-time. I've got to thank Ricky Stenhouse. I was holding him off and I slid up in front of him and he could have wrecked me, but he didn't. I was in denial about my car at that point. I thought we were fast and then we had our strategy set up to rely on the caution not coming out, but the caution came out and I think that pretty much ruined it for all the Roush Fenway cars. The cool thing is we had fast race cars and there were points in the race where I think we had the fastest cars. We'll just move on, but I'm glad we get to come back here in the fall." GREG BIFFLE – No. 16 ACE Ford Fusion ON HIS RACE: "That caution came out at a bad time, but we weren't very good all day either. We're just missing it a little bit. That's two races in a row now that our car hasn't been anything like our practices. It's kind of like racing a whole different car and race track. It's like we loaded it up and went to a different place and they said, 'Here we go,' and they threw the green. I don't know what we're gonna have to do, but we're gonna have to figure it out. We're just not as good as we need to be and not as good as our competition, but we'll keep working on it." ARIC ALMIROLA – No. 43 STP Ford Fusion ON HIS RACE: "It was a good day for us. We thought we had a great car at the beginning of the race, but then the track changed on us and we lost our track position. And then the handling drastically changed on our car, so we had to battle back from that and made a lot of adjustments. Todd Parrott did a great job rallying our guys making good adjustments, making great pit calls to get some track position and right there at the end our guys gave us a great pit stop when it counted and we got another top-10. That's two top-10s two weeks in a row and I'm proud of that." BRAD KESELOWSKI – No. 2 Miller Lite Ford Fusion WHAT HAPPENED AT THE START OF THE RACE? "Something happened where there was a check-up in front. I think somebody was wrecking and I slowed down and the guy behind me didn't. He just drove through the quarterpanel and tore it all up and eventually the dirty air of cars being around me just sucked it apart. It's kind of weird. I think that's probably a really good aero lesson for everybody how dirty the air is that when another car gets beside us it literally blew the quarterpanel off of it, so it's just part of the deal." DESPITE THAT YOU WERE PICKING OFF CARS THE FINAL 10 LAPS? "The car was really strong at the end. It wasn't quite perfect, but definitely really strong and showed the strength that we can have." DID YOU FEEL THE REAR QUARTERPANEL LOOSE AND DID YOU KNOW IT WAS A MATTER OF TIME BEFORE IT CAME OFF? "I could feel something was wrong, but I couldn't see it so you don't know what the magnitude of it is. Obviously, it must have been pretty severe. DID YOU THINK IT WAS GOING TO BE A LONG DAY WHEN YOU WERE ON PIT ROAD WITH THE FIELD COMING TO THE GREEN? "That's never a good start (laughing), but just add that to the list of things we fought through today and still came away with a top-10 finish." DOES IT FEEL LIKE A WIN WHEN YOU GO THROUGH THAT AND COME HOME WITH A SIXTH-PLACE FINISH? "Yeah. Usually, you're not happy unless you win, but a day where you can fight through adversity like we did today and get a solid finish, that kind of is a win, yes." ESPECIALLY WITH WHAT YOUR TEAM IS GOING THROUGH, RIGHT? "Yeah, it's been a long week, but we're not giving up." ARE YOU GLAD THIS WEEK IS BEHIND YOU? "No. If I could re-do it over and over again I'd make it better every time. I'm ready for next week, but this week is what it is and I don't have any regrets." RICKY STENHOUSE JR. – No. 17 Zest Ford Fusion ON HIS RACE: "It was fun. We started up front, ran up front, lost our track position and then got it back and was able to lead some laps. We pitted under green and it really got us when the caution came out, but, all in all, I think we can take a lot of positives from this weekend. We were fast in practice, fast in qualifying and made the car better through the race and that's what it's all about is making your car better throughout the race and I think we did that today. The Zest Ford Fusion was the one to beat there at the end, but we didn't have the track position to finish it off." WAS IT ANY EASIER RACING CARL FOR THE LEAD THERE AS OPPOSED TO SOMEONE ELSE? "I don't know. He came down there and slid up in front of us a couple times and I had to check up, but it was cool getting to lead some laps for Roush Fenway and for everyone in Boston. At least we'll be able to donate a little something. I just wish we were able to lead the last few." WAS CARL HOLDING YOU UP? "Yeah, he was holding us up, but, like I said, one of our cars was leading so we were giving money to Boston, so that was good. It was fun to get up there and lead some laps in a Cup car. We haven't done that and that was the first time we had been up there leading laps and felt like we had a car in contention to beat some of those guys. Matt ended up winning and we ran off and started fuel saving after that, but, all in all, it was a good weekend. I just wish the cautions would have fell a little bit different." DID YOUR CAR CHANGE AS THE DAY WENT ON? "When the sun came out we were a lot better. We made a lot of adjustments and everybody seemed really loose, especially around guys people were loose, but once the sun came out I felt like it really, really helped our car and the adjustments Scott and the guys made were stellar as well, so everything played together and we had a fast race car." CASEY MEARS – No. 13 Geico Ford Fusion ON HIS RACE: "I was pretty happy with the car. Right before the accident on the run before that we were at our worst because we got a little too loose, but the guys did a good job and we were back on the lead lap and could run lap times within the top 15. I was rolling the top there and the 9 got loose. He was loose for a long time and I slowly, slowly checked up and the 38 never did and tagged the back of me. We probably would have just spun off into the infield, but we collected whoever spun with us and tore the car up really bad. It's just a bad day." MARCOS AMBROSE – No. 9 Stanley Ford Fusion ON HIS RACE: "I'm just disappointed. We had a good car and were running around the top-10 all day and when the sun came out it changed. I didn't expect it and spun out off of two and got some damage. We were able to stay on the lead laps, but that's not the day we wanted." FORD FINISHING ORDER: 6th – Brad Keselowski 8th – Aric Almirola 11th – Ricky Stenhouse Jr. 17th – Carl Edwards 19th – Greg Biffle 20th – Marcos Ambrose 23rd – David Gilliland 26th – Josh Wise 30th – David Ragan 33rd – Timmy Hill 34th – Casey Mears 37th – Sam Hornish Jr. 39th – Joey Logano 42nd – Michael McDowell
Original Story:
http://startnparkblog.com/?p=25027&ut...
THE BACKYARD
BEST OF MAXIM
RELATED ARTICLES
HEAD-ON
On the 104th lap at Kansas Speedway, Kyle Busch's car crashed into that of Joey Logano with such force that it actually lifted the two front tires of Logano's car off the ground completely.
Joey Logano, driver of the No. 19 Reese Towpower Carbon Forged Ford F-Series, made his second start for Brad Keselowski Racing in the NASCAR Camping World Truck Series (NCWTS) during the SFP 250 at Kansas Speedway on Saturday. Logano qualified in the 16th position. Logano got off to a solid start, moving into the top ten after a few caution flags fell early. When the first caution...
((HT: ESPN/Newton)) Remember how NASCAR said that they weren't going to tolerate any shenanigans when it came to any kind of tampering with the Gen 6 car...??? David Newton, while admittedly going on "sources," is saying that the Kenseth car that did this... ((HT: Fox Sports)) ...is currently being evaluated... The engine was brought back to NASCAR'...
NASCAR News

Delivered to your inbox

You'll also receive Yardbarker's daily Top 10, featuring the best sports stories from around the web. Customize your newsletter to get articles on your favorite sports and teams. And the best part? It's free!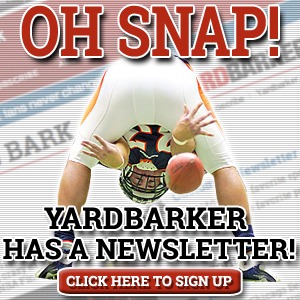 Latest Rumors
The Backyard

Today's Best Stuff

For Bloggers

Join the Yardbarker Network for more promotion, traffic, and money.

Company Info

Help

What is Yardbarker?

Yardbarker is the largest network of sports blogs and pro athlete blogs on the web. This site is the hub of the Yardbarker Network, where our editors and algorithms curate the best sports content from our network and beyond.