Found August 04, 2013 on Fox Sports:
PLAYERS:
Kasey Kahne
,
Jeff Gordon
,
Kurt Busch
,
Ryan Newman
,
Brad Keselowski
,
Joey Logano
,
Clint Bowyer
,
Danica Patrick
,
Travis Kvapil
,
Jeff Burton
,
Paul Menard
,
Matt Kenseth
,
Dave Blaney
,
Denny Hamlin
,
Dale Earnhardt Jr.
In the June race at Pocono Raceway, Kasey Kahne barely made a full lap before his drive shaft U-joint failed and forced the No. 5 Chevy SS to the garage. On Sunday, Kahne returned to exact his revenge. Kahne led 39 laps as part of a dominant Hendrick Motorsports' parade in the GoBowling.com 400 and edged his teammate Jeff Gordon by 1.392 seconds at the line for his second win of the season. Despite two cautions in the final 10 circuits and challenges from Gordon, Kurt Busch and Dale Earnhardt Jr., who were all seeking their first win of the season, Kahne was able to remain up front. Gordon's decision to take the inside lane for the final run and a push from Busch in the No. 78 Chevy allowed Kahne to seal the deal. "Kurt Busch pushed me down the front stretch and I just drove into one as far as I felt I could," Kahne said. "I got some speed and momentum down the back to beat Jeff to turn two. That was kind of the race at that point." The four Hendrick teammates contributed to leading 118 of 200 laps on Sunday. But it would be hard to argue which of the three runners-up was the most disappointed. "We had them," Gordon said. "We certainly had the position. We got a good restart. I'm pretty disappointed that I allowed them to get to the outside of me down in (turn) one. That is the advantage you have of being second. Just like the restart before that, I had a little bit of an advantage by being in second to get position on him. "I thought the last one I didn't do everything I needed to do ... but man, he got a killer run and blasted on the outside of me. Caught me by surprise, I'll be honest. In that case, and in that scenario, it just kills your momentum. So I feel fortunate to finish second." Jimmie Johnson was the class of the field from his pole-winning, record-setting lap on Friday to the 43 laps he led before a tire blew on Lap 75 and he slammed into the Turn 1 wall. But the No. 48 team jumped into action, made repairs and was aided by the consequent caution for debris two laps later. Johnson remained on the lead lap and salvaged a 13th-place finish. His misfortunes, however, opened the door for his three teammates -- Kahne, Gordon and Earnhardt Jr., who finished fifth. Busch (third) and Ryan Newman (fourth), also powered by Hendrick engines, provided Chevrolet with a top-five sweep. For Earnhardt, it was his first top-five finish since the tour's last trip to Pocono, seven races ago. While he doesn't feel that his No. 88 Chevy is in the same league as Johnson and Kahne, Earnhardt realizes that having three strong teams to compete with in house ups his game. "I've been saying it for several years now, we're just missing that little bit," Earnhardt said. "We keep showing up with a fifth-place car every week. You're just waiting on that dang day where you're the guy -- that you've got the best car. But it's going to be hard as long as Jimmie and Kasey run like they do. They've got great speed, they always have and they're our toughest competition. "I know they're my teammates but to be frank, they're the fastest guys out there every week. Fortunate enough for us we know what they're doing and we can learn from them. We need to take advantage of that and try to improve what we're doing." Defending Sprint Cup champ Brad Keselowski and his Penske Racing teammate Joey Logano were the first drivers to break up the 'Bow-tie" party after finishing sixth and seventh, respectively. Penske Racing competition director Travis Geisler acknowledged that Hendrick Motorsports is "setting the pace right now and the 48 has been setting the pace for a little while and now the teammates are lining up." "They've got their game figured out," Geisler said. "That's the thing about the sport. There are ups and downs and right now they're on an up as a group and it's impressive. I think we could have been more aggressive on our strategy and probably put ourselves in a better spot. But I don't think we were quite in a position to win unless things played out on a restart. It looked like the (No.) 5 was going to drive away from everybody. But then the 24 got him on a restart and it looked like he was going to get everybody. "The way these tracks race right now, whoever gets out front looks like he's Superman. But put him back a few spots and he's not too special either. It takes all three things right now - a good car, good execution and good strategy. If you don't hit any one of those three, you're not going to have a good finish." On Sunday, Kahne and crew chief Kenny Francis had all three. His victory elevated the No. 5 team to eighth in the point standings and as one of just five Sprint Cup drivers with multiple wins, Kahne's a lock for the playoffs with five races remaining before Chase. YOU CAN'T KEEP A GOOD MAN DOWN Points leader Jimmie Johnson led 43 of the first 75 laps at Pocono Raceway before he wrecked after losing air through the bead of his tire and developed a power issue. Still, after dropping to 30th in the 43-car field, he fought back to finish 13th. "I felt like we had a shot to win," Johnson said. "Unfortunately, blew a tire off of turn one and ended those hopes there. We worked on the car and got it better. Then I hit the wall so hard that it knocked a spark plug wire off the spark plug. "They were able to find the right plug and get everything hooked back up and the engine took off. Off we went and salvaged a very nice finish." And he still improved his advantage by two points over second-place Clint Bowyer, who finished 14th and now trails Johnson by 77 points. ROOKIE ERROR Danica Patrick appeared to be on her way to her first top-20 finish in the last three races when she lost control of her car in Turn 2 and collected Travis Kvapil, Jeff Burton and Paul Menard in the process. "These cars rely on side force, so when someone's on the outside of you, it always makes you a little bit looser," Patrick said. "But I didn't feel like I went in (to the corner) any more hero-like that time. "We were tight in the race and so we had freed it up a little bit and it was better. But then, when they're outside of you, you just get loose. So, just chased it up and it spun around and unfortunately it ends the day." Patrick qualified 34th and was comfortably running in 18th prior to the accident. When she made her debut in June, Patrick finished 29th. Her takeaway from Sunday? "We were better off today than what we've been a lot of other days," said Patrick, who finished 35th. That wasn't the case for Burton and Menard, who were caught in her wake. The two RCR teammates finished 36th and 32nd, respectively. SOCIALIZING Jeff Gordon @JeffGordonWeb The @Drive2EndHunger @TeamChevy SS finishes P2 @poconoraceway. #JeffGordon - "I lost that one for us. Sorry guys." #NASCAR #Team24 SOCIALIZING 2 After Travis Kvapil was wrecked by Danica Patrick and finished 26th, he tweeted: Travis Kvapil @TravisKvapil Well, once again...We had a great car today! Solid run all day and in position for a great finish...But then we got wrecked...AGAIN! #FIBS NUMBERS GAME 3: Pit road speeding penalties levied on Chase contenders - Matt Kenseth, Tony Stewart and Matt Kenseth 4: Teams had tire issues which led to wrecks - Nos. 48, 38, 30 and 43. 3: Laps led by Dave Blaney - the first this season SAY WHAT? After wrecking again and posting his fifth DNF of the season, Denny Hamlin acknowledged "our car was a handful." "I tried to fight through it until that competition caution (Lap 16), but I was getting run over from behind and just holding up traffic," said Hamlin, who finished 43rd, his worst career finish at Pocono.
Original Story:
http://msn.foxsports.com/nascar/story...
THE BACKYARD
BEST OF MAXIM
RELATED ARTICLES
Kasey Kahne looked like he had lost the GoBowling.com 400 fom Pocono Raceway when his Hendick Motorsports teammate, Jeff Gordon, passed him for the lead. Kahne was granted a second chance after a late race caution. "We about gave it away," Kahne said in victory lane. "That final restart, (Gordon) had a great jump. Kurt (Busch) pushed me all the way to Turn 1." The 1-2 finish...
getty images Kasey Kahne bowled over the competition at Pocono on Sunday scoring a strike in the Go Bowling.com 400. Kahne was able to get around his Hendrick Motorsports teammate Jeff Gordon late in the race to find victory lane at the 2.5 mile Pocono Raceway. The win is the second of the year for Kahne and 16th of his career. The race began with Jimmie Johnson on the pole but did...
Kasey Kahne passed his Hendrick Motorsports teammate Jeff Gordon on a late-race restart to win Sunday's wild and crash-filled GoBowling.com 400 NASCAR Sprint Cup race at Pocono Raceway. And with his second victory of the season, Kahne is virtually assured of a slot in the Chase for the Sprint Cup, NASCAR's season-ending, 10-race championship round. Kahne, who won earlier...
It would be the most blind-obvious thing to say that Sunday at Pocono was a really, really good day for Kasey Kahne and his No. 5 team. He won the race plus jumped up one spot to eighth in the points. Even bigger than all that, it was Kasey's second win of the season and that all but guarantees he and his team will be in the 2013 Chase. t have a win yet - Brad Keselowski and...
Kasey Kahne got the jump on Jeff Gordon off the final restart with two laps left and pulled away to win at Pocono Raceway.
Jimmie Johnson isn't the only driver this season that's made a specialty of serving up wins for someone else. For Kasey Kahne, this year...
Photo- Getty Images Kasey Kahne made Team Hendrick proud on Sunday at Pocono after he took the win in a day they totally dominated. A wild afternoon started with pole-sitter Jimmie Johnson leading, but when he ran into trouble just shy of the mid-point of the race, Kahne rose to the top spot. Then when a late caution sprung a dash for the win, it was Jeff Gordon taking over the lead...
Jeff Gordon is the all-time leader in victories at the Pocono Raceway, site of this afternoon's GoBowling.com 400. You'd think that means it should be a slam dunk for a great run for him. With the pressure mounting to stay in the Chase, Gordon knows he needs to perform and perform now. "It's a good track for us, a good place for us to come and fight and do battle like what...
Three-time NASCAR champion Tony Stewart broke his right leg in a sprint car race late Monday night at Southern Iowa Speedway, a half-mile dirt oval. Stewart, 42, broke his right right tibia and fibula and had surgery after he was transported to a local hospital. According to the Des Moines Register, Stewart was leading the 30-
Gordon Returns To Top 10; Next Stop…Victory Lane One step forward, a heckuva lot more steps back. Until recently, that's been the road map of Jeff Gordon's 2013 season. For much of 2013, any signs of momentum have been quickly squashed by trouble and bad luck. That ninth-place finish at Phoenix that catapulted him into the top 10 in points? It was followed by a 25th at Las...
NASCAR News

Delivered to your inbox

You'll also receive Yardbarker's daily Top 10, featuring the best sports stories from around the web. Customize your newsletter to get articles on your favorite sports and teams. And the best part? It's free!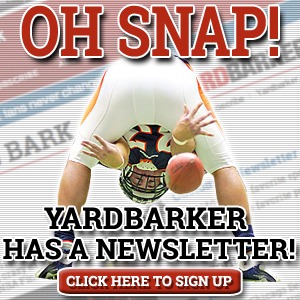 Latest Rumors
The Backyard

Today's Best Stuff

For Bloggers

Join the Yardbarker Network for more promotion, traffic, and money.

Company Info

Help

What is Yardbarker?

Yardbarker is the largest network of sports blogs and pro athlete blogs on the web. This site is the hub of the Yardbarker Network, where our editors and algorithms curate the best sports content from our network and beyond.