Found November 05, 2012 on Start 'N' Park Blog:
PLAYERS:
Brad Keselowski
,
Kyle Busch
,
Matt Kenseth
,
Clint Bowyer
,
Kasey Kahne
,
Danica Patrick
,
Marcos Ambrose
,
Jeff Gordon
,
Greg Biffle
,
Kurt Busch
,
Kevin Harvick
,
Joey Logano
,
Ryan Newman
,
Aric Almirola
,
Carl Edwards
,
Jamie McMurray
,
Jeff Burton
,
Denny Hamlin
,
Trevor Bayne
,
Travis Kvapil
,
Landon Cassill
,
Paul Menard
,
David Ragan
,
Ken Schrader
,
Bobby Labonte
,
David Gilliland
,
Josh Wise
,
Michael McDowell
,
Dave Blaney
,
Joe Nemechek
,
Mike Bliss
,
Reed Sorenson
,
Dale Earnhardt Jr.
,
Martin Truex, Jr.
FORT WORTH, Tex. — The haymaker Jimmie Johnson delivered Sunday at Texas Motor Speedway turned out to be an eight-point swing. Taking advantage of a late caution and four fresh tires to Brad Keselowski's two, Johnson pulled away from Keselowski in a green-white-checkered-flag finish to win the AAA Texas 500 and tighten his grip on a possible sixth NASCAR Sprint Cup Series championship.  Johnson finished .808 seconds ahead of Keselowski, the race runner-up, and increased his lead in the standings to from two points to seven. The victory was Johnson's fifth of the season, his second at Texas and the 60th of his career. For the second straight week, Johnson won a Chase for the NASCAR Sprint Cup race from the pole. Kyle Busch ran third, followed by Matt Kenseth, Tony Stewart and Clint Bowyer. Keselowski held the lead on two previous restarts — one a breathtaking side-by-side battle with the five-time champion — but Johnson pulled ahead in the one that counted. As hard as the top two Chase drivers raced each other on Sunday, Johnson felt it took the level of competition between them to new heights. "The way we raced this afternoon, this evening — that's what's different," Johnson said. "That's the first time that we've really engaged at that level and raced each other that hard. "To his credit, he did a nice job of getting right to the edge, and we brought home race cars. We weren't wadded up looking like a bunch of fools over there, handing the 5 (Kasey Kahne) and the 15 (Bowyer) a big gift." Had Keselowski held on to the lead for the final two laps, he would have been the Chase leader by one point. Johnson, however, saved his best restart for the two-lap finish that sent the race one lap beyond its scheduled distance of 334 laps. "I knew I wasn't going to be able to execute every restart, and Jimmie did a great job on the last one," Keselowski said. "I had to choose between wrecking him and winning the race, and it didn't seem right to wreck him. "Ran him hard, and we're going to keep him honest. I know if we keep running like this that we won't be beat." After NASCAR called the sixth caution of the race on lap 274, for debris on the backstretch, Keselowski entered the pits as the leader but dropped eight spots on the exchange of stops. First, Keselowski slid to the front of his pit stall on the stop. Compounding the problem, the No. 10 Chevrolet of Danica Patrick, whose pit stall was immediately in front of Keselowski's, stopped at the top of her box, blocking Keselowski's exit. By the time the No. 2 crew pushed the Blue Deuce back to give Keselowski clearance, he had lost the eight spots, as other lead-lap cars rolled past. Keselowski spent the subsequent 30-lap green-flag run making up ground. On Lap 307, he passed Matt Kenseth for the fourth position, with Johnson running second behind Kyle Busch. Three laps later, Marcos Ambrose's accident in Turn 2 brought out caution No. 7, and Keselowski regained the lead with a two-tire stop. Busch was second off pit road, ahead of Johnson, who restarted third on Lap 316. Keselowski surged to the lead, clearing Busch on the backstretch, and held the top spot until the caution on Lap 321 for an incident involving Kahne, Jeff Gordon and Greg Biffle in Turn 2 slowed the field. Kahne got the worst of the contact, lost a lap and saw his title hopes all but evaporate. Keselowski and Johnson raced side-by-side and a hairbreadth from losing control after the restart on lap 327, with Keselowski pulling out to an eight-car-length lead, but Mark Martin's wreck on the frontstretch two laps later set up the two-lap dash to the finish. Busch, who had a ringside seat from his third-place finishing position, was impressed by the intensity of the racing in front of him. "It was exciting," he said. "Those guys up there, man, they were battling, and they battled hard, giving it everything they've got. That's what they've got to do. (If) you're going to win a championship in the Sprint Cup Series, that's what you're going to have to make of it." Fin St # Driver Sponsor Car Laps Money Status Led Points 1 1 48 Jimmie Johnson Lowe's Chevrolet 335 $492,086 Running 168 48 2 8 2 Brad Keselowski Miller Lite Dodge 335 $353,830 Running 75 43 3 3 18 Kyle Busch Snickers Toyota 335 $268,143 Running 80 42 4 10 17 Matt Kenseth Roush Fenway Racing Ford 335 $241,021 Running 1 41 5 21 14 Tony Stewart Office Depot / Mobile 1 Chevrolet 335 $212,935 Running 0 39 6 4 15 Clint Bowyer 5-Hour Energy Drink Toyota 335 $180,149 Running 0 38 7 19 88 Dale Earnhardt Jr National Guard/Diet Mountain Dew Chevrolet 335 $148,085 Running 0 37 8 18 78 Kurt Busch TBA Chevrolet 335 $155,493 Running 0 36 9 23 29 Kevin Harvick Rheem / Budweiser Chevrolet 335 $168,971 Running 0 35 10 2 16 Greg Biffle 3M Ford 335 $128,560 Running 0 34 11 6 20 Joey Logano The Home Depot Toyota 335 $121,585 Running 0 33 12 36 39 Ryan Newman Quicken Loans Chevrolet 335 $155,443 Running 6 33 13 5 56 Martin Truex Jr Carlyle Tools by NAPA Toyota 335 $134,249 Running 0 31 14 16 24 Jeff Gordon Drive To End Hunger Chevrolet 335 $148,021 Running 0 30 15 14 43 Aric Almirola Farmland Ford 335 $141,221 Running 0 29 16 9 99 Carl Edwards Aflac Ford 335 $145,051 Running 0 28 17 17 22 Sam Hornish Jr Shell-Pennzoil Dodge 335 $142,785 Running 0 0 18 24 1 Jamie McMurray McDonald's Chevrolet 335 $132,543 Running 0 26 19 22 31 Jeff Burton Caterpillar Chevrolet 335 $139,210 Running 0 25 20 12 11 Denny Hamlin FedEx Office Toyota 335 $143,051 Running 0 24 21 20 13 Casey Mears GEICO Ford 335 $116,343 Running 0 23 22 7 21 Trevor Bayne Motorcraft / Quick Lane Tire   & Auto Center Ford 335 $99,810 Running 4 0 23 38 93 Travis Kvapil Dr. Pepper Toyota 335 $121,943 Running 1 22 24 32 10 Danica Patrick GoDaddy.com Chevrolet 335 $99,210 Running 0 0 25 13 5 Kasey Kahne HendrickCars.com/Great Clips Chevrolet 334 $107,185 Running 0 19 26 41 83 Landon Cassill Burger King Toyota 333 $125,755 Running 0 18 27 27 27 Paul Menard Quaker State / Menards Chevrolet 332 $106,585 Running 0 17 28 33 34 David Ragan CertainTeed/31-W Insulation Ford 331 $109,668 Running 0 16 29 11 55 Mark Martin Aaron's Dream Machine Toyota 329 $97,710 Accident 0 15 30 31 95 Scott Speed TBA Ford 328 $96,000 Running 0 14 31 42 32 Ken Schrader Federated Auto Parts Ford 328 $105,560 Running 0 13 32 15 9 Marcos Ambrose Mac Tools Ford 310 $124,743 Accident 0 12 33 29 47 Bobby Labonte Wounded Warrior Project Toyota 284 $111,682 Running 0 11 34 25 42 Juan Pablo Montoya Huggies Chevrolet 279 $123,926 Running 0 10 35 30 38 David Gilliland TBA Ford 225 $93,460 Engine 0 9 36 26 51 AJ Allmendinger Phoenix Construction Chevrolet 107 $101,510 Accident 0 8 37 35 26 Josh Wise MDS Transport Ford 41 $94,530 Vibration 0 7 38 37 98 Michael McDowell Phil Parsons Racing Ford 37 $92,803 Overheating 0 6 39 40 36 Dave Blaney Tommy Baldwin Racing Chevrolet 37 $89,900 Brakes 0 5 40 43 87 Joe Nemechek AM/FM Energy-Wood & Pellet   Stoves Toyota 33 $89,700 Vibration 0 0 41 34 19 Mike Bliss Plinker Tactical/MCM Elegante Toyota 32 $89,475 Brakes 0 0 42 28 37 J.J. Yeley TBA Chevrolet 10 $89,275 Overheating 0 2 43 39 91 Reed Sorenson Plinker Tactical/MCM Elegante Toyota 6 $89,561 Electrical 0 0
Original Story:
http://startnparkblog.com/?p=14841&ut...
THE BACKYARD
BEST OF MAXIM
RELATED ARTICLES
For the past two weeks, Jimmie Johnson has shut out Brad Keselowski. Despite Keselowski finishing second on Sunday, Johnson earned the maximum points at both Martinsville Speedway and Texas Motor Speedway - by leading the most laps and winning the two races. His victory in the AAA Texas 500 Sunday extended his advantage over Keselowski by seven points with two races remaining in...
Jimmie Johnson regained the lead on the final restart, beating Brad Keselowski in an ending two-lap shootout to win Sunday at Texas and add to his NASCAR Sprint Cup points lead with two races left. Johnson led 168 laps, but found himself chasing toward the end. The third restart in the late laps proved to be the charm for No. 48 Chevrolet. During that restart on the 333rd of 334...
FORT WORTH, Texas (AP) -- Jimmie Johnson and Brad Keselowski are in quite a fight for the NASCAR Sprint Cup championship. With two rounds to go, five-time champion Johnson now has a bigger edge after a slugfest in Texas that included some hard banging late. Johnson regained the lead on the final restart on the 334th of 335 laps before holding off the young challenger in an ending...
By Reid Spencer FORT WORTH, Tex. -- Brad Keselowski was right on the money in most of what he said Sunday night, but he was dead wrong about the one thing that might matter most. Keselowski was right about the nature of the racing in the AAA Texas 500. It was breathtaking. After the next-to-last restart in the AAA Texas 500, Keselowski refused to give up the lead, taking his car...
FORT WORTH, Texas – Brad Keselowski, driver of the Penske Racing No. 2 Miller Lite Dodge Charger in the NASCAR Sprint Cup Series (NSCS), finished second in the AAA Texas 500 – the eighth race in the 2012 Chase for the Championship – at Texas Motor Speedway (TMS) on Sunday evening. Keselowski and series points leader, Jimmie Johnson, provided fans with a thrilling finish as...
Drivers Brad Keselowski and Kyle Busch talked to the media after finishing second and third in Sunday's AAA Texas 500 from the Texas Motor Speedway.  Video courtesy of NASCAR Media Group.
Brad Keselowski was fastest in both practices Saturday…
NASCAR fans couldn't have asked for much more in Texas, as the top two drivers were neck-and-neck down the stretch, with Jimmie Johnson passing Brad Keselowski on a restart with just two laps remaining. Johnson extended his points lead to seven with the victory, and just two races stand between him and a remarkable sixth championship. For a second consecutive week, Keselowski...
The drivers are at Texas Motor Speedway for the AAA Texas 500. Jimmie Johnson is on the pole for the second week in a row, after winning from that same position, just last weekend at Martinsville. Johnson is your points leader in the Chase for the NASCAR Sprint Cup Title, leading Brad Keselowski by 2 points. Keselowski will roll of the grid in eighth position. Keselowski was fastest...
FORT WORTH – Jimmie Johnson, No. 48 Lowe's Chevrolet, displayed a remarkable will to win on Sunday at Texas Motor Speedway (TMS) as he scored his second NASCAR Sprint Cup series (NSCS) win in a row, and his fifth win of 2012.  Johnson led seven times for a race-high 168 laps; and was able to pass and hold off his closest championship rival, Brad Keselowski, for the win in a...
Brad Keselowski led the way with a lap of 29.300 seconds in the final practice for the AAA Texas 500 from Texas. Rounding out the top five was Clint Bowyer, Matt Kenseth, Jimmie Johnson, and Carl Edwards. Pos # Driver Team Time Behind 1 2 Brad Keselowski Miller Lite Dodge 29.300 Leader 2 15 Clint Bowyer 5-hour Energy Toyota 29.317 -0.017 3 17 Matt Kenseth Ford EcoBoost...
NASCAR News

Delivered to your inbox

You'll also receive Yardbarker's daily Top 10, featuring the best sports stories from around the web. Customize your newsletter to get articles on your favorite sports and teams. And the best part? It's free!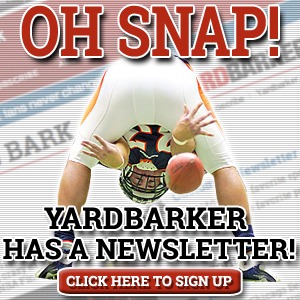 Latest Rumors
The Backyard

Today's Best Stuff

For Bloggers

Join the Yardbarker Network for more promotion, traffic, and money.

Company Info

Help

What is Yardbarker?

Yardbarker is the largest network of sports blogs and pro athlete blogs on the web. This site is the hub of the Yardbarker Network, where our editors and algorithms curate the best sports content from our network and beyond.