Found May 06, 2012 on isportsweb.com:
What a race. A great one at that, but it's a damn shame so many competitive drivers had to wreck there at the end. Who am I kidding, that was Talladega racing boys! In the end, the driver of the #2 Miller Lite Dodge Charger delivered when it counted. The victory for Brad was his second at Talladega in just four years. Keselowski picked up the first win of his career in the very same race in 2009, when he turned his good ol' buddy Carl Edwards to take the checkers. The fashion wasn't exactly the same, but the result was.
Keselowski and drafting partner, Kyle Busch, would end up flying by Roush Racing teammates, Biffle and Kenseth. Kenseth and Biffle had just pulled away with two to go, when the No. 2 and 18 turned on the heat. Keselowski and Busch would skate to victory rather easily, and in somewhat surprising form. How often do you see Kyle Busch not trying to wreck someone for the win? Never.
Although it was a good race, many NASCAR fans were hoping for one final wreck to cap it off on the final lap. Maybe next time, guys. Plus, if NASCAR wanted someone else to win, they would have made it happen. Hey,  it didn't stop them last week.
The "Big One": 
Let's fast forward….Nine laps to go, Stewart and Harvick coming hard on the outside, someone checks up, Kurt spins onto the infield. No big deal, not that big of a wreck, right? Okay, restart, 7 laps to go. Tony restarts 10th, Harvick 11th. Seconds after the Green Flag drops, not even that, it all starts. Allmendinger tries to block Hamlin, Hamlin checks up, Stewart has no where to go. They collide, Tony's day is up in smoke. Ambrose, Hamlin, Biffle, Logano, Allmendinger, Menard, Waltrip, and Richardson Jr. were all involved to some extent. It was not pretty.
Bad Luck:
Man, if I were Tony Stewart, someone might be in a local Talladega hospital suffering from a broken jaw right about now. Bad luck after bad luck, you gotta feel for this guy. A week after getting cheated out of an easy victory at Richmond, Stewart gets deprived of another possible W. Smoke got tangled up in the consequential, "Big one". Tony had absolutely no possible way of avoiding the tragic wreck. All the blame falls on A.J Allmendinger and Denny Hamlin, who checked up forcing Tony to go through him. I guess it's better to have bad luck then to have no luck at all. Shake it off, Tony.  
Kenseth Speaks: 
"I think we had the winning car, really just didn't have the winning driver," Kenseth said. "I looked forward for a second, when I looked back, Greg and I were separated, those guys were already outside of him. With me not paying attention, keeping us hooked up, just cost us a shot at the win, cost Greg a shot at the win." Kenseth, who lead 73 laps, would go on to finish 3rd after dominating throughout the afternoon. Matt had a sexy car, but like he said, not a winning driver.
Rough Day: 
Jimmie Johnson would only last a lap in the 2012 Daytona 500. So, the Johnson and crew chief Chad Knaus are probably thinking that they are gonna turn it around, right? LOL, not so fast #48. Jimmie couldn't even make it past lap 61, talk about pathetic, move over Kyle Petty. After the demonic finish, Mr. 5-Time dropped to 8th in the championship standings.
Official Results:
1. #2 Keselowski    - 10 Laps lead
2. #18 Ky. Busch     – 1 Lap lead
3. #17 Kenseth    - 73 Laps lead
4. #5 Kahne    - 11 Laps lead
5. #16 Biffle    - 15 Laps lead
6. #15 Bowyer
7. #34 Ragan
8. #21 Bayne
9. #88 Earnhardt Jr.    - 10 Laps lead
10. #31 Burton    - 3 Laps lead
11. #1 McMurray
12. #43 Almirola
13. #38 Gilliland
14. #9 Ambrose
15. #22 Allmendinger
16. #93 Kvapil    - 1 Lap lead
17. #27 Menard    - 10 Laps lead
18. #13 Mears    - 2 Laps lead
19. #55 Waltrip    - 21 Laps lead
20. #51 Ku. Busch    - 4 Laps lead
21. #47 B. Labonte
22. #10 Reutimann
23. #11 Hamlin    - 8 Laps lead
24. #14 Stewart    - 16 Laps lead
25. #29 Harvick    - 1 Lap lead
26. #20 Logano
27. #23 Richardson Jr.
28. #56 Truex Jr.
29. #32 T. Labonte
30. #36 Blaney
31. #99 Edwards
32. #42 Montoya    - 3 Laps lead
33. #24 Gordon
34. #83 Cassill
35. #48 Johnson    - 5 Laps lead
36. #39 Newman
37. #97 Elliott
38. #33 Raines
39. #30 Stremme
40. #78 Smith
41. #87 Nemechek
42.#26 Wise
43. #98 McDowell
Points after Aaron's 499 at Talladega:
1. Biffle -
2. Kenseth – 5
3. Earnhardt Jr. – 9
4. Hamlin – 27
5. Harvick – 45
6. Truex Jr. – 46
7. Stewart – 50
8. Johnson – 54
9. Ky. Busch – 70
10. Bowyer – 76
11. Edwards – 78
12. Keselowski – 79
Original Story:
http://isportsweb.com/2012/05/06/nasc...
THE BACKYARD
BEST OF MAXIM
RELATED ARTICLES
TALLADEGA, Ala. – Brad Keselowski, driver of the No. 22 Discount Tire Dodge Challenger in the NASCAR Nationwide Series (NNS), finished 20th in the Aaron's 312 at Talladega Superspeedway (TSS) on Saturday afternoon. A former winner of this event, Keselowski was in position to challenge for the win in the final laps of the race before being hit from behind by the No. 43 of Michael...
TALLADEGA, Ala. -- Brad Keselowski got a huge push from Kyle Busch to take the lead with a lap to go Sunday, then used a calculated move to prevent Busch from taking the win away from him at Talladega Superspeedway. A nine-car accident with four laps remaining brought out the yellow flag, setting up a two-lap overtime sprint to the finish. Daytona 500 winner Matt Kenseth was the...
FVP loves when NASCAR drivers speak openly to the media. Say what you will about Kyle Busch and his attitude, he definitely is unfiltered. Sunday was no different, speaking his mind in his usual irreverent manor after a respectable second place finish to race winner Brad Keselowski. Some of his answers were the usual curt replies. You'd think the guy would be happy coming home...
Brad Keselowski allowed his inner daredevil to emerge at Talladega Superspeedway Sunday. "At Talladega, you don't have a plan," Keselowski said. "You go up front and race your butt off all day long. You either get to the front or you don't." But Keselowski did indeed have a plan. He knew precisely what his strategy would be if he could maneuver his way...
Brad Keselowski avoided trouble through three cautions that marred the final 13 laps of the Aaron's 499 at Talladega (Ala.) Superspeedway on Sunday to take the checkered flag, his second win of the season and his second-career series win at the largest track on the NASCAR circuit. The win by the No. 2 Penske Racing Dodge was also the first win for Dodge at Talladega since Dave...
The last time a Dodge was in Victory Lane at Talladega Superspeedway was in 1976 when Dave Marcus piloted his Dodge to victory at the 2.66-mile high banked speedway. Brad Keselowski updated that stat today with his second victory at the famed high banked track, which was also his second victory of the season in the Aaron's 499. Keselowski used a great move that no one had ever...
Brad Keselowski picked up his sixth Sprint Cup victory with a nice push from Kyle Busch at Talladega Superspeedway on Sunday. Matt Kenseth, who led the most laps, finished third, followed by Kasey Kahne and Greg Biffle. The green-white checkered flag finish was set up when AJ Allmendinger collided with Paul Menard coming out of a restart with four laps to go. There were 19 cars...
By: NASCAR Wire Service Talladega , Ala. — Executing perfectly a move he had saved for the right occasion, Brad Keselowski pulled away from Kyle Busch on the final lap to win Sunday's Aaron's 499 NASCAR Sprint Cup race at at Talladega Superspeedway in a green-white-checkered-flag finish. Busch had pushed Keselowski to the lead on [...]
  It looks like more crew chiefs are trying to be like Chad Knaus. Of course, pushing the rules limits is in the job description of being a NASCAR crew chief. Only difference is, these guys aren't smart enough to get away with it. And it's not like this is some under-the-radar team. The two cars in question are the No. 22 of Brad Keselowski and the No. 12 of Sam Hornish...
No matter who you are, Talladega lived up to its reputation for being the biggest, baddest track on the Sprint Cup circuit. The drivers certainly had their work cut out for them on the track, but the hardest-working guys might have been those at the engine shop. NASCAR threw all kinds of rule change curveballs in an attempt to break up the tandem drafts that had dominated recent...
Welcome to the May 7, 2012 edition of Start 'N' Park Blog's Stock Watch. Each week we'll take a look at who's rising, falling, and treading water in the world of NASCAR. This stretches all division and all aspects of NASCAR, including drivers, owners, crew members, media and fans. Finding their way onto this week's watch includes Brad Keselowski, Joe Nemechek, David Ragan...
NASCAR News

Delivered to your inbox

You'll also receive Yardbarker's daily Top 10, featuring the best sports stories from around the web. Customize your newsletter to get articles on your favorite sports and teams. And the best part? It's free!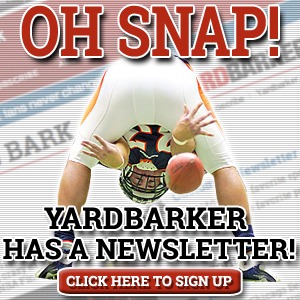 Latest Rumors
The Backyard

Today's Best Stuff

For Bloggers

Join the Yardbarker Network for more promotion, traffic, and money.

Company Info

Help

What is Yardbarker?

Yardbarker is the largest network of sports blogs and pro athlete blogs on the web. This site is the hub of the Yardbarker Network, where our editors and algorithms curate the best sports content from our network and beyond.