Found May 22, 2013 on Start 'N' Park Blog:
KANNAPOLIS, N.C. – It could be argued that there's no track on the NASCAR Sprint Cup Series circuit Ryan Newman feels more at home than at Charlotte (N.C.) Motor Speedway. It was at the 1.5-mile track where Newman first made a big splash. And there's no doubt Newman has made himself right at home in Charlotte since the beginning of his stock car career. He's hoping the track will once again prove to be home sweet home for his No. 39 Quicken Loans Racing team. In 2001, in just his third Sprint Cup start while running a partial schedule, Newman shocked the field with an ultra-fast qualifying lap at Charlotte, which earned him the pole position for that year's Coca-Cola 600. That feat tied Newman with Mark Martin for earliest career Sprint Cup pole. The following season, Newman once again stunned his competitors when he claimed victory in the 2002 NASCAR All-Star Race in his rookie season. The win was Newman's first in the Sprint Cup Series, and he won the non-points race in dramatic fashion. On that night, Newman wasn't even qualified to race in the main event at the start of the night but raced his way in by winning what is now known as the Sprint Showdown. In the main event, Newman benefited from the inversion of the race field for the final 20 laps. He took the lead two laps into the final segment and never looked back. Although Dale Earnhardt Jr., made a late-race dash, Newman beat him to the finish by .158 of a second to become only the second rookie to win the All-Star Race. Since that first start at Charlotte back in 2001 when he grabbed the top spot on the starting grid, the South Bend, Ind., native has continued to rack up pole positions at the track. He now has nine poles to his credit at Charlotte – the most of any active Sprint Cup driver. In fact, he is second in all-time poles at the 1.5-mile oval behind the legendary David Pearson, who had 14. And while he has not recorded a points-paying Sprint Cup win at the racetrack, he does have two wins in addition to his All-Star Race feat – an ARCA victory in 2000 and a NASCAR Nationwide Series victory in 2005. It's obvious that the fast, high-banked, oval nestled in the heart of NASCAR country is somewhere Newman feels right at home, which is perfect since Quicken Loans, the nation's largest online retail mortgage lender, adorns the No. 39 Chevy this weekend at Charlotte. Race fans in attendance at Charlotte, as well as those watching at home, will be pushing Newman to "Bring It Home" in the form of a top-five finish in this Sunday's 600-mile race in hopes that they may be one of the lucky five fans chosen to have their mortgages paid for a month, should Newman be able to accomplish the task. Consumers can enter the sweepstakes by visiting www.qlracing.com and are encouraged to increase their chances of winning a month-long vacation from their mortgage by entering weekly. Participants also can win additional entries by inviting their friends and family to participate. It certainly isn't an easy accomplishment, by any means. The Coca-Cola 600 is the Sprint Cup Series' longest race, and it requires tremendous mental, physical and emotional fortitude to log 400 laps around Charlotte's 1.5-mile oval. Newman has proven he knows what it takes to get around Charlotte, despite the fact that a win in a points-paying Sprint Cup race has so far escaped him. Perhaps this is the weekend where he'll finally be able to "Bring it Home." RYAN NEWMAN, Driver of the No. 39 Quicken Loans Chevrolet SS for Stewart-Haas Racing: The Coca-Cola 600 is the longest race on the Sprint Cup schedule. How difficult is it to be in the racecar for that length of time? "It all depends on how hot it is. If it's a superhot day, it's very demanding because this is a fast racetrack. It's very physical. Your transitions from day to night and those types of things are very critical for how successful you are that night. It takes a good crew chief to make the right adjustments. Being comfortable in the car is one thing, but staying cool and staying hydrated is extremely important with the duration that we're in the racecar. I always say the most important thing I do that day is to make sure the air conditioning is working. The Coca-Cola 600 is a great race. We've run second there in the past. It's the longest race and one of the most demanding, as well. It all depends on the characteristics of the weather, the track and everything that night – if it's a 90-degree day, or if it's a 65-degree day. You just never know. I enjoy it. I enjoy this racetrack. I enjoy being close to home. I enjoy the fact all our friends and family get to come out and enjoy a good race." One thing you have said about the Coca-Cola 600 is that you have to be "patiently aggressive" to have a good race. Can you explain what that means? "Every good racecar driver has to be patient and aggressive, and at the same time. You have to know when to choose your battles and make your holes and do those things. You typically can't make things happen, sometimes, so you have to be patiently aggressive. And the 600 miles is just another extension of that because you have to put yourself in position, and position doesn't happen until 100 miles later." So, do you notice the extra 100 miles? How do you process this race? "If your car is good, you don't. If the conditions are good weather-wise, you don't. But if you are struggling with your car and it's hot out, you will. That happens at other racetracks, but that extra 100 miles is very demanding there because of the speeds, because of that extra little bit in the car. If you're not comfortable, you're not going to be comfortable for a long time. The race here is usually four hours-plus. That extra hour in the racecar is huge when you are going 200-plus mph into a corner, or when its 90 degrees outside." You have nine poles at Charlotte. You are first among active drivers in pole positions at the track, and second behind David Pearson, who has 14. What makes you so good at qualifying at Charlotte, and what does it mean for you to win the pole there? "In general, I like this racetrack, I like the speed, I like the banking. When I first came here with Buddy Baker, we drove around in a rental car and, after one lap, I told him I was going to like this place. I always have. It's a place I like. I've been fortunate to have good equipment and I've been able to take that good equipment and make it fast. It's just a combination of team effort and, nine times out of 22, we've been able to pull it off (winning the pole). Ultimately, it's what we all strive for – to be the fastest, to be the best, to be the quickest and get to victory lane. It would mean a lot to me. I think David Pearson was an excellent racecar driver. Still is. Ultimately, it is just a number but, to be where I am and have a shot at it, that's cool. But I'm still a long way away. It took me this long to get nine. Not that it took me that long, but it's not easy to win one, and five more is not going to be easy at all. But I know that, when we go to Charlotte, we know we want to have what it takes to have a shot at the pole. I really enjoy the racetrack – the speed, obviously, and the banking. I've always said I really enjoy banked racetracks and this is one of the best and fastest banked racetracks out there. I've had fast racecars with Penske Racing and now with Stewart-Haas Racing and just have been blessed with fast racecars. I couldn't do it without fast racecars. I've always told my crew chief, whoever it is at the time, 'If you give me a straight arrow, I'll shoot it straight. But don't expect me to shoot a crooked arrow to the pole.' And they've done a very good job for me."
Original Story:
http://startnparkblog.com/?p=26446&ut...
THE BACKYARD
BEST OF MAXIM
RELATED ARTICLES
Ryan Newman will run a special stars and stripes version of the Quicken Loans paint scheme for the Coca-Cola 600. The Coca-Cola 600 is the longest race of the year and since it is run on the Sunday prior to Memorial Day it brings out a host of American themes. On the season Newman has one finish inside the top-five and ranks 17th in the Sprint Cup driver standings. Newman has made...
This post is presented by Oral-B USA. Follow #OralbUSA to join the conversation. Visit OralbUSA.com for more information Ryan Newman, driver of the No. 39 car for Stewart-Haas Racing, is gearing up for Sunday's Coca-Cola 600 at Charlotte Motor Speedway (6:00 p.m. ET on FOX). Newman is coming off a 13th-place finish at last week's All-Star Race in Charlotte and currently 17th...
Stewart-Hass Racing has gotten off to a slow start in the 2013 Sprint Cup season but the team has no changes planned atop the pit box. "We've all won races together and championships together, we're going to pull ourselves out of this together," a team official told SPEED.com. SHR has struggled this season. Between three cars the team has one finish inside the top-five and...
This post is presented by Oral-B USA. Follow #OralbUSA to join the conversation. Visit OralbUSA.com for more informat…
Greg Zipadelli, the competition director at Stewart-Haas Racing and longtime confidante of Tony Stewart, said the team has fallen behind on technology relative to the top NASCAR Sprint Cup teams. Zipadelli said the combination of adding a third car for Danica Patrick, converting to the new Generation-6 cars and shuffling personnel internally has left SHR well behind top teams like...
NASCAR News

Delivered to your inbox

You'll also receive Yardbarker's daily Top 10, featuring the best sports stories from around the web. Customize your newsletter to get articles on your favorite sports and teams. And the best part? It's free!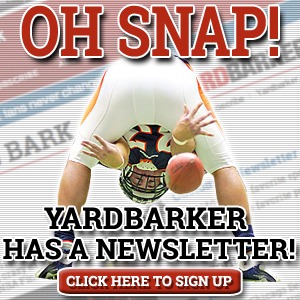 Latest Rumors
The Backyard

Today's Best Stuff

For Bloggers

Join the Yardbarker Network for more promotion, traffic, and money.

Company Info

Help

What is Yardbarker?

Yardbarker is the largest network of sports blogs and pro athlete blogs on the web. This site is the hub of the Yardbarker Network, where our editors and algorithms curate the best sports content from our network and beyond.