Found November 17, 2012 on Start 'N' Park Blog:
PLAYERS:
Ricky Stenhouse
,
Regan Smith
,
Kyle Busch
,
Austin Dillon
,
Joey Logano
,
Brendan Gaughan
,
Elliott Sadler
,
Cole Whitt
,
Justin Allgaier
,
Michael Annett
,
Danica Patrick
,
Joey Coulter
,
Kenny Wallace
,
Brad Sweet
,
Joe Nemechek
,
Mike Bliss
,
Carroll Shelby
,
Jeremy Clements
,
Jeffrey Earnhardt
,
David Starr
,
Dakoda Armstrong
,
Eric McClure
,
Andrew Ranger
,
Jason Bowles
,
Hal Martin
,
Danny Efland
,
Erik Darnell
,
Blake Koch
,
Chase Miller
,
Josh Wise
,
Ricky Stenhouse Jr.
,
Robert Richardson Jr.
,
Martin Truex, Jr.
,
Scott Lagasse Jr.
A hard fought 2012 Nationwide Series season came to a close with a first time winner in the Nationwide Series and a driver winning two consecutive championships. Ricky Stenhouse Jr did all he needed to do Saturday evening in Homestead-Miami to claim his second straight championship. Stenhouse Jr and his crew made no mistakes all night long and they received a great rewarded of a championship trophy. Regan Smith raced in his first Nationwide Race in five years and he dominated the race and took home the trophy. Pole-sitter Kyle Busch dominated early in the race and le led much of the first half of the Ford EcoBoost 300. The race stayed green for much of the first half and the first caution didn't fly until lap 66. The caution came out for Ryan Truex who crashed in turn four after getting into the wall and spinning down the track then he over-corrected the car and went nose first into the wall at the beginning of the frontstretch. The second yellow flag of the race came out on lap 73 for Robert Richardson Jr who got loose in turn four and spun down the track through traffic. The first lead change of the day occurred when Regan Smith passed Busch for the lead on lap 92. The halfway mark of the race came up very quick and Sam Hornish Jr was the leader after he took the lead under the last caution. Ricky Stenhouse Jr was in fourteenth at the halfway point and the driver chasing him –Elliot Sadler- was sixteenth. Sadler needed to gain at least twenty points in this race if he wanted the championship and halfway through the race, Sadler wasn't getting it done. Austin Dillon took the lead with 95 laps to go. Dillon had a slight chance at the championship coming into the race but he would need Stenhouse Jr and Sadler to have issues. For a rookie, Dillon was doing well in his first Nationwide season. If a rookie was told he or she would be competing for the championship in their rookie season they wouldn't have believed it. Dillon proved that rookies can be successful and with a third place finish in the standings in his rookie season, he did pretty well. The race was winding down and Sadler sat in third while Stenhouse Jr was in fifth. Sadler was still not doing good enough to have shot at the championship and by this point, he's hoping for a miracle. With 27 laps to go, the caution flew for debris and the field was set up to have another restart. The leaders pitted under the caution and Sadler came off of the pits third while Stenhouse Jr came off fifth. Regan Smith re-gained the lead on the restart and he started to set sail. The final caution of the race and season came out with twenty laps to go for Johanna Long who wrecked hard on the backstretch. Long got hit in the left rear by Joey Logano and she spun down the paved run-off area on the backstretch and she went nose first into the inside wall, lifting the car off the ground for a second. Long got out of the car by herself and she was okay. Regan Smith took off on the final restart, leaving the rest of the field in his rearview mirror. Smith would cross the finish line first and win his first career Nationwide Series race. Smith said in victory lane that this is a good start to his full-time ride in the No.5 car starting in 2013. Ricky Stenhouse Jr finished sixth while Sadler finished ninth and Stenhouse Jr had won the championship for the second straight year. Stenhouse Jr joined an elite group of drivers who have won the Nationwide Series championship in back to back years. Stenhouse Jr is the first driver to accomplish the feat since Martin Truex Jr did it in 2004 and 2005. Stenhouse Jr celebrated with his team in the championship victory lane and he said "These guys (his team) have done a great job all season." Stenhouse Jr had a lot more mishaps this season than last year and without his amazing crew, Stenhouse Jr's car wouldn't have been able to race after he had incidents on the track and he needed to get back on the track to salvage points. Stenhouse Jr will move up to the Cup Series in 2013 and he will be competing with the Cup drivers to try to win his third consecutive NASCAR championship. An amazing and competitive season in the Nationwide Series has come to a close. This season we saw lots of young talent come through along with Ricky Stenhouse Jr winning his second straight championship. In 2013, a lot of new faces will be competing for the Nationwide Series title and it is sure to be another great season. In just under 100 days the Nationwide Series will be back in action in Daytona, a long off-season is ahead and the 2013 season looms in the near future. Fin St # Driver Sponsor Car Laps Money Status Led Points 1 10 5 Regan Smith Hendrickcars.com Chevrolet 200 $77,100 Running 24 0 2 1 54 Kyle Busch Monster Energy Toyota 200 $67,325 Running 89 0 3 16 33 Brendan Gaughan South Point Hotel & Casino Chevrolet 200 $56,693 Running 0 0 4 11 12 Sam Hornish Jr Alliance Truck Parts Dodge 200 $43,958 Running 6 41 5 3 3 Austin Dillon Bass Pro Shops Chevrolet 200 $39,783 Running 66 40 6 4 6 Ricky Stenhouse Jr Ford EcoBoost Ford 200 $33,783 Running 2 39 7 7 11 Brian Scott Dollar General Toyota 200 $28,583 Running 0 37 8 20 22 Ryan Blaney Discount Tire Dodge 200 $27,258 Running 0 0 9 2 2 Elliott Sadler One Main Financial Chevrolet 200 $27,033 Running 3 36 10 8 88 Cole Whitt TaxSlayer.com Gator Bowl Chevrolet 200 $26,583 Running 0 34 11 6 31 Justin Allgaier Brandt Chevrolet 200 $24,783 Running 0 33 12 32 43 Michael Annett Pilot Travel Centers / Flying J Ford 200 $23,633 Running 0 32 13 14 7 Danica Patrick GoDaddy.com/"Make Yourself   Mobile" Chevrolet 200 $23,233 Running 4 32 14 15 21 Joey Coulter Southern Wine & Spirits Chevrolet 200 $16,565 Running 0 0 15 17 99 Kenny Wallace TBA Toyota 200 $24,023 Running 2 30 16 5 18 Joey Logano Game Stop Toyota 200 $16,750 Running 1 0 17 18 38 Brad Sweet Great Clips Chevrolet 200 $22,608 Running 0 27 18 25 87 Joe Nemechek AM/FM Energy-Wood & Pellet   Stoves Toyota 200 $22,493 Running 0 26 19 24 10 Mike Bliss G-Oil Toyota 200 $15,865 Running 0 25 20 13 8 Scott Lagasse Jr HybridLight, BSA Chevrolet 199 $16,430 Running 0 24 21 22 98 Kevin Swindell Carroll Shelby Motors Ford 199 $15,645 Running 3 24 22 23 51 Jeremy Clements St. Jude/USS James E. Williams   DDG 95 Chevrolet 199 $22,003 Running 0 22 23 31 8 Jeffrey Earnhardt Tobacco Free Florida Ford 198 $15,400 Running 0 21 24 28 24 David Starr OCR GAZ BAR Toyota 198 $15,285 Running 0 0 25 19 30 Dakoda Armstrong FlaLottery.com Chevrolet 197 $22,093 Running 0 19 26 34 1 Mike Wallace TBA Chevrolet 197 $21,488 Running 0 18 27 30 14 Eric McClure Hefty Reynolds Wrap Toyota 196 $21,373 Running 0 17 28 21 27 Andrew Ranger GCM 1 Ford 195 $14,790 Running 0 16 29 35 81 Jason Bowles Thrush&SonCompleteHomeImprovementCo. Toyota 195 $21,153 Running 0 15 30 26 19 Hal Martin American Custom Yachts / U.S.   Forensics Toyota 195 $21,343 Running 0 14 31 42 4 Danny Efland TBA Chevrolet 193 $20,933 Running 0 13 32 33 52 Joey Gase TBA Chevrolet 190 $14,350 Running 0 12 33 41 23 Robert Richardson North Texas Pipe Chevrolet 188 $14,295 Running 0 11 34 37 70 Johanna Long Foretravel Chevrolet 177 $20,698 Accident 0 10 35 38 40 Erik Darnell TBA Chevrolet 147 $20,663 Engine 0 9 36 27 44 John Blankenship Coal Save the Country Chevrolet 92 $20,628 Accident 0 8 37 39 41 Juan Carlos Blum Rick Ware Racing Chevrolet 92 $14,095 Engine 0 7 38 12 20 Ryan Truex Grime Boss Toyota 66 $20,478 Accident 0 6 39 9 0 Blake Koch TBA Toyota 40 $13,885 Fuel Pump 0 5 40 43 91 Jeff Green TriStar Motorsports Toyota 17 $13,700 Vibration 0 4 41 29 46 Chase Miller TheMotorsportsGroup.com Chevrolet 6 $13,625 Vibration 0 3 42 36 42 Josh Wise TBA Chevrolet 6 $13,575 Overheating 0 0 43 40 39 Dexter Stacey Maddies Place Ford 0 $13,506 Engine 0 1
Original Story:
http://startnparkblog.com/?p=15690&ut...
THE BACKYARD
BEST OF MAXIM
RELATED ARTICLES
Ricky Stenhouse, Jr., driver of the #6 Cargill Ford for Roush Fenway Racing, held on for his second NASCAR Nationwide Series championship. He won it at the conclusion of Saturday's Ford EcoBoost 300 from the Homestead-Miami Speedway. Afterwards he spoke to the media about the championship. Video courtesy of NASCAR Media Group.
It has been quite a season for Ricky Stenhouse Jr and now he can celebrate with his second consecutive championship. This championship proved that he is a true champion and all he endured throughout the season set him up for this great championship run. Stenhouse Jr wasn't as dominate as he was in 2011 but he still proved he was the best in the Nationwide Series. This season was...
Ricky Stenhouse Jr. has won his second consecutive NASCAR Nationwide Series title. Stenhouse Jr. entered the day with a 20 point lead over Elliott Sadler in the point standings. The two had been back and forth all season at the top of the standings but Sadler's wreck at Phoenix left him in a sizable hole entering the race at Homestead-Miami Speedway. The hole proved to be too much...
Ricky Stenhouse Jr. is cautiously optimistic heading into race day about his shot at a second consecutive NASCAR Nationwide Series title. Elliott Sadler is preparing for the season finale filled with regret over an incident a week ago. And Austin Dillon? Well, he's just waiting to see what shakes out between the other two and if he can steal this title in the final race. The...
Ricky Stenhouse Jr. is the sixth driver to win consecutive championships in NASCAR's Nationwide Series. Stenhouse finished sixth Saturday in the season finale at Homestead-Miami Speedway, edging Elliott Sadler for the title. About the only drama in the race was whether Stenhouse would play it safe. He did, but not without several close calls. His Roush Fenway Racing team even...
Regan Smith picked up the win in his first race with JR Motorsports on Saturday in the Ford EcoBoost 300 at the Homestead-Miami Speedway. After the win, he spoke to the media about the race. Video courtesy of NASCAR Media Group.
The battle in the NASCAR Nationwide Series point standings has been back and forth between Ricky Stenhouse Jr. and Elliott Sadler this season. The two drivers have switched the points lead five times. Sadler says it would be better if they switched for a "sixth time." Stenhouse Jr is going into Championship weekend at Homestead with a 20 point lead over Sadler and has all but...
Regan Smith will pilot the No. 5 HendrickCars.com Chevrolet for JR Motorsports at Homestead-Miami Speedway, giving the Dale Earnhardt Jr. owned company three cars in this weekend's season finale race. The race will mark the eighth event in which JRM has entered three cars this season. Smith's entry is in preparation for 2013 when he'll compete for a Nationwide Series Championship...
HOMESTEAD, Fla. — Ricky Stenhouse Jr. left little doubt that he's ready for a promotion. Stenhouse became the sixth driver to win consecutive championships in NASCAR's Nationwide Series. He finished sixth Saturday in the season finale at Homestead-Miami Speedway, edging Elliott Sadler for the title. "A lot of people put a lot of effort into this and I'm just the lucky guy...
NASCAR News

Delivered to your inbox

You'll also receive Yardbarker's daily Top 10, featuring the best sports stories from around the web. Customize your newsletter to get articles on your favorite sports and teams. And the best part? It's free!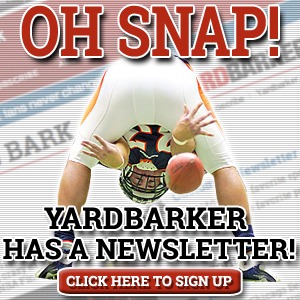 Latest Rumors
The Backyard

Today's Best Stuff

For Bloggers

Join the Yardbarker Network for more promotion, traffic, and money.

Company Info

Help

What is Yardbarker?

Yardbarker is the largest network of sports blogs and pro athlete blogs on the web. This site is the hub of the Yardbarker Network, where our editors and algorithms curate the best sports content from our network and beyond.