Found April 17, 2013 on Start 'N' Park Blog:
PLAYERS:
Kyle Busch
,
Ron Hornaday
,
Kyle Larson
,
Kurt Busch
,
Elliott Sadler
,
Brian Vickers
,
Denny Hamlin
,
Michael Waltrip
,
Joey Logano
,
Johnny Sauter
,
Jeff Gordon
,
Clint Bowyer
,
Richard Childress
,
James Buescher
TEAMS:
Cincinnati Bengals
Welcome to the April 17, 2013 edition of Start 'N' Park Blog's Stock Watch. Each week we'll take a look at who's rising, falling, and treading water in the world of NASCAR. This stretches all division and all aspects of NASCAR, including drivers, owners, crew members, media and fans. Finding their way onto this week's watch includes Kyle Busch, Ron Hornaday, Jr., Kyle Larson, Martin Truex, Jr., Kurt Busch, and Elliott Sadler. Is your favorite NASCAR personality rising, falling, or treading water? Find out below. Rising Kyle Busch (Nationwide & Sprint Cup Series) – Kyle Busch has opened 2013 with a bang in both the Nationwide and Sprint Cup Series. He's won two of the first seven Sprint Cup Series races and now has won four out of the first six Nationwide Series races. Friday night he led 91 of 200 laps on way to victory and Saturday he won the pole and led 171 of 334 laps for the win. Busch had a chip on his shoulder coming into 2013 because of his struggles in the Nationwide Series and missing the Chase. It will be interesting to see if he can keep up this torrid pace. Brian Vickers (Sprint Cup Series) – Vickers had a quiet night filling in for Denny Hamlin and scored another top-10 finish. I don't know why either Joe Gibbs Racing or Michael Waltrip Racing won't commit to him, but he's proving each week he deserves to be back in the Sprint Cup Series full-time. Kyle Larson (Camping World Truck Series) – Larson finally got his first NASCAR national tour win by scoring one at the Rock. He dominated leading 187 of 205 laps (all but 18 if you don't want to do the math) and made good on the promise he's shown this season. He also did it by out driving Sprint Cup regular Joey Logano and point leader Johnny Sauter. This is only the beginning for this 20 year old. Falling Dale Earnhardt, Jr. (Sprint Cup Series) – I gave last weekend a mulligan for Junior and crew as just a hiccup. Now with his Texas failure (29th) I have to question if this team has what it'll take to win the championship. You can't control a battery failing, like what happened during the race, but you can control pitting and changing tires in a drive thru penalty. That act cost Junior another lap, once that could have gained him three more spots in the final run down. Will this cost him a Chase bid? No way, it is still early, but we're starting to see consistency issues I keep worrying about with this team. Kurt Busch (Sprint Cup Series) – Kurt had the hot hand for a bit with back to back top-10 finishes and now has back to back bad finishes. The team has shown they are quick, Kurt was in the top-10 most of the time he was on track, but mechanical failures are catching up to them. Basically see Junior ahead of him that consistency is needed to compete in the Sprint Cup Series and Kurt is not finding that so far with Furniture Row Racing. Ron Hornaday, Jr. (Camping World Truck Series) – This falling ranking isn't for his finish, he got a 15th place and is in the top-5 in points. No this is for the move he pulled on Darrell Wallace, Jr. under caution. Displeased with how Wallace had raced him prior to the caution, Hornaday decided to let him know about it by bumping him. Then he took it a step further and hooked the back of Wallace's truck ending his day eight laps before the end of the race. Hornaday told his crew he didn't mean it and NASCAR put him to the end of the longest line, losing three spots. My annoyance with this is Hornaday was up in arms when Kyle Busch did the same thing in 2011 and Busch was parked for the rest of that race. For those of you saying Busch was on probation, NASCAR parked Jeff Gordon last year at Phoenix for intentionally crashing Clint Bowyer. Hornaday, you're a former champ and looked like a chump out there. Treading Water Martin Truex, Jr. (Sprint Cup Series) – Truex is getting fed up with this bridesmaid stuff and I don't blame him. He had the best car Saturday night, leading 142 laps, but getting beat late on pit road cost him victory. Something he hasn't done since his rookie year in 2007. He did the same thing last year in Kansas and Atlanta, where he dominated but came up short in the end. The plus to this finish, thus allowing him to tread water, is that second is a lot better than his 30 something place finishes he's had on the year. Elliott Sadler (Nationwide Series) – Sadler isn't doing terrible in his first year with Joe Gibbs Racing, the problem is we (experts) expected him to dominate the series. They all figured that since he was running great with Richard Childress Racing, a team that seemed to be putting all its eggs in the Dillon boy's baskets, that going to JGR would allow Sadler the tools to put it all together. So far in 2013 he has been medium to cold most of the time and Texas was another example. He was not a factor and finished 13th, which again, it's not terrible, but he's wasting a lot of time running mid-pack to be a championship contender. James Buescher (Camping World Truck Series) – Buescher is struggling to start 2013 after winning the championship last year. I think he just has to settle in and get comfortable. Bottom line is he can't have too many more 14th place finishes like Sunday and think he'll be a title contender when it's all said and done.
Original Story:
http://startnparkblog.com/?p=24708&ut...
THE BACKYARD
BEST OF MAXIM
RELATED ARTICLES
Kyle Busch has been on an amazing streak of late. Last Friday and Saturday nights at Texas Motor Speedway, he won both the NASCAR Nationwide and Sprint Cup series races. I think the difference for Kyle from a year ago is that he is back to doing what he does best -- and that's called winning. Last year, a lot of his time and effort were put into Kyle Busch Motorsports to get...
MOORESVILLE, N.C. – Kyle Busch sweeps into Kansas Speedway in Kansas City this weekend, where once again he will be pulling double-duty, driving the No. 51 ToyotaCare Tundra in Saturday's SFP 250 NASCAR Camping World Truck Series race and the No. 18 M&M's Camry in Sunday's STP Gas Booster 500. The last two weekend's that the Las Vegas native has pulled double-duty –...
Well, get out the old broom, he did it again. For the seventh time in his career, Kyle Busch had a clean sweep of the weekend, including a couple of years ago when he won all three races at Bristol -- which still to me is one of his most amazing accomplishments, all three races at Bristol -- which takes nothing away from Saturday night's feat at Texas Motor Speedway. An amazing...
It was racing under the lights Saturday night at Texas Motor Speedway for the NRA 500. As usual, when the sun goes down, the racing heats up. The competition was thick, but there two drivers distinguished themselves from the rest of the field. Kyle Busch and brother Kurt qualified alongside one another on the front row, and it was Kyle who jumped out front. The Hendrick Motorsports...
Streaking Busch Faces Kansas Challenge The Kyle Busch that won 100 NASCAR national series races at a record clip largely disappeared in 2012. He fashioned just one victory overall and missed the Chase for the NASCAR Sprint Cup™. News flash: He's back. And how. Busch posted his second NASCAR Sprint Cup Series victory of the year in Texas to extend his string of five top-five finishes...
It's hard to believe that last year Kyle Busch went a whole season and won just once in NASCAR's top three series: Sprint Cup, Nationwide, and...
We're already seven races through the NASCAR Sprint Cup Series season and after Kyle Busch's victory Saturday night at Texas Motor Speedway, a Toyota or Chevrolet engined car has won six of the seven events. With all the attention this year going towards the rivalries between Denny Hamlin vs. Joey Logano or Logano vs. Tony Stewart and Jimmie Johnson and Dale Earnhardt Jr. for...
Bengals News

Delivered to your inbox

You'll also receive Yardbarker's daily Top 10, featuring the best sports stories from around the web. Customize your newsletter to get articles on your favorite sports and teams. And the best part? It's free!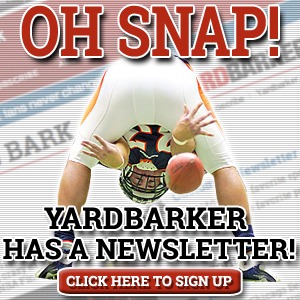 Latest Rumors
Best of Yardbarker

Today's Best Stuff

For Bloggers

Join the Yardbarker Network for more promotion, traffic, and money.

Company Info

Help

What is Yardbarker?

Yardbarker is the largest network of sports blogs and pro athlete blogs on the web. This site is the hub of the Yardbarker Network, where our editors and algorithms curate the best sports content from our network and beyond.